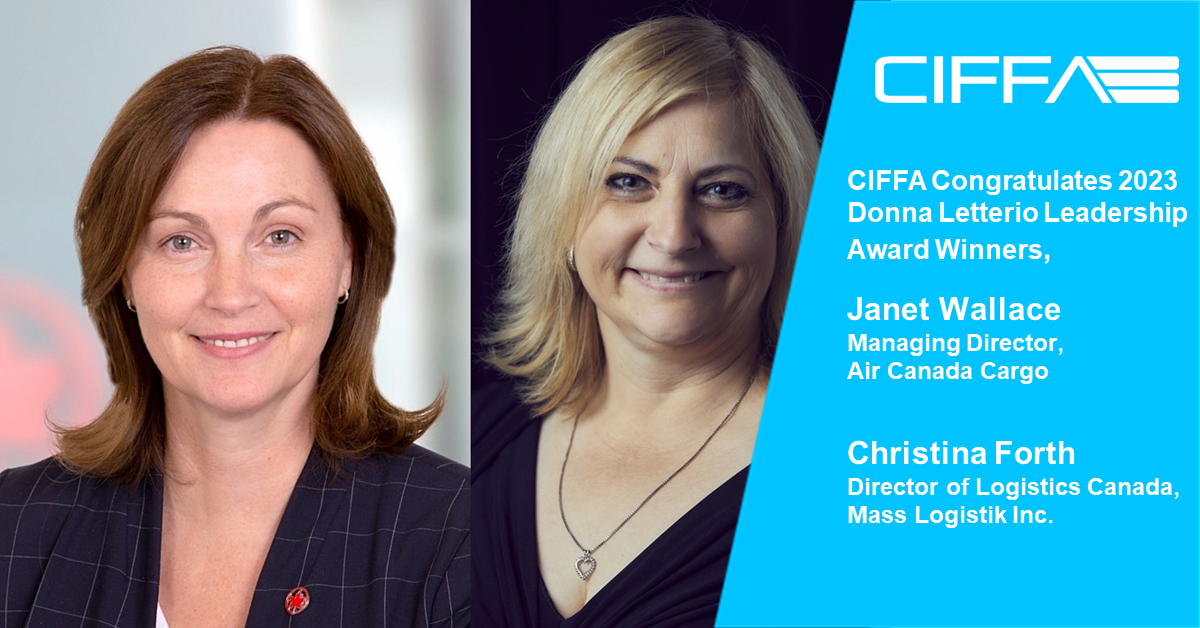 CIFFA announces two Recipients of 2023 Donna Letterio Leadership Award : Janet Wallace and Christina Forth
TORONTO, April 28, 2023. – CIFFA, the Canadian International Freight Forwarders Association, is pleased to announce two winners for its 2023 Donna Letterio Leadership Award this year: Janet Wallace, Managing Director, Cargo Operations and Transformation, with Air Canada Cargo, and Christina Forth, Director of Logistics Canada, Mass Logistik Inc.
CIFFA introduced the annual Donna Letterio Leadership Award in December 2015. The award is granted annually in memory of former CIFFA President Donna Letterio, who passed away in August 2013. The award recognizes a woman in the global freight logistics sector who has demonstrated, as Donna did, professionalism, commitment, leadership and a passion for excellence in her career and in her life. In addition to the award, CIFFA will prepare a cheque in each winner's name for $1,000, which will be presented to Bladder Cancer Canada.
About the Winners
In her role as Managing Director, Cargo Operations and Transformation, with Air Canada Cargo in Montreal, Quebec, Janet Wallace shares her knowledge and commitment to detailed, well-informed processes and procedures, improving customer service and satisfaction as well as the quality of the workplace experience. Janet has a deep understanding of Air Canada's passenger and cargo operations, which she draws on to support operations, commercial goals, and lead the engineering, procedures, regulatory, training and quality assurance teams. Under her guidance, Air Canada Cargo obtained two CEIV certifications from IATA, ensuring international and national compliance to safeguard product integrity. She is known throughout the company and among partners and customers for her knowledge, experience and personal approach.
With an extensive list of volunteer experience in her Alberta community of Leduc, serving on various boards, Christina Forth's commitment to the industry, colleagues, career, customers and family is well-evidenced.
At Mass Logistik she has provided nonstop support to grow the business in the industry, getting the local and overseas teams educated in Canadian Freight Forwarding requirements, driving cost savings initiatives, mentoring the logistics staff, bringing encyclopedic knowledge to the job, and fully implementing the e-manifest system including training all staff and SOP development. She was also involved in early-stage advising and testing of the e-manifest portal as an industry representative. She has been the President of the Edmonton International Oilmen's Curling Tournament since 2016 also serves on that board.
"CIFFA is very proud to continue with this very prestigious award, recognizing women of influence in our industry, which will also inspire the next generation of women leaders. We are very pleased to present this award to both Janet and Christina, who exhibited all the qualities that the award represents," said Bruce Rodgers, Executive Director, CIFFA.
Learn more about the Donna Letterio Leadership Award.