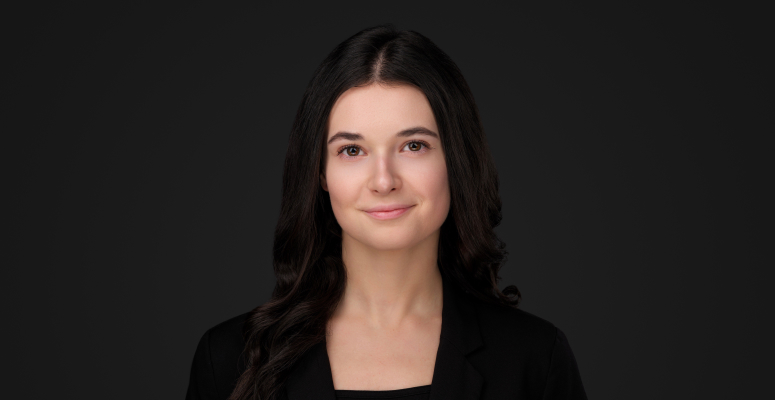 CIFFA Selects 2023 Canadian Young Logistics Professionals Award Winner
Every year, CIFFA offers an award to a young freight forwarder who best demonstrates industry knowledge and skills to become a true international freight forwarding professional in the future.
After a review process of industry experience and a written dissertation demonstrating technical knowledge, CIFFA is pleased to announce that Viktoriia Rudyk of DSV Air & Sea Inc. has been selected as the 2023 Canadian Young Logistics Professionals Award winner.
Originally from Ukraine, Viktoriia came to Canada to study the 2-year International Business Management diploma program at the British Columbia Institute of Technology (BCIT) in Vancouver, BC.  In addition, she has taken the CITT and CIFFA courses, has been actively volunteering, participating at different networking events, and has worked on projects as a Student Consultant at Delta Chamber of Commerce and the World Trade Center Vancouver.  After finishing her studies at BCIT, Viktoriia joined the trainee program at the Toronto branch of DSV Air & Sea Inc.  At DSV she has worked as an Air Import Coordinator, an Air Export Coordinator, and currently works as an Ocean Import Team Lead in Montreal.  She is a big fan of the continuous learning concept and likes the constant challenge that the freight forwarding profession offers.  We asked Viktoriia why she chose to participate in the YLP Award competition and she gave us the following answer:
"I learned about the YLP Award when I was taking the CIFFA courses.  After working in the transportation and logistics industry for over 3.5 years, I decided to take on a new challenge and participate in the YLP competition.  I have always been passionate about creating cost-efficient and sustainable solutions for our clients and thus, writing a dissertation on a similar case study interested me.  I believe that by participating in the YLP Award, I will be able to gain more industry connections and expand my knowledge on the topic of logistics."
As this year's Canadian winner, Viktoriia will receive a cash prize of $1,500 and will represent Canada at the FIATA Americas regional competition.  This requires the submission of two dissertations.  If selected as the Americas regional winner, Viktoriia will compete in the 2023 FIATA World Congress in Brussels, Belgium in the fall.  Her registration fees, hotel accommodation costs during the Congress and travel costs of up to US $1,000 will be covered by the TT Club and FIATA.
Additionally, CIFFA would like to acknowledge the good efforts and exceptional work of the Young Logistics Professionals Award competition runner up, Lilian Tkachuk of Schenker of Canada Limited.  Lilian holds a Bachelor's Degree in logistics, has completed MIT micro masters courses in supply chain and a professional logistics certification in Ukraine.  After moving to Canada in 2017, she continued her studies at Humber College and has obtained CITT and CIFFA certifications.  Additionally, Lilian has been involved in pro-bono projects establishing logistics channels in war-torn Ukraine.  She currently works as the ocean export supervisor at Schenker
(For more information on the Young Logistics Professionals Award.)