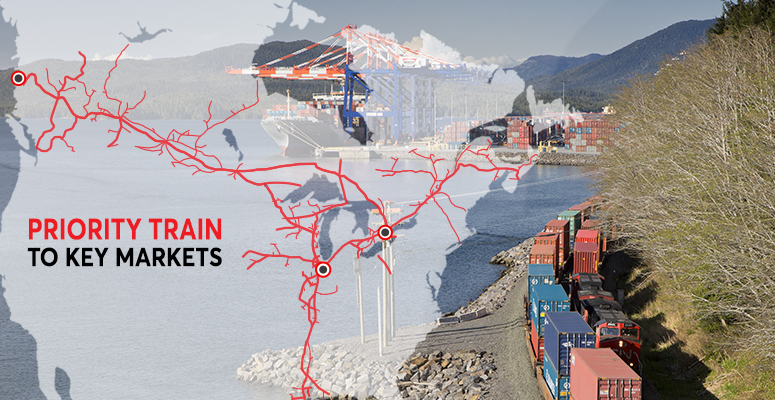 CN, COSCO, and DP World partner in launching Priority train services from the Port of Prince Rupert
CN has partnered with COSCO and the DP World Fairview Container Terminal at the Port of Prince Rupert on a priority train service enabling high demand goods to get from Shanghai to key markets in Canada faster than any other industry offering, the companies said.
Thanks to low congestion at the port and strong terminal fluidity, the Port of Prince Rupert offers a strategic advantage to shippers. This deep-water port is located 500 nautical miles closer to Asia than any other west coast gateway, enabling faster transit times while also offering benefits such as berthing on arrival and industry-leading low dwell times.
"While Rupert offers the strategic advantage in terms of being closer to Asia, the priority train compliments the shorter ocean transit with equally faster inland movement leading to a far better end-to-end supply chain model," said Dan Bresolin, Vice President, Intermodal at CN.
COSCO's new CEN express service is targeted towards BCOs with a direct call to Rupert from Shanghai and Qingdao. The priority train service enables expedited furtherance of Toronto traffic from COSCO's CEN service to rail without on dock dwell. The single destination-bound train leverages CN's network and velocity to deliver faster transit with minimal train stops, the companies said. The first Toronto priority train departed Prince Rupert on Nov 1st with containers that got discharged from the COSCO vessel – Xin Chong Qing.
With supply chain delays impacting customer buying cycles, the priority train service is intended to allow for a more reliable and consistent transportation solution between Asia and key consumer markets in Canada, said the companies' statement.
(Image courtesy CN Rail)