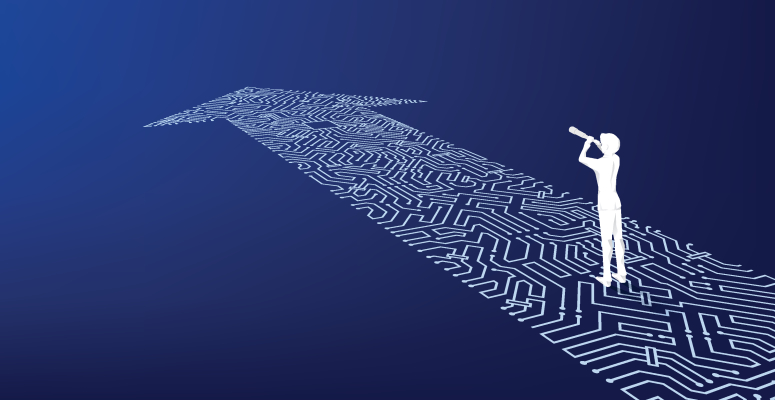 Forwarders are under the gun from all sides to digitize processes and communication
By Ian Putzger
Vancouver International Airport has initiated a project for proof of concept for a cargo community system (CCS). It will involve a handful of ground handlers, forwarders and trucking firms. The program kicks off with truck slot booking functionality and will subsequently be expanded to other features, according to Amar More, CEO of Kale Logistics Solutions, which will implement and run the CCS.
CCSs are on the advance at a growing number of North American airports – including Boston, Philadelphia, New York and Chicago Rockford – as airport authorities see a need for a digital ecosystem for their cargo communities. Forwarders also face pressure to digitize from airlines pushing e-air waybills and online bookings, as well as from customers demanding improved visibility.
At the same time, there are internal pressures to digitize, from the need to free up overstretched personnel from routine processes to cost containment and the ability to respond faster to disruptions.
"Digitization and IT have been front and centre at OEC. We've invested heavily in tech in our network," said Marc Bibeau, president and CEO of Overseas Express Consolidators. He is also CIFFA's technology chair.
Stan Wraight, president and CEO of Strategic Aviation Solutions International, regards digitization as inevitable. "It saves money, is ecologically sound, it helps alleviate staffing shortages, and you know what's coming," he remarked.
Some evangelists of digitization have hailed the digital forwarder as the future of freight forwarding. While this is technologically possible, it is extremely difficult today, noted Kareem Naouri, CEO of logistics software provider LogistaaS.
"The industry is still facing some serious obstacles. Each process has to be digitized individually with carriers, with truckers and the other parties you're dealing with. Interactions with platforms must be intuitive. Nobody is going to learn a complex system to deal with a platform," he said.
Technology itself is less of a hurdle now, although cost is still somewhat of an obstacle for smaller forwarders at this point. Bibeau sees this change in the near future. "We're going to get to a point where technology is available as SaaS at an affordable price," he predicted.
More said that the technology required to interface with KALE's CCS will be relatively straightforward for small forwarders to use, adding that there are some shortcuts to deal with technology challenges. Forwarders who are unable to transmit e-air waybills can send a system-generated PDF of their AWB to the CCS platform as an e-mail, which will convert it into the required format.
Regardless of the state of technology a company is using, one element that is indispensable is data quality. If the master file is not up to date, players find themselves in a case of garbage in, garbage out, noted Bibeau.
Mindset can be another major obstacle. Digitization helps automate internal processes, but the full potential unfolds as data flow up and down supply chains. Many companies are uncomfortable with this, though, partly out of concern over cybersecurity, partly because they don't want to share any information that might compromise their competitive advantage. Bibeau sees this reluctance to share information as one of the biggest challenges with digitization. For supply chains to function well, transparency and access to information are paramount, he noted.
To forwarders that seek to facilitate information flow it makes sense to feed it into their transportation management system (TMS). The benefits vary a great deal, depending on the system used. Most of those currently in use are not cloud-based and have limited feature sets, noted Naouri.
"In future TMSs will be integrated, plugged into different third-party platforms and tools," he predicted. "I think the future of a TMS will be kind of a core operating system that is integrated with different systems and apps."
Air Canada has been one of the airlines that have driven the use of online channels to obtain pricing and book shipments. In addition to its booking functionality on its website, the carrier has engaged with the three largest online booking portals for airfreight – cargo.one, WebCargo by Freightos and CargoAI – in order to allow forwarders to connect with it through the main pricing and booking channels.
The volume of bookings through the third-party portals is not as large as what is processed through its proprietary channel, as these are recent additions to the mix, but uptake has been good across all channels, reported managing director commercial Matthieu Casey.
In some markets, including Canada, the share of online bookings is quite substantial, he said.
Most of the online bookings are for general cargo. "For special cargo we're not quite there. It's still early days," he remarked.
Most customers tend to use the online channels for domestic and recurring shipments to begin with before advancing to more complex bookings as they get more used to the system, he observed. Users are not necessarily the more tech-savvy forwarders, as those tend to be more interested in more sophisticated solutions, seeking integration through APIs.
The portals are used exclusively for ad hoc shipments and price queries. Casey does not altogether rule out opening them for contract cargo, but shippers that sign contracts usually already have a good connection with the airline, he noted.
Besides price queries and bookings, for most forwarders the other major focus in digitizing external communication is on shipment visibility. The disruptions of the past two years have brought painful illustrations of the need for timely information.
"Everybody has track and trace, but if you have outdated information, you're at a disadvantage,' said Bibeau.
In a digitized setting shipment status information can be conveyed to clients through control towers. Likewise, forwarders can put up dashboards for customers to monitor and control shipments – without having employees spend precious time chasing shipment data and conveying them to the client.
James Coombes, CEO of Vector.ai, emphasized the importance of connecting shipment visibility information with a forwarder's internal processes. His company provides digital freight forwarding platforms that automate processes and provide actionable visibility for aspects like accounts payable, arrival notices, pre-alerts and customs clearance workflow. Forwarders either adopt specific modules or the entire platform.
"Visibility should drive actions," Coombes stressed. Once a forwarder receives information about a change in a shipment's itinerary, it is necessary to communicate the requisite changes to contractors like truckers. Much of this can be automated if the flow of visibility data is digitally linked to operations, he said.
OEC complements visibility data with business intelligence and reporting, Bibeau said. Large shippers and players like DHL have embraced predictive analytics and artificial intelligence to get early warnings of potential disruptions. To that end they harness information on weather and elements like news on possible industrial action in an area that factor in a given supply chain.
This requires a more advanced state of digitisation, moving the journey to the next stage – digitalization. Whereas the former transforms existing processes into digital format, digitalization leverages digital capabilities to develop entirely new functionalities and capabilities that are digitally native.
Bibeau thinks the step into digitalization is inevitable. "I don't think we have a choice. The world is moving at a fast pace to automated environments," he reflected.
The spread and use of CCSs is a case in point. The need to manage truck flows and avoid landside congestion has been the spark for their adoption in recent years, but now more and more airports want to embrace a much broader spectrum of capabilities that these platforms can offer, More observed.
Moreover, there is a growing desire to connect these digital ecosystems and establish digital corridors that can provide end-to-end visibility and enable parties at both ends to align their activities virtually in real time.
"What would digital corridors between airports do? They would provide an instant alert of a delay and allow the receiving station to make the arrangements for staffing numbers, reschedule trucking etc.," said Wraight. "If you digitize airports, pharma that arrives should be on the customer's truck within 90 minutes after landing."
More listed three critical elements that have to be in place for a fully fledged digital corridor. It requires shipment status tracking capability, shipment data capture and the establishment of e-customs and e-certificates of origin.
He thinks that digital corridors for the likes of Vancouver to come within reach in about a year. "First we have to get the systems in place," he said.
For CIFFA's technology committee, the next goals are not quite as lofty. A fairly recent creation, it first focused on cybersecurity. According to Bibeau, this has been well received. "I think we've given our members a good toolkit," he said.
The next mission is going to be about operational efficiencies and technology. This will look at process automation and productivity and highlight leading practices. Interest should be high.