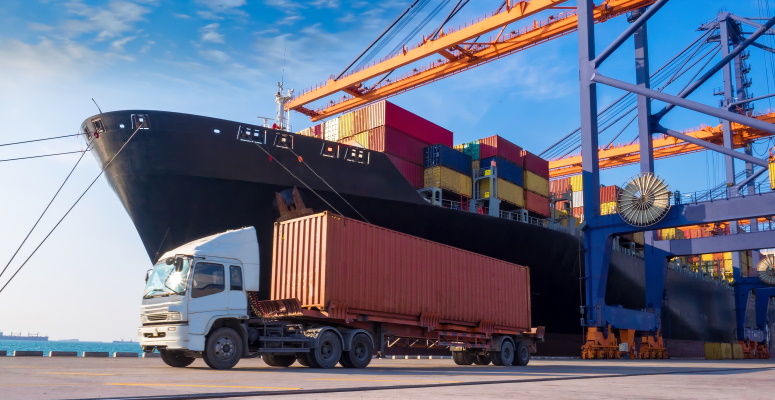 Month in Review – April 2022
Maritime
April 6: 'Outlandish' Emissions Claims by Liner Giants Ridiculed on Social Media – The Loadstar
In a LinkedIn post, Lars Jensen, CEO of Vespucci Maritime, noted "wild discrepancies" between the emissions-per-box claims of alliance partners Evergreen, CMA CGM, Cosco and OOCL.
"If you book with any of these, the cargo will go on the exact same vessel on the exact same routing," said Jensen.
However, claimed per-box emissions on a route between New York and Shanghai at CMA CGM varied between 1370 kg and 1779 kg of CO2, depending on the route taken; Evergreen claimed between 809 kg and 839 kg; OOCL claimed 692 kg; and, by far the most outlandish claim, was that by Cosco, of between 437 kg and 533 kg of CO2 depending on the service chosen.
"Four carriers. Four different methodologies. Four very different results," said Jensen.
His observation has potentially troubling implications for shippers, for whom emissions data increasingly plays a role in their decision-making.
April 8: More Blank Sailings as Spot Rates Tumble and China's Lockdowns Take Their Toll – The Loadstar
There is a distinct feeling of déjà vu about the current lockdowns in China, with spot rates declining as carriers scramble for export cargo from shuttered manufacturing.
But rates could spike again when the flood gates reopen for the delayed orders.
"It's almost like a traffic jam," said Container xChange CEO Christian Roeloffs. "Some people have now stepped on the brakes really heavily and this will lead to a significant build up in demand for freight services, which will be unleashed once the factories reopen.
"And when demand is back, carriers will again not have enough equipment on the ground, as not enough containers went into China during the lockdowns. So that will push up prices again," he added.
April 11: Shanghai Port Runs Out of Space for Refrigerated Containers – American Shipper
Container vessel operators are preparing to divert refrigerated containers destined for Shanghai to other ports because the area to plug into electric power is full of cargo that trucks can't retrieve in the face of a citywide COVID lockdown.
The notices to customers are the latest manifestation of how the strict restrictions on movement within the city are impacting imports and exports through the world's largest container port and Pudong International Airport.
Authorities in Shanghai have sealed off the entire city for nearly two weeks. Over the weekend a record 23,000 COVID cases per day were counted. More than 90% of trucks supporting import and export deliveries are out of action because of the restrictions. The slow pickup of cargo has resulted in long container dwell times, leaving less room to place arriving import boxes. Decreased terminal efficiency is forcing dozens of container vessels to wait at anchor for berth space, while others skip the port altogether.
April 11: Part of Felixstowe Terminal Collapses – Container News
Part of terminal 6 at the Port of Felixstowe, the United Kingdom's busiest container port, collapsed on April 10.
Port operations are expected to face a period of disruption.
April 13: Floods Knock Out South Africa's Largest Port – Splash
Torrential rain – the worst experienced in more than six decades – has knocked out operations at South Africa's largest port, Durban.
Some parts of KwaZulu-Natal province recorded as much as 300 mm of rain within 24 hours earlier this week with many deaths reported and severe damage to road and rail links.
An update from Danish carrier Maersk stated that depot and warehouse operations have been suspended, and there is no access to the Durban terminal because of "significant damage" to an access road.
April 16: Maersk Stops Bookings of Meat and Fish into Shanghai – gCaptain
AP Moller-Maersk A/S has stopped bookings to ship refrigerated containers into Shanghai as a strict COVID lockdown stalls the trucking of meat and seafood from the port into the city.
Containers are piling up at the port of Shanghai due to supply chain disruptions caused by the lockdown, Ocean Network Express said in an advisory to customers on April 14. The port is running out of electric plug slots to keep refrigerated containers cool, while trucking remains limited and terminals are congested, the container shipping line said.
That has prompted Maersk to stop all new deliveries of refrigerated goods and some hazardous cargoes into Shanghai until further notice, the company said. The company is waiving charges for customers to change the destination of their frozen goods already sailing to Shanghai.
April 19: Durban Port Functional after Flood Devastation – MarineLink
South Africa's major port of Durban, where operations were disrupted by severe flooding last week, is now functional and a backlog of thousands of containers will be cleared within five to six days, the public enterprises minister said on April 19.
The floods caused extensive damage to roads leading to Durban port, one of the busiest shipping terminals in Africa and a key hub for exports.
April 20: 1 in 5 Containerships Globally Are Stuck Waiting Outside Congested Ports – gCaptain
The number of containerships waiting outside of congested ports has risen sharply in recent months, with 20% of all containerships trading globally now stuck in backups, according to maritime data intelligence firm Windward.
Widespread COVID-19 lockdowns in China have heavily impacted congestion outside the country's ports, with the number of waiting ships nearly doubling since lockdowns first went into place – climbing from 206 in February to 506 in April.
Looking at the global picture, between April 12 and 13, there were 1,826 containerships waiting outside of ports around the world, representing approximately 20% of the global fleet, Windward data shows.
April 20: Expedited Shipping Lanes Gain Momentum as Congestion Persists – Supply Chain Dive
Shippers are increasingly using expedited shipping lanes to mitigate supply chain disruptions at ports, several executives confirmed in emails with Supply Chain Dive.
Hapag-Lloyd said in a statement the ocean carrier is trying to meet "a trend to faster services."
Sovos Brands CFO Chris Hall recently touted the strategy to investors. "We have and will continue to pay for accelerated lanes," Hall said.
April 22: Carriers Roll Out More Blank Sailings in a Bid to Underpin Slide in Spot Rates – The Loadstar
The 2M alliance is preparing to blank three Asia-North Europe sailings next month, as export demand from China plummets and container spot rates come under increased pressure.
2M partners MSC and Maersk have cancelled their Griffin/AE55 loop for the first week of May and will void two voyages of their key Shogun/AE1 service in the following weeks.
MSC attributed the cancelled headhaul voyages to "the ongoing market situation" and said bookings would be accommodated on "alternative services."
The blankings by the 2M and two other alliances are seen as a bid to halt the slide in rates as cargo bookings from China have tanked, due to COVID lockdowns and intermodal restrictions.
April 25: Hapag-Lloyd Fined by FMC after Levying 'Wilful' and 'Erroneous' D&D Charges – The Loadstar
German carrier Hapag-Lloyd has been ordered to pay $822,220 in civil penalties for 14 violations of the U.S. Shipping Act.
An FMC investigation found it incorrectly applied detention and demurrage (D&D) charges to 11 containers handled by California drayage firm Golden State Logistics (GSL).
The D&D charges levied to GSL amounted to $10,135, but the FMC's Bureau of Enforcement (BOE), which Hapag-Lloyd had unsuccessfully claimed had no jurisdiction over the case, said the penalties were punitive in nature as the carrier had "knowingly and wilfully" applied the D&D charges despite GSL being unable to return the containers.
April 26: Vancouver Fraser Port Authority Postpones Gateway Infrastructure Fee 2022
The period for accepting submissions on GIF2022 ended on April 15. To allow sufficient time to review and address concerns raised by stakeholders, the VFPA has postponed implementation of the fee.
Details respecting the timing of a new effective date for implementation of the proposed GIF2022 will be available in the near future.
April 26: Despite Rising Risks, Shipping Lines on Track for Another Record Year – American Shipper
The year is almost a third over, and with each passing month, shipping lines look increasingly likely to pocket even more cash in 2022 than in record-trouncing 2021.
New data and commentary released on April 26 by ocean carrier Maersk, freight forwarder Kuehne+Nagel and consultancy Drewry highlight just how profitable this year is looking for ocean carriers – and how expensive it's looking for importers.
Air
April 6: Hong Kong Banning Flights at Fastest Rate Since January – American Journal of Transportation
Less than a week after Hong Kong rolled back some of the world's strictest inbound travel curbs, at least six airlines have had routes banned.
Singapore Airlines Ltd., Emirates, Cathay Pacific Airways Ltd., Qatar Airways QCSC, Korean Air Lines Co. and Malaysia Airlines were slapped with week-long bans this month after breaching Hong Kong's so-called circuit-breaker mechanism. A stoppage can be meted out if three or more COVID-19 cases are found on the same flight, or if there's one confirmed infection and another non-compliant passenger.
April 19: Cargo Diversions from Shanghai Start to Clog Up Other Major Chinese Airports – The Loadstar
Air freight diverted from lockdown-hit Shanghai Pudong Airport (PVG) is clogging up China's other major airports, causing a shortage of pallets for exports.
Forwarders have singled out Zhengzhou Airport (CGO), in the central Henan province, as the hardest hit, given the large amount of cargo diverted there from Shanghai.
April 25: U.S. Airlines Substituting Buses for Planes as Pilot Shortage Persists – American Journal of Transportation
U.S. airlines are facing a pilot shortage that's complicating efforts to ramp up flights, forcing them to step up training programs, recruit foreign pilots and even replace planes with buses.
The industry needs to hire an average of 14,500 new pilots each year until 2030, according to U.S. federal labour statistics. But carriers say there's no way they can bring on that many due to long lag times for credentialing. Worse, experts say the staffing bottleneck is unlikely to end anytime soon.
"The pilot shortage for the industry is real and most airlines are simply not going to be able to realize their capacity plans because there simply aren't enough pilots, at least not for the next five-plus years," Scott Kirby, chief executive officer of United Airlines Holdings Inc. said this week.
April 25: Russian Takeover of Foreign-Owned Aircraft Portends Higher Lease Rates – American Shipper
Air Lease Corp. disclosed on April 22 it is writing off $802.4 million for leased aircraft trapped in Russia it doesn't expect to recover following Western sanctions against the country for the invasion of Ukraine.
The broader significance of the impairment charge is that "lessors are going to treat country risk differently than they had in the past and will charge airlines accordingly," Cowen equity analyst Helane Becker said in a client note. "We expect lease rates to trend higher."
Rail
April 6: The Montreal Port Authority and Canadian National Reach an Agreement in Principle to Develop the Rail Component of the Port of Montreal's Contrecœur Expansion – MPA press release
The Montreal Port Authority (MPA) and Canadian National Railway (CN) have reached an agreement to integrate rail transport at the MPA's new container terminal in Contrecœur.
The CN rail line is already in place in the area covered by the Port of Montreal's expansion in Contrecœur. In addition to establishing an efficient intermodal service, the partnership aims to ensure close cooperation between CN, the MPA and the private partner that will be selected to design, build, finance, operate and maintain the future terminal, following a procurement process led by the MPA.
April 28: New CEO Spells Out Priorities for Canadian National – Trains
New CEO Tracy Robinson likes what she sees at Canadian National.
Robinson spent her first two months at CN traveling the system and getting to know the operating team, as well as meeting with the railway's customers and investors.
Robinson, who was an executive for eight years at Calgary-based pipeline company TC Energy following a 27-year career at Canadian Pacific, spelled out her priorities for CN during her first public comments as chief executive.
First, CN will run a scheduled railroad "with a laser focus on velocity," which will improve service and produce more efficient use of assets such as locomotives, cars, and crews.
Second, Robinson says, "we will curate our book of business to better fit our network and leverage our strengths."
Third, the railway will tighten coordination between operations and marketing to ensure the railway has the capacity to deliver on its commitments to customers.
And fourth, CN will continue to invest for growth and efficiency.
Trucking
April 6: Trucking Industry Will Be in Trouble if Demand Drops to Pre-COVID Levels – FreightWaves
Trucking spot rates are way up, but so are operating expenses. What does this mean for carriers?
Since the pandemic began, the number of dispatchable trucks in the for-hire trucking market (trucks with a driver and available to haul a load) is up approximately 10%. Since trucking rates are contingent upon the balance of supply and demand, if volumes were to drop back to pre-pandemic levels (with far more capacity in the market), rates would collapse.
But even more worrisome is that the operating expenses of carriers are at much higher levels than before COVID. FreightWaves estimates that operating expenses for nearly all carriers have surged by as much as $0.38 per mile over pre-COVID levels. This calculation includes only maintenance, insurance and fuel costs.
The calculation does not include driver wages or equipment purchase/finance, which could nearly double the increased amount of operating expenses.
If a trucking fleet were to start up today with an employee driver, its operating cash expenses would be as much as $0.72 per mile higher than a trucking fleet that was started in 2019.
April 9: Commercial Border Crossings in El Paso Slow to Snail's Pace after Texas Steps Up Security – Reuters
Hundreds of commercial trucks waited in an hours-long line on April 9 to cross the border from the Mexican city of Ciudad Juarez into El Paso after Texas Governor Gregg Abbott ordered state troopers to step up inspections of north-bound vehicles.
The commercial border crossings between Ciudad Juarez and El Paso slowed to a snail's pace after Abbott directed the Department of Public Safety on April 6 to begin conducting "enhanced safety inspections" of vehicles at the international ports of entry into Texas.
Abbott's order cited "cartels that smuggle illicit contraband and people across our southern border" as the reason for the stepped-up measures.
April 12: Trucker Protests Expand at U.S.-Mexico Border over Lengthy Wait Times – Reuters
Mexican truck drivers blockaded bridges at the U.S. border for a second day on April 12 to protest an order by the Texas governor meant to increase safety inspections that has snarled traffic and led business groups to warn of supply chain disruptions.
Mexico's government said in a statement it "rejects" the inspections imposed by Texas, estimating that two-thirds of normal trade was being held up and costing "significant revenue" for both U.S. and Mexican businesses.
April 15: Texas Moves to Ease Border Gridlock Over 'Sense of Urgency' – Transport Topics
The logjam of trucks at the U.S.-Mexico border finally began breaking April 14 after nearly a week as Texas Gov. Greg Abbott eased off his latest dramatic action over immigration that has gridlocked some of the world's busiest trade ports and taken a mounting economic toll.
"There is a sense of urgency now to reach deals that did not exist before," Abbott said.
The Republican governor, who for days has allowed commercial trucks to back up for miles into Mexico after requiring them to stop for additional inspections in Texas, lifted that order for bridges in El Paso and other cities after announcing a new security agreement with the neighbouring Mexican states of Chihuahua and Coahulia.
Inspection orders remain in other parts along Texas' 1,200-mile border, including the busy Rio Grande Valley, but Mexican trade leaders were optimistic those would also end soon.
April 27: New StatsCan Data Highlights Demographic Crisis Underpinning Truck Driver Shortage – Canadian Trucking Alliance
Canada faces record retirements from an aging labour force at a time of record high job vacancies and historically low unemployment, reports Stats Canada.
No industry is feeling the complications of this demographic crisis more than the trucking industry, which, already in the midst of a severe labour shortage, has the oldest workforce in Canada, says the Canadian Trucking Alliance.
CIFFA Advocacy, Communications, Activities
April 12: CIFFA Participates in Ontario Ministry of Transportation Freight Advisory Committee
CIFFA participated in the Freight Advisory Committee that assisted the Ontario Ministry of Transportation in developing a transportation plan for the Greater Golden Horseshoe (GGH) over the past couple of years.
The province released Connecting the GGH: A Transportation Plan for the Greater Golden Horseshoe on March 10. The plan sets out a path forward for a regional transportation network to 2051 to meet the region's transportation needs, and demands that will come with forecast population and employment growth.
The 2051 vision includes infrastructure, service improvements and policies organized under four inter-related themes:
Fighting gridlock and improving road performance
Getting people moving on a connected transit system
Supporting a more sustainable and resilient region
Efficiently moving goods
April 20: Minister of Transport Response to CIFFA Letter on CP Rail Strike
On April 20, CIFFA received a response regarding a March 11 letter to the Transport Minister, among other ministers, regarding a possible work stoppage at CP Rail, and any implications on supply chain fluidity. In his response, the Minister of Transport, the Hon. Omar Alghabra, indicated that safety is his top priority. "This was true during the disruption of CP rail service and remains the case now. I can also assure you that the safe, timely and efficient movement of goods is of the utmost importance to the Government of Canada," he said.
April 21: Alberta Minister of Agriculture Replies to CIFFA Letter Regarding Prospect of Rail Service Interruption at CP Rail
On March 4, CIFFA wrote to the Honourable Nate Horner, Alberta's Minister of Agriculture, Forestry and Rural Economic Development, to express, on behalf of 20,000 employees working in the freight forwarding industry, alarm at the prospect of a rail service interruption at CP Rail.
Minister Horner replied on April 21. His email message included the following:
Thank you for your March 4, 2022 email regarding Canadian Pacific Railway (CP) labour action and the challenges this posed for supply chains. I share your concern for all businesses across Canada that depend on CP as part of the transportation supply chain network.
The implications of a CP work stoppage and the need to find an amicable solution between CP and the Teamsters Canada Rail Conference (TCRC) required an immediate solution. As you stated, a slowdown or stoppage of CP rail would negatively affect stressed supply chains and undermine the competitiveness of Canadian export industries that depend on CP to get their products to market.
The Premier and the Government of Alberta addressed the CP labour action with the federal government. We also worked with our provincial and territorial counterparts to impress upon the federal government the severe impact that a CP strike would have on our provincial economies and the transportation supply chains our local businesses depend on.
As you know, CP and TCRC have agreed to binding arbitration. The Premier and the Government of Alberta are pleased with this decision and welcomed the return of normal operations at CP. We are continuing to monitor the situation and at this time are not aware of any long-term impacts for Alberta.
April 25: Canada's Supply Chains, Fragile at the Best of Times, Are Now Broken: House Transport Committee Hearing on the State of Canada's Supply Chains, Including 'Most Compelling' Testimony from CIFFA – National Post
The House of Commons Transport Committee heard last week from witnesses on the state of Canada's supply chains. The consensus among experts at the committee is that they are in a terrible state and contribute to rising costs for consumers.
The most compelling testimony came from the Canadian International Freight Forwarders Association's Bruce Rodgers and Julia Kuzeljevich, whose members appear to be bearing the brunt of the capacity problems.
Kuzeljevich said that it takes 22 days for a ship to travel the 10,000 kilometres between Hong Kong and Vancouver, only to then have to wait an average of four weeks to find a berth, according to logistics company Maersk's data. Yard congestion at the port is 120 percent, compared with an optimal level of 80 percent. The port's own data confirm that things are backed up: Container import rail footage (a measure of the train backlog) was 407,953 feet on March 22, compared with around 100,000 feet in October last year.
There was a two-day strike by CP employees at the port in the days leading up to March 22, but Rodgers pointed out that Canada's supply chains are fragile at the best of times "and broken when anything disrupts them. We have had a lot of significant disruptions over the past two years."
The efficiency of the system is not helped by burdensome regulation. Rodgers said the Canada Border Services Agency made efforts to reduce inspection delays during the pandemic, but freight forwarders still face "nightmarish" challenges. He offered the example of one importer whose container was identified for CBSA inspection on Oct. 23. The one-day inspection took place on Dec. 2 and the container was released by customs on Jan. 4 – a 73-day process that cost the importer US$8,730.
April 26: CIFFA Joins UN Global Compact
On the recommendation of our Sustainability Committee, CIFFA applied to participate in the UN Global Compact, the world's largest corporate sustainability initiative. CIFFA was accepted as a non-business signatory.
In applying to join, CIFFA committed to implement the Ten Principles of the UN Global Compact, participate in the activities of the initiative where feasible and submit a report every two years on engagement activities.
To fulfill our commitment to the UNGC, CIFFA will do what we can to internalize UNGC principles in our strategies, policies and operations. We will endeavour to provide information from the Compact to members to enable you to develop meaningful corporate sustainability goals and best practices. Depending on member interest, we will consider developing tools and resources for Canadian freight forwarders looking to up their sustainability initiatives; organizing workshops on relevant topics; and advocating to governments on key issues.
The UNGC website, www.unglobalcompact.org, offers a library of guidance documents and tools, as well as a link to Global Compact Network Canada, at www.globalcompact.ca, where you'll find local resources, events and newsletters.
April 26: CIFFA Appears as Witness before House of Commons Standing Committee on Transport, Infrastructure and Communities
On April 25, CIFFA's Bruce Rodgers and Julia Kuzeljevich appeared before the House of Commons Standing Committee on Transport, Infrastructure and Communities (TRAN).
Read CIFFA's speaking notes.
CIFFA responded to committee questions related to the state of the supply chain in Canada, reasons for issues, labour and infrastructure concerns, and the need for a national supply chain strategy.
The full list of witnesses for the April 25 session is:
Canadian International Freight Forwarders Association

Bruce Rodgers, Executive Director
Julia Kuzeljevich, Director, Policy and Communications

Canadian National Railway Company

Sebastien Labbe, Vice-President, Bulk, Rail Centric Supply Chain

Canadian Pacific Railway

Joan Hardy, Vice-President, Sales and Marketing, Grain and Fertilizers

Montreal Port Authority

Daniel Dagenais, Vice-President, Port Performance and Sustainable Development

Railway Association of Canada

Marc Brazeau, President and Chief Executive Officer

Western Canadian Shippers' Coalition

David Montpetit, President and Chief Executive Officer