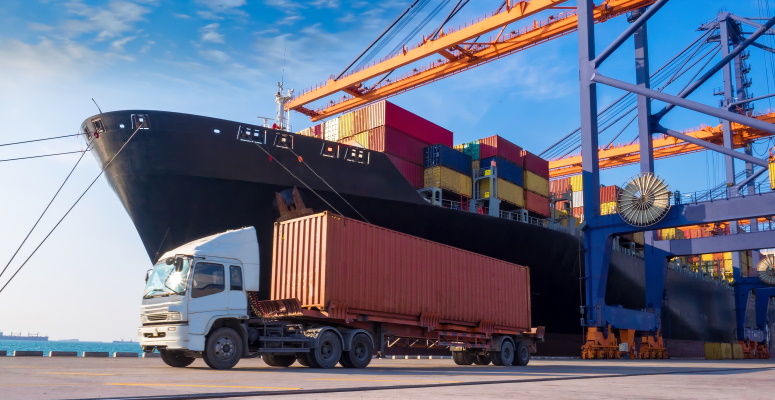 Month in Review – August 2021
Maritime
August 3: Container Lines Fighting Losing Battle on Capacity – Lloyd's Loading List
Container lines are fighting a losing battle to inject sufficient capacity into the market as schedule delays absorb the huge amount of additional tonnage that has already been deployed on key trade lanes.
"Despite data from CTS showing a very modest global demand growth … most freight rates continue to set records and shippers find themselves in a situation of fighting over available capacity," said Sea-Intelligence chief executive Alan Murphy. "The current predicament is driven in the main by lack of capacity and not by a demand boom."
In practical terms, a carrier offering a weekly service using 10,000-TEU vessels on the transpacific would need six ships for the six-week round trip. But if a ship were delayed by a week due to port congestion at either end of the voyage, an additional vessel would be required to maintain the same capacity. "This means the carrier de facto needs to increase nominal capacity by 16.7%, simply to maintain the same weekly capacity," said Murphy.
"The effect of this is exactly the same as if the market demand had increased 16.7%, as that would have required the same injection of net capacity in the market."
August 3: Shipping Braces as China Goes into Lockdown Mode – Splash
Shipping will need to start to make contingency plans if cases of COVID-19 continue to escalate in China.
The Delta variant has broken through the country's virus defences, which are some of the strictest in the world, and reached nearly half of China's 32 provinces in just two weeks. While the overall number of infections – more than 360 so far – is still lower than COVID resurgences elsewhere, the wide spread indicates that the variant is moving quickly, with many millions of Chinese now in lockdown.
"For freight markets, the implications include delays at ports as authorities screen crews of incoming vessels and a hit to China's oil demand if widespread lockdowns are imposed," said a report from Braemar ACM.
"As long as lockdowns remain confined to China, the impact on freight markets is likely to be muted, especially in the case of wet and dry freight. The container market seems most vulnerable if we see more severe disruptions to manufactured-products supply chains," commented Plamen Natzkoff, senior trade expert at VesselsValue.
August 4: China Typhoons Create Latest Supply Chain Threat as Ports Shut – American Journal of Transportation
Extreme weather in China is becoming the latest challenge to global supply chains, as a heavy typhoon season threatens to further delay goods stuck at some of the world's busiest container ports.
Yantian port in southern China's export and industrial hub of Shenzhen stopped drop-off services of containers on August 3 due to a typhoon alert, the port said on its official social media account. Just two weeks earlier, Shanghai's Yangshan mega-terminal facility and nearby ports evacuated ships as Typhoon In-Fa slammed into the coast, bringing widespread flooding and toppling containers stowed in the hold of a bulk carrier traveling to the U.S.
There may be worse to come, as officials predict more typhoons will hit China this month.
August 5: Ocean Contract Rates Surge Almost 30% in a Month – Lloyd's Loading List
July saw the container shipping industry "enter uncharted water," as long-term contracted rates surged by their largest-ever monthly increase – "climbing by close to one third," analysis by ocean freight rates specialist Xeneta indicates.
According to the latest Long-Term XSI Public Indices from Xeneta – which crowdsources real-time rates data from leading shippers – the global index recorded a "staggering" month-on-month jump of 28.1% compared with June, "blowing the previous record (a 11.3% rise in May 2019) out of the water."
The benchmark now stands 78.2% higher than in July 2020, and up 76.4% in 2021 alone.
August 9: Ningbo and Shanghai, the World's Two Largest Ports, Experience Unprecedented Congestion – Splash
The world's two largest ports are experiencing unprecedented volumes of tankers, bulk carriers and containerships backing up into the East China Sea as a combination of renewed COVID cases, fierce weather and strong U.S. demand creates further supply chain havoc.
The two ports were hit hard by a typhoon late last month and have seen productivity slow as new anti-COVID measures are being carried out at most Chinese quaysides in the wake of the sudden spread of the Delta variant of COVID-19 over the past three weeks.
Sea-Intelligence has carried out a data-led inspection of container port congestion at 22 ports around the world. The results show Shanghai and Ningbo recently coming under huge pressure from growing congestion.
Among the 22 ports surveyed, only Los Angeles, Long Beach, Oakland, Rotterdam, Antwerp and Vietnam had more-severe congestion than China's big two ports.
August 10: Reefer Cargo the New Battleground, with Rates Rising and Equipment Scarce – The Loadstar
Container shipping bottlenecks are creating winners and losers in reefer cargo, with consumers footing the bill for the increased logistics costs.
According to Drewry, average reefer freight rates jumped 32% in Q2, and are on track for a 50% increase by the end of Q3.
Increases on the major east-west tradelanes were particularly strong, Drewry noted, where available capacity has seen record demand in recent months, and reefer shippers have to compete with dry freight BCOs for slots.
August 11: The World's Largest Port, Ningbo, Starts to Turn Ships Away as a Worker Tests Positive for COVID-19 – Splash
Operations at a terminal of the world's largest port were suspended on August 10 following a case of COVID-19 being detected in a worker.
Ningbo-Zhoushan port started to turn ships away on the morning of August 10 in the wake of the positive test. Initially, the ports authority claimed that its operating system was down early this morning before the Ningbo Municipal Health Commission came clean with the news. The infected worker was part of the workforce at Ningbo Meidong Container Terminal.
Splash had already reported on August 9 about the unprecedented volumes of tankers, bulk carriers and containerships backing up outside Ningbo-Zhoushan port.
August 23: Ningbo's Meishan Terminal Partially Reopens – Lloyd's Loading List
The blocked Meishan terminal at the Chinese container port of Ningbo appears to have partly been reinstated, with new arrivals of three containerships last weekend – and after Meishan started to handle vessels at berth in the middle of last week.
The three vessels that entered the terminal had been waiting in the anchorage for up to nine days.
This development came after two large boxships left Meishan over the weekend after being at berth for more than 10 days due to the coronavirus-led closure of the facility.
No official announcement has yet been made as to when the terminal will reopen, although talks have been circulated in the market that local authorities plan to fully restore its operations on September 1.
August 25: Ningbo Disruption Adds to Equipment Shortage – Lloyd's Loading List
Recent disruptions in Ningbo and Vietnam as a result of the pandemic are set to worsen an already tight equipment supply situation in China, driving up shipping costs again.
Data from equipment platform Container xChange indicates that early disruptions at Yantian and nearby terminals in May and June are still causing "disruptive ripples" in the supply chain.
"We saw a real and measurable spike in container prices and a major drop in container availability when terminals at Yantian saw operations disrupted through most of June," said Container xChange co-founder Christian Roeloffs. "Early indicators suggest we are likely to see the same impact in Vietnam and at Ningbo."
August 26: More than Half of HMM Seafarers Quit as Pay Dispute Heats Up – But Talks Go On – The Loadstar
More than half of HMM's 600-strong seafarer workforce have quit following management refusal to meet pay demands.
Some 453 staff voted in the seafarers' union strike ballot last weekend, more than 90% backing action in protest at a reluctance to give generous salary increases after a pay freeze between 2011 and 2019, due to the company's poor performance in those years.
Meanwhile, the union said on August 25 it would extend negotiations by a week, to September 1.
August 27: Container Shipping Reliability Drops Further – Lloyd's Loading List
Container shipping vessel schedule reliability dropped further in July as global port and congestion disruption continued, and the average delays for late vessel arrivals continued to deteriorate, according to new analysis by Sea-Intelligence.
The container shipping analyst's latest Global Liner Performance (GLP) report indicates that vessel schedule reliability fell month-on-month by 3.8 percentage points in July to 35.6%, down "a massive 39.7 percentage points" from last year.
August 27: Big is Beautiful to Carriers in the New Shipping Contract 'Beauty Contest' – The Loadstar
Shippers and BCOs must be prepared to take part in "beauty contests" to determine their suitability for long-term contracts with their carriers.
But, given the extent to which the market has pivoted in favour of the shipping lines since the pandemic, one thing is certain: Contract shippers will be paying much more next year to move their cargo, and possibly for years to come.
According to freight rate benchmarking company Xeneta, carriers such as Maersk, on track to carry 60% of their business on contracts by the year end, will focus on locking-in more of their carryings supported by long-term agreements.
The advantages for carriers in nailing down long-term contracts with shippers during the current period of unprecedented freight rate inflation are obvious. Moreover, to facilitate forward planning for ship and equipment orders, the lines need to be less exposed to the volatility of the spot market.
Air
August 6: Uptick in Passenger Air Travel Hitting Cargo Capacity – Lloyd's Loading List
The recent uptick in passenger air travel has seen a significant number of 'preighters' returning to passenger (pax) mode, raising fresh concerns that the air freight capacity squeeze is set to intensify as the peak season approaches, according to a leading freight forwarder.
August 13: Cargo Airlines Cancel Hundreds of China Flights amid COVID Outbreak – American Shipper
Chinese restrictions to control a spike in COVID infections have severely curtailed cargo operations at several airports and reduced crew availability, forcing airlines to cancel hundreds of flights as the peak shipping season kicks into high gear in a sector already struggling to keep up with high demand.
Logistics professionals say the growing scarcity of long-haul aircraft could push freight rates near $20 per kilogram on certain trade lanes within a few weeks, making air transport five or six times more expensive than normal for the fall rush. The only time shipping costs have been that high was during the early days of the pandemic when the mass grounding of passenger flights took away a vast amount of cargo space.
August 16: Pandemic Rules Bring China Air Cargo Chaos as Ground Staff Quit and Rates Soar – The Loadstar
Ground handling staff in China are quitting in droves over new COVID rules, triggering the cancellation of hundreds of flights and the prospect of freight rates reaching "extraordinary" levels.
According to one Chinese forwarder, long handling times at Shanghai Pudong (PVG) saw some cargo flights taking off empty over the weekend. "Export cargo handling times are six to 10 hours, two-to-three times longer than normal," he said.
"PVG is the most affected and, over the weekend, many flights could only load a small part of their outbound cargo, while others just flew back without any cargo, creating a huge backlog for upcoming flights."
August 19: Air Cargo Charter Market Set for 'Extremely Challenging' Peak Season – Lloyd's Loading List
Constrained capacity and elevated prices continue to be the dominant features of the air cargo charter market with leading brokers predicting an extremely challenging peak season as strong demand rises even further to a backdrop of ocean freight chaos and buoyant cross-border e-commerce volumes.
Capacity remains very tight for full freighters while the space offered by passenger aircraft operating in all-cargo mode is also in high demand, said Chapman Freeborn's head of cargo, Pierre Van der Stichele.
"Between spring and summer, we did see a slight easing for a short period but the capacity crunch is back on. Due to recent events taking place in the world, such as the recent earthquake in Haiti, we are already seeing further demand, with relief agencies needing capacity for humanitarian flights."
He said it was "practically impossible" to obtain wide-bodied freighter capacity at short notice unless there was a last-minute cancellation of a flight, which sometimes occurs due to a delay with cargo."
August 20: Cargo Logjam Building after COVID Disrupts Handling at Shanghai Pudong Airport – The Loadstar
COVID testing disrupted cargo operations at Shanghai Pudong Airport (PVG) on August 20, with widespread delays and flight cancellations expected over the weekend.
Ramp handler Shanghai International Airport Services suspended activities after a positive case was detected, and all staff were sent for testing or quarantine, according to forwarders.
One said: "But PVG is not closed – none of the terminals are closed, that is just a rumour – the problem is with the ramp handler only."
Nevertheless, the impact is likely to be substantial. The forwarder said there were serious delays for flights on August 20 and over the weekend, with many more cancellation notices expected from airlines in the week of August 23.
August 25: Air Freight Rates Soar due to Shanghai Challenges – Lloyd's Loading List
Fresh outbreaks of COVID-19 among air cargo handlers in Shanghai and other Chinese airports that are causing cancellations and a lot of uncertainty for ex-China air cargo are also pushing up air cargo rates, with spot prices ex-Shanghai rising 15% to 25% to U.S. destinations this week and 12% to15% to airports in Europe, new data from digital rates specialist Freightos reveals.
These prices "are double their level a year ago and are at their highest point since May 2020 when the industry was under extreme pressure due to the rush on PPE," highlighted Judah Levine, head of research at Freightos.
August 26: Air Cargo Carriers Shift Operations as Shanghai Disruption Drags On – Supply Chain Dive
Air carriers are adjusting their operations and diverting shipments in the face of freighter suspensions at Shanghai Pudong International Airport due to the closure of a terminal, PACTL, that began Aug. 20 after COVID-19 cases were reported among cargo workers.
Lufthansa Cargo is not accepting any additional freight for transport to Shanghai through August 27, and Qatar Airways, Air Bridge Cargo and Polar Air Cargo have diverted future shipments to other airports in China.
The exact duration of the suspensions remains unclear. However long the freighter suspensions last, "the impact will be significant," said C.H. Robinson.
August 26: Air Freight Peak Season Has Arrived a Month Early – Lloyd's Loading List
Air freight's annual autumn and winter peak season has arrived a month early, air freight forwarders and sources are reporting, due to a combination of factors including manufacturing production delays, ocean freight turmoil, and COVID-related air-capacity reductions and regional lockdowns.
Rail
August 10: CP Boosts Bid for Kansas City Southern – Inside Logistics
Canadian Pacific Railway has submitted a new proposal to Kansas City Southern (KCS) rail shareholders, upping its previous US$25 billion bid to $31 billion.
The new bid still falls short of Canadian National's offer of $33.6 billion, which KCS has conditionally accepted.
CP claims its new proposal "represents improved terms" to those agreed to in the CP-KCS merger agreement entered into on March 21, 2021, and says they are "substantially similar" to those in the CN merger agreement.
However, CP says its bid "offers significantly higher regulatory certainty" than the proposed CN merger.
August 12: Kansas City Southern Rejects New Takeover Bid from Canadian Pacific – MarketWatch
Kansas City Southern railroad is trying to keep its $33.6 billion merger with Canadian National on track by rejecting a competing $31 billion bid from rival Canadian Pacific earlier this week.
Kansas City Southern said on August 12 that its board unanimously decided to continue backing Canadian National's higher offer. KCS shareholders are scheduled to vote whether to accept CN's offer on August 19, but the U.S. railroad said it may now delay that vote if the U.S. Surface Transportation Board doesn't issue its decision on a key part of Canadian National's acquisition plan before August 17.
Trucking
August 9: Driver Pay Hikes Not Letting Up – FreightWaves
Demand for truck capacity remains high, but the lack of qualified drivers to meet the need is even greater. Elevated consumer spending has resulted in a peak-like freight market for more than a year now, and the reasons why driver employment has been lagging are well known.
Many of the drivers who left the industry at the pandemic's onset over fears of contracting the virus have yet to return. Low driver school enrollments due to COVID protocols and some 85,000 operators with failed drug tests (according to Drug & Alcohol Clearinghouse data) are just some of the obstacles the fleets face.
The result has been a race to raise pay in efforts to recruit and retain drivers even as the driver market may be loosening somewhat.
August 16: Federally Regulated Trucking Companies Not Required to Mandate Vaccinations – Today's Trucking
The federal government's announcement requiring mandatory COVID-19 vaccinations for federal workers will not apply to federally regulated trucking companies, the Canadian Trucking Alliance (CTA) confirmed.
Transport Minister Omar Alghabra made the announcement on August 13, saying federal public service employees will need to be vaccinated as early as the end of September.
Vaccinations will also be required for those working in the federally regulated transportation sectors of air, rail and marine, as well as all commercial air passengers.
But federally regulated trucking companies will not be required to mandate vaccinations, though the government is "strongly encouraging" employers to continuously urge vaccination within their workforces, the CTA says.
August 20: Canada's Spot Market Cools in July – Today's Trucking
Canadian spot market load volumes fell 11% in July, reflecting Canadian and U.S. holidays. Daily postings were down an average of 6% per day.
However, Quebec bucked the trend with strong outbound volumes both domestically and cross-border. Load volumes were up 31% compared to July 2020, according to the latest data from Loadlink Technologies.
Outbound cross-border loads were up 24% from June, and 49% year-over-year, Loadlink reported. Quebec led the way with a 66% increase in outbound cross-border loads.
However, inbound cross-border loads were down 29% from June. All regions in Canada saw decline sin inbound cross-border loads, with Western Canada the least affected with a 15% drop.
CIFFA Advocacy, Communications, Activities
August 20: CIFFA Submits Position Paper to All Political Parties Ahead of Federal Election
Critical Issues in Transportation Affecting Canada's Recovery, a paper outlining CIFFA's position on issues important to maintaining and developing a strong transportation and supply chain sector in the country, was recently sent to all political parties in advance of the federal election announcement.
Thank you to the members who contributed through their participation in CIFFA's committees. Their input shaped the document, with perspectives on customs services and border modernization, trade gateways, and key issues in the marine and aviation sectors.
The report is available in English and French.
August 26: CIFFA Posts New Air Cargo Screening Resource
A list of ground handlers has been compiled for CIFFA membership, showing their capabilities and services available for screening 100% of international air cargo transported on commercial aircraft, as per the ICAO (International Civil Aviation Organization) requirement.
Find the spreadsheet on the Resources webpage.