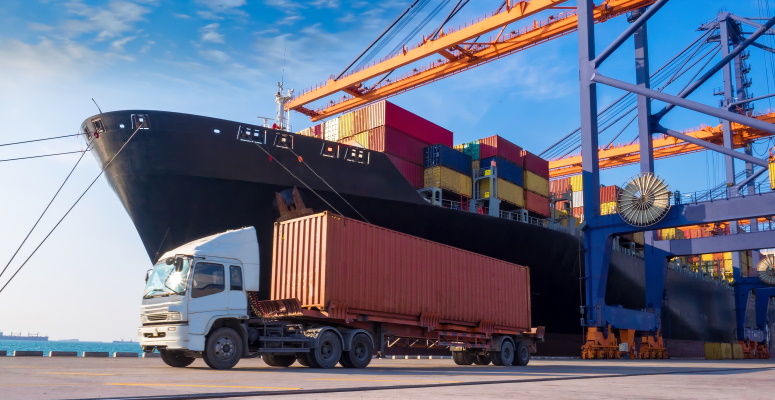 Month in Review – August 2023
Maritime News
August 1: Record Containership Deliveries Dash Carriers' Rate-Recovery Hopes – Seatrade Maritime
Containerships commissioned in June hit a record, with more than one ship delivered every day, adding 300,000 TEU of capacity.
According to analysis by ocean and air freight data specialist Xeneta no fewer than 40 ships joined the fleet over the month. In its most recent market report, the Oslo-based firm said that a total of 990,000 TEU of capacity was delivered over the first half, with a similar volume expected between now and the end of the year.
The firm reported that long-term freight rates have crashed, sinking to a two-year low in July. Its XSI® Shipping Index fell a further 9.5% from the June figure. Long-term valid contract rates have now sunk by 57.8% since the same period in 2022.
August 1: Unifor Members Working for the St. Lawrence Seaway Management Corporation Reject Tentative Agreement – Unifor press release
Members of Local 4211 in Ontario and Local 4319 in Quebec who work for the St. Lawrence Seaway Management Corporation have rejected the tentative agreement presented to them at a July 12 meeting.
Negotiations got under way on June 21 in St. Catharines, Ontario. During the second week of bargaining, the parties decided to apply for conciliation in order to facilitate the contract talks. After two weeks of intensive negotiations, the parties reached an agreement in principle that was rejected by a majority of Local 4211 and Local 4319 members.
The union has contacted the conciliator to express the union's desire to resume talks with management.
August 4: ILWU Canada Members Ratify Negotiated Agreement – BCMEA press release
BCMEA has received confirmation that the ILWU Canada voting membership have ratified the four-year negotiated tentative agreement that was achieved with the assistance of the Canada Industrial Relations Board last week. The BCMEA ratified the agreement on July 31.
The agreement was reached after five months of negotiations, conciliation and mediation, and five weeks of labour instability at B.C.'s ports.
The renewed collective agreement includes increases in wages, benefits and training that recognizes the skills and efforts of B.C.'s waterfront workforce, while providing certainty and stability for the future of Canada's West Coast ports.
August 4: Asia-U.S. Spot Rates Top Contract Rates for First Time Since 2022 – American Shipper
Shipping lines have been in the red in the trans-Pacific trades for months. They may have just inched back into the black again, courtesy of the rise in spot rates over the past five weeks.
Annual trans-Pacific contract rates reset to sharply lower levels in May. Even so, multiple ocean carrier execs insisted on conference calls that they did not sign annual contracts at levels that locked in a year's worth of losses.
The problem for carriers in recent months: A portion of their trans-Pacific volume – in some cases 50% – was booked in the spot market, at rates much lower than newly inked contracts, dragging the overall mix into loss-making territory.
Now, according to data from Xeneta, average trans-Pacific spot rates have just edged above average contract rates. If carrier execs are telling the truth about not signing loss-making contracts, and if spot rates are at or above contract levels, it implies a more sustainable market for shipping lines.
August 8: Panama Canal Draught Restrictions Start to Bite, Sparking Liner Surcharges – The Loadstar
Evergreen's latest addition to its neo-panamax fleet had to offload 1,400 containers to pass through the Panama Canal, due to low-water restrictions. The event starkly highlights the problems the vital waterway and its users are facing.
The Ever Max, capable of carrying 17,312 TEU, had to offload the boxes before it could enter the canal's neo-panamax locks. They had to be moved by rail across the isthmus for pick-up at the Atlantic end of the waterway.
The cause was draught restrictions imposed by the Panama Canal Authority (ACP) in response to persistent low water levels from the drought that has hampered transits since May. Rainfall in the first four months of the year brought water levels roughly to a par with 2019 – the lowest level in two decades.
Container lines like CMA CGM and Hapag-Lloyd have reacted to the restrictions by adding canal transit surcharges ranging from $300 per TEU to $500.
August 9: Statement by Labour Minister Regarding Disruption Caused by Recent Labour Dispute at B.C. Ports – Government of Canada press release
The Minister of Labour and Seniors, Seamus O'Regan Jr., yesterday issued the following statement.
"The recent dispute between the International Longshore and Warehouse Union Canada and the British Columbia Maritime Employers Association caused serious disruption to our economy. The deal reached by the parties brought stability to our supply chains.
But another dispute and disruption on that scale is still possible, and that's not good enough. The workers and businesses that depend on our ports deserve long-term solutions. They deserve answers.
I will be initiating a process under Section 106 of the Canada Labour Code to examine the structural issues underlying this recent dispute, as well as similar disputes that have occurred at our ports across Canada.
Previous governments have commissioned reports on past disputes and analysis on these issues has already been done. So, we will begin by immediately reviewing that work. That will determine the next steps, and it will be done in short order.
It's high time we dig into these underlying issues to develop long-term solutions; solutions that create a harmonious working environment between unions and employers, respect the collective bargaining process, and secure the fundamental stability of our supply chains in the interests of each and every Canadian."
August 9: Panama Canal Pileup Due to Drought Reaches 154 Vessels – CNBC
The number of vessels waiting to cross the Panama Canal has reached 154, and slots for carriers to book passage are being reduced in an effort to manage congestion caused by ongoing drought conditions that have roiled the major shipping gateway since the spring. The current wait time to cross the canal is now around 21 days.
August 18: More Blanked Voyages and a 'Newbuild Elephant' Approaching the Room – The Loadstar
Container spot rates on the transatlantic came under renewed pressure this week, obliging ocean carriers to cut supply on the route by blanking more sailings.
The lowest spot rates on the trade are now well below $1,000, with the percentage of higher-rated contract business in sharp decline. With backhaul demand weak, and rates from the U.S. to North Europe below $500 per 40ft, transatlantic carriers are racking up loss-making voyages.
But they are now taking aggressive action to 'stop the rot.'
August 25: Latest Data Wake-up Call for Shippers, Says Xeneta – Indian Transport & Logistics News
Long-term ocean freight rates may have started bottoming out after around a year of persistent, often dramatic monthly falls, says Xeneta in its latest update.
"The latest General Rates Increases (GRIs) from carriers appear to have held relatively firm, pushing spot rates up above long-term rates on key corridors. As such, long-term prices may now follow suit and rally, meaning now is the time for cost-conscious shippers to assess strategies and negotiate new contracts."
Looking at the key Far East to North Europe trade lane, Xeneta's real-time data shows that, even though spot rates have fallen by around $100 per FEU since early August's GRIs, they are still around a third higher than prices in early July, the update added. "This is in contrast to GRI moves earlier this year, which largely failed to influence a market hamstrung by weak demand and rampant over capacity."
Emily Stausbøll, an analyst at Xeneta, says: "This is a definite, eye-catching change, and shippers should view this as a bit of a wake-up call."
August 25: Panama Canal Authority Warns Restrictions Will Stay in Place for at Least 10 Months – Splash
Global shipping bodies have been urged to come together to share transit plans at one of the world's key maritime chokepoints with officials at the Panama Canal Authority warning that water-conserving measures will be in place for at least the next 10 months.
Faced with an unprecedented drought this year, combined with the onset of the El Niño weather phenomenon, administrators at the Panama Canal have cut the draft restrictions for ships transiting its larger neopanamax locks by 2 m as well as slashing the volume of daily transits by 20% to just 32 vessels a day. These measures have seen ships backing up in significant numbers at either end of the canal. Today's official total count is 129 ships, down from the peak of 165 earlier this month, but still 43% higher than the average.
August 31: U.S. West Coast Port Workers Ratify Contract Agreement – Reuters
U.S. dockworkers have ratified a six-year contract that improved pay and benefits for 22,000 employees at 29 ports stretching from California to Washington State.
Members of the ILWU voted 75% in favour of approving the West Coast port worker agreement that will expire on July 1, 2028. The deal, which is retroactive to July 1, 2022, includes a 32% pay increase over the span of the contract as well as a one-time bonus for working through the early days of the COVID pandemic.
Air
August 10: Air Canada Ranks Last in On-Time Performance Among 10 Biggest North American Airlines – CTV News
A new report says Air Canada ranked last in on-time performance among the 10 largest airlines in North America, as some carriers north of the border struggle to find their post-pandemic footing despite much better outcomes than the travel chaos of 2022.
Canada's biggest carrier landed 51 percent of its flights on time last month, according to figures from aviation data firm Cirium.
WestJet, which placed seventh, saw 62 percent of its trips make it to the gate on time – defined as within 15 minutes of scheduled arrival.
Trucking
August 4: Yellow Shutdown May Lead to Sticker Shock for Shippers, Analysts Say – Supply Chain Dive
Yellow Corp.'s shutdown has left shippers without a major player in the less-than-truckload space – a development that means higher costs are likely in store, according to trucking industry analysts.
"There's probably going to be an increase in the pricing charged to the shipper," said Craig Decker, who leads investment banking activities across supply chain, logistics and transportation areas at Brown Gibbons Lang & Co.
The price difference could be a 20% to 25% price per pound increase depending on the circumstances, DAT Chief of Analytics Ken Adamo suggested on a weekly market update show. All together, he said the price increases could be 7% to 10%.
August 7: Industry Responds to Heightened Cargo Theft – FleetOwner
Cargo theft trends came out of 2022 with severe momentum. That trend has continued with elevated numbers for the second quarter of 2023, causing industry stakeholders to caution carriers and offer information on how to protect freight.
"Cargo theft is at a 10-year high right now," said Scott Cornell, transportation lead and crime and theft specialist at Travelers. "January was up 61% year over year, February was up 49% year over year, and March was up 82% year over year."
Cargo theft security network CargoNet recorded 582 thefts across the U.S. and Canada in the second quarter of 2023, a 57% increase compared with the second quarter of 2022. These shipments were valued at over $44 million altogether. Notably, the average shipment value per theft increased nearly $100,000 to $260,703 as thieves focused increasingly on high-value shipments.
Strategic theft, or theft using deceptive means such as stolen identities instead of force or the threat of force, are primarily to blame for the increase. According to CargoNet, much of the increase is due to ongoing shipment misdirection attacks, a kind of strategic cargo theft in which actors use stolen motor carrier and logistics broker identities to obtain freight and misdirect it from the intended receiver so they could steal it.
"If you separate out the strategic theft category," Cornell said, "from November to March… that's up over 600%."
August 8: Today's Freight Fraudsters Are Sophisticated, Brazen, and Coming for Your Cargo – Today's Trucking
Loadboards in the U.S. have recently taken steps to increase their screening of the brokers and carriers in their networks to help prevent double brokering crime. Fortunately, such sophisticated freight fraud is less prevalent in Canada than in the U.S., according to Claudia Milicevic, president of Canada-run Loadlink Technologies.
However, that's not to say double brokering doesn't exist here. A recent white paper titled Double Brokering in the Canadian Trucking Industry, produced by the Canadian International Freight Forwarders Association (CIFFA), indicated it's a major – and growing – problem.
"The practice of double brokering is now rampant in the industry," the white paper declared. It raises three "potential perils" of double brokering: the load is diverted and not delivered to its destination; the carrier the load is double brokered to is involved in a crash; or payment may not find its way from the shipper to the carrier that delivered the double-brokered load to its final destination.
"With each added layer in the logistics equation there is increased risk that there will be a failure in payment," the white paper asserts.
August 11: AI Helps Fleets Navigate Risk Management – Transport Topics
Insurance companies and brokers are finding the benefits in artificial intelligence to better assist trucking companies with their risk management needs. The technology has helped by quickly collecting and deploying data, enhancing safety and potentially paving the way to lower insurance costs, technology and insurance experts said.
"Insurance companies are using data and AI technology on the route, on the origin, on the destination, how the driver is driving, to ultimately price insurance," said Lisa Paul, Hub International's chief strategy officer, specializing in transportation.
Artificial intelligence has utilized data from electronic logging devices, telematics systems and dashcams to address issues like driving behaviour and problematic routes. AI is also beneficial in proposing and revising agreements with shippers.
August 18: Federal Funding Available to Repower Equipment, Buy Low-Carbon Trucks – Today's Trucking
Natural Resources Canada has opened a second funding stream under its Green Freight Program to help offset the costs of engine repowers and shifts to low-carbon fuels.
Funding will cover up to 50% of the costs – up to $5 million per company – to repower existing equipment and convert it to run on low-carbon diesel alternatives. Fleets can also earn up to half the incremental costs of new trucks that run on low-carbon fuels.
Any repowers must be permanent. Eligible projects include replacing the engine or drivetrain, adding kits or introducing dual-fuel options.
August 24: 'No Profit Right Now': Trucking Industry Facing Leaner Times as Consumer Demand Drops – CTV News
For Jas Singh, the road to profit just keeps getting narrower. "It's slow right now, not too many loads," said the owner of JK Transport, a Brampton-based trucking company Singh launched 15 years ago.
On top of fewer shipments, costs have shot up while freight rates have plummeted. A new tractor now costs him $225,000, up from the $135,000 he paid in 2019, Singh said. Trailers for his fleet of 15 semi-trucks have doubled in price to $80,000. And he can only charge $1.50 per mile for deliveries that reaped $2.30 per mile last year.
"A lot of problems this year," the 45-year-old said in a phone interview.
He's not alone. The entire Canadian trucking industry faces a shaky market as cargo volumes and rates continue to fall – in step with downward consumer demand – compared with the soaring highs seen during the pandemic.
August 31: Minister of Transport Announces Funding to Support Clean Energy Adoption in the Trucking Sector – Government of Canada press release
The Government of Canada is taking additional action to accelerate the integration of zero-emission technologies in the trucking industry.
The Minister of Transport, the Honourable Pablo Rodriguez, announced an investment of nearly $3 million under the Zero-Emission Trucking Program to support of three projects in Quebec, British Columbia and Nova Scotia.
Of this investment, $1.5 million will be used to establish a Zero-Emission Trucking Testbed in the Montreal area. The Testbed, launched in collaboration with FPInnovations, will collect real-world performance data in Canadian conditions to speed up the reduction of pollution from medium- and heavy-duty on-road transportation.