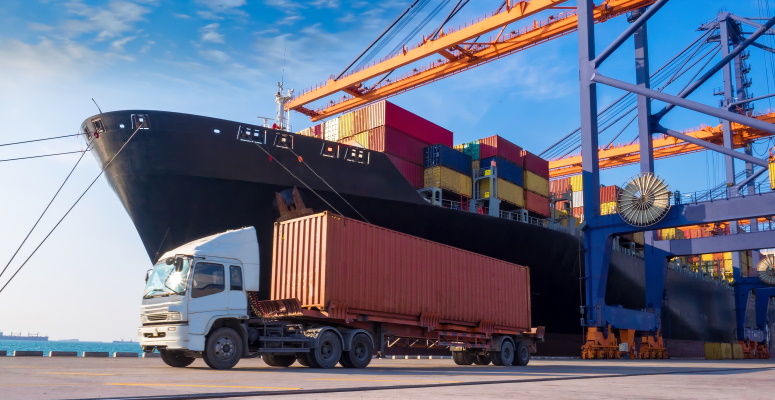 Month in Review – December 2021
Special Section – B.C. Floods
December 1: Port of Vancouver Operations Update
CP and CN eastbound and westbound trains continue to transit on CP's mainline between Vancouver and Kamloops. Enhanced track inspections and maintenance are ongoing and low-speed restrictions remain in place. Engineering teams continue to undertake repairs on CN's mainline between Kamloops and Boston Bar at a site impacted by heavy precipitation. A timeline for restored rail operations through the site is currently unavailable.
Container terminal truck activity remains steady. Restored highway routes include detours, intermittent closures and essential-traffic-only restrictions. Proactive closures may occur when heavy rainfall is forecast. Reconstruction and repairs continue on major roadways across the region.
Demand for anchorages continues to exceed capacity.
December 3: CP Customer Update on B.C. Operations
CP said in a customer advisory that recovery efforts on its Thompson and Cascade subdivisions in British Columbia continue in a safe, steady and deliberate manner.
That route is CP's busiest corridor, handling a wide range of products and commodities. It links the Port of Vancouver and B.C. to the rest of Canada and North America.
The corridor includes a directional running zone where CP and CN share rail infrastructure to maximize capacity for both railroads. During CN's outage, CP continues to share its single line capacity with CN, operating in both directions. Delays in the directional running zone will continue until CN restores its main line.
December 3: B.C. Slowly Opens Roads, Transport Disruptions Continue – Inside Logistics
The B.C. government announced the reopening of Highway 1 between Abbotsford and Hope on December 2, signalling a gradual improvement in travel conditions in the province after almost two weeks of flooding and landslides disrupted road and rail connections throughout the Lower Mainland.
However, the situation remains tricky for many businesses, including those using rail services to and from the Port of Vancouver.
December 6: Port of Vancouver Operations Update
Both CP and CN mainlines between Vancouver and Kamloops are fully operational. Rail traffic through the Fraser Canyon corridor has resumed in both directions. All eastbound trains are transiting via CP's line and all westbound trains are transiting via CN's line. Enhanced track inspections and maintenance activities continue, and low-speed restrictions remain in place.
December 8: Port of Vancouver Ship Backlog Hits 60 – American Shipper
The Port of Vancouver hit a grim milestone this week as the number of ships waiting for a berth reached 60 despite the resumption of rail service.
While CN and CP have reopened their rail lines serving the port – between Kamloops and Vancouver – they still aren't operating at full capacity. And the volume of containers has picked up, particularly since CN began moving trains between Kamloops and Vancouver over the weekend.
The volume of containers leaving Vancouver via rail has increased by nearly 250% in the past week, according to FreightWaves' SONAR platform, but remained about 40% lower than before flooding and landslides cut off CN and CP service to the port more than three weeks ago.
December 8: U.S. CBP Cargo Systems Message – Update: CBP and CBSA Joint Updated Emergency Protocols in Response to Flood Situation in B.C.
Due to extreme weather conditions in British Columbia that have caused flooding, landslides, road closures and other supply chain disruptions, Canadian domestic truck carriers may need to transit through the U.S. to reach destinations in Canada. Any Canadian carriers that currently operate between the U.S. and Canada as well as domestically are encouraged to follow the standard procedures for transit, including the advance filing of an electronic truck manifest and utilization of an in-bond or in-transit transaction. This will facilitate crossing and decrease delay at the border that will be caused by these temporary measures.
The requirements in this message are designed to be utilized by Canadian domestic truck carriers that don't normally cross the border in the normal course of their business and to provide some guidance to international carriers carrying Canadian domestic shipments during the duration of these procedures.
December 16: B.C.'s Highway 5/Coquihalla Highway to Reopen by December 20
B.C.'s Minister of Transportation and Infrastructure Rob Fleming announced that Highway 5, the Coquihalla highway, will reopen no later than end of business on December 20.
The BC Trucking Association reports that:
Highway 5 travel will be restricted to commercial vehicles and inter-city buses only;
Users should expect significantly increased travel time, as sections of the highway will be one lane in each direction;
Speed limits will be reduced – many sections of the corridor will be limited to 60 kmh;
There will be an increased frequency of implementation of chain-up requirements;
Approximately 24 hours after Highway 5 reopens to commercial traffic, Highway 3 will be reopened to all traffic. Drivers should expect a significant increase in non-commercial traffic on the Highway 3 corridor.
December 21: FMCSA Extends B.C. Flood Relief Exemptions to January 31 – Canadian Trucking Alliance
The U.S. Federal Motor Carrier Safety Administration has extended its original Regional Emergency Declaration issued November 24 until January 31, allowing continued movement of Canadian goods through the U.S. to bypass road closures and areas in Canada cut off by flooding and landslides. The original declaration was set to expire on December 23.
December 22: CN Network Returns to Normal after Washouts in British Columbia – Progressive Railroading
CN's British Columbia network productivity has returned to pre-washout levels as crews continue to return track to service following recent washouts in the province.
The British Columbia network was shut down between Nov. 14 and Dec. 4 as the Class I experienced 58 outages over 150 miles.
Approximately 282,000 cubic yards of rock, earth and backfill materials were moved to rebuild damaged locations, the equivalent of 25,000 truckloads.
Despite setbacks – including a recent stoppage near Jasper and cold weather in the Prairies – operating metrics are pointing to a "successful recovery" nearly two weeks after the network reopened, CN officials said.
Maritime
December 2: Omicron Fears Already Playing Havoc with Crew Changes – Splash
The omicron strain of COVID-19, first identified in South Africa in the last week of November, is already causing havoc to crew change operations around the world.
Travel restrictions have been rushed in at many key hubs over fears that the new variant is more contagious than earlier strains. Singapore, one of the most important crew change hubs in the world, has barred the entry of vessels from Africa, while another important Asian hub, Hong Kong, now has 44 countries on a high-risk list, meaning ships that have called at these nations 21 days or less before arrival at the Chinese city will not be allowed to carry out crew change.
The omicron concerns come at a time when the crew change crisis had been easing, with latest data showing fewer seafarers have been working onboard vessels beyond the expiry of their contract in recent weeks.
December 2: Vancouver Port Trucker Strike Averted as Union Reaches Deal with Second Carrier – American Shipper
A strike by container truckers at a carrier serving the Port of Vancouver has been averted after their union reached a last-minute agreement with their company on December 2.
Prudential Transportation signed a tentative agreement less than a day before around 120 drivers were set to begin their strike, the truckers' union, Unifor, said. It followed a similar agreement reached by another carrier serving the port, Aheer Transportation, on November 30.
December 3: Maersk Forwarder Clients Left in Limbo as Carrier Restricts Them to Spot Deals – The Loadstar
Maersk's forwarding and NVOCC customers are being targeted by competitor lines as the Danish carrier prepares to restrict their bookings to its online Maersk Spot platform next year.
Meanwhile, container spot rate indices, the bedrock for the Maersk platform, are bucking the usual slack season trend and holding steady at highly elevated levels.
A UK-based NVOCC said his Maersk rep had admitted he could no longer offer him a three-month deal from Asia to North Europe, and that he would now have to book online, via Maersk Spot, to cover any short-term space requirements.
However, the NVOCC was assured by the rep that he could still discuss a longer-term contract with Maersk, due to the forwarder's reliable volume.
December 6: Surcharges Widespread amid Equipment Shortages, Congestion – Hellenic Shipping News
All-inclusive trans-Pacific container shipping rates to North America strengthened in the week ended December 3, as shortages of equipment and carrying capacity in North Asia worsened amid steady demand from cargo loaders.
A Canadian freight forwarder said demand from retailers restocking ahead of Lunar New Year is a normal seasonal trend that has been exacerbated by the difficulty in returning empty containers to Asian export hubs, particularly from the West Coast of North America. The Los Angeles/Long Beach port complex has been inundated with record volumes of boxes coming in and out for months, while the Port of Vancouver is struggling to resume normal operations since rail networks to the port were washed out by floods in mid-November.
"We were already in a crisis and now it's become even worse," the Vancouver-based freight forwarder said. "There is so much rail cargo in terminals that they can barely unload any ships. It will be months before we dig out of this hole."
December 8: Another Lockdown at Ningbo Has Exporters on Edge – Splash
More than 300,000 people have been tested for coronavirus in a district in the port city of Ningbo, following an outbreak of the illness, detected on December 6.
The district of Zhenhai has been put on a two-week lockdown after five people tested positive for COVID-19. Early indications are that the measures taken by local authorities have yet to harm productivity at the port.
December 9: Getting Space on Ships Next Year the Biggest Worry for the Logistics Sector – The Loadstar
Securing space on containerships is viewed as the biggest challenge for the logistics sector going into 2022, according to an industry survey.
A poll of 800 logistics companies by Container xChange reveals that, for 53% of respondents, finding slots on vessels is by far the biggest concern, followed by carrier surcharges, at 22%, and labour shortages, at 19%.
"The survey results indicate that the industry is expecting gloomy times for container logistics," says the report.
Container xChange said the industry is "downbeat" on the expected performance of the supply chain next year, with 54% of respondents expecting it to remain as bad, and 11% suggesting it will deteriorate further.
December 13: About that Rate Relief … Ocean Shipping Costs Are Rising Again – American Shipper
The container shipping market calls to mind a famous Mark Twain misquote: "Reports of my death have been greatly exaggerated."
The historic rate boom appears alive and well – bad news for cargo shippers and good news for container shipping investors.
There was a dip in spot prices over recent months from stratospherically high levels, but downward momentum did not hold. In several trade lanes, including Asia-to-U.S., rates are now gravitating upward yet again.
December 15: Port Klang and Piraeus Join Ningbo and LA at the Top of the Congestion Charts – Splash
To familiar congestion names Shanghai, Ningbo, Los Angeles and Long Beach, other ports such as Piraeus in Greece and Port Klang in Malaysia can now be added.
The global container port congestion crisis that has racked supply chains all year is shifting to new hot spots while some older problem places get back on track.
Data from Danish liner consultancy eeSea shows the worst areas where ships are backing up, as well as improvements at previous sore points, such as Savannah on the U.S. east coast. Along with the familiar bubbles bulging out from east China and southern California, the congestion bubble map (see article) shows growing issues mounting in the Mediterranean and along the African coastline.
December 16: Port Congestion Causes Carriers to Blank up to Quarter of TEU Capacity – The Maritime Executive
A new phenomenon is emerging in container shipping as the major carriers struggle to manage their schedules in light of the persistent backlogs to enter major ports around the world. Research and advisory services company Sea-Intelligence is calling it "congestion-induced blank sailings," where the carriers have been forced to blank sailings from their schedule not because of overcapacity but because the ships are not returning in time due to port congestion.
The largest impact is currently on the Asia-North America West Coast trade routes where Sea-Intelligence reports as much as a quarter of weekly capacity is blanked due to the delays throughout the system.
December 17: Tough Contract Talks Loom for Shippers 'Gobsmacked' by Rate Increases – The Loadstar
With capacity remaining extremely tight ahead of Chinese New Year, shippers are bracing for a further wave of rate increases on container trades out of Asia.
The Loadstar understands that carriers are preparing to roll out GRIs (general rate increases) and FAK (freight all kinds) hikes of up to $1,000 per 40ft across Asia-Europe and transpacific routes from January 1 and, in some cases, reintroduce equipment and space guarantee premium fees.
And, in more unwelcome news for shippers, oil price hikes this quarter will trigger carrier bunker surcharge formula upgrades from January 1, with, for example, CMA CGM resetting its Asia-North Europe BAF for Q1 22 at $345 per TEU.
December 20: Vancouver Fraser Port Authority Notice of Update for GIF2022
The Vancouver Fraser Port Authority has issued an update regarding the implementation of the Gateway Infrastructure Fee 2022 (GIF2022).
December 20: CLECAT Cites European Competition Law as Major Shipping Lines Seek to Sideline Forwarders – Lloyd's Loading List
There is some real concern that forwarders will no longer find space for their cargo in the new Maersk structure unless they venture into the less-favourable spot market, according to CLECAT, the organization representing European forwarders.
Maersk and Hamburg Sud are not only refusing contracts from forwarders; on top of this they are approaching the very customers of those forwarders whose business they are now rejecting, CLECAT explained.
The two lines have announced that they will cease to provide services to certain freight forwarders from January 1, 2022 through named account contracts.
Air
December 7: Grim Picture for Shippers, with No Relief from Elevated Air Freight Rates in Sight – The Loadstar
Shippers hoping for relief in air freight rates early next year can expect to be disappointed, according to consultants and analysts.
A host of factors, including the Omicrom variant and its likely impact on belly capacity and lockdowns, spurring spending on goods rather than services, as well as a shortage of labour, could see pricing remain high.
December 10: China Cabin Cargo Ban Will Add to Pressure on Air Capacity and Freight Rates – The Loadstar
Cargo in aircraft passenger cabins will no longer be accepted by China in the new year – a move expected to keep air freight rates high.
China's Civil Aviation Administration (CAAC) said "only anti-epidemic-related items are allowed to be loaded in the cabin."
The authority acknowledged this will lead to additional pressure on the market.
"This new regulation will further reduce air cargo capacity and aggravate the current air capacity shortage. The superimposed fuel price is still high," it said.
"On the other hand, the tightness of air transport capacity may lead to part of the demand for air transport being transferred to shipping, leading to a further increase in shipping rates and, overall, freight prices are expected to continue to rise."
December 17: Air Freight Rates Soar to New Record Highs – Lloyd's Loading List
Ex-Asia air freight rates have soared again to new record highs, especially on the transpacific where average Shanghai to North America spot prices reached almost $16 per kilo this week amid "unprecedented market momentum."
The latest pricing from the Baltic Exchange's Baltic Air Freight Index (BAI) indicates that average spot prices from Shanghai (PVG) to North America were at US$15.92 per kilo this week, rising from the already extremely high levels of US$14 per kilo last week, with Hong Kong-North America average spot prices exceeding $14 per kilo this week, up from $12 per kilo since the second half of November.
Rail
December 14: CP, KCS Await Federal Approval of Now-Complete Merger – FreightWaves
Canadian Pacific has formally completed its acquisition of Kansas City Southern, and both are now waiting for the Surface Transportation Board to approve their merger.
The merger's value is worth approximately US$31 billion. KCS stockholders will receive 2.884 CP common shares and US$90 in cash for each share of KCS common stock held and US$37.50 in cash for each share of KCS preferred stock held.
With the acquisition complete, the shares of KCS are being placed in a voting trust. CP says the trust, which is being used as part of the process to acquire KCS, ensures that KCS will operate independently of CP until the Surface Transportation Board approves CP's merger application.
Trucking
December 15: Loads Surge, Capacity Tightens on Canadian Spot Market – Today's Trucking
The Canadian spot market reached all-time high load volumes for November, according to the latest data from Loadlink Technologies.
Volumes accelerated through the month, Loadlink reports, bucking historic trends that tend to see load volumes slow near the end of the calendar year.
Loads were up 69% year over year, and up 32% from October.
"These past few months have shown a clear sign that even through all of the uncertainty that the pandemic continues to cast, along with the bottlenecks within the supply chain, the spike in demand remains strong," says Claudia Milicevic, president of Loadlink Technologies.
December 16: White House Looks to Boost U.S. Trucking Industry – Reuters
The Biden administration is meeting with the trucking industry as it looks to help add new drivers to a key part of U.S. supply chains.
The White House says COVID-19 "exacerbated longstanding workforce challenges in the trucking industry, including high turnover rates, an aging workforce, long hours away from home, and time spent waiting."
Transportation Secretary Pete Buttigieg and Labour Secretary Marty Walsh will join National Economic Council Director Brian Deese in hosting a roundtable at the White House with leaders in the trucking industry, including business and labour leaders.
December 17: Senators Ask Biden to Exempt North American Truckers from Border Vaccine Mandate – Canadian Trucking Alliance
Fourteen Republican U.S. senators have asked President Joe Biden to exempt Canadian truck drivers who cross the U.S.-Canada border from a fast-approaching vaccine mandate for foreign essential workers in January, saying the requirement will disrupt the North American supply chain.
Their letter also called on the Biden administration to work with the Canadian government to exempt truckers from that country's reciprocal vaccine requirement — also taking effect in January.
CIFFA Advocacy, Communications, Activities
December 13: Joint Statement by Canadian Business Associations, Including CIFFA, on Supply Chain Bottlenecks
A statement signed by 34 Canadian business associations, including CIFFA, was issued on December 13 to draw attention to "a supply chain that is not functioning." The organizations are seeking "urgent action" in several areas, as follows.
The statement reads:
Vaccination rules for truck drivers
Canadian businesses continue to support vaccinations as a critical tool in the fight against COVID. However, given current vaccination rates amongst truckers, the January 15th Canadian deadline for truckers to be vaccinated to cross the border poses serious risks for the resilience of our supply chain. It will also seriously aggravate the existing truck driver shortage and lead to price increases that will hurt the Canadian economy and consumers.
We call on the government to delay the deadline for mandatory vaccination and work with businesses to find a revised timeline that minimizes supply chain impacts.
Government of Canada – business task force on supply chains
Shipping container backlogs, labour shortages at various points of the supply chain, and extreme weather disasters are continuing to strain supply chains. While the remedies involve both short and long-term solutions, it is a complex situation. Partnership and dialogue between government and the private sector are critical to work through these complexities.
We call on the government to establish a joint task force with business leaders to identify and implement solutions that can increase supply chain resilience.  
Protecting the business environment
As the engines of job creation and economic growth, businesses need to be able to operate within a competitive environment. However, lingering challenges remain over increased regulation that may hurt growth.
We call on the government to delay the implementation of any non-essential regulations that would strain the supply chain. 
Our associations stand ready to work with the government to address these issues with the urgency necessary to ensure we successfully navigate through this recovery period and into a period of economic growth.