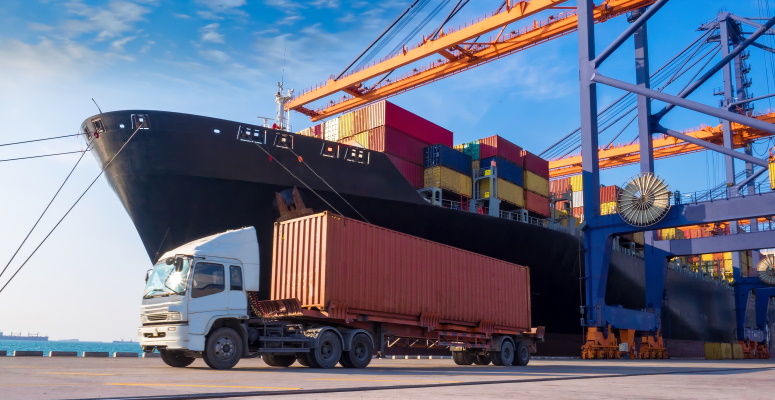 Month in Review – December 2022
Maritime
December 2: Container Shipping Rates Still Sinking: Skid Slows for Asia Spot Rates to West Coast but Not to East Coast – FreightWaves
"This cliff that rates have fallen from shows there is more competition in the market than a lot of people had feared," said Patrik Berglund, CEO of rate-tracking company Xeneta, in a recent interview.
The pace of spot-rate declines did slow in some trade lanes in October versus August and September. However, rate losses picked up again in many lanes in November, causing global averages to fall further. There's no sign yet of a market bottom in most trades.
December 7: Liners Turning into 'Tramp Operators' as They Blank More Sailings – The Loadstar
Ocean carriers are ramping up their efforts to halt the relentless erosion of container spot rates by blanking more sailings from Asia, but shippers claim they are becoming like tramp operators in the process.
But there is some evidence that export space is now tightening: reports to The Loadstar recently have indicated that some carriers are putting out full signals for ships sailing before the Chinese New Year holiday next month.
December 7: Carrier Schedule Reliability Returns to 2020 Levels as Backlogs Recede – The Maritime Executive
While much of the attention has been on how declines in container volumes have caused freight rates to plummet in 2022, it is also having a positive effect on the schedule reliability of the major carriers.
In its latest monthly update, market research and data analytics firm Sea-Intelligence highlights that the container carriers' schedule reliability during October had its strongest monthly improvement, which is also being seen by the declining backlog of vessels at major container ports.
Sea-Intelligence CEO Alan Murphy reports that both schedule reliability and the average delay for vessels have returned to levels more consistent with 2020 than the levels seen over the past two years. Analyzing the performance across 34 different trade lanes and more than 60 carriers during October, Sea-Intelligence shows that schedule reliability surpassed 50 percent for the first time in two years, while the average delay calculated in the number of days is at its lowest point since November 2020.
December 9: Spot and Long-Term Container Rate Gulf Continues to Widen – Seatrade Maritime News
As container spot rates continue to plunge, the gulf with long-term contract levels gets ever wider.
The Asia–Europe trade continued to lead the downwards trajectory, with Drewry reporting that Shanghai to Rotterdam spot rates lost another 14% last week to sit at just $1,686 per FEU.
Drewry's World Container Index (WCI) dropped a further 6% to sit at $2,139 per FEU and is now 79% below the peak of $10,377 reached in September 2021.
December 13: CMA CGM Restricts Bookings to South China Through January – The Loadstar
French liner CMA CGM has told customers it will restrict bookings for shipments due to arrive at ports in southern China in early 2023, due to a suspension of service by feeder and barge operators through January.
South China and Hong Kong feeder operators have announced temporary service suspensions throughout next month, "due to COVID-19 quarantine requirements for ship crews" prior to Chinese New Year, CMA CGM (India) noted in an advisory.
It said the restriction would apply to cargo bound for some 30 destinations, including three in Fujian province, on sailings calling at Hong Kong, Yantian, Nansha and Shekou, in January.
According to the Marseille-based company, normal services are expected to resume in early February, subject to further updates from feeder operators.
December 15: U.S. FMC Probing Shipping Lines' Anti-Retaliation Compliance – American Journal of Transportation
The Federal Maritime Commission is asking the top 20 shipping lines calling the United States to provide information on how they are complying with the new prohibitions on retaliation established by the Ocean Shipping Reform Act of 2022 (OSRA).
The added protections against retaliation were created by Section 5 of OSRA and became effective immediately upon the law's enactment in June. The prohibitions apply to common carriers, marine terminal operators and ocean transportation intermediaries.
The Commission's Vessel-Operating Common Carrier (VOCC) Audit Team is examining how ocean carriers are adapting to the increased prohibitions on retaliatory and discriminatory behaviour. The team will specifically focus on how companies are training personnel at all levels to act legally, and how those same employees are being made aware of the consequences for violating the law.
December 16: Ocean Carriers to Increase Blank Sailings from Asia Post-Chinese New Year – gCaptain
Against a background of extremely weak demand forecasts, ocean carriers are preparing to blank around half their advertised sailings from Asia to North Europe and the U.S. after Chinese New Year on January 22.
High inventory levels in Europe and the U.S., coupled with uncertainty surrounding future consumer demand, has seen orders cancelled or postponed, resulting in Chinese factories preparing to shut down well ahead of the CNY holiday.
December 21: New Shipping Regulation to Combat Global Warming is Under Fire – FreightWaves
The ocean shipping industry is just days away from the debut of the Carbon Intensity Indicator (CII), a new regulation meant to combat global warming. Even as an initial baby step, the CII is not inspiring confidence in the future decarbonization of shipping.
The new regulation seeks to lower carbon emissions by having container ships, tankers, bulkers, car carriers and other vessels operate more efficiently. It is a product of the United Nations' International Maritime Organization (IMO) that has been in the works for years and debated ad nauseam within shipping circles.
Those outside of shipping who rely on the world's vessels to transport their goods may scratch their heads when they learn of the strange brew the IMO has concocted. CII's complexities, unintended consequences and weak enforcement call to mind the phrase "too many cooks in the kitchen."
And implementation, set to begin January 1, just got even more complicated.
Air
December 5: China's Air Cargo Supply Chain Faces More Pressure – Air Cargo News
Freight forwarders are reporting a mixed picture of the current supply chain situation in China as COVID lockdowns continue following recent protests against the government's pandemic policy.
China's pandemic measures are continuing to have a negative impact, although market rates remain similar to the previous week, according to Flexport.
"The COVID outbreak in the Guangzhou area continues to affect manufacturing operations, resulting in cargo output delays," said Flexport in its airfreight market update on November 29.
Additionally, low demand out of North China is set to continue and this has had a direct impact on flights.
Westbound Logistics pointed out in a recent customer update that Chinese New Year is also approaching,  with a two-week shutdown starting January 22. The shutdown could further exacerbate supply chain weakness.
December 7: 2022 SAF Production Increases 200% – More Production Incentives Needed to Reach Net Zero – IATA press release
The International Air Transport Association (IATA) estimates that sustainable aviation fuel (SAF) production will reach at least 300 million litres in 2022 – a 200% increase on 2021 production of 100 million litres. More-optimistic calculations estimate total production in 2022 could reach 450 million litres. Both scenarios position the SAF industry on the verge of an exponential capacity and production ramp-up toward an identified tipping point of 30 billion litres by 2030, with the right supporting policies.
December 8: Forwarders Stick with Short-Term Deals as Air Cargo Volumes Fall – Air Cargo News
Freight forwarders are continuing to opt for short-term airfreight deals as volumes and rates continue to decline.
The latest statistics from CLIVE Data Services show that, in November, air cargo volumes declined 8% year on year and were down 2% on October, while the dynamic load factor – based on weight and space – was down five percentage points on last year, at 61%.
It is the ninth month in a row that demand has fallen.
Average rates for the month were down 27% on a year ago, but remained 85% ahead of 2019 levels.
December 13: Air Freight Rates Nosedive, with Shippers Flocking to Ocean – Supply Chain Dive
Air cargo rates dropped for the third consecutive month in November as demand slows and shippers flock to an improved ocean landscape, according to a December 7 update from Xeneta's Clive Data Services.
In November, rates on the China-North America trade lane fell more than 40% YoY, Freightos reported last week. Spot rates on the general TransPacific lane were down 32% YoY, though still higher than pre-pandemic levels, according to Clive.
Despite hopes for a late peak season boost, demand fell 2% in November compared with October, with volumes declining for the ninth consecutive month, according to Clive.
Rail
December 1: U.S. Senate Passes Bill to Avoid Rail Strike – Transport Topics
The U.S. Senate moved quickly on November 30 to avert a rail strike that the Biden administration and business leaders warned would have had devastating consequences for the nation's economy.
The Senate passed a bill to bind rail companies and workers to a proposed settlement that was reached between the rail companies and union leaders in September. That settlement had been rejected by some of the 12 unions involved, creating the possibility of a strike beginning December 9.
The Senate vote came one day after the House voted to impose the agreement. The measure now goes to President Joe Biden's desk for his signature.
"I'm very glad that the two sides got together to avoid a shutdown, which would have been devastating for the American people, to the American economy and so many workers across the country," Senate Majority Leader Chuck Schumer (D-N.Y.) told reporters.
Schumer spoke as Labor Secretary Marty Walsh and Transportation Secretary Pete Buttigieg emphasized to Democratic senators that rail companies would begin shutting down operations well before a potential strike would begin. The administration wanted the bill on Biden's desk by the weekend of December 3/4.
December 20: U.S. Rail Regulators Streamline Process for Shippers to Challenge Unreasonable Rates – Supply Chain Dive
U.S. federal regulators have finalized the process for determining unreasonable freight rail rates, giving shippers with smaller disputes a more streamlined pathway to challenge carriers.
The Surface Transportation Board adopted two rules establishing a voluntary arbitration program in addition to a new procedure to challenge rates. The reviews are meant for disputes worth up to $4 million in relief over two years, a statement said.
By adopting two separate pathways, regulators are hoping to incentivize rail carriers to resolve disputes through mediation rather than intervention. If all seven Class I carriers agree to opt into the voluntary arbitration program, they will become exempt from the Final Offer Rate Review process.
Trucking
December 13: NRCan Funding Available for Fuel-Saving Equipment – Today's Trucking
Natural Resources Canada (NRCan) is now accepting applicants for funding available to the trucking industry to improve fuel economy and reduce greenhouse gases (GHG).
Stream 1 of the Green Freight Program has been recapitalized and applications are now being accepted.
Fleets can apply for grants covering up to 50% of the costs of third-party fleet energy assessments and truck equipment retrofits through the program. Devices that are covered include side skirts, boat tails, cab heaters, auxiliary power units, low rolling resistance tires and tire pressure monitoring systems, among others.
Nearly $35 million will be awarded through the program in 2023/24.
December 14: Canadian Businesses Face Challenges in Zero-Emission Truck Journey – Today's Trucking
Transport Canada is acknowledging that Canadian businesses face plenty of barriers in the journey to eliminate vehicle emissions, and that diesel or biodiesel will continue to drive longhaul trucking until new technologies and fuel sources reach scale.
But the funds to support available zero-emissions equipment are beginning to flow. The Incentives for Medium- and Heavy-Duty Zero-Emission Vehicles Program has so far allocated $545,700 and attracted 37 applicants asking for a collective $2.87 million in funding.
The observations are included in Canada's Action Plan for Clean On-Road Transportation, which highlights a series of previously announced strategies such as a sales target that will require 35% of new medium- and heavy-duty vehicle sales to be zero-emission designs as early as 2030. Where feasible, all such vehicles in "a subset of vehicle types" will need to be zero-emission models by 2040.
December 21: Quebec ELD Enforcement Delayed Until June 1 – Today's Trucking
Quebec will begin enforcing the federal electronic logging device (ELD) mandate on June 1, 2023.
Marc Cadieux, president and CEO of the province's trucking association Association du Camionnage du Quebec (ACQ), shared the news of the delay after he and some of the largest carriers in the province held talks with Minister of Transport Geneviève Guilbault on December 21.
Cadieux said that the minister said she did not want another unexpected postponement and consequently, the application of the rules on ELDs would be postponed until June 1.
December 23: The Top 10 Trucking Stories of 2022 – Today's Trucking
It was an eventful year, to say the least. Right out of the gate the Canadian trucking industry found itself in the international spotlight as trucks noisily rumbled their way from the West Coast to Ottawa where they parked for an extended, and unwelcome, stay.
It's not often the industry attracts this level of attention – whether it be for right or wrong reasons. But while coverage of the 'Freedom Convoy' was far and away the most-read topic of the year, it was not the only newsworthy story. The electronic logging device (ELD) mandate was delayed once more, then finally enforcement plans were revealed. One of Canada's largest and most recognizable trucking companies was purchased by a non-traditional buyer. Another of the most recognizable fleets on Canadian roads left the country.
Shipper-carrier relationships were a hot topic as shippers found themselves at the mercy of capacity-constrained fleets. And owner-operators who were attracted to record spot market conditions found themselves suddenly vulnerable as trucking conditions rapidly changed.
CIFFA Advocacy, Communications, Activities
December 7: CIFFA Holds Second Meeting with CN, Forwarders and Dray Carriers to Discuss Inland Terminal Congestion and Dwell Times
On November 30th, CIFFA held a follow-up meeting, chaired by Executive Director Bruce Rodgers, with representatives from CN, forwarders, dray carriers, importers and other trade associations.
The purpose of this session was for CN to provide a further update to the initiatives implemented to improve the situation of excessive container inventory and dwell.
CN representatives noted that, since the previous meeting, and thanks to initiatives put in place by CN, out-gate activity at terminals is higher than arrivals, resulting in an improvement in Toronto congestion. Similar improvements were also noted in various operating metrics across the terminal, indicating a recovery to more normal operations. Overall fluidity at the Port of Vancouver also turned positive, with zero vessels at anchor. While ground counts are much lower, the mix of Toronto-destined cargo on dock is still strong, which is a concern given the extended dwell at destination.
As a result, CN indicated the railway will revert to right-sizing trains to match destination capacity. Due to the recent improvements, plans are to increase the import volumes marginally, but to continue monitoring to ensure the level of out-gates is maintained.
There is significant focus on the level of imports still dwelling at the container yards, affecting optimal terminal fluidity. CIFFA encourages all stakeholders to work with their importers to retrieve containers as soon as possible, as the rail yards cannot be used as storage facilities.
CN has offered a further follow-up meeting in mid-January, to re-examine the situation and progress made.
December 13: CIFFA Brief on Shipping Conference Exemption Act
CIFFA provided a brief in response to the invitation from the federal government and the Minister of Innovation, Science and Industry, the Honourable François-Philippe Champagne, to comment on Canada's competition policy and enabling legislation.
December 14: CIFFA Comment: Standing Committee on Transport, Infrastructure and Communities' Report: "Improving Efficiency and Resiliency in Canada's Supply Chains"
CIFFA released a comment on the federal government's Standing Committee on Transport, Infrastructure and Communities' report: "Improving efficiency and resiliency in Canada's Supply Chains." (The Standing Committee on Transport, Infrastructure and Communities primarily studies the legislation, policies and programs, and other issues of national importance related to transportation, infrastructure, and Canadian cities and communities, as well as the operations of Transport Canada and Infrastructure Canada.)
As noted by CIFFA, "Improving efficiency and resiliency in Canada's supply chains" is a complex and critical issue in public policy and the committee's diligence in examining it was much appreciated by the people who are living this situation every day.
The report recommendations provide the government with several valuable proposals that we believe should be acted upon.