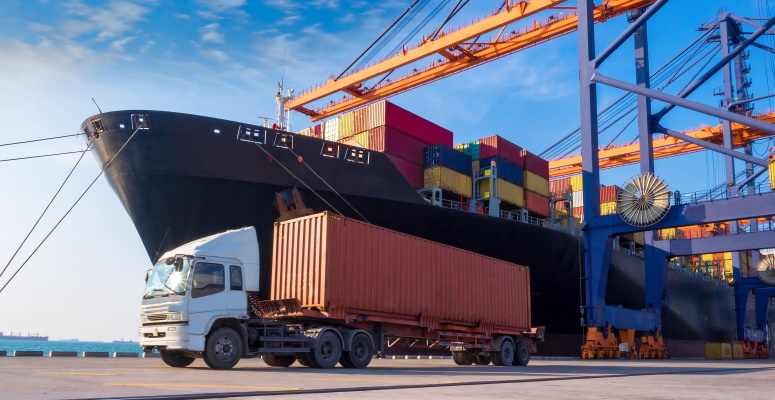 Month in Review – February 2022
Maritime
February 3: Bipartisan Ocean Shipping Overhaul Introduced in U.S. Senate – BNN Bloomberg
The first major update of U.S. international ocean-shipping laws in more than two decades was introduced in the Senate on February 3, a significant step toward passage after passing the House with bipartisan support in December.
Republican Senator John Thune of South Dakota and Democratic Senator Amy Klobuchar of Minnesota introduced the Ocean Shipping Reform Act Thursday, which they say will ease the problem of agricultural exports sitting at ports while ocean carriers return to Asia with empty containers.
"Congestion at ports and increased shipping costs pose unique challenges for U.S. exporters, who have seen the price of shipping containers increase four-fold in just two years. Meanwhile, ocean carriers have reported record profits," Klobuchar said in a statement.
The House version of the bill, sponsored by California Democrat John Garamendi and North Dakota Republican Dusty Johnson, was approved by an overwhelming majority in December.
February 7: Price of Ship Fuel Surging, Poised to Eclipse All-Time High – American Shipper
It should come as no surprise: Just as you're paying a lot more for gasoline at the pump, ship operators are paying a lot more for marine fuel. In fact, average marine fuel prices are rising even faster than landside fuel prices. They're now just a few dollars shy of all-time highs, with a new record seemingly imminent.
That's bad news for shipowners, and to the extent fuel cost is passed on, bad news for cargo shippers, and, ultimately, those who buy imported goods.
The majority of cargo ships burn 0.5% sulfur fuel known as very low sulfur fuel oil (VLSFO). As of February 4, Ship & Bunker estimated that the average VLSFO price at the top 20 bunker ports had risen to $731.50 per ton, up 55% year on year. The national average gasoline price rose 40% over the same period, according to AAA.
February 9: Maersk Forfeits More Freight Forwarder Business to Pursue Long-Term Deals – American Shipper
Maersk executives on February 9 revealed new details on the carrier's burgeoning long-term contract business.
Ocean carriers have traditionally split business down the middle: around half short-term spot deals, half long-term contracts. Maersk continues to separate itself from the pack, focusing on more long-term contracts of ever-longer durations.
The proportion of Maersk's long-haul volumes covered by long-term contracts jumped from 50% in 2020 to 65% in 2021. This year, the share will rise to 70%.
On previous quarterly calls, A.P. Moller-Maersk CEO Soren Skou has referred to a rising share of multiyear contracts, for terms of up to three years. On Wednesday's call, there was talk of contracts lasting up to a decade.
February 15: Vancouver Fraser Port Authority Gateway Infrastructure Fee 2022 (GIF2022) – Notice of Fee Implementation
The Vancouver Fraser Port Authority Board of Directors has approved proposed fee amendments that will take effect on May 1.
Anyone interested in making a written representation to the VFPA on the subject of the proposed fee may do so prior to April 15.
February 15: MSC, Maersk End Transpacific Cooperation with SM Line – Offshore Energy
The 2M Alliance partners, Maersk and Mediterranean Shipping Company (MSC), have ended their strategic cooperation with South Korean shipping company SM Line on the transpacific route.
"The slot swapping agreement between SM LINE and the 2M alliance partners on Asia to USA West Coast services will end with effect from May 8, 2022," said MSC. "Consequently, MSC will cease the slot agreement with SM Line commercialized by MSC as the Rose service."
The company added that current services covered by MSC, and those of the 2M network, will offer alternative coverage.
February 17: Forwarders Look to Shipper-Owned Containers to Boost Reliability – The Loadstar
With the pressure on equipment capacity showing no sign of abating, freight forwarders are increasingly turning to "shipper-owned containers (SOCs)" to minimize the risk associated with port congestion and potential penalties, amid COVID-induced supply chain dysfunction.
A study by Container xChange, a digital platform for equipment management, has found that the level of the top 50 forwarders accepting SOC requests had risen sequentially from 6% in 2019 to 18% in 2021, a three-fold change.
SOCs are the units typically placed by a shipper with the container line for cargo booked by them directly, or through a forwarding agent. These boxes come in the form of outright ownerships or leased arrangements.
February 21: Empty Container Avalanche Predicted to Cause Chaos Later This Year – Splash
When global supply chains snap back to some form of normality – widely tipped to be in the second half of the year – transport operators will have to brace for a new headache, with an avalanche of empty containers predicted to cause some chaos.
The delays in the supply chain during the pandemic have led to the need for additional containers to be used. When the supply chain normalizes, this will potentially create a pile of 3.5 million TEU of empty containers from the transpacific alone, according to a new report from Denmark's Sea-Intelligence.
February 22: Ransomware Attack Hits Jawaharlal Nehru Port Container Terminal – The Loadstar
A suspected ransomware attack has knocked out the management information system at Jawaharlal Nehru Port Container Terminal (JNPCT), one of five marine facilities in India's top container gateway of JNPT (also known as Nhava Sheva).
The attack was detected on February 21.
JNPT has not issued any official updates on the source and type of the attack, but JNPCT had one of its scheduled vessels divert to a nearby terminal after it abruptly stopped accepting vessels alongside.
The other private terminals at JNPT are operating normally, according to port sources.
February 22: Omicron Ripping Through Cargo Ships May Exacerbate Shipping Woes – BNN Bloomberg
Omicron is ripping through cargo ships, raising concerns that a surge in cases, coupled with China's tightened quarantine requirements for vessels, could delay supply chain stabilization for the shipping industry.
COVID outbreaks are hitting ships globally, with cases increasing "exponentially," said Francesco Gargiulo, CEO of the International Maritime Employers' Council Ltd. Anglo-Eastern Univan Group, which has an active crew of about 16,000, is seeing infections on five to seven vessels a month compared with only one or two a month last year, the company said. Meanwhile, Wilhelmsen Ship Management Ltd. has had infections on four of its ships since January after less than a dozen vessels were struck with COVID in all of 2021, said Carl Schou, CEO at the ship manager.
February 24: Prince Rupert Port Seeking to Double Capacity Through the Addition of a Second Container Terminal – PRPA press release
DP World and the Prince Rupert Port Authority have entered into a two-year agreement to assess the feasibility of a new container terminal project in Prince Rupert. The potential project would add up to 2 million twenty-foot equivalent units (TEUs) of annual capacity to the Port of Prince Rupert, significantly increasing Canadian trade capacity with critical Asia-Pacific markets, with considerable potential employment and economic impacts that will bolster the western Canadian economy.
The proposed terminal represents the continued advancement of the Prince Rupert Port Authority's container terminal master plan done in 2019, which outlined the potential for an additional container terminal, south of the existing Fairview Terminal. With this agreement, DP World and the Prince Rupert Port Authority will begin various studies on the proposed site, with a key focus on steps required to minimize environmental and community impact, improve the resilience of Canadian supply chains, and ensure the project's full integration into the Port's intermodal ecosystem.
February 25: Shippers Prepare as Ukraine Crisis Prompts Emergency Fuel Surcharges – The Loadstar
Shippers are bracing for a raft of emergency bunker surcharges from ocean carriers, as oil prices hit eight-year highs.
Following Russia's invasion of Ukraine, the price of crude oil has soared to its highest level since 2014, to more than $105 a barrel, with analysts predicting $130 within weeks.
Meanwhile, Rotterdam-sourced low-sulphur fuel oil (LSFO) spiked on February 24 by more than $30, to $731.50 a ton, a 40% increase since December.
The Loadstar understands an emergency BAF was being considered by carriers before the events of this week, but according to a carrier source, the "die is now cast" on surcharge hikes.
"Many of our contracts have a BAF calculator built in, but for our spot and short-term deals, we have no option but to try to recover as much of the extra cost as possible," he said.
February 28: Suez Canal Tolls Rise – Container News
Egypt's Suez Canal Authority announced on February 27 that it will increase canal tolls by up to 10% for laden and ballast vessels.
The toll increase is effective from March 1, according to the Suez Canal Authority, which said the decision is "in line with the significant growth in global trade, the improvement of ships' economics, the Suez Canal waterway development and the enhancement of the transit service."
February 28: Barge Delays on Northern European Waterways Surge to Highest Peak in Years – The Loadstar
Congestion along Antwerp and Rotterdam's inland waterways has surged to its highest peak in several years, leaving users stranded.
Wait times at Antwerp more than doubled over the past week, from 44 hours to 94, according to the latest figures from Contargo, while congestion at Rotterdam was up by more than 50%, to 128 hours.
Air
February 5: COVID-19 Cases among Staff, CNY Holiday Lead to Cargo Being Stuck at Singapore's Changi Airport – The Straits Times
A triple whammy of COVID-19 infections among airport staff, a surge in shipments and the Chinese New Year holiday have led to severe delays in the processing of cargo at the usually efficient Changi Airport terminals.
Containers that usually take hours to process have been taking days for the past two weeks, freight forwarders said.
In a statement on February 5, a spokesman for Sats, the airport's chief ground handler for airfreight, confirmed the build-up of cargo.
"Sats has deployed additional manpower from other parts of its operations to alleviate the situation and 70 percent of the backlog has already been cleared," the spokesman said, adding that cargo import operations are expected to return to normal by February 8.
Ships waiting for urgent parts brought in by airfreight are also marooned at Singapore's ports, while others are staying behind schedule to receive their shipments.
February 28: Air Canada Will Add 3 Freighters in 2022 to Diversify, Maintain Cargo Growth – Supply Chain Dive
The COVID-19 pandemic cratered air travel demand, and airlines are still struggling to climb back to their pre-pandemic passenger activity levels. Cargo operations, meanwhile, have been a bright spot for the industry, including Air Canada.
The airline operated 10,217 cargo-only flights in 2021, more than double the 4,235 it operated the year before, according to its financial results. Passenger travel remains Air Canada's larger source of revenue, but YoY passenger revenue growth (3%) was easily outpaced by its cargo business (63%) in 2021.
The use of converted passenger aircraft, which have seats removed from the passenger cabin to free up cargo space, buoyed these results. Air Canada plans to have all converted aircraft back in passenger configuration by the end of 2022, Executive VP and CFO Amos Kazzaz said.
However, the airline still expects to benefit from increased air cargo demand through the use of its new dedicated freighters. Air Canada is also investing $16 million to bolster its cold chain handling capabilities at its Toronto Pearson International Airport cargo facility.
Rail
February 23: Chicago Suburbs Protest Planned CP-KCS Merger – FreightWaves
Eight Chicago suburbs are seeking to prevent the merger between Canadian Pacific and Kansas City Southern from happening, saying that the additional traffic coming from the merger would create more gridlock from blocked crossings and could cause environmental harm to their communities.
Local officials say they will collectively file their objections with the Surface Transportation Board next Monday. Their communities run along the Milwaukee District West line of Chicago commuter rail service Metra, which operates on tracks that are part of CP's Elgin subdivision.
Shareholders of CP and KCS approved the $31 billion deal in December, and the merger is now before STB for review.
Trucking
February 1: Kenney Calls for Calm at Alberta Border Blockade after Some Protesters Breach Police Barriers – CBC News
Officials are calling for cooler heads to prevail after a trucker blockade – which began on January 29 at the Canada-U.S. border in southern Alberta – grew violent on February 1.
"This kind of conduct is totally unacceptable," said Premier Jason Kenney.
The protest of trucks lined up in front of the border checkpoint has halted all traffic. The Coutts crossing is the primary conduit for an estimated $6 billion in exports from Alberta to the United States, according to the premier.
The demonstration is tied to an ongoing, nationwide protest over federal rules for unvaccinated or partially vaccinated truckers entering Canada from the U.S. The rules took effect Jan. 15.
Kenney said about 100 individuals are preventing thousands of truckers from doing their job of delivering food, goods and medicine to Albertans and Canadians, emphasizing that blocking a key piece of infrastructure is against the law.
February 3: Breakthrough in Alberta Border Blockade, Lanes Open in Both Directions – CTV News
There has been a breakthrough to resolve the impasse at a protest blockade at the United States border in southern Alberta.
Chad Williamson, a lawyer representing truckers blocking access to the border crossing at Coutts, Alta., says they have spoken with Mounties and agreed to open some blocked lanes.
Williamson says the protesters are starting to feel they have been heard, "but this isn't over."
Trucks and other vehicles have begun clearing two lanes – one going north and one going south.
"This is a sign of optimism," said Cpl. Curtis Peters of the Alberta RCMP, "but is not an end to the police presence here." Work is continuing to clear the road completely, he said.
February 5: No End in Sight to Ottawa Protests, Not Enough Resources, Says Police Chief – CBC News
Ottawa's chief of police says he does not have enough resources to end the turbulent protests launched in the nation's capital more than a week ago – nor can he say when they might come to an end.
"We need an additional surge of resources," Chief Peter Sloly said Saturday, even though every available Ottawa Police Service (OPS) officer is on active duty and hundreds of other law-enforcement officials have come to help.
More than 7,000 demonstrators came into the downtown on February 5, according to police, and 500 heavy trucks still remain in the so-called "red zone."
February 8: Second Day of Ambassador Bridge Protest Halts Vehicles from Leaving Michigan, Limits Windsor to U.S. Traffic – CBC News
People protesting pandemic restrictions and lockdowns are preventing vehicles from using the Ambassador Bridge for a second day, with traffic halted from Michigan to Windsor, Ont., and limiting traffic to the U.S.
The bridge is one of the busiest international land border crossings in Canada and a major route for transport trucks.
On February 8, protest cars and trucks are lining Windsor's Huron Church Road, the main road connecting Highway 401 to the bridge. Police are asking people to avoid the area, which has been clogged since the afternoon of February 7.
February 9: Canada Border Protests Start Halting Detroit Auto Plant Production – NBC News
Traffic over the Ambassador Bridge has come to a virtual halt. Only a small number of trucks moved from Canada to Michigan on February 9. The situation at the Blue Water Bridge connecting Sarnia, Ontario, to Port Huron, Michigan, isn't much better, with reported delays of at least 4½ hours.
The Chrysler Pacifica minivan plant became the first direct casualty. Officials with global automaker Stellantis temporarily halted production at the factory because it doesn't have enough parts. Ford became the second manufacturer to take steps to deal with parts shortages.
"While we continue to ship our current engine inventory to support our U.S. plants, we are running our plants at a reduced schedule today in Oakville [Ontario] and our Windsor engine plant is down," Ford said in a statement.
General Motors, Detroit's largest automaker, confirmed late on February 9 that it had temporarily cut the second shift at a plant in Lansing, Michigan producing SUVS for the Buick, Chevrolet and GMC brands. Toyota also shut down production at three of its plants in Ontario due to parts shortages from the trucker blockade.
It could be a matter of hours before other automakers, domestic and foreign, have to take steps at assembly and parts plants within hours of the two bridge crossings.
February 13: Police Break Up Remaining Protest at Windsor's Ambassador Bridge – CBC News
Officers from multiple police forces advanced on February 13 to clear out the remaining protesters and break up a days-long occupation near the Ambassador Bridge border crossing in Windsor, Ont.
Windsor Mayor Drew Dilkens said that, once police have the situation fully under control, the plan will move to figuring out how to properly reopen the roadway to the bridge.
A spokesperson for the Canada Border Services Agency said it was "working collaboratively with law enforcement partners to restore normal border operations at affected ports of entry as quickly as possible."
February 14: Federal Government Invokes Emergencies Act for First Time Ever in Response to Protests, Blockades – CBC News
Prime Minister Justin Trudeau says he's invoking the Emergencies Act for the first time in Canada's history to give the federal government temporary powers to handle ongoing blockades and protests against pandemic restrictions.
"It is now clear that there are serious challenges to law enforcement's ability to effectively enforce the law," said Trudeau.
"It is no longer a lawful protest at a disagreement over government policy. It is now an illegal occupation. It's time for people to go home."
Trudeau said the measures will be geographically targeted and "reasonable and proportionate to the threats they are meant to address."
The unprecedented deployment of the Emergencies Act gives police more tools to restore order in places where public assemblies constitute illegal and dangerous activities, such as blockades and occupations, he said. Trudeau said the act also will enable the RCMP to enforce municipal bylaws and provincial offences where required.
February 14: Trucking Rates Between U.S., Canada Soar on Trade Blockade – Bloomberg
The trucker blockade at the U.S.-Canada border has ended but efforts to tally the economic costs are still under way.
The disruptions added costs to already-elevated charges for freight between the U.S. and its largest trading partner. According to data from Truckstop.com, spot market rates for flatbed, refrigerated and van categories rose between January 2 and February 5 for all loads going to and from Canada.
February 15: Canada's Spot Market Load Volumes 'Literally Off the Charts' – Today's Trucking
Canada's spot market is so strong, freight volumes are off the charts, according to Loadlink Technologies, which had to adjust its reporting charts to accurately reflect January volumes.
Loads surged 154% year over year, marking the best January on record by an additional 14%. Shipments from Canada to the U.S. were nearly three times higher than a year ago.
Meanwhile capacity is tight, with just 0.93 trucks posted per load.
"Combining the current truck shortage with the huge surge in loads only compounds the capacity constraints," says Claudia Milicevic, president of Loadlink Technologies. "Truck-to-load ratios are even lower than the record low capacity crunch that temporarily ensued following the electronic logging device (ELD) mandate in the U.S. close to five years ago."
February 23: MTO Grounds Trucking Businesses Involved in Illegal Occupation in Ottawa – Today's Trucking
The Ontario Ministry of Transportation has effectively shut down 39 trucking businesses in the wake of a crackdown on so-called Freedom Convoy protesters.
The ministry confirmed that 12 suspension and seizure orders were issued to Ontario-based large truck operators involved in the protests, suspending their operating authority throughout Canada, and issuing an order to seize all the plates registered to them.
Twenty-seven seizure orders were issued to large truck operators from outside the province, banning them from operating any commercial motor vehicle in Ontario.
The names of the sanctioned businesses, as well as the number of affected trucks, were not revealed.
CIFFA Advocacy, Communications, Activities
February 1: CIFFA Issues Paper: 10 Best Cybersecurity Practices in 2022 – CIFFA's Resources webpage
CIFFA's Technology Committee has issued a guide for Canadian freight forwarders, 10 Best Cybersecurity Practices in 2022.
The committee drew on the expertise of several members, as well as significant research, to compile this top 10 list. Members that put some or all of these practices in place should significantly increase their cybersecurity.