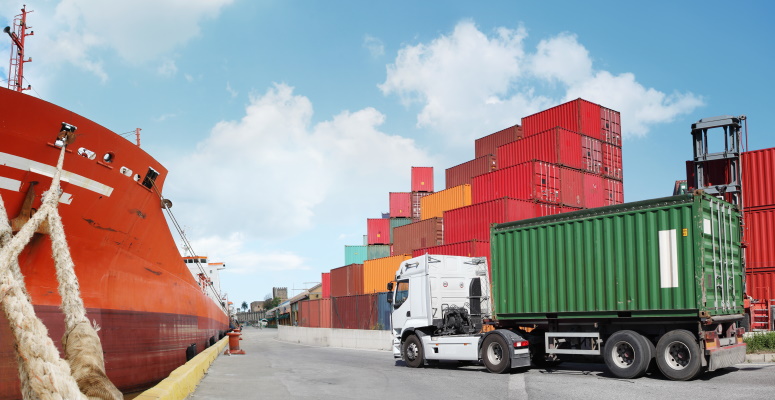 Month in Review – January 2022
Maritime
January 4: Ningbo Lockdown Measures Tightened – Splash
A notice from Ningbo Customs has detailed a business emergency response mechanism with changes to some customs clearance and inspection operations in locked-down Beilun district, an area of the city that houses some of the busiest container terminals.
Freight forwarder Shapiro reported that a container depot that is located in the lockdown area has suspended operations.
The port's average daily container throughput is more than holding up thus far. From January 1 to 3. daily throughput exceeded 97,000 TEU, up 8.5% year-on-year.
"The heightened restrictions could result in production disruptions, including short-term delivery and order fulfillment delays, at factories in the affected areas of Beilun District. Processing delays and shipping disruptions are possible at the Ningbo Port; however, officials have issued passes for permitted truck drivers to enter closed locations and designated 'greenways' for container vehicles to access the port area," an update from risk management consultants Crisis24 stated.
January 5: FMC Stepping Up Its Scrutiny of Liner Shipping – gCaptain
In an end-2021 flurry of activity, the U.S. Federal Maritime Commission (FMC) issued Orders of Investigation into both the Ocean Network Express (ONE) and Wan Hai Lines. In each case, a written response is required within 25 days.
Hearings will be held within six months, presided over by an Administrative Law Judge who has the power to impose monetary penalties, if a violation of the law is found to have occurred.
The investigation into ONE stems from a late-2020 inquiry into carriers' practices regarding bills of lading. An NVOCC not listed on the bills of lading arranged for a shipment of lumber cargo from Brazil to Houston. For unspecified reasons, the cargo sat on the dock in Houston from November 2018 into January 2019, and it seems that ONE then charged detention to the NVOCC and brought a lawsuit in Federal District Court in an effort to collect it. The FMC investigation will look closely at "privity" on bills of lading.
The investigation into Wan Hai will look into practices of carriers concerning the return of empty containers, and detention charges when the boxes are not turned back to the carriers. According to the FMC's complaint, Wan Hai charged cargo interests for detention nearly two dozen times during the spring of 2021, when the jammed-up terminals at southern California ports were unable to accept returns of containers.
January 6: UK Freight Forwarding Association Lashes Liner Conduct – Splash
The British International Freight Association (BIFA) has written to the UK government asking it to investigate the state of competition within the current container shipping market, the latest in a wave of liner complaints sent to governments around the world during a period of record earnings for carriers and the poorest schedule reliability in the history of containerization.
The UK's main trade association for freight forwarding and logistics companies says that its members are concerned that certain practices undertaken by the principal container shipping lines, as well as easements and exemptions provided to them under competition law, are distorting the operations of the free market to the detriment of international trade.
January 7: New Year Brings New All-Time High for Shipping's Epic Traffic Jam – American Shipper
The holiday rush may be over, but the offshore traffic jam of container ships is still getting worse, and the volume of inventory on the water is still increasing.
As 2022 begins, import volumes remain very strong ahead of China's Lunar New Year holiday, concerns are mounting about omicron-induced dockworker shortages at U.S. terminals, and the number of container ships waiting for berths in Southern California has – yet again – hit a new high.
January 7: Shenzhen on Alert as More COVID-19 Cases Crop Up – Splash
China's whac-a-mole approach to containing COVID-19 is seeing restrictions rushed in at many more important hubs across the country as the nation struggles to contain more contagious variants spreading.
Two COVID-19 cases in Shenzhen have seen local authorities usher in travel bans, making it difficult to leave the city, with more mass testing underway in the city's Longgang district. Trucker availability at the key southern Chinese box port is likely to be hit by this latest outbreak.
January 7: Trucker Snarl in East China Hits Ningbo's Container Shipping – American Journal of Transportation
A suspension of trucking services in several parts of East China's Zhejiang province has slowed the transportation of manufactured goods and commodities through one of the world's most important ports.
There are strict controls on trucks moving goods to or from the Beilun district in Ningbo after the discovery of several cases of COVID-19 in the area, shipping line A.P. Moller-Maersk A/S said in a Thursday customer advisory. This suspension, along with restrictions on truckers in some areas in and around Zhejiang, has halted operations at some yards and warehouses at Ningbo port.
January 13: Shipping Congestion Is Growing at Shanghai Port – Yahoo Finance
Ships looking to avoid COVID-induced delays in China are making a beeline for Shanghai, causing growing congestion at the world's biggest container port.
Shipping firms are making the switch to avoid delays at nearby Ningbo, which suspended some trucking services near that port after an outbreak of COVID-19, according to freight forwarders and experts. Ships are also rerouting to Xiamen in the south.
Those diversions are adding to the new wave of congestion facing China's ports as an increasing number of cities deal with virus outbreaks. The strict testing of workers and truckers ahead of the Lunar New Year holiday at the end of this month is further stressing already strained supply chains.
January 18: Lines Hit with Collusion Charges in South Korea – Splash
In a landmark ruling that will be watched carefully by other jurisdictions around the world, South Korean authorities slapped fines on 23 containerlines, claiming they had been colluding together to keep rates high on certain intra-Asian tradelanes over a 15-year period.
A total of US$81 million in fines were levied against lines including HMM, Evergreen, Wan Hai, Cosco, OOCL, Heung-A, SM Line and Korea Marine Transport Co.
January 19: Maersk Space Ban: 'A Dark Future' for Small Forwarders – The Loadstar
Small freight forwarders fear for their survival following Maersk's decision to offer them only its Maersk Spot product.
Larger forwarders have secured long-term contracts with other lines, but smaller forwarders are unable to follow suit.
"With Maersk, you can get spot rates only, which means you cannot plan a shipment, and we small players can never find a space with Maersk," said one European company.
"The spot quote has a very short validity; it can expire on the same day if Maersk runs out of space, and it is not valid on the next vessel. How can we work in a such way?"
January 20: Forwarders Fear 'Shut-Out' as Other Major Lines Emulate Maersk Strategy – The Loadstar
Increasing numbers of forwarders claim they are being "shut out" by shipping lines that appear to be focusing on very large forwarders and BCOs. There is suspicion that several European carriers are looking at a similar approach to that of Maersk.
"We're getting the feeling and feedback from individual sources that this is the case," one U.S. forwarder executive said.
He said none of the shipping lines had made a clear statement that it intended to leave out forwarders in the future, but problems with bookings – being told that there is no available space, or elevated pricing that renders a shipment unviable – had raised suspicions.
Another forwarder said: "We are facing up to the fact that the Maersk decision is the first step for shipping lines. "The problem we are facing is that the carriers are offering big players … long-term contracts with special conditions, and that strategy is immediately impacting smaller and mid-size forwarders worldwide, because those kind of contracts are not within our reach.
"Those contracts are dealt with at the headquarters of the big players, dealing with big volumes and dismissing our local volumes."
January 21: Forwarders Have to Turn Away Large New Customers Thanks to Capacity Squeeze – The Loadstar
Some mid-size forwarders are rejecting new larger customers, having been forced to adapt their business model to accommodate the contract ban from Maersk and the reluctance of other shipping lines to offer much capacity.
Maersk's move to restrict them to its Spot product only is said to have left some "4m TEU looking for a new home," according to one source.
One medium-size forwarder said it was forced to adapt quickly to the new status quo after "Maersk outlined its intentions fairly clearly, so we started talking to other carriers."
It added: "But it has pushed the market. Until now most of us have searched for new business with sizeable volumes. But now, with the long-term contracts, it's quite stagnant. We won't look for new business because there isn't the capacity."
January 21: Yantian Restricts Container Entry to Ease Overflow – Splash
With containers overflowing in and out of its borders, the operators of Yantian terminal, the largest port facility in Shenzhen, have from January 21 ruled that full containers can only be trucked in four days before vessels are due to berth.
Shenzhen, the world's fourth largest container port, is suffering from severe congestion just ahead of the Lunar New Year holidays, exacerbated by recent COVID-19 outbreaks that have seen parts of the city forced into lockdown. Ships arriving at Yantian are currently having to wait around one week for a berth space.
January 21: Asia-U.S. West Coast Spot Rates Spike Ahead of Chinese New Year – gCaptain
Container spot rates from Asia to the U.S. west coast spiked last week, ahead of the Chinese New Year holiday on February 1.
Drewry's WCI U.S. west coast component put on 5%, to $11,197 per 40ft, while the Freightos Baltic Index (FBX), which includes an element of premium fees, gained 3.5%, to $15,139.
For the U.S. east coast, there were mixed messages from the spot indices, with the WCI up 2% on the week, to $13,987 per 40ft, in contrast to the FBX reading, which declined 2.5%, to $17,023.
In a customer advisory, Maersk said there could be enough labour available to keep production ticking over during the CNY holiday and thus would not be reducing services in the immediate post-CNY period.
January 27: Halifax Port Authority to Undertake 3-Year Pier A-1 Infilling Project – press release
The Halifax Port Authority (HPA) is preparing to begin infilling the basin between Piers A-1 and B at Ocean Terminals located at the Port of Halifax. This project is expected to start in May 2022.
To prepare for the project, Pier A-1, including Shed 33 and Shed 34, as well as the pier rail sidings, will no longer be available for access to general cargo operations beginning in May. The port is working with common port users to provide them with available options so they can transition to other available areas within the Port of Halifax and minimize the impact on their business. There is alternate terminal and shed space available at Ocean Terminals and Richmond Terminals.
The infilling is expected to take approximately three years to complete and will create an additional 3.2 hectares (approximately 8 acres) of yard space. The project will occur within the existing footprint of industrial cargo operations.
A Fisheries Act Authorization was granted in 2018 by Fisheries and Oceans Canada, and habitat offsetting will be implemented. Two hundred and sixty artificial reefs, also known as reef balls, will be installed as a method of marine environmental remediation.
The completed project is expected to improve overall efficiency and safety, and lead to more environmentally sustainable operations overall.
January 27: Schedule Reliability Dropped to Record Low at the End of 2021 – The Maritime Executive
Schedule reliability among the major container shipping lines hit a new low at the end of 2021 with the expectation being that, with continuing port congestion, there is unlikely to be a significant improvement.
New data from Sea-Intelligence shows that containerships' ability to maintain published schedules reached the lowest level in the decade the analytics and advisory service has been tracking the industry.
"Schedule reliability dropped again, this time by 1.2 percentage points month over month to 32 percent, the lowest-ever global schedule reliability since Sea-Intelligence started the measurement in 2011," notes Alan Murphy, CEO of Sea-Intelligence. "On a year-over-year level, schedule reliability was 12.5 percentage points lower."
January 31: Long-Term Rate Increases Losing Momentum as Carriers Seek to Lock in BCOs – The Loadstar
There are signs that the exponential rise in long-term liner contract rates is losing steam after 14 consecutive months.
Ocean and air freight rate benchmarking platform Xeneta's XSI long-term contract rate index fell 3.6% this month, following a decline of over 4% recorded in December.
The XSI decline could be a blip, but it could reflect carrier aspirations of signing up shippers to long-term deals.
Air
January 4: Flights Cancelled at Xi'an, with Worse to Come as Chinese New Year and Olympics Loom – The Loadstar
China's ninth-busiest airport for cargo is still facing large numbers of flight cancellations following an outbreak of COVID in the city of Xi'an.
The government imposed a strict lockdown in mid-December and has since cut off most transport to the city.
The next eight weeks are expected to see some significant disruption in China: Not only will its "zero-COVID" policy lead to local restrictions, but with both the new year holiday and Beijing Olympics at the start of next month, the government is expected to crack down on transport. Forwarders said they expect few charter flights to be approved and restrictions on other flights, in particular into the capital.
January 21: 5G Doomsday Crisis Averted, Say FAA And Airlines – Forbes
Fears that the U.S. 5G rollout would cause widespread disruption to air travel have dissipated, with a collective sigh of relief from both the government's aviation agency and airlines.
The Federal Aviation Authority (FAA) has approved 78% of the U.S. commercial aircraft fleet to perform low-visibility landings at airports where wireless companies deployed 5G in the C-band. The 13 cleared altimeters are found on a variety of commercial aircraft, including eight Boeing and eight Airbus models, as well as some Embraer 170 and 190 regional jets.
"The good news is we now have what should have been going on for quite some time, which is the manufacturers, the telecoms, the government agencies all sharing information that they need to make sure that this can be rolled out in a way that all Americans get 5G and all Americans know that their flights aren't going to be impacted by that 5G," said American Airlines CEO Doug Parker.
"It's taken a while to get to the right spot, but I feel like we're in the right spot," Parker said. "I don't think you're going to see any material disruption going forward because of this."
Rail
January 26: CN Names Robinson Its Next Top Exec, Reaches Agreement with TCI – Progressive Railroading
CN has announced Tracy Robinson will become its next president, CEO and a board member on February 28.
Robinson's appointment follows the previously announced retirement of Jean-Jacques Ruest as president and CEO. Ruest will depart CN's board on February 28, but remain at the railroad as an adviser until March 31 to ensure a seamless transition, CN officials said in a press release.
Robinson will join CN from TC Energy, where she is executive vice president, president of Canadian Natural Gas Pipelines and president of Coastal GasLink. Prior to TC Energy, Robinson spent almost three decades at Canadian Pacific. She has 35 years of operational management, strategy development and project execution experience to drive growth and profitability.
CN also announced it has reached a resolution agreement with CIFF Capital and TCI Fund Management (collectively TCI) that calls for CN and TCI to mutually agree on the appointment of two independent directors before CN's 2022 annual general meeting. TCI agreed to withdraw its requisition for a special meeting of shareholders and to support the election of all CN director nominees at the 2022 and 2023 annual meetings.
Trucking
January 4: B.C. Flood Recovery Continues, but It's Hardly Trucking as Usual – Today's Trucking
Weeks after severe flooding wreaked havoc on B.C.'s road and rail network, round-the-clock repairs are bringing a sense of stability to carriers that haul freight in the province. As for normalcy, that's something else entirely.
A lack of predictability remains the big problem, says Dave Earle, president and CEO of the B.C. Trucking Association (BCTA). "It's getting better. It is one thing if you know a route is going to take you twice as long as before. The problem is, when you don't know how long the route is going to take, it is awfully difficult to plan."
Even when the timelines stabilize, the extra hours can upend traditional schedules and trip planning activities. A commercial run from the Fraser Valley to Kelowna used to take about six hours, so a rounder could be completed in a day. Now that takes 12 hours to do, the driver must overnight in the truck, and it takes 12 hours to return. "Instead of doing two loads in 12 hours, you are doing two in 36. It's taking a lot longer," Earle says.
January 7: CBSA and CBP Joint Updated Emergency Protocols in Response to Flood Situation in British Columbia, Canada
The CBSA and CBP issued on January 7 an update to the B.C. flood emergency protocols.
January 17: Port of Vancouver's Ban on Trucks More Than 10 Years Old Delayed – Splash
After industry outcry, Canada's Port of Vancouver has decided to postpone its Rolling Truck Age Program that was supposed to take effect on February 1. Trucks more than 10 years old will continue for an unspecified period to be admitted to the port.
"We have recently heard some concerns about our program start date from industry and Transport Canada, and we recognize that the pandemic, recent flooding, and on-going global supply chain issues may have created some short-term challenges for people looking to buy compliant trucks," said Vancouver Fraser Port Authority VP Duncan Wilson.
"We are thus postponing our program start date slightly, to provide some additional time and engagement opportunities for industry, and to hopefully mitigate some of those challenges."
January 18: B.C. Highways Continue to Reopen – Today's Trucking
The Coquihalla Highway reopened to regular vehicle traffic between Hope and Merritt, B.C., on January 19.
Travel times between Hope and Merritt can be expected to take about 45 minutes longer than usual, due to reduced speed limits and temporary repairs that are in place, the Ministry of Transportation and Infrastructure warns.
The province is also lifting weight restrictions on Hwy. 99 between Pemberton and Lillooet, but is warning commercial truckers to avoid the route if possible, especially if they lack winter driving experience.
January 19: Vaccine Mandate or Not, U.S.-Canada Cross-Border Freight Rates Poised to Rise – FreightWaves
Since January 15, U.S. truckers who are unvaccinated or partially vaccinated against COVID-19 have been barred from crossing into Canada. A similar mandate is expected to hit Canadian drivers at the U.S. border on January 22. Already, the mandates are being blamed for a jump in rates.
But cross-border freight pricing was already poised to increase significantly by necessity. Increasing demand for consumer goods and tight capacity have collided with higher costs and a scarce supply of drivers and equipment.
Spot rates in January across multiple U.S.-Canada lanes have been 10% to 20% higher than a year ago, according to freight brokers. The big unknown: How many drivers will leave cross-border freight in response to the mandates and to what extent that will push rates higher.
January 23: 'Freedom Convoy' of Truckers Opposing Vaccine Mandate Leaves Metro Vancouver for Ottawa – Global News
Hundreds of B.C. truckers took to the road Sunday kicking off what they called a "freedom convoy" to Ottawa in protest of the federal government's COVID-19 vaccine mandate for cross-border truckers.
Scores of big rigs gathered in pre-dawn fog in Delta before rolling out, and will be joined by groups from Vancouver Island and communities in the B.C. Interior as they make their way east.
January 24: B.C.'s Highway 1 Reopens Through Fraser Canyon – Today's Trucking
Highway 1 through the Fraser Canyon, a major route connecting the Lower Mainland to B.C.'s Interior and North, opened to all vehicle traffic at noon on January 24, marking another milestone in British Columbia's recovery from November's flooding.
Depending on the destination, drivers travelling Highway 1 through the Fraser Canyon should plan for delays of up to two hours or more. This is due to ongoing repairs, an at-grade train crossing and sections of single-lane alternating traffic, which includes a temporary single-lane bridge at Jackass Mountain and Nicomen River crossing.
January 31: Alberta Premier Says Massive Blockade Preventing Access to U.S. Border 'Must End' – CBC News
Alberta Premier Jason Kenney is calling for a massive vehicle blockade preventing access to the Canada-U.S. border crossing to end, saying it is causing "significant inconvenience for lawful motorists."
Truckers and motorists travelling to and from the United States from southern Alberta have been caught up in gridlock as an extremely large blockade of vehicles tied to an ongoing nationwide protest over COVID-19 public health measures continues to jam border traffic.
Vehicles have been blockading the highway from south of Lethbridge, Alta., to the Canada-U.S. border crossing in the village of Coutts since Saturday afternoon. That means that traffic to and from the border crossing has largely come to a standstill.
CIFFA Advocacy, Communications, Activities
January 26: Force Competition in Our Marine Sector: CIFFA's Executive Director Bruce Rodgers on Why Canada's Competition Laws Need More Bite
On January 31st, the federal government will convene a summit to discuss supply chain frustrations with a wide variety of participants.  Despite the odds against rapid success, it's a welcome effort.
The stubborn supply chain mess affects virtually every consumer and community. And although the problems are certainly international, there are things that can be done right here in Canada, to improve the situation.
Ottawa has been tiptoeing along a very narrow line: trying to be seen as active on the problem, while avoiding any expectation that the government could craft a "solution" that solves all the problems. Presumably political advisers were telling the Cabinet, "You touch it, you'll own it."
But south of the border the U.S. President took an aggressive tack, travelling to a California port and personally urging railroads, truckers and ports to take extraordinary measures. By Christmas the White House was touting evidence the situation was improving.
January 31: CIFFA Participates in National Supply Chain Summit
The 3+ hour Summit, during which participants presented their industry and sector-specific concerns and comments, was led by the federal Transport Minister, the Honourable Omar Alghabra, and included presentations by the Honourable Mary Ng, Minister of International Trade, Export Promotion, Small Business and Economic Development, Annie Koutrakis, Parliamentary Secretary to the Minister of Transport, the Hon. Carla Qualtrough, the Minister of Employment, Workforce Development and Disability Inclusion, the Hon. François-Philippe Champagne, Minister of Innovation, Science and Industry, and the Hon. Marie-Claude Bibeau, Minister of Agriculture and Agri-Food.
Overarching themes and discussion points included the following:
the need for regulatory alignment
the infrastructure deficit and the need for more climate-resilient physical infrastructure, especially to address narrow pinch points and single corridors in Canada
environmental processes that are transparent and fair
the need to address an acute labour shortage across key sectors and a longer-term "skills" shortage
the better sourcing and management of data that can usefully inform improvements in supply chain
the call for better oversight mechanisms
a ports system that is collaborative and has the tools to work in tandem with other ports in the system
investment in key trade corridors and continued recognition of the National Trade Corridors Fund as a critical federal program
In his closing comments, Minister Alghabra said, "I hear you and I have been hearing you for awhile and that is the reason why we ended up doing this summit."
He thanked participants and noted that industry needs to continue to be involved in this discussion. As next steps, he announced that there would be a focus on more regional and sectoral roundtables in the coming weeks.
As well, he announced the government will create a task force made up of industry leaders who will provide advice to Minister Alghabra about next steps.
The Minister is hoping for a comprehensive action plan, including both immediate and short-term, as well as longer-term, strategies by summer.
Minister Alghabra reaffirmed the government's commitment to maintaining this dialogue, and said the role of industry is valued not only with respect to dealing with supply chains but also with aim to improve our collective economic future.