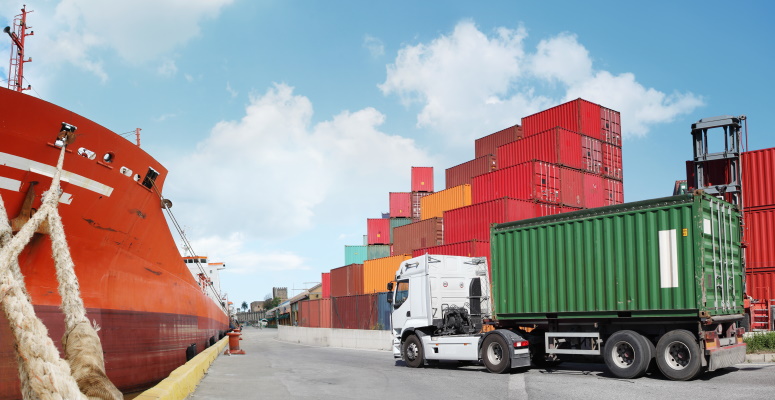 Month in Review – January 2023
Maritime
MSC Online Invoice Dispute Tool
If you receive an invoice from MSC Canada that you believe requires a change before you make a payment, you can request a change to one or multiple invoices at the same time through MSC's online invoice dispute tool.
December 29: Egypt's Currency Crisis is Creating a Massive Port Backlog – The Maritime Executive
A major hard-currency crisis in Egypt is causing a massive backlog across the country's ports, where goods worth $9.5 billion are stuck – even as the government engages in desperate measures to facilitate their release and avoid a spike in the prices of essential commodities.
With Egypt sinking deeper into a prolonged economic crisis, exacerbated by the Russian invasion of Ukraine, the country's ports have recently been clogging up with goods due to a dollar shortage, a crisis that has been worsened by a substantial nosedive of the Egyptian pound. The currency has depreciated by about 36 percent since the beginning of the year.
Over the period from December 1 to 23, the government – which has imposed restrictions on imports to save foreign currency – managed to release goods worth $5 billion. Other cargoes worth $9.5 billion are still being held at the country's ports awaiting the securing of dollars required to release them. Priority is being given to food products, food-manufacturing components, medicines and production goods.
December 29: Chance that Container Ship Arrives on Time is Still a Coin Toss – FreightWaves
A year ago, fear was a big driver of the supply chain crunch: fear that goods wouldn't arrive on time, stoked by headlines warning that shipping delays could "cancel Christmas." It became a vicious cycle. The threat of delays caused importers to max out orders and bring them forward, causing more delays.
Importers ordered too much in late 2021, and to avoid another holiday scramble, they shipped in seasonal goods early in 2022. This front-loading alleviated pressure on the supply chain in the second half of the year.
Container shipping schedules have become more reliable in light of lower volumes, so importers have less to fear from ocean shipping delays. But despite progress, the supply chain is still not back to where it was pre-COVID.
Sea-Intelligence's "Global Liner Performance" report found that 56.6% of services arrived on time in November – the highest reliability percentage since August 2020. It's a big improvement from January last year, when reliability cratered at just 30.4%. Yet the on-time rate is still just above a coin toss and remains well below the 2018-2019 average of 74%.
January 3: Maersk Joins Rivals in Softening Contract Conditions for Shippers – The Loadstar
Ocean carriers are tempting BCOs with a wide range of new, flexible, long-term contract options this year, after shippers complained of being "burned" by committing to rigid, highly elevated contracts a year ago.
Last year, shippers were presented with 'take it or leave it' fixed-rate long-term contract options by carriers against a backdrop of very strong demand and an acute shortage of equipment and vessel capacity.
But as consumer demand slumped in Europe and the U.S., and supply chain congestion eased around the world, the second half of 2022 saw container spot rates collapse to levels well below contract rates, leaving signed-up shippers at a significant disadvantage to competitors using the spot market.
It appears that now even Maersk, one of the architects of the inflexible multi-year contracts rolled out to selected blue-chip shippers a year ago, has recognized the need for more adaptability in long-term contract terms and conditions.
January 6: Coast Is (Almost) Clear as Port Congestion Fades Even Further – FreightWaves
What a difference a year makes. At this time in 2022, over 100 container ships were stuck waiting off the ports of Los Angeles and Long Beach, California, with around 150 off all North American ports combined. Now, there are almost no ships waiting in Pacific waters and increasingly few off the East and Gulf coasts.
Ship-position data showed just 30 container vessels off North American ports on January 6. All remaining queues are down to single digits per port.
And factory closures for Asia's Lunar New Year holiday are expected to depress U.S imports in the first quarter, giving ports a chance to clear out the last of the queues.
January 16: Hapag-CMA Deal Sees Re-emergence of Cross-Alliance Slot Chartering – The Loadstar
As their network coverage becomes compromised by an aggressive blank-sailings strategy, ocean carriers are turning to slot charter deals with members of rival ocean alliances to cover their contract commitments.
Effective next month, Hapag-Lloyd has agreed to a slot charter with Ocean Alliance member CMA CGM that it said would strengthen its coverage in Asia and provide dedicated connections for the North Europe Benelux ports and the UK's Southampton.
The slot charter is outside Hapag-Lloyd's THE Alliance membership and won't involve any other partners in the vessel-sharing agreement.
Vespucci Maritime CEO Lars Jensen said there could be more cross-alliance agreements to come. "The dramatic decline in demand, especially on Asia-to-North Europe and Asia-to-U.S. routes, has forced the carriers to be busy cancelling sailings to attempt to avoid too much overcapacity," he said. "This leads to a reduction in their service coverage, and an obvious solution for a carrier is precisely what we are seeing here."
January 17: DP World Eyes Second Container Terminal at Port of Prince Rupert – Splash
DP World Prince Rupert has engaged AECOM, an infrastructure consulting firm, to conduct a feasibility and design study for the development of a second container terminal at the Port of Prince Rupert on Canada's Pacific Coast. AECOM's work is intended to determine the technical and financial feasibility of developing the terminal, and provide the baseline studies that will be required for environmental approvals.
The second terminal, which will be fully electric, is anticipated to double the Port of Prince Rupert's overall container capacity, adding at least 2 million twenty-foot equivalent units annually.
January 17: Saskatchewan and Manitoba Seeking to Limit Fees on Exports Going Through Port of Vancouver – 650 CKOM
Saskatchewan and Manitoba are heading to court to get involved in a case based in B.C.
In a media release, the Saskatchewan government said it was joining Manitoba in seeking leave in federal court to intervene in a judicial review of the Vancouver Fraser Port Authority's new gateway infrastructure fees.
"As a province that depends heavily on exports, Saskatchewan wants to ensure that the full impact of new port fees on key sectors of our economy is taken into consideration," Bronwyn Eyre, Saskatchewan's justice minister and attorney general, said in the release.
"These fees could significantly increase costs for Saskatchewan goods moving through the Port of Vancouver and diminish Canada's overall global competitiveness."
The Vancouver Fraser Port Authority's new fees took effect January 1. The government said the fees range from eight to 40 cents per tonne for bulk, non-containerized cargo such as potash and grain – two of Saskatchewan's biggest exports.
January 19: Non-Alliance Carriers are Losing Market Share After Years of Growth – The Maritime Executive
After enjoying strong growth during the shipping surge experienced over the past two years, non-alliance carriers are losing market share. With the current levels of overcapacity rising across most segments of the container shipping industry and possibly getting worse as more new tonnage enters the market, Sea-Intelligence is predicting that the market share for the independent carriers will continue to decline.
"As the market strengthened after the initial COVID hit, there was a confluence of small carriers that started to deploy capacity, especially on the transpacific trade," said Alan Murphy, CEO of Sea-Intelligence. He notes major carriers also started to introduce services outside the alliance networks. "The idea was to take advantage of the opportunity provided by the very high freight rate environment."
Taiwan-based carrier Wan Hai for example in 2020 launched an independent transpacific route after its alliance with Pacific International Lines and COSCO ended. In addition, new specialized carriers emerged, seeking to offer niche services and appealing to shippers that found it difficult to place smaller cargoes with the big carriers.
January 20: Bleak Outlook Post-Chinese New Year Prompts More Blank Voyages – The Loadstar
As China begins its lunar new year celebrations this weekend, ocean carriers are desperately seeking visibility of export cargo demand for the first weeks and months of the Year of the Rabbit.
And with the short-term outlook looking bleaker by the day, 2M partners MSC and Maersk have blanked a further six transpacific headhaul voyages – following those they announced on January 12 – through to February 12.
January 20: Updates to Memorandum D3-5-1 – Marine Pre-load/Pre-arrival and Reporting Requirements
This memorandum outlines and explains specific Canada Border Services Agency's (CBSA) procedures for the advance notification, reporting, use and control of vessels in international commercial services.
In brief, this memorandum has been revised to:
Reflect updates and additions to the Definitions section.
Update information on liability, conveyance arrival certification message (CACM), exemptions from cargo data – only conveyance data required, in-transit shipments, consortium and co-load agreement (carrier codes), overages, shortages, Canadian military vessels, ferries, delivery requirements and transfers to sufferance warehouses, international waste, and wood packing material.
Remove information on transmitting accurate data, found astray (misrouted goods), non-resident importer, transmitting 'to order' shipments, moving company, personal effects, ETA – entered to arrive and value included shipments, and overland movement.
Add information on sub-location codes, A6 reporting requirements for vessel at anchor, Canadian goods returned, non-emergency repairs, foreign government vessels, unique shipment processes and Canada-European Union Comprehensive Economic and Trade Agreement (CETA).
Find details in Memorandum D3-5-1.
January 24: Roberts Bank Terminal 2 Information Request Response Declared Sufficient – VFPA press release
Canada's Minister of Environment and Climate Change Steven Guilbeault has informed the Vancouver Fraser Port Authority that information the VFPA provided related to the Roberts Bank Terminal 2 Project is sufficient.
With this determination, the minister said "the federal timeline for the issuance of a decision statement for the Roberts Bank Terminal 2 Project will resume as of today [January 23]."
January 25: Maersk, MSC Terminating 2M in 2025 – FreightWaves
The global container shipping network is poised for a major shake-up. The 2M vessel-sharing alliance between MSC and Maersk is being dissolved.
The two carriers announced that they have mutually agreed to terminate the alliance effective January 2025. Under the agreement signed in 2015, the alliance on east-west services was for a minimum of 10 years with a two-year notice period for termination.
"Discontinuing the 2M alliance paves the way for both companies to continue to pursue their individual strategies," said MSC CEO Soren Toft and newly appointed A.P. Moller-Maersk CEO Vincent Clerc in a joint statement.
The decision to terminate the 2M alliance has no effect on immediate alliance services, they emphasized. "We look forward to a continued strong collaboration throughout the remainder of the agreement period," said Toft and Clerc.
January 25: FMC Reports Increase in D&D Claims as Carrier Rulemaking Proceeds – The Maritime Executive
The U.S. Federal Maritime Commission is reporting that it has received a strong response to the proposed rulemaking for key parts of the Ocean Shipping Reform Act of 2022 focusing on fees and the business practices of the leading carriers. The FMC is extending its process to solicit additional input while it also reported a strong increase in the complaints received in the second half of 2022.
In less than seven months since the act became law, the FMC staff estimates that more than $700,000 in charges have been refunded by carriers due to complaints filed over demurrage and detention billings. Fees were one of the issues driving the reform act. During the January meeting of the FMC conducted on January 25, the staff reported it has received more than 200 filings since the law's enactment in June 2022. More than 70 charge complaints met the threshold requirements for being referred to investigators.
The FMC reports that the act is already having a positive impact on the market while the commission is continuing two of the key rulemaking elements called for under the act. The FMC staff reports a strong response with a large number of comments received both on its draft rules on D&D billing and defining the "Unreasonable Refusal to Deal or Negotiate" for vessel space and more specifically exports. Both of the issues were central to the reform act.
January 27: Maersk Plans Unified Identity, Ending Hamburg Sud and Sealand Names – The Maritime Executive
Maersk announced its intentions to move to a single brand identity as it works to integrate recent acquisitions and its multiple brands as the corporation continues the move toward its vision of a global logistics provider. In its aim to unify its brands and structure, storied brand names including Hamburg Sud and Sealand, as well as Twill, a freight logistics service for small and medium-sized businesses launched by Maersk, and newly acquired brands like Senator and LF Logistics will be phased out.
"We realize that our current brand structure doesn't reflect the way you, our customer, have your supply chain structure and the need you have for end-to-end visibility and ability to drive outcomes," Maersk wrote in a customer advisory on the intent to integrate its brands. It noted that an in-depth review will be conducted to conclude the future of each brand in different geographies and that the timeline would be determined individually for each brand.
Air
January 9: Global Demand for Air Cargo Tailing Off: IATA – FlightGlobal
Global demand for air cargo softened in November 2022, the most recent month of data, as carriers continued facing economic headwinds and the pandemic-related cargo boom lost steam.
As measured in cargo tonne-kilometres (CTKs), global air freight demand fell 13.7% last November compared with November 2021, according to a January 9 report from the International Air Transport Association (IATA).
"Air cargo performance softened in November, the traditional peak season," says Willie Walsh, IATA's director general. "Resilience in the face of economic uncertainties is demonstrated with demand being relatively stable on a month-to-month basis. But market signals are mixed."
January 4: Air Cargo Faces Mixed 2023 in a 'Cooling' Market – AIN Online
The CEOs of several major air cargo operators in recent weeks conveyed an optimistic outlook for 2023, yet they also acknowledged that the year will not likely yield the bumper performance the sector realized in 2021 and 2022.
Global air cargo volumes, yields, load factor and revenues will all decline in 2023, according to the International Air Transport Association (IATA)'s latest forecast released in December. The group expects air cargo volumes measured by cargo tonne kilometers (CTKs) to fall by 4 percent year-over-year in 2023, following an 8 percent year-over-year drop in 2022. "The softer outlook for the global macroeconomy, along with international trade, is presenting headwinds to air cargo," noted Andrew Matters, IATA's head of policy analysis. "Things that are exerting a bit of a drag in terms of cargo volumes include the conflict between Russia and Ukraine, global [economic] growth slowdown, higher inflation, higher interest rates, and the higher cost of living," he said.
The International Monetary Fund (IMF) projects that global growth will slow to 2.7 percent this year, from 3.2 percent in 2022 and 6 percent in 2021, and its managing director Kristalina Georgieva warned that a third of the global economy will enter recession this year. The World Trade Organization forecasts that trade will slow sharply in 2023 to just 1 percent as a result of the various headwinds in the global economy.
Cargo yields likely will take a "significant step back" this year, said Matters. IATA expects a year-on-year fall of 22.6 percent. "[It] sounds like a very big number; it sounds pretty dramatic," he commented, calling expectations of a pull-back in yields, however, "not unreasonable" in the context of the very strong increases of recent years. Cargo yields grew by 52.5 percent in 2020, 24.2 percent in 2021, and 7.2 percent in 2022. "These levels are not sustainable," Matters remarked. "Even the sizable and expected decline leaves cargo yields well-above pre-COVID levels."
Rail
January 3: Union Representing CN Rail Traffic Controllers Ratifies New Agreement – CN press release
On December 23, the Teamsters Canada Rail Conference ratified a new collective agreement. The agreement covers approximately 160 rail traffic controllers in Canada.
The agreement came into effect on January 1 and includes adjustments to wages of 3% in 2023, 3% in 2024 and 2.5% in 2025 and other benefits. The agreement is in effect until December 31, 2025.
January 9: Minister of Transport Announces Requirement to Provide More Freight Rail Data – Transport Canada press release
Minister of Transport Omar Alghabra on January 8 announced amendments to the Transportation Information Regulations to increase supply chain transparency and create a better understanding of the performance of Canada's freight rail sector for the benefit of all rail users.
These amendments aim to strengthen the accountability of freight rail service providers, by requiring major railways to provide Transport Canada with enhanced service and performance information. This information will significantly enhance the value of the information being collected and it will be published weekly on the Government of Canada's Transportation Data and Information Hub to provide Canadians with a better picture of end-to-end freight rail performance.
Major railways will also provide Transport Canada with additional data to support targeted public policy and other regulatory purposes, including waybill information (such as origin, destination, weight) and traffic data (such as number of carloads, goods, and car types).
These changes will come into force on April 4, 2023. They are an important part of the Government of Canada's response to the issues raised in the National Supply Chain Task Force's Final Report.
January 13: CP and Unifor Reach Tentative Collective Agreement – CP press release
Canadian Pacific Railway Limited has reached a tentative collective agreement with Unifor on a new contract for mechanical employees in Canada.
Unifor represents approximately 1,200 of CP's mechanical employees, who are responsible for maintaining rail cars and locomotives. The previous collective agreement expired on December 31, 2022.
January 30: U.S. STB Issues Final Environmental Review of Proposed CP-KCS Merger – Progressive Railroading
The U.S. Surface Transportation Board on January 27 issued a final environmental impact statement (EIS), accessible here, for the proposed merger between Canadian Pacific and Kansas City Southern.
Issuance of the final EIS completes the STB's environmental review of the proposed merger. The board will consider the transportation merits of CP's acquisition of KCS, and the entire environmental record, including the draft EIS, final EIS and all comments received, as part of its final decision in the proceeding, STB officials said in a press release.
Trucking
January 4: FMCSA Proposes Tougher Rules for Truck Broker Financial Backing – FreightWaves
The U.S. Federal Motor Carrier Safety Administration is proposing more oversight of truck brokers and freight forwarders and the surety bond and trust companies that back them up in an effort to ease the monetary pain they can inflict on motor carriers.
"FMCSA believes that most brokers operate with integrity and uphold the contracts made with motor carriers and shippers," the proposal states. "However, a minority of brokers with unscrupulous business practices can create unnecessary financial hardship for unsuspecting motor carriers."
The Owner-Operator Independent Drivers Association has complained to FMCSA of those hardships. In comments filed in 2018 to an advanced rulemaking proposal on the issue, the group pointed out that a legislative statute known as MAP-21, signed into law in 2012, increased the amount of the broker bond to a minimum $75,000, "but raising the bond to this amount did not stop brokers from continuing to steal transportation services in excess of the bond amount," OOIDA stated.
"It is critical that FMCSA's final rule implements the imperatives and timeliness provided in the statute to act quickly by suspending a broker's authority before the broker's nonpayment to motor carriers results in claims on its bond or trust in an aggregate amount of more than $75,000."
January 6: Provinces Differ in Approaches to ELD Penalties – Today's Trucking
Canada's federally regulated carriers now face a mandate to equip trucks with certified electronic logging devices (ELDs), but individual provinces are taking different approaches when it comes to penalties and deciding whether to apply the rules to provincially regulated carriers.
Quebec remains the sole province yet to begin enforcing the federal rules that apply to trucks that cross provincial borders or the international border, although any Quebec carrier would see the rules enforced as soon as they cross into Ontario or New Brunswick.
All remaining provinces, with the exception of B.C. and New Brunswick, will issue fines to those who fail to comply with the rules, while those other than B.C. and Newfoundland will apply points to carrier records. Provinces other than Quebec, New Brunswick and Nova Scotia are also threatening to shut down carriers in cases of "gross non-compliance."
January 9: MGT Gates to Open Earlier, Operate 18 Hours a Day
The overhaul of the Lafontaine Tunnel in Montreal is expected to take three years. As of October 31, the capacity of the six-lane tunnel has been reduced by half, leaving just one lane heading south and two heading north. Despite numerous mitigation efforts, the reduction in capacity has created challenges for South Shore commuters and for freight transportation providers.
Effective January 9, MGT truck gates will open an hour earlier, at 5:00 am instead of 6:00 am, Monday to Friday, to help minimize the morning peak commuting period. MGT gates will now operate 18 hours a day on weekdays, until 11:00 pm.
MGT will absorb the additional costs associated with this extra hour of service from January 9 through February 10, inclusively. However, given the high inflationary environment, plus the significant costs associated with the added operating hour, note that, effective February 13, the Gate Service Fee will be adjusted to $50.00 per laden container, in or out, while empty containers will continue to be received and delivered without any service fee.
January 17: U.S. Carriers Continue to Fold as Pandemic Freight Boom Recedes – FleetOwner
As freight truck utilization continues to fall from pandemic-era capacity, more small carriers are giving up for-hire authority as equipment and other carrier costs remain higher at the start of 2023. This could be a slow, messy year for freight.
The U.S. trucking industry lost more carriers in December than any month since Hurricane Katrina disrupted much of the over-the-road freight industry, according to data from FTR Transportation Intelligence.
The booming freight market born out of the pandemic that began nearly three years ago created a market for new for-hire carriers within a thriving spot market. During most of 2020 and 2021, hundreds to thousands of companies established for-hire authority each month. While there were fits and starts through much of 2022, Avery Vise, FTR's VP of trucking, said the industry started losing "a pretty substantial number" of carriers in October.
"Preliminary data for December would indicate that we have lost more carriers in December than we lost in any month on record – with the exception of December '05, which was in the wake of Hurricane Katrina and all the disruptions that led to," Vise said. "This is likely to continue for a period of time."
January 22: New Trucking Group Vows to 'Disrupt the Status Quo,' Demands Seat at Decision Making Table – Today's Trucking
A newly formed trucking organization has been created over the last two months, and on January 21 brought together at its inaugural gala more than 1,000 people representing about 200 carriers.
The Canada Truck Operators Association (CTOA), comprised largely of trucking companies run by people with South Asian backgrounds, promised inclusivity as it demands a seat at the tables where policy and legislation affecting its members are created.
The segment of the trucking industry that comprises the CTOA has largely been missing from discussions regarding the policy and regulations affecting it, said Executive Director Jaskaran Sandhu. A Newcom Media analysis in 2018 found that 17.8% of Canadian truck drivers identified as South Asian, up from 1.8% in 1996. That number was higher in Ontario (25.6%) and B.C. (34.6%).
CIFFA Advocacy, Communications, Activities
January 4: CIFFA Signs eFBL Agreement with FIATA
CIFFA recently signed a distribution agreement with FIATA, enabling our members to distribute paperless FIATA bills of lading.
Benefits to this new agreement:
Process optimization: Issue paperless FBLs directly from your operating system to avoid rekeying information
Trust and security: Provide stakeholders the ability to validate, at any time, the identity and the document content integrity
Sustainability: Embrace a green solution, saving paper and unnecessary courier services
Save time and money: Send electronic documents within seconds and reducing duplicating efforts
For more information, visit the website FIATA eFBL.