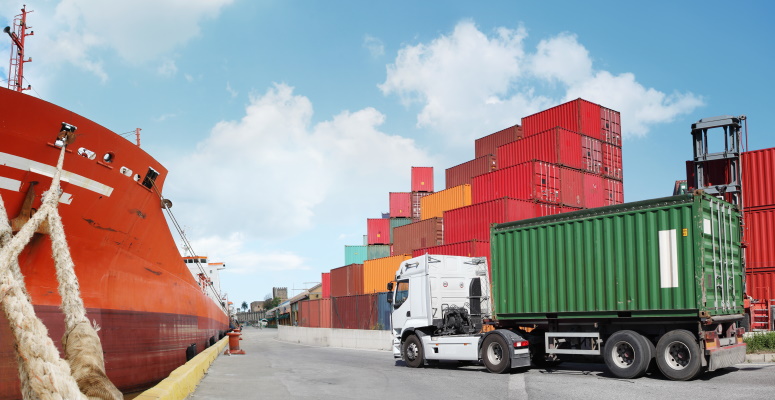 Month in Review – July 2021
Maritime
July 5: Port of Vancouver Operations Update
All rail service into and out of the Port of Vancouver has been halted as a result of the B.C. wildfires. Currently, there are a large number of trains waiting to arrive at the port. Both CN and CP Rail are working closely with Transport Canada and onsite inspectors to determine the necessary steps to resume safe rail operations.
With rail impacts on terminal operations, vessel delays and heightened anchorage demand are expected. The port is working closely with its container terminal operators, railways, and government to understand the impacts of these delays on terminal operations and to develop a recovery plan.
July 6: Box Cargo Shifts to Bulk Vessels to Find Affordable Capacity – Lloyd's Loading List
Freight forwarders and cargo owners are shifting some containerized cargo to bulk vessels to find affordable and available capacity to move shipments amid the rapidly rising prices and the highly disrupted current ocean freight markets – although this is expected to have only a limited effect on the current capacity squeeze.
Lars Jensen, CEO of shipping consultancy Vespucci Maritime, said this is "an example of the 'pricing-out' mechanism currently at play. As long as there is insufficient capacity, rates will increase until one of two things happen: either the supply chain bottlenecks are resolved and free up capacity to again match demand, or prices increase to a point where demand declines – either because the cargo is not moved at all or because, as in this example, it gets moved in a different way."
July 7: South China Port Disruptions 'Could Extend to Christmas' – Lloyd's Loading List
Dwell times at the major ports in and around the south China city of Shenzhen "remain disruptively high," despite trending downward in recent days with the Port of Yantian at full capacity again, according to freight visibility platform Project44.
It said the data suggests that disruptions related to China's COVID-19 quarantine efforts could extend well into the year, impacting seasonal shipments as far out as Christmas.
July 9: Detention and Demurrage Charges Targeted in White House Executive Order – gCaptain
President Biden signed a wide-ranging executive order directing over a dozen federal agencies to take action to promote competition in the American economy and urge a crack down on anti-competitive practice.
The order includes a total of 72 initiatives aimed at tackling "some of the most pressing competition problems across our economy." One of the initiatives directs the U.S. Federal Maritime Commission to take steps to protect American exporters high costs imposed by the ocean carriers and crack down on "unjust and unreasonable fees," including detention and demurrage charges that have soared during the pandemic, costing shippers big.
July 11: Port of Vancouver Operations Update
A new Ministerial Order was issued by the Minister of Transport to enact precautionary safety measures to further protect against wildfires during extreme weather conditions. The order places operational restrictions on CN and CP rail lines routing between Kamloops and Boston Bar (Ashcroft Subdivision) and Kamloops and North Bend (Thompson Subdivision) when the fire hazard rating is listed as "extreme." Restrictions include reduced speed limits and fire mitigation measures.
Additionally, the order requires risk mitigation action by all Class 1 railways throughout Canada when the air temperature is 30°C or above and the fire hazard level is listed as "extreme." The Ministerial Order took effect at 00:01 PDT on July 11, 2021 and will remain in effect until October 31, 2021.
Anchorage demand continues to be high and nearing capacity. Anchorage assignments are made to ensure fluidity across all ship types and essential services.
July 14: Container Congestion Registered in Every Corner of the Planet – Splash
The state of global container congestion continues to roil supply chains right across the world.
Lars Jensen, founder of container consultancy Vespucci Maritime, has estimated that 10% of the world's shipping capacity has been taken out due to port congestion issues.
July 15: Port of Vancouver Customer Update on Wildfires in B.C. Interior
The wildfire situation in the B.C. interior remains in flux throughout the region. Spot fires may continue to occur and cause disruption, including temporary stoppages of rail services. CP and CN rail lines routed through the impacted area remain operational.
Anchorage demand remains high and anchorage assignments are near capacity. Demand for large vessel anchorages presently exceeds supply.
July 20: Ships Back Up Across COVID-Hit Southern Vietnam – Splash
Ships are backing up Yantian-style off southern Vietnam as COVID-19 wreaks further havoc on Asian supply chains.
The Vietnamese government put the whole southern region into lockdown on Sunday as COVID-19 cases have soared recently. Ho Chi Minh City had already been in lockdown for a week prior with most of its terminals now severely congested. Further south, many ships are at anchor off Vung Tau, an important feeder and transhipment hub, waiting for berth space to open up.
Many Vietnamese factories have been forced to close in recent weeks. In 2020, Vietnam had only 1,465 COVID-19 cases for the whole year across a population of around 98 million, making it one of the best-performing countries in the world against the pandemic. However, daily data from Monday shows Vietnam had 4,843 new cases in one day, triple the whole of 2020.
July 20: U.S. FMC Establishes Ocean Carriers Audit Program – FMC Press Release
The Federal Maritime Commission has established a new audit program and dedicated audit team to assess carrier compliance with the Agency's rule on detention and demurrage as well as to provide additional information beneficial to the regular monitoring of the marketplace for ocean cargo services.
The "Vessel-Operating Common Carrier Audit Program" was established Monday at the direction of Chairman Daniel B. Maffei and launched immediately.
The Audit Program will analyze the top nine carriers by market share for compliance with the Commission rule interpreting 46 USC 41102(c) as it applies to detention and demurrage practices in the United States. The Commission will work with companies to address their application of the rule and clarify any questions or ambiguities. Information supplied by carriers may be used to establish industry best practices.
Other focus areas of the audit process may include practices of companies related to billing, appeals procedures, penalties assessed by the lines, and any other restrictive practices.
July 28: Port of Vancouver Operations Update
The CP and CN rail lines from Kamloops to Vancouver are in operation. CP reports no backlogged traffic and CN reports minimal backlogs. Targeted speed restrictions, increased track inspections, and fire prevention measures remain in place under Ministerial Order (MO) 21-06. Track inspections required under the Order may cause temporary delays. The hot and dry weather pattern is expected to cause increased fire risk this week, which may lead to more areas of southern B.C. to be classified with extreme fire danger ratings. The evolving fire situation may result in temporary stoppages to rail operations.
The Port of Vancouver continues to experience high volumes of on-dock container cargo and increased dwell times at all container terminals. Bulk commodities have seen a return to near-normal frequencies in deliveries by rail. Processed railcar volumes to and from the coast remain consistent.
Anchorage demand has diminished in the short term and requests across all anchorage classes can now be accommodated within the port's jurisdiction.
Air
June 30: New Air Freight Security Rules Began July 1 – Lloyd's Loading List
Air freight stakeholders are bracing for possible disruptions as new global air freight security rules come into force requiring that 100% of international air cargo transported on freighter aircraft is treated and screened to the same security standards as those required for cargo carried on passenger aircraft.
Air freight representatives have some concern that the new rules have not been communicated effectively throughout the supply chain, with considerable uncertainty even among organizations that have been actively involved in the process.
July 2: Record Heatwave across Pacific North-West Disrupts Air and Road Supply Chains – The Loadstar
The heatwave that has hit the Pacific north-west and western Canada has brought disruption to cargo.
Road surfaces have warped, and buckled in some places. A section of route 544 in Washington State had to be closed after the surface was declared unsafe and the Seattle Department of Transportation has been dousing the city's three steel drawbridges to prevent the metal from over-expanding.
In some places, the heat has melted power cables.
Extreme heat reduces lift for aircraft, causing flight cancellations and forcing carriers to reduce weight, impacting the payload capacity, in extreme cases.
July 8: Airfreight Demand Returns to Pre-Pandemic Levels, but Capacity Could Take Longer to Materialize – Supply Chain Dive
Demand for airfreight continued to show a strong recovery, growing 1% in June compared with the same month in 2019, despite the fact that capacity has yet to return to pre-pandemic levels, according to the latest data from Clive.
Demand for airfreight cratered in the early days of the pandemic, and growing above a 2019 level indicates a return to normal levels of demand. Clive's figures show demand grew 36% YoY. Airfreight capacity was up 31% YoY, but is still down 22% from 2019 as belly capacity has yet to return.
Rates from Hong Kong to the U.S. fell nearly 24% from a mid-May peak to reach $7.24 per kilogram as of Monday, according to figures from the TAC Index. But rates are still high in historic terms, up nearly 69% YoY and 119% compared with the same point in 2019.
July 9: Trouble at Sea Means Early Peak and Sudden Wave of Air Freight Rate Spikes – The Loadstar
Forwarders have reported a sudden spike in demand in air cargo, forming a 'very early peak.' It's all due to production backlogs and modal shift from the troubled sea freight sector.
"Since last week, rates are climbing everywhere," said one European forwarder. "Demand increased massively, with distressed ocean freight being moved to air."
Following a lull in May and June, traditionally a quiet period, volumes – and rates – are climbing again.
July 15: Teething Problems for New Cargo Screening Requirements – Air Cargo News
Air cargo is facing delays in the U.S. after stricter screening requirements were implemented for freighter shipments at the start of the month.
New International Civil Aviation Organization (ICAO) rules mean that United Nation member states are required to screen 100% of cargo before it is loaded on freighter aircraft.
Brandon Fried, Airforwarders Association executive director, said that warehouses are beginning to fill up as the new regulation kicks in. "Most freighter carriers are only accepting cargo that has been screened in advance, as many lack the warehouse capacity or are not prepared to perform the task efficiently, if at all," he said.
"As terminals begin to fill, freighter airlines are rejecting cargo. As a result, forwarders are being forced to make several return trips to airline handling facilities as carriers struggle with significant space constraints."
Rail
July 5: CP Customer Advisory: Service Interruption – B.C. Interior Fires
CP's mainline operations in B.C. are shut down due to wildfires.
CP teams are on site and supporting local authorities. Crews have inspected the tracks, and crews and materials have been mobilized to conduct repair work as soon as it is safe to do so.
Customers should continue to expect delays.
Given the operational impairments, CP has issued embargoes for the B.C. interior to manage the traffic into the area.
July 6: Update on B.C. Fires: CP, CN
CP Rail's mainline outage in British Columbia near Lytton has been cleared. CP noted in a customer bulletin that "the backlog is significant and … customers may expect delays of 72 to 96 hours from start up."
CN said that all intermodal and carload traffic northbound and eastbound from Vancouver, as well as traffic inbound to Vancouver from east/north of Kamloops, continues to be affected by the wildfires.
CN is working to detour limited traffic where possible to decongest the network via:
The CP line on a co-production agreement
The reopening of the Lillooet line, which runs from Vancouver to Prince George via Squamish, Lillooet, Exeter, Quesnel primarily for B.C. North traffic
Collaboration with BNSF and CP on helping CN via a different gateway
An embargo has been issued preventing traffic to be billed westbound to Vancouver from northern B.C. and east of Kamloops and from the BNSF, UP and Vancouver area towards the east. BNSF and UP traffic into the Vancouver area is permitted. Intermodal traffic is not impacted by this embargo; it is strictly focused on carload traffic.
Current gate restrictions on intermodal traffic to/from B.C. South is still in effect and CN is working with customers to find alternative solutions for their shipments.
Trucking
July 6: 2022 Truck-Age Policy Will Prevent Trucks 10 Years or Older from Entering Vancouver Port – Today's Trucking
The Vancouver Fraser Port Authority has defended its truck-age policy after about 200 local truckers held a rally to protest the restrictions.
The United Truckers Association (UTA) says the "unfair and biased policy" will prevent trucks more than 10 years old from entering the port in 2022.
The port authority said, "The rolling truck-age program is a policy that was first announced several years ago, providing considerable notice for the industry to prepare for these changes. This program was introduced in alignment with our work to reduce the environmental and health impacts of port operations on communities."
UTA spokesman Gagan Singh said the group will launch legal action before the end of July. He said the government of British Columbia, not the port authority, has the right to impose restrictions on the age of trucks.
July 8: B.C. Wants Comments on Off-Dock Drayage Recommendations – Inside Logistics
The B.C. government is seeking comments on the implementation of the off-dock drayage recommendations recently released by the independent B.C. container trucking commissioner.
The Off-Dock Drayage Recommendation Report was published on May 12, 2021, in response to a request from the minister to examine opportunities to make targeted adjustments to the rates and policies related to off-dock drayage activity in the Lower Mainland.
Transport minister Rob Fleming said he encourages "stakeholders to engage in open communication with the B.C. container trucking commissioner, so we can move forward and help us all reach our shared goals."
CIFFA Advocacy, Communications, Activities
July 7: CIFFA Survey Sheds Light on Member Investment in Technology
A CIFFA member survey undertaken in June asked members about their use of technology, including freight management systems, business process automation, predictive analytics, digitization, artificial intelligence and cybersecurity.
Drew Simons of CIFFA Associate Member Roxville Technology Inc. drafted the survey and presented the summary to the CIFFA Technology Committee on June 29.
CIFFA invited 68 members to participate in the survey, completed via Microsoft Teams. Sources of answers were anonymous, and members who participated received a copy of the full report.
CIFFA extends appreciation for the support and assistance of our members who contributed.