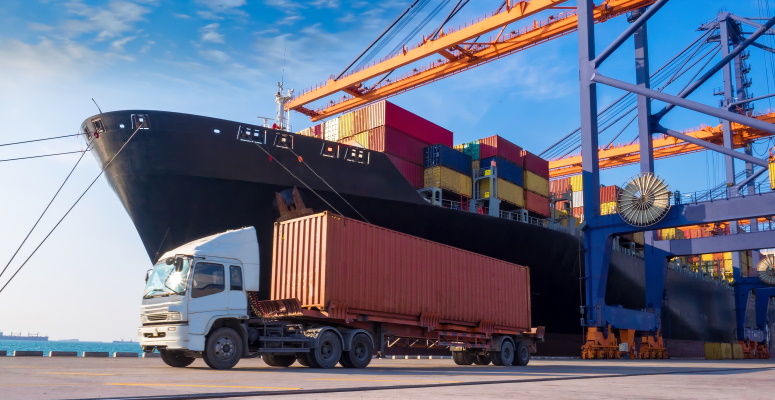 Month in Review – June 2021
Maritime
June 1: Boxships Make Alternate Plans Following Yantian COVID Outbreak – Splash
A COVID-19 outbreak around Yantian Port has seen boxships weigh anchor in the South China Sea and others switch port calls to Nansha in the latest pandemic headache to hit liner planning departments.
The outbreak, first detected at the key boxport 10 days ago, has seen three berths closed and others work at just 30% of their capacity as authorities put in place strict disinfection and quarantine measures.
Yantian is Shenzhen's largest box facility, located to the east of the city. Vessel tracking from MarineTraffic shows there are already more than 30 ships at anchor waiting to access the port.
June 2: Mid-Value Products 'Getting Priced Out' of Ocean Freight – Lloyd's Loading List
A number of significant lower-value commodities, such as furniture and large electrical and electronic appliances, are becoming 'priced out' of major intercontinental ocean freight markets because of the elevated freight rates facing importers currently, new analysis by Sea-Intelligence has revealed.
June 2: Container Ship Scores 'Off the Charts,' 'Fantasy' Charter Rate: $135,000/Day – American Shipper
In a sign of just how frenzied the container market has become, a freight forwarder is reportedly paying $135,000 per day for a short-term charter of the S Santiago, a 15-year-old container ship with a capacity of 5,060 TEUs.
"Charter rates for short employment … have gone out of control," said Alphaliner in its new weekly report.
To put the enormity of the charter deal in perspective, the shipowner will earn back one-sixth of the ship's value in a single voyage — and one-third of the vessel's value if the charterer takes the option for the second voyage.
June 7: Yantian Port Congestion Spreads into Nearby Hubs – Lloyd's Loading List
Heavy congestion at Yantian Port, a key export hub in Southern China, has shown little sign of abating and has even spilled over to neighbouring harbours.
"The situation continues to deteriorate as more positive COVID cases have been confirmed in Shenzhen, where Yantian port and Shekou port are located," said Maersk in customer advisory.
According to the Danish shipping giant, operation in the eastern area of the Yantian International Container Terminals is running at a productivity level of 30%. At the same time, the western area remains suspended.
"We expect continued terminal congestion and vessel delays upwards of 14 days in the coming week," it said.
June 10: Container Shortage Worsens as Box Ships Avoid Chinese Ports that Need Empties – The Loadstar
The availability of containers at southern Chinese ports continues to deteriorate as carriers omit calls due to a wave of Covid outbreaks in Guangzhou province.
According to the latest data from Container xChange, the ports of Yantian, Shekou and Nansha have been hit worst by the box shortages.
"Far fewer empty boxes are arriving back to southern China as container lines skip calls, and many shippers will face long delays or higher prices for equipment if they can't avoid using the affected ports," said Container xChange founder Dr Johannes Schlingmeiner.
June 11: China Congestion Pushes Carriers as They Are 'Forced' to Add Surcharges – The Loadstar
Carriers, faced with increasing congestion, low productivity and a mounting backlog of exports in southern China have been forced to omit port calls, extend gate-in times and, in Ocean Network Express (ONE)'s case, added a $1,000 surcharge on reefer cargo to Yantian.
ONE and Maersk are omitting calls at Yantian terminals in an effort to maintain schedules, as congestion and delays in Europe, the U.S. and Asia build. The Pearl River Delta region is of particular concern.
The lines are reducing arrival times for export cargo in some ports to three days before the vessel's estimated time of arrival from seven, and Maersk expects the situation to deteriorate, given that some terminals are operating at around 30% of normal productivity.
June 11: More than 300 Liners Waiting for Berth Space, Container Congestion Mapped Globally – Splash
From Shekou to Seattle, Amsterdam to Auckland, containerships are backing up like never before in the 65-year history of the industry as the liner industry grapples with the enormous strain brought by COVID-19 and exceptional consumer behaviour.
While much has been written about the ongoing port congestion issues in the U.S. and the fallout from a recent outbreak of COVID-19 at ports in South China, data shows the global phenomenon of liner congestion in 2021.
As it stands currently, there are more than 300 containerships waiting for berth spaces to open up around the world.
June 17: Rise in Trans-Pacific Spot Rates is Relentless — and Accelerating – American Shipper
The trajectory of trans-Pacific spot rates brings to mind the retail-trader catchphrase "to the moon."
Carriers implemented general rate increases (GRIs) on June 1. Spot rates rose. They enacted more GRIs on Tuesday. Rates jumped again, even more than they did earlier in the month. And another wave of GRIs is set for July 1. Add fallout from China port congestion to the mix, and it's a recipe for rates to keep climbing.
"Despite record highs, rate levels continue to sharply increase," said Lars Jensen, CEO of consultancy Vespucci Maritime.
June 17: Europe Import Misery Grows as Congestion Drives More Services from Port to Port – The Loadstar
North European importers are facing more vessel diversions as carriers lose patience with congested box terminals and dump their cargo at other ports.
Moreover, shippers are increasingly being asked to pick up the tab for inland on-carriage or relay to destination ports.
2M partners Maersk and MSC have advised their customers they will skip Hamburg on their AE7/Condor loop from Asia for a further four weeks, due to congestion at its Eurogate Terminal.
June 21: Mounting Evidence that Container Crunch Will Persist until 2022 – American Shipper
A widely held theory on pandemic spending is that container imports surged because Americans bought a lot more goods when COVID prevented them from buying services. Ergo, with more vaccinations and fewer hospitalizations, Americans will resume spending on services and consequently have less to spend on goods, the pandemic-induced driver of import demand will wane, spot rates will fall, and the market will return to some semblance of normality.
And yet, Americans' spending on restaurants, air travel and other services has rekindled but there's still no evidence of a drop in spending on goods.
Container imports remain at peak volumes. Spot ocean rates are still rising. Inventory-to-sales ratios remain stubbornly low – so low that it now looks inconceivable that they can revert to normal this year.
Paul Bingham, director of transportation consulting at IHS Markit, said, "We're too far into the year without having recovered [inventories] to get out of this in 2021. We have to look to 2022 for any hope. So many portions of the supply chain are so far behind that it's not going to happen in the next six months."
June 23: Yantian Returns to Full Operations, Box Backlog Expected to Take Many Weeks to Clear – Splash
Yantian Port expected to resume normal operations on June 23 after a month-long cut in productivity brought about by a COVID-19 outbreak. Shippers have been warned it will take many weeks to clear up the immense container backlog in south China that has brought further strain to global supply chains over the past four weeks.
All berths will resume normal operations, while the number of laden gate-in tractors will be increased to 9,000 per day, and the pickup of empty containers and import-laden containers will return to normal.
The arrangements of accepting export-laden containers will resume normal operations within seven days of a vessel's ETA.
June 28: Extreme Freight Rates Begin to Change Shippers' Calculations – The Maritime Executive
High freight rates are starting to have an impact on consumer goods. Already, consumers have started to feel the pinch of the surge on items such as furniture and coffee. Along the transpacific route, Alan Murphy, CEO of Sea-Intelligence recently estimated that freight rates for assembled furniture now account for a whopping 62 percent of the total retail value. It's the same case for large appliances, for which up to 41 percent of the retail price is the shipping. As container rates continue to rise unabated, these commodities might be priced out; their thinner margins make it impossible to absorb rising costs.
In an interview with BBC, Scott Humphreys, the manager of a furniture supply enterprise based in the UK lamented the serious global supply chain bottlenecks, which are making it virtually impossible for his business to operate.
Peppermill Interiors imports almost half of its stock from East Asia, primarily China. "A single armchair used to cost us £12 to bring in from China. It now costs us £100. So the price we sell the chair for has gone up by 25 percent – but that isn't extra profit for us," said Mr. Humphreys. "Some of the cheaper items, they've doubled in price. There's no point bringing them in anymore."
June 28: Box Rates Up 332% Year on Year, Schedule Reliability Hits Dire New Lows – Splash
Shippers might be paying 332% more per box that they were this time last year, according to the latest data from Drewry, yet they're having to put up with the worst schedule reliability in the history of containerization.
In the first five months of 2021, 401 vessel arrivals on the transpacific and 144 on Asia-Europe were over 14 days late, according to data from Sea-Intelligence. Putting these numbers in perspective, the combined 2012-to-2020 total of such late vessel arrivals was 388 on the transpacific and 69 on Asia-Europe.
The average delay for vessel arrivals that were marked as late remains extremely high globally, at close to six days, compared to a long-term average of around four days.
Liners have gone public recently, admitting that the current late arrivals situation is not good enough.
June 29: Demurrage and Detention Charges Double in a Year – Lloyd's Loading List
Demurrage and detention charges imposed on shippers by containers lines have soared at unprecedented rates globally over the last year – more than doubling, on average, at the world's 20 largest container ports – according to the Demurrage & Detention Benchmark 2021 report published by Container xChange.
However, the rates are "hugely inconsistent," with large differences apparent both by port and by carrier, the new annual report highlighted, varying from just $132 at Busan in South Korea to more than $2,500 two weeks after discharge at the Port of Long Beach and neighbouring Los Angeles.
Across the world's 20 largest container ports, the report found that average D&D fees levied by container lines on customers two weeks after a box was discharged from the vessel more than doubled across ports and shipping lines between March 2020 and March 2021, climbing 104% or the equivalent of $666 per container, across all container types. None of the world's top 20 ports by throughput saw a decrease in D&D fees over the period.
June 29: Crewing Costs are Rising due to Vaccine Delays and Travel Restrictions – The Maritime Executive
For more than a year, the major seafarer unions, shipping lines and organizations including the International Maritime Organization have been warning of the problems being caused in the shipping industry by COVID-19-related travel restrictions and the failure to recognize seafarers as essential workers. Renewed travel restrictions resulting from the new variations of the coronavirus, combined with delays in obtaining vaccinations for seafarers, are likely to further add to the problems as carriers work to manage growing demand and increased shipments as the global economies recover.
According to crewing agency Danica Crewing Services, costs are rising in the crewing sector and crew shortages are beginning to be seen as COVID-19 travel restrictions and vaccination delays are increasingly impacting the availability of trained seafarers. Danica warns that continued restrictions and vaccination delays are causing crew shortages and rising wages that are likely to get worse during the coming months.
Air
June 1: Transport Canada Air Cargo Security Program Update
Transport Canada provided an update on the Explosives Detection Dog Handler Team (EDDHT) program.
Certification has not yet begun on the program. Transport Canada is confident that it will start the process by mid-June.
The agency will implement an interim approval process to approve the handler teams currently in the application system to be able to start screening by the July 1, 2021 deadline. The approval process will be strictly focused on desktop reviews and, once COVID restrictions are lifted and once there is a clear line of sight, they will start on-site assessments. They will keep applicants informed during the process.
For the time being, there is a provisional certification process they can use, to recognize the teams that have applied to the program so far.
Transport Canada will begin a parallel certification process by mid-June. This will include recognizing third-party certification by provincial/territorial entities. These teams will then be considered available to industry to provide screening.
Transport Canada is then hoping to certify, within a window of 6-12 months, the rest of the applicants.
EDDHT screening will be available only to all-cargo carriers.
Transport Canada is hoping to mitigate the impact of the pandemic, certifying EDDHT all-cargo carriers where the risk is lower.
Mutual recognition with the U.S. is another key component, and negotiations are currently underway with the U.S. that cannot yet be commented on.
While this does not provide enough clarity and we are under the wire on the July 1 deadline, TC asks industry to bear with it until such time as things have been figured out.
June 1: Asia and North America Lead Cautious Aviation Recovery While Other Markets Stall – American Journal of Transportation
Aircraft utilization on domestic routes in Asia Pacific and North America has grown significantly since the start of 2021, whilst other markets have stalled or declined, according to IBA, an aviation data and advisory consultancy.
In a webinar looking at the state of the airline industry, IBA outlined how utilization has grown from 55% of pre-pandemic levels in February in both Asia Pacific and North America, to 79% and 66% respectively by the end of April 2021.
Domestic routes currently account for over 80% of all flights according to data from IBA's Insight.IQ intelligence platform.
By contrast, utilization in Europe and CIS has remained largely flat, increasing from a much lower operating level of 27% to just 33% during the same period. Utilization in Africa and Latin America, while both operating at over 50% of pre-pandemic levels, fell from February to April, and the Middle East grew only marginally from 49% to 51%.
June 11: TSA to Exempt 'Secure' Exporters from New Air Cargo Screening – American Shipper
Three weeks before new security rules go into effect for all export cargo moving by air, the Transportation Security Administration has finalized plans giving businesses the ability to opt out of screening every shipment prior to loading if their facilities have approved security controls. The air cargo industry is splintered over whether an alternative approach will provide the same protection and be fairly applied.
The TSA said manufacturers, suppliers, warehouses, vendors, e-commerce fulfillment centers and third-party logistics providers are eligible to become a Secured Packing Facility (SPF), enabling them to tender outbound shipments to airlines without screening to meet international requirements.
The program is designed to minimize the compliance burden associated with self-inspecting 100% of air cargo shipments, or outsourcing the task to other parties.
But critics of a flexible framework argue that without screening the cargo itself, bad actors could slip improvised explosive devices into a box or container at a temporary storage facility. Tendering cargo to airlines under different security parameters for passenger and freighter aircraft, they say, could cause confusion at the receiving end about whether freight was properly secured.
June 23: WestJet Cargo to Launch Dedicated Freighters, Q2 2022 – WestJet press release
WestJet announced that it is launching a new dedicated cargo service, using 737-800 Boeing converted freighters (BCFs) as dedicated aircraft. The first of these BCFs are expected to be in service by the second quarter of 2022.
Throughout 2022, WestJet Cargo will grow its fleet of 737-800BCFs to work in tandem with the current offering of WestJet's existing cargo business.
Rail
June 2: May 2021 Traffic Results 'Encouraging' – Railway Age
Intermodal had the "best January to May period ever" and total carloads for May 2021 "were the most for any month since October 2019 on a weekly average basis," AAR Senior Vice President John T. Gray reported on June 2.
U.S. rail volumes for May 2021 were "encouraging," he noted in the Association of American Railroads' (AAR) traffic report for May and the week ending May 29.
June 30: STB Closes Comment Period on CN-KCS Voting Trust Proposal – Progressive Railroading
CN and Kansas City Southern announced that the Surface Transportation Board's (STB) comment period regarding the companies' application for a voting-trust approval has closed.
Consistent with the timeline that the STB has set for reviewing the voting trust, CN and KCS will review all comments submitted and file their response by July 6.
Trucking
June 3: Truck Driver Shortages Expected to Worsen Significantly in Many Countries – Lloyd's Loading List
Truck driver shortages are expected to worsen significantly this year, a leading trade body has warned.
The shortage is expected to increase by over a quarter on 2020 levels in almost all of the 23 countries included in a recent global survey of road transport firms conducted by the International Road Transport Union (IRU).
"Gaps are set to increase at a much higher rate in some countries, including by 150% in Spain, 175% in Mexico and 192% in Turkey," it noted.
"Almost 40% of road transport operators surveyed cite skills gaps as the number one cause of driver shortages, in markets as diverse as the Czech Republic, Norway, Romania, Russia, Ukraine and Mexico. This puts skills gaps well ahead of all other factors including poor image of the sector, difficult working conditions and the challenge of attracting young people and women into the profession."
June 4: Ottawa Takes Aim at Driver Inc. Companies – Ontario Trucking Association
The Canadian Trucking Alliance (CTA) is applauding Labour Minister Tassi and Employment and Social Development Canada (ESDC) officials for launching a significant enforcement campaign to end the illegal practice of Driver Inc.
The ESDC pilot program has been launched in Ontario, where known violators of the labour misclassification scheme who operate within the underground economy will be inspected, audited and face regulatory and legal consequences of a variety of labour contraventions.
"Minister Tassi is showing strong leadership on this issue, which is threatening the livelihood and the very existence of legally responsible, compliant trucking companies and their employees," said CTA Chair Jean-Claude Fortin. "We strongly believe the results of this enforcement campaign in Ontario will continue to demonstrate the scope of this growing problem in our industry and signal the need for nation-wide enforcement."
June 16: Pandemic Has Taken Toll on Drivers' Physical and Mental Health – Today's Trucking
Professional drivers have had a particularly rough go of COVID-19. Consider their occupation was already one of isolation. Then there's the fact they've been counted on to continue working through the pandemic, while others stayed home.
Access to washrooms, showers, and healthy food were limited. So was the ability to socialize with customers, other drivers, and coworkers. Not to mention the high prevalence of comorbidities – conditions such as obesity, diabetes and high blood pressure, which are likely to contribute to a worse outcome if infected with COVID – among the driver population.
Andrea Morley, nutritionist and health coach with NAL Insurance's Healthy Trucker program, expressed concern about the toll the pandemic has taken on drivers' mental and physical health. Mental health issues can contribute to difficulty in focusing on work and fatigue – concerning conditions for any truck driver.
The LifeWorks Mental Health Index showed mental health hit its lowest point in January 2021, with a slight improvement since. Morley urged employers to look out for signs of mental health struggles among staff and drivers.
June 17: Pandemic Response Dominates this Year's Top 10 Legal Issues for Private Fleets – Today's Trucking
As businesses take steps to return to normal following broad economic shutdowns put into place to contain the COVID-19 pandemic, they will be facing many new challenges related to employees.
Heather Devine, a partner at Alexander Holburn-Beaudin & Lang, gave her annual Top 10 Legal Issues countdown to the Private Motor Truck Council of Canada during its virtual annual conference. It's no surprise that most of this year's issues centred around the pandemic, and employer-employee relations.
June 18: Trucking HR Canada Releases New Labour Market Snapshot – Canadian Trucking Alliance
Trucking HR Canada released a labour market information (LMI) update, providing a snapshot of truck driver employment in Canada.
Employment of truck drivers has rebounded to pre-COVID levels with the seasonally adjusted employment of drivers higher than the occupation's 10-year average by about 11,100 jobs.  Although the pandemic had an initial impact on employment during the first wave, employment has rebounded, and the second and third wave has not resulted in a similar drop in employment. This indicates the occupation has already returned to similar pre-pandemic shortages. The pressure on trucking companies' recruitment, training and retention initiatives is thus not going away anytime soon.
CIFFA Advocacy, Communications, Activities
June 14: Launch of the New CIFFA Website, Phase 1
CIFFA is pleased to announce Phase 1 of the launch of the new www.ciffa.com. In our redesign, we have focussed on improving the member experience by simplifying the navigation, greatly improving the speed, and providing members with access to the same content and tools you have come to rely on.
Notable improvements:
New layout for the online member directory – including improved search functionality
Improved learning management site for all learners
CIFFA had planned to launch a fully integrated platform later in June, including a member and student portal, but out of necessity, we have had to launch the website before the portal was ready.
Phase 2, the member and student portal launch, is scheduled for the end of June. Members and returning users (students) will not be able to log in until phase 2 is complete. All existing students have been contacted and provided with direct access to their courses. We kindly ask for patience as we work diligently over the next few weeks to complete the scheduled updates.
June 28: CIFFA Announces New Director: Joel MacKay, President and Owner, Mactrans Logistics Inc.
CIFFA announces a new appointment to its Board of Directors.
Joel MacKay is the President and owner of Mactrans Logistics Inc., a North American 3PL. Joel and his team have built Mactrans from a group of three people in 2009 to over 30 associates today, with offices in Toronto, Montreal and Moncton. Mactrans has been named one of Canada's Fastest-Growing Companies by Canadian Business (Maclean's) for the last five years and one of Canada's Top Growing Companies by the Globe and Mail for the last two years. Mactrans is a proud member of the SmartWay Transportation program and the Transportation Intermediaries Association (TIA). Both Joel and Mactrans look forward to being part of CIFFA.
Joel has 30 years' experience in the Canadian transportation industry starting at the age of 15, when he worked on the loading dock for Speedy Transport. During high school and university, Joel returned every summer and held various operations positions. Upon graduating from Western University in 1997, Joel started in transportation sales. Joel held sales positions at CCX (now XPO) and Livingston before starting Concord Logistics Solutions in 2006 with a partner. In 2009, Joel went out on his own and founded Mactrans Logistics. Joel is the proud father of two girls and is grateful for all the support his father, industry veteran Roy MacKay, has provided him throughout his career.