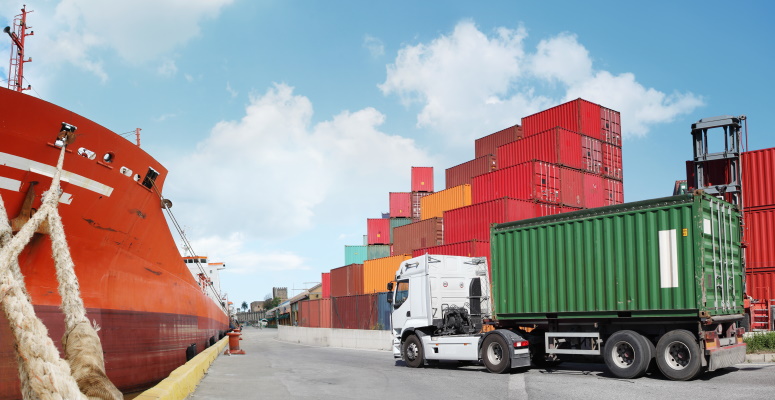 Month in Review – March 2022
Maritime
March 1: Carriers Suspend Bookings to and from Russia
Hapag-Lloyd, ONE, Maersk – The Loadstar
CMA CGM – corporate news
MSC –customer advisory
March 1: Biden Takes on Ocean Shipping as FMC Sees Market Setting Rates – American Journal of Transportation
President Joe Biden is taking on the concentrated market power of ocean shipping companies, although officials at the agency overseeing the industry indicated they lack both the jurisdiction and, for now, any evidence of wrongdoing.
The White House said Biden will call on Congress at his State of the Union to address the immunity that shipping alliances have from antitrust scrutiny under current law. The Federal Maritime Commission will join with the Department of Justice in a new initiative announced on February 28, to push for competition in ocean freight transportation.
"Many shippers really want us to do something about the rapid inflation of rates and decline in reliability in the ocean freight system," said FMC Chairman Daniel Maffei.
The FMC could take legal action against carriers "if the rapid inflation of rates is due to some kind of artificial limitation on the supply of cargo space," Maffei said. "But even after we've increased the reporting requirements and deepened our analysis, so far we have found no evidence of anything like that that's actionable and furthermore neither has the European Union or China."
"We will continue to scrutinize and keep looking, but so far we're seeing the opposite. We're actually seeing that the carriers are adding capacity, and in fact increase number of ships, overall," Maffei said.
March 1: Canada Bans All Russian Ships From its Ports and Waterways – The Maritime Executive
The government of Canada is banning Russian shipping from Canadian ports, adding to the growing list of penalties targeted at Russian commerce in response to the invasion of Ukraine.
In an announcement on March 1, three Canadian ministers announced that Russian-owned or registered ships and fishing vessels will be prohibited from entering Canada's ports and internal waters. In keeping with UNCLOS' provisions for freedom of navigation and innocent passage, the measure does not cover Canada's territorial seas. The ban will take effect later in the week as part of a broader package of sanctions.
March 3: U.S. House Panels Open Price-Gouging Probe of Major Ocean Carriers – American Shipper
Two U.S. congressional oversight panels have opened an investigation of three major ocean carriers, alleging that their dramatic rate hikes charged to shippers may have fueled inflation.
Leaders of the Select Subcommittee on the Coronavirus Crisis and the Subcommittee on Economic and Consumer Policy – which operate under the House Committee on Oversight and Reform – sent letters on March 2 to the heads of Maersk, CMA CGM and Hapag-Lloyd requesting information about their container rate increases and reports over the past year of exorbitant fees and surcharges.
The carriers are among 10 foreign-owned container ship operators controlling nearly 85% of the world's container capacity, the committees stated. Using this market power, the 10 carriers "appear to have raised shipping rates in 2021 far more than any increase in costs," resulting in $150 billion in annual profits, or nine times greater than 2020.
"Affordable shipping rates are critical to ensuring that small and medium-sized business owners can continue to make a living and provide goods and services to consumers at reasonable prices," wrote the committees' chairmen, James Clyburn, D-S.C., and Raja Krishnamoorthi, D-Ill.
"We are deeply concerned that [Maersk, CMA CGM and Hapag-Lloyd] may have engaged in predatory business practices during the pandemic, making scores of essential goods needlessly expensive for consumers and small businesses."
March 4: Maersk Update on Halifax Port Omissions – customer advisory
Maersk provided the following update on the multiple Halifax port omissions it has experienced since end of quarter 4, 2021:
The operational environment has been extremely challenging and has impacted vessel proforma schedules due to numerous reasons, including, but not limited to:
Bad winter weather in North Europe and crossing the Atlantic Ocean
Congestion at North European terminals
COVID-related delays at time vessels need quarantine for 14 days
We understand that we had no vessel calling Halifax since Feb. 12 with the omission of Maersk Penang 204W/206E, EM Kea 207W/209E, our operations team is working collaboratively to reinstate the Halifax port call for Maersk Patras 205W/207E expected in Halifax March 13, 2022 to control the gap of service with an aim of minimum fortnightly calls to Halifax during the upcoming weeks.
March 7: Port of Halifax to Get New On-Site Container Examination Facility – Government of Canada press release
The Government of Canada and the Halifax Port Authority announced on March 7 their joint investment in a new container examination facility within the Port of Halifax. The new facility will replace the existing off-site facility, significantly reducing inspection turn-around times, reducing port congestion, and improving the efficiency, safety, security and operations for the Canada Border Services Agency.
The Government of Canada will invest $7 million in the project under the National Trade Corridors Fund and Halifax Port Authority will contribute $8 million.
March 7: CMA CGM to Provide Concessions to SMEs – The Loadstar
CMA CGM pledged some exclusive space on its vessels to small and medium-sized shippers.
CMA CGM Group chairman and CEO Rodolphe Saadé acknowledged that "persistent tensions on global logistics chains" had been "particularly challenging for SMEs."
He said: "We have decided to allocate dedicated capacity onboard our vessels to SMEs in the markets where tensions are highest (Europe, North America) at a negotiated rate, usually only available with much larger volume commitments."
CMA CGM also said it was extending its freeze on spot rate increases until June 30.
March 10: Crews Start Abandoning Ships in Ukraine – gCaptain
Some shipowners have begun to ask crew to abandon their ships stuck off the coast of Ukraine, as Russia's invasion of its neighbour reached the end of its second week.
Ukraine's ports closed on February 24, when Russian troops began their incursion. At least five out of 140 ships stuck in the country's waters have been hit by explosions, killing a Bangladeshi seafarer.
As intense fighting and shelling continues across cities in Ukraine, ship owners are grappling with dwindling food supplies and the possibility of a protracted war, according to people with knowledge of ships in the area. That's forcing some owners to ask their crew to abandon vessels, they said.
More than 1,000 seafarers are estimated to be on ships stranded in Ukraine, some with cargo still onboard. The vessels, which include tankers, bulkers, cargo ships and a container vessel, aren't able to leave because there aren't harbour pilots to guide them out amid danger from missiles and underwater mines.
March 14: Competing Proposals at Vancouver Port Raise Environmental Concerns – Inside Logistics
The plan to build a new shipping container terminal the size of nearly 144 football fields at Roberts Bank has sparked a rival proposal along with concerns for endangered orcas and the salmon they depend on.
A review panel has been tasked with examining an alternative proposal to increase capacity at the port by Global Container Terminals.
March 14: Container Rates Climb on China Lockdowns – gCaptain
The number of container ships waiting off Qingdao, one of China's biggest ports, is continuing to rise as the country doubles down on its COVID Zero policy, adding more delays to a strained global supply chain.
About 72 vessels were spotted off Qingdao port in Shandong on March 14, almost double the amount at the end of February, according to shipping data compiled by Bloomberg. The increased delays there and in other parts of China are expected to push up freight rates.
March 18: With Spot Rates Falling, Carriers Blank More Sailings and Plan Surcharges – The Loadstar
Container spot rates continued their decline across most Chinese export routes, prompting ocean carriers to blank more sailings.
The Ningbo Containerized Freight Index (NCFI) on March 18 recorded falls on all but five of the 21 routes covered by its composite index, shedding a further 1.7%, to 3,613.9 points.
March 24: European and American Terminals Brace for Whiplash Effect from Latest China COVID Outages – Splash
Terminals in Europe and North America have been told to brace for another whiplash effect from delayed shipments out of southern China.
Kuehne+Nagel's Global Disruption Indicator, which tallies the cumulative TEU waiting time in days based on container vessel capacity (e.g., a vessel with a 10,000-TEU capacity waiting 12 days equals 120,000 TEU waiting days (TWD)), shows the TWD at Hong Kong and Shenzhen, where COVID cases have hampered port productivity dramatically this month, at 1.5 million days as of March 23, versus around 500,000 days two months ago.
Otto Schact, executive vice president of sea logistics at Kuehne+Nagel, warned that these delayed vessels will cause problems at their destination ports in the coming weeks. "The increased TWD will have an effect on lead times, inventory," Schact warned.
March 28: Shanghai Goes into Lockdown – Splash
On March 27, China announced Shanghai would enter a staggered lockdown, starting on March 28, marking the biggest city-wide lockdown in the People's Republic since the COVID outbreak began more than two years ago.
For shipping, congestion at the port – already very high – is expected to increase in the coming days, while overseas, terminals in Europe and North America will have to brace for an even larger whiplash effect when the city regains normal productivity – and comes as global supply chains absorb the fallout from a seven-day lockdown in Shenzhen to the south earlier this month.
The authorities have decided to split Shanghai in half using the Huangpu River for the new two-part lockdown. Pudong, the eastern part of the city, is in lockdown from Monday through to Friday as mass testing gets underway, while the western area, Puxi, will lock down between April 1 and 5.
March 29: Maersk Warns Shanghai COVID Lockdown Will Increase Shipping Costs Further – gCaptain
Maersk said the Shanghai lockdown will severely hurt trucking services and increase transport costs, as China's intensifying efforts to fight the spread of COVID-19 further rattle global supply chains.
While it has kept its airports and deepwater port open, the city has imposed stringent movement curbs, barring unapproved vehicles from streets and telling millions of people not to leave their homes.
"Trucking service in and out (of) Shanghai will be severely impacted by 30% due to a full lockdown on Shanghai's Pudong and Puxi areas in turn until 5th April," Maersk said in an advisory on March 28.
"Consequently, there will be longer delivery time and a possible rise in transport costs such as detour fee and highway fee."
Air
March 1: Ukraine Crisis Creates Logistics Headaches for Air Cargo, Airlines – American Shipper
Airspace restrictions from the economic war between the West and Russia over the invasion of Ukraine is adding logistical complexity and cost for the air cargo sector and passenger airlines still coping with COVID-related ups and downs in business activity. The conflict is also driving up the price of fuel, which represents a quarter or more of airlines' cost base.
The European Union, Canada, the United Kingdom, and Baltic and Nordic states in recent days have barred all Russian-owned, -registered and -controlled aircraft from overflights of their territories. Russia has responded, banning three dozen airlines from its airspace.
The new rules will require carriers to take more circuitous routes to avoid airspace around Russia, as well as Ukraine, Belarus and Moldova, to avoid the possibility of accidental missile strikes.
Routes over Russia between Asia and Europe are optimal for many airlines in terms of the shortest flying time and fuel consumption. Swinging north, or more likely, south through the Middle East and up into Southern Europe will be less efficient but can be done by many carriers without too much difficulty, according to air logistics professionals.
Some airlines are cancelling flights because of the additional transit times while they figure out how to adjust to the new circumstances.
March 4: Long Flights, Grounded Fleets: How the War in Ukraine Could Alter Heavy Airfreight Capacity – Supply Chain Dive
Airspace restrictions due to the war in Ukraine could further limit options for shippers looking to transport large cargo.
Canada, the U.S. and the European Union have closed their airspace to aircraft from Russia. These restrictions add further pressure to an already tight airfreight market.
"The destruction / grounding of the world's Antonov fleet will render oversized project cargo shipping by air impossible, imposing major costs and delays on a huge range of industries, most notably the energy sector," Flexport CEO Ryan Petersen said on Twitter.
March 8: Hong Kong Air Cargo Hit by Massive Reduction in Trucking from Mainland – The Loadstar
The southern China air freight market has changed "dramatically" as COVID rages in Hong Kong, severely impacting the local trucking market to and from the mainland.
Forwarders estimate there is a 70% cut in truck capacity, further diminishing Hong Kong's air export market.
"Cross-border trucking has been impacted a lot, mainly due to truckers being found positive with Omicron, reducing manpower by 70% in this area," said one forwarder.
March 10: U.S. Airlines Begin to Cut Flying as They Grapple with Fuel Costs – American Journal of Transportation
U.S. airlines have begun paring flight plans due to soaring fuel prices, underscoring the speed at which Russia's attack on Ukraine has upended the industry and jeopardized a hoped-for rebound this year.
The industry concern is that exorbitant gasoline prices could sap consumers' spending power and lead to slower demand for vacations and other leisure pursuits. Higher prices also raise costs for airlines, making it difficult to maintain profits if they can't pass the expenses along to customers.
March 11: China Looking to Divert Flights from Shanghai as COVID Surges – American Journal of Transportation
China has discussed diverting international flights away from Shanghai to other cities, as the financial centre's growing omicron outbreak puts pressure on quarantine hotels and isolation facilities, according to people familiar with the matter.
The country's aviation authority asked airlines to nominate alternative ports of arrival for Shanghai flights, the people said. Passenger routes from Hong Kong won't be affected, they said.
Officials cited stretched capacity at the quarantine hotels all travelers into China are required to isolate in, and concerns that space may be needed if the outbreak in Shanghai worsens. China isolates all virus cases, including those in the community, as part of its COVID Zero policy.
The diversion may last for as long as six weeks, and could come into force as soon as mid-March, though it is still under consideration, according to one of the people.
March 21: WestJet Cargo and the GTA Group Announce Partnership to Better Serve Canada's Express Cargo Market – press release
WestJet Cargo and the GTA Group have announced a long-term partnership that will support the expansion and growth of domestic cargo opportunities for both businesses. Beginning in 2022, WestJet Cargo will partner with the GTA Group to increase shipping capacity using four dedicated 737-800NG freighters operated by WestJet, to fulfill overnight express cargo service out of WestJet's Toronto hub.
"WestJet Cargo will bring customers new competitive options, and together with GTA we will disrupt the industry, providing more air freight capacity to domestic cargo customers who depend on reliable and on-time performance," said Charles Duncan, Executive Vice-President, Cargo.
March 28: WestJet Making Final Preparations to Deploy Modified 737-800s for Freight Customers – American Shipper
Canadian shippers with express delivery needs will have more air cargo capacity to choose from this summer when WestJet launches its stand-alone freighter division.
WestJet plans to take delivery in Calgary of its first used Boeing 737-800 aircraft converted for cabin cargo within a week and have two aircraft in revenue service by July 1 or sooner, said Charles Duncan, executive vice president of cargo.
Operating from a base at Toronto Pearson International Airport, WestJet Cargo intends to start with limited charter work, transition to regular, scheduled flights between major cities within Canada and eventually blend in ad hoc charters and transborder flying to the U.S. and Caribbean, especially on weekends and other off-peak periods, he explained.
March 29: Cargo Airlines Cancel Flights as Shanghai Enforces COVID Lockdown – American Shipper
The staggered lockdown of Shanghai to contain the biggest wave of COVID-19 since the early days of the pandemic is quickly crimping the movement of air cargo.
City officials shut down the eastern half of the city on March 28 through April 1 and told people on the western side to quarantine at home or compounds from April 1 to 5 while they conduct mass testing. With no public transport and people stuck at home, manpower shortages are hindering manufacturing and logistics activity. Many factories and warehouses have closed, getting goods to and from local airports is difficult because few trucks are available and airports have limited staff to handle cargo, according to logistics companies operating in China.
Both Shanghai Pudong airport and Shanghai Hongqiao city airport are running, but with very limited capacity and mostly for passenger flights.
Rail
March 16: CP Issues 72-Hour Notice to Lock Out TCRC-Train & Engine Employees – press release
Canadian Pacific Railway has issued 72-hour notice to the Teamsters Canada Rail Conference (TCRC)-Train & Engine of its plan to lock out employees at 00:01 ET on March 20, if the union leadership and the company are unable to come to a negotiated settlement or agree to binding arbitration.
"For the sake of our employees, our customers, the supply chain we serve and the Canadian economy that is trying to recover from multiple disruptions, we simply cannot prolong for weeks or months the uncertainty associated with a potential labour disruption," said Keith Creel, CP President and CEO. "The world has never needed Canada's resources and an efficient transportation system to deliver them more than it does today. Delaying resolution would only make things worse. We take this action with a view to bringing this uncertainty to an end."
Over the past week, CP and the TCRC leadership have been meeting daily with federal mediators to reach a new negotiated collective agreement in hopes of avoiding a labour disruption. Despite those talks, the two sides' positions remain far apart.
March 20: CP Canadian Network Shutdown
On March 17, the Teamsters Canada Rail Conference (TCRC)-Train & Engine provided CP with its 72-hour strike notice to be effective 00:01 ET on Sunday, March 20. CP had previously issued notice to the TCRC of its plan to lock out employees at 00:01 ET on March 20, if the union leadership and the company were unable to come to a negotiated settlement or agree to binding arbitration.
An embargo application for shipments routing to and from CP Canadian locations is in place effective 00:01 Sunday, March 20. This embargo applies to:
All shipments originating in Canada that are billed to any Canadian or U.S. destinations
All shipments originating in the United States that are billed to any Canadian destinations
CP has issued a notice of force majeure related to the shutdown.
March 21: Canadian Pacific and TCRC-T&E Reach Agreement to Enter into Binding Arbitration and Return to Work
Canadian Pacific Railway and the Teamsters Canada Rail Conference (TCRC) – Train and Engine Negotiating Committee have agreed to enter into binding arbitration.
"This agreement enables us to return to work effective noon Tuesday local time to resume our essential services for our customers and the North American supply chain," said CP President and CEO Keith Creel.
CP will immediately begin working with customers to resume normal train operations across Canada as soon as possible.
Trucking
March 7: CTA and PMTC Have Opposing Views on Delay of ELD Mandate
Canadian Trucking Alliance – CTA Expresses Concern with Government Moving Goalposts on ELD Enforcement
The Canadian Council of Motor Transport Administrators (CCMTA) announced a delay in enforcement of the ELD mandate from June 2022 to January 2023.
The Canadian Trucking Alliance (CTA) is very disappointed by this announcement and has reasonable doubts that the new January date is certain, from a national perspective, based on the lack of legislative preparedness of four jurisdictions.
To enforce the federal mandate, each jurisdiction needs to have its own law on the books. Currently, four provinces are still without the required legislation or regulations in place to successfully transition their industries to ELDs – British Columbia, Quebec, Nova Scotia and Newfoundland.
Waiting for all jurisdictions to be ready, whenever that may be, in the name of 'national unity' is not in best interest of public safety or the trucking industry, which has already made the proper investments to comply with the ELD mandate. The vast majority of federally regulated fleets already have ELD technology in their fleets and the three certification bodies approved by Transport Canada and the Standards Council of Canada have qualified multiple ELD offerings, totaling 22 devices from 15 individual ELD vendors.
"There should be no more moving the goalposts on dates and no more delays. The time to finally start this important safety regime is past due," said CTA president Stephen Laskowski.
Private Motor Truck Council of Canada – PMTC's Position on CCMTA Federal ELD Enforcement Timelines Announcement
The PMTC is in favour of the delay of full enforcement of the ELD mandate. While we have always been in full support of the ELD regulation, the continued issues with a lack of approved devices have continued to plague the mandate, and although we now have 22 approved, industry has not been provided enough of a runway to select a device of their choice and implement it into their fleet in time for the June 12th deadline. We are also waiting for a PKI vendor and system to be announced by Transport Canada that allows for ELD data to be transferred securely from the device to enforcement personnel, as well as enforcement protocols, training and how the regulation will be enforced uniformly between jurisdictions.
This final delay provides enough time for industry to select a new approved device, or transition from their current device, in time to comply with the mandate, as well as provide enough time for regulators to address some of the issues mentioned. I suspect this will be the last delay in full enforcement we can expect to see, and carriers should ensure they are fully prepared to comply by January of 2023.
March 16: Canada's Trucking Spot Market Continues Record-Setting Load Growth – Today's Trucking
Canada's spot market continues to offer an abundance of loads, "with no signs of slowing down any time soon," according to Loadlink Technologies.
February volumes were up 171% year over year, and even beat January's record highs by 21%.
Truck capacity tightened, with a truck-to-load ratio of 0.63, a 76% decline from last February's 2.61 trucks per load. Single-day load volumes reached an all-time high in February, Loadlink reported, noting there was a heavy strain on inbound capacity.
March 31: B.C. In-Transit Process
On November 14th, 2021, British Columbia was subject to an unprecedented "atmospheric river," which resulted in flooding and mass wasting events in various parts of the province. Through collaboration with partners from U.S. Customs and Border Protection (CBP) and other government departments and agencies in the U.S. and in Canada, the Canada Border Services Agency (CBSA) implemented a domestic in-transit emergency protocol to support the supply chain and emergency goods needing to move through the U.S. to reach destinations in Canada due to road closures in B.C.
The U.S. and Canada exercised a facilitative approach to these movements to ensure expedited availability of these goods during the emergency. The objective remained facilitative while not compromising safety and security for over 4,500 passages. As of December 21, 2021, all of the major routes into B.C. were restored and traffic resumed.
Based on consultations with trade chain partners and U.S. CBP counterparts, the temporary measures developed expire as of March 31 at 12:01 am PDT.
CIFFA Advocacy, Communications, Activities
March 4: CIFFA Sends Letter Regarding Prospect of Rail Service Interruption at CP Rail to Relevant Federal and Provincial Ministers
On March 4, CIFFA sent a letter – on behalf of the 20,000 employees working in Canada's freight forwarding industry – to express alarm at the prospect of a rail service interruption at CP Rail, indicating that a significant disruption in rail services would be a catastrophic additional blow while supply chains remain severely impacted by COVID-19 and the resulting chaos in marine and tertiary transport.
March 11: 32 Business Associations, Including CIFFA, Write to Federal Ministers, Urging the Government's 'Full Attention' on CP/Teamsters Negotiations
Thirty-two Canadian business organizations sent a letter on March 11 to Canada's Ministers of Labour; Transport; Innovation, Science and Industry; International Trade, Export Promotion, Small Business and Economic Development; Agriculture and Agri-Food; and Natural Resources, urging the federal government to "do what is best for Canada's economy and facilitate a negotiation between CP and the Teamsters Canada Rail Conference.
"While we support the right to collective bargaining," they said, "this issue requires the government's full attention to preserve jobs and protect Canada's economy."
March 21: Response from Employment and Social Development Canada to CIFFA Letter Regarding CP–TCRC Collective Bargaining
In response to a letter from CIFFA about the potential work stoppage at CP, Gary Robertson, Assistant Deputy Minister, Compliance, Operations and Program Development – Labour Program at Employment and Social Development, sent the following email message.
On behalf of the Honourable Seamus O'Regan Jr., Minister of Labour, I am responding to your correspondence about collective bargaining between the Canadian Pacific Railway and the Teamsters Canada Rail Conference.
Thank you for writing. Please be assured that the Government of Canada recognizes the importance of the Canadian Pacific Railway to Canadians and businesses. Federal mediators have been appointed and are assisting the parties in their negotiations. The Government of Canada cannot comment further at this time.