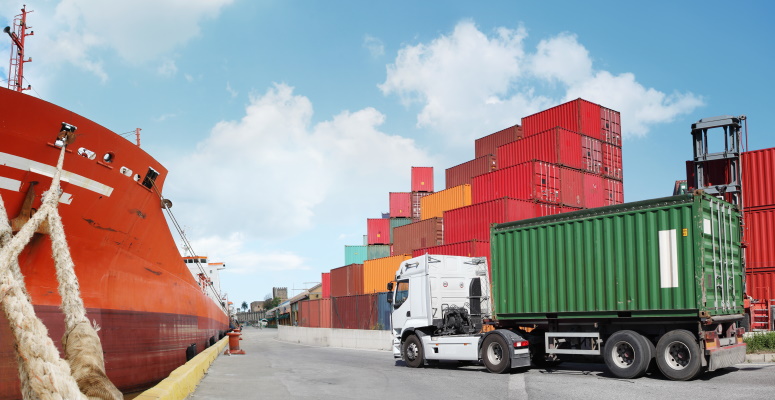 Month in Review – May 2022
Maritime
May 4: Top Sea Polluters Beg for Climate Rules that No Rival Can Avoid – American Journal of Transportation
The ocean shipping industry, among the world's biggest polluters, is asking a key regulator to overhaul its emissions directives so that all carriers are working off the same rulebook as they make the expensive changes needed to cut output of harmful carbons.
With roughly 90% of global trade transported by sea, the industry emits more carbon annually than Germany and the Netherlands combined. And if shipping were a country, it would be the world's sixth-biggest greenhouse-gas emitter, according to the World Economic Forum.
The World Shipping Council, whose members operate 90% of global container-carrying capacity, want the International Maritime Organization to revisit its greenhouse-gas-emission regulations.
The WSC, whose members include A.P. Moller-Maersk A/S, Cosco Shipping Holdings Co. and MSC Mediterranean Shipping Co., is asking for "global, enforcible multilateral regulation to avoid the race to the bottom," said Jan Hoffmann, head of trade logistics at the UN Conference on Trade and Development. "They don't really mind that level of regulation as long as it's the same for everybody."
May 6: New Monitoring Requirements Give FMC More Insight into Alliance Carrier Operations – Splash
The three global ocean carrier alliances – 2M, Ocean and THE – and each of their member companies will now be required to provide enhanced pricing and capacity information, providing the U.S. Federal Maritime Commission (FMC) with uniform data to use in assessing ocean carrier behaviour and marketplace competitiveness.
The newly mandated information will provide the commission's Bureau of Trade Analysis with insight into pricing of individual trade lanes and by container and service type. It will also provide more immediate information regarding the capacity-management decisions of ocean carriers and the alliances.
May 6: Container Shortage Forecast in Europe – WorldCargo News
Europe is facing container shortages as a result of two macro-level disruptions, the lockdowns in China and the Russia-Ukraine war, reports Container xChange.
Hamburg-based Container xChange reports that, while the shortage of containers is persistent, port throughput has also decreased.
"The ports of Antwerp and Rotterdam handled a lower volume of containers in the first quarter of 2022 as compared to the same period last year. The containers meant for the ports in Europe are now piling up at the ports in China (due to the lockdowns), potentially causing greater chaos in the coming weeks or even months," said Christian Roeloffs, CEO of Container xChange. "If the lockdowns persist, the throughput volumes will be further impacted in the coming months for these ports in Europe."
May 10: Carriers Blank More Sailings as China's COVID Lockdowns Continue – gCaptain
Ocean carrier alliances are preparing to blank more than a third of their sailings from Asia over the coming weeks in response to a reduction in export freight, according to the latest report from Project44.
The blanking strategies by the alliances to mitigate the impact of the COVID lockdowns in China will further extend cargo lead times, particularly to North Europe.
The supply chain platform's data shows that between weeks 17 to 23, THE Alliance will blank 33% of its scheduled sailings from Asia, the Ocean Alliance will void 37%, while the 2M alliance will cancel 39% of its headhaul voyages.
May 17: Global Container Shipping the Worst for 50 Years Reports Drewry – Automotive Logistics
A continuous deterioration in the accuracy of transit and arrival times in global container shipping means the sector is in the worst state it has been in for 50 years, according to Drewry Shipping Consultants.
The situation is not expected to start improving until the first half of 2023 and that is having an impact on the automotive industry at a time of wider supply chain uncertainty.
May 19: FMC Receives Fact Finding 29 Final Recommendations and Intermodal Equipment Report – FMC news item
U.S. FMC Commissioner Rebecca Dye presented her final report of Fact Finding 29, "International Ocean Transportation Supply Chain Engagement," a two-year investigation she is bringing to conclusion. Commissioner Dye said she identified two major concerns of importers and exporters: the high cost of shipping cargo, and excessive demurrage and detention charges.
Based on her work, Commissioner Dye concluded that, though high by historical standards, freight rates reflected market forces of supply and demand in a supply chain challenged by the COVID-19 pandemic and an unprecedented surge in consumer demand. As to detention and demurrage, Commissioner Dye highlighted the Interpretive Rule of the Commission and how it is being enforced to address unreasonable detention and demurrage practices.
To help address these, and other identified issues, Commissioner Dye unveiled 12 new recommendations for the Commission to consider.
May 23: Single Window for Ship Data Exchange to Become Mandatory – IMO news item
The International Maritime Organization's (IMO) Facilitation Committee has adopted amendments to the Facilitation Convention that will make the single window for data exchange mandatory in ports around the world, marking a significant step in the acceleration of digitalization in shipping.
The Facilitation Convention was adopted in 1965 and contains standards and recommended practices and rules for simplifying formalities, documentary requirements and procedures on ships' arrival, stay and departure. The Convention has been updated continuously, embracing digitalization and automation for procedures.
The amendments adopted at the Facilitation Committee session are expected to enter into force on January 1, 2024.
May 25: Government of Canada Invests in Two Projects to Increase the Supply Chain Efficiency for Canadian Shippers in New Brunswick – Port Saint John press release
The Government of Canada will invest more than $42 million for two new projects under the National Trade Corridors Fund. These projects will help improve supply chain efficiency for Canadian shippers in Saint John and McAdam, New Brunswick.
The Government of Canada will contribute:
$21.16 million to upgrade rail terminals in Saint John and McAdam. The New Brunswick Southern Railway will contribute the same amount, bringing the total investment of the project to $42.32 million.
Up to $21 million to the Saint John Port Authority to increase the cargo laydown capacity of the West Side Terminal, to enhance the crane capabilities of the terminal, and add to allow wheeled cargo capabilities. As the applicant, the Saint John Port Authority will contribute $4.2 million, and the Province of New Brunswick will invest $16.8 million, a total investment of $42 million.
May 27: Shanghai Reports Increased Throughput as Lockdowns Ease – The Maritime Executive
Container operations at the port of Shanghai are on the rebound. While many districts in the city continue to have reduced restrictions, Chinese officials are reporting that the port has nearly returned to productivity levels before the lockdowns that began at the end of March. The major shipping lines are similarly reporting levels of progress, expecting that further restrictions will be relaxed by the end of the current month.
Chinese officials highlighted that throughput at Shanghai has rebounded, they said, to 95 percent of normal and the level of activity before the lockdowns. This compares with April, when they reported volumes were down to around 100,000 TEU dally, a decrease by at least 35 percent from normal capacity. Many private estimates put the figure lower, at close to 50 percent of normal capacity.
They are now also reporting that trucking volumes have rebounded to approximately 90 percent of capacity. However, many of the firms operating in the port continue to report a lack of trucking capacity. The health restrictions requiring truckers to have negative test results and limiting their entry into the port area if they have been in infected zones remain in place.
May 27: 'Bullwhip' Ready to Crack, as Spot Rates Get a Boost and Shanghai Reopens – The Loadstar
With Shanghai on the cusp of unlocking its manufacturing and unshackling frustrated container exports, spot rates from Asia are set to increase in the coming weeks.
However, the rate spikes could be short lived if some reports of cancelled orders prove to be linked to weakening consumer demand in Europe and the U.S.
May 28: Ships Divert to India as Sri Lanka Crisis Slows Colombo Port – gCaptain
Sri Lanka's political turmoil is prompting some shipping lines to detour to Indian ports instead of calling at Colombo, one of the key supply chain hubs in Asia.
Political protests and a lack of fuel have slowed the number of trucks available to transport containers of textiles and other goods between Colombo's terminals and supply chains, according to freight forwarders and analysts. That's created a growing backlog of boxes at the port that shipping companies want to avoid, they said.
May 31: Long-Term Contracted Ocean Freight Rates Set 'Staggering' New Records – Splash
All bets are off – liner shipping will now make improved profits over 2021's record earnings, even in the unlikely event that there is seismic crash in spot earnings in the remaining seven months of the year.
May saw the highest monthly increase in long-term contracted ocean freight rates since Oslo-based Xeneta started tracking these shipments, as the cost of locking in container shipments soared by 30.1%. The unprecedented hike, revealed in the latest Xeneta Shipping Index (XSI) public indices for the contract market, means that long-term rates are now 150.6% up year on year. In 2022 alone, costs have climbed by 55%.
"This is a staggering development," commented Xeneta CEO Patrik Berglund. "Just last month we were looking at an 11% rise and questioning how such continued gains were possible. Now we see a monthly increase of almost a third blowing the previous XSI records out the water."
Air
May 4: Airport Congestion Masks Softening in Trans-Atlantic Air Cargo – American Shipper
The cargo holds of aircraft flying between Europe and North America are less full than a month ago as the number of passenger flights swells and shipping demand softens, but supply chain friction and high jet fuel prices are artificially propping up freight rates in a declining market, according to logistics experts.
Cargo owners could enjoy considerable pricing relief in the months ahead if airport constraints get better, said Niall van de Wouw, co-founder and managing director of analytics firm Clive Data Services.
Clive's analysis shows the dynamic load factor, which essentially measures aircraft capacity utilization as a function of both volume and weight, has fallen below 80% for the first time in two years. Total air cargo capacity increased by 15% in the last week of March from the previous week as airlines step up summer schedules to meet pent-up travel demand following the COVID crisis.
May 5: Airfreight Rates Soften as Bellies Bounce Back on the Atlantic – The Loadstar
The start of May has seen a softening of the air freight market – with customers on long-term contracts paying more than the spot rate, as belly bounces back.
For the first time post-pandemic, since the end of March, capacity over the transatlantic is higher than pre-pandemic levels.
This extra capacity has led to the lowest dynamic load factors since the first half of January on western Europe to North America.
Other tradelanes have seen higher load factors, driven by constrained capacity rather than high demand.
May 18: Air France-KLM and CMA CGM Sign Strategic Partnership in Global Air Cargo – Cargo Trends
Air France-KLM Group and the CMA CGM Group announced that they have signed a long-term strategic partnership in the air cargo market. This partnership will see both parties combine their complementary cargo networks, full freighter capacity and dedicated services.
The agreement will have an initial duration of 10 years. Air France-KLM and CMA CGM will join and exclusively operate the full-freighter aircraft capacity of the respective airlines consisting initially of a fleet of 10 full-freighter aircraft, and an additional combined 12 aircraft on order.
Rail
May 30: Access Upgrades Complete from Burnaby Rail Corridor to North Shore Port Terminals – Burnaby Now
Improvements to the Burnaby rail corridor to better access the North Shore port terminals are completed.
CN, the Vancouver Fraser Port Authority and the City of Burnaby say the finished upgrades have cut commutes in half for trains waiting in Burnaby for the tunnel to vent.
Roughly 65 percent of rail traffic through Burnaby goes to the North Shore, and the improvements will result in more trains per hour delivering export goods to port terminals and will reduce idling.
May 31: Canadian Pacific Announces Multi-Year Agreement with CMA CGM – CP press release
Canadian Pacific has announced a new multi-year agreement with CMA CGM Group. CP will become CMA CGM's primary rail provider in Canada, servicing the ports of Vancouver, Montreal and Saint John.
Trucking
May 2: Canada Further Delays GHG Standards for Trailers – Today's Trucking
Canada's federal government is once again delaying plans to apply greenhouse gas emissions (GHG) standards to trailers, in the face of challenges to companion rules in the U.S.
The fourth interim order on the subject will suspend the standards by up to one additional year, said Stephane Couroux, director of the transportation division at Environment and Climate Change Canada's Environmental Protection Branch.
"During the period that the fourth interim order will be in effect, the department will undertake further consultations with key stakeholders, continue to monitor the situation closely in the U.S. following the Court of Appeals decision to rescind the trailer standards established by the U.S. EPA and NHTSA, and continue to assess the impacts for Canada," Couroux said in a related notice.
"This will help inform the path forward on whether to amend or implement the trailer standards in Canada for model year 2023."
May 3: Shippers Turn to Trucking for Help Meeting Carbon Reduction Goals – Transport Topics
As large corporations make bold pledges to achieve carbon neutrality in the coming decades, they are increasingly looking at their supply chains as an opportunity to make progress toward those goals.
In addition to asking motor carriers the usual questions about reliable service, safety and pricing, many large shippers are raising the issue of environmental sustainability and carbon emission reductions, said Matt McLelland, vice president of sustainability at Covenant Logistics.
Trucking companies must be aware of this shift and should begin preparing for it, he said.
Freight transportation emissions will become an increasingly important focal point for large corporations that are targeting carbon neutrality by 2050 or even 2040.
"Every molecule of carbon that your truck puts out belongs to their carbon footprint," McLelland said.
May 12: Trucking Continues to See Robust M&A Market – Transport Topics
Trucking and logistics continue to see strong merger and acquisition activity, a trend that goes back more than a year
The deal market has stayed active amid a confluence of factors that are motivating buyers and sellers. They include high valuations for motor carriers and expectations interest rates are poised to rise.
The Tenney Group CEO Spencer Tenney noted sellers are motivated because the high valuations may normalize down the line. That includes equipment costs, which have been favourable for valuing businesses in the current market because of shortages. Buyers are also motivated to get deals done now because of interest rates.
May 13: Freight Volumes Down as Chances of Freight Recession Rise – Commercial Carrier Journal
U.S. freight volumes fell in April from March and the year-ago period, according to the Cass Transportation Index April 2022 report. With more difficult comparisons in the next few months as global supply chain disruptions are set to intensify, Cass predicts more softness is on the horizon.
The shipments component of the Cass Freight Index fell 0.5% year-over-year, following a 0.6% year-over-year increase in March. Shipments also fell 2.6% from March, which was 0.9% below the normal seasonal pattern.
Freight was slowing even before the war in Ukraine began, Cass noted, but the effects of the additional surge of inflation and recent interest rate increases have slowed freight even more.
May 22: A Major Cause of Inflation May Have Peaked; That's Good News for Consumers but Bad News for Trucking Companies – FreightWaves
Note these statistics:
Truckload spot rates have fallen by nearly one-third since the start of the year, while truckload contract rates have risen.
The spread between truckload spot and contract rates is near an all-time high.
Trucking spot rates always lead trucking contract rates, usually by about three months.
Shippers buy most of their capacity in the truckload contract market, which means they have not seen a reduction in freight rates as of yet.
There are signs that truckload contract rates have peaked (gathered through a combination of survey, channel checks, and index models).
Because the cost of diesel has doubled, it will take contract rates falling more than 12.5% before shippers would see a reduction in freight costs compared to the start of the year.
According to Bank of America's biweekly survey of shippers, trucking freight rates are set for an even larger pullback. This is bad news for trucking companies but good news on the inflation front.
CIFFA Advocacy, Communications, Activities
May 30: CIFFA to Attend Hill Day in Ottawa
CIFFA's Director of Policy and Communications Julia Kuzeljevich will be attending in-person Parliament Hill Days in Ottawa, on May 30 and 31.
This two-day event will feature a parliamentary reception in the evening on Monday, and a full day of dedicated meetings with parliamentarians and government officials on Tuesday.
The event was organized by the Canadian Chamber of Commerce for its Transportation and Infrastructure Committee members. CIFFA is a member of this committee, as well as the International Affairs Committee of the Chamber.