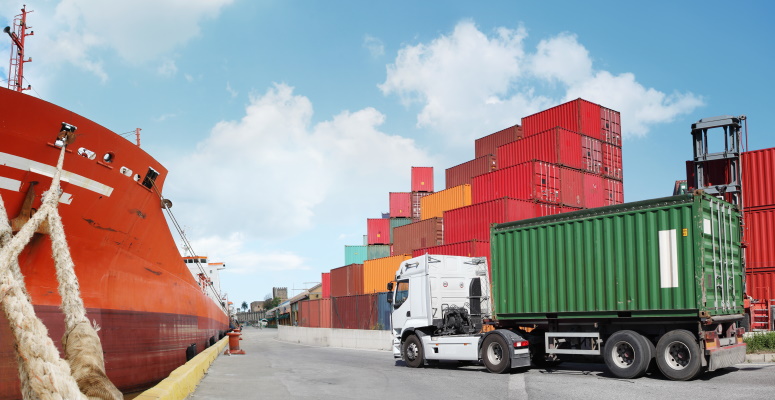 Month in Review – November 2021
Special Section – B.C. Floods
November 16: Port of Vancouver Operations Update
Rail and road operations servicing the Port of Vancouver are heavily impacted by recent flooding in British Columbia.
All rail service coming to and from the Port of Vancouver is halted because of flooding in the B.C. interior. Both CN and CP Rail indicate that no rail traffic is currently able to transit between Kamloops and Vancouver. Both rail lines are conducting damage assessments of multiple impacted sites and infrastructure threats to establish access and repair activities required. A time frame for reopening of the rail lines will be known once damage assessments are complete.
Vessel delays and heightened anchorage demand are expected due to disruptions to terminal operations. The port is working with terminal operators, railways and all levels of government to understand the impacts of these delays on terminal operations and to develop a recovery plan.
Flooding has also caused numerous highway closures due to washouts and landslide debris throughout southwestern B.C., including all main routes to the Metro Vancouver and Fraser Valley regions. Damage to roadway infrastructure is currently being assessed.
November 17: Port of Vancouver Operations Update
Transport Canada is working closely with emergency services to assess infrastructure damage to impacted areas. Damage assessments have been hindered by logistical and safety concerns due to evacuation orders issued in multiple communities.
November 17: Yang Ming 'Stops the Clock' in Vancouver
In an advisory sent to customers, Yang Ming said it will "stop the detention clock for all import cargo destined Vancouver from November 1st, 2021 to November 30th, 2021."
November 18: Port of Vancouver Operations Update
British Columbia's Minister of Public Safety Mike Farnworth declared a provincial state of emergency effective November 17. The state of emergency applies to the entire province for an initial 14-day period and may be extended or rescinded as conditions require. The state of emergency enables federal, provincial and local governments to allocate resources and deliver a coordinated response to protect the public, mitigate impacts on transportation networks and movement of essential goods and supplies, and to support the province-wide response and recovery.
All highways remain closed to non-essential traffic as work crews continue with reconstruction and repairs. Damage assessments of roadway infrastructure are ongoing.
November 19: Port of Vancouver Operations Update
Trucks are operating under normal conditions at all four container terminals.
Intermittent openings of one highway route are allowing some commercial vehicles to transit westbound from Hope towards Vancouver.
November 19: CBSA Issues Emergency Protocols in Response to Flood Situation in British Columbia
Due to extreme weather conditions in British Columbia that have caused flooding, landslides, road closures and other supply chain disruptions, Canadian domestic truck carriers may need to transit through the U.S. to reach destinations in Canada. Read guidelines issued by CBSA.
November 22: Port of Vancouver Operations Update
CN and CP crews and engineering teams continue to make significant progress clearing debris and undertaking repairs to damaged rail infrastructure between Kamloops and Vancouver.
Anchorage demand is high and nearing capacity across all vessel types.
November 22: CBSA and CBP Joint Updated Emergency Protocols in Response to Flood Situation in B.C.
The CBSA and U.S. CBP have jointly issued updated emergency protocols.
November 22: Hours of Service Relief Available in B.C. Flood's Aftermath – Today's Trucking
Federally regulated carriers that are helping with B.C. flood relief will have access to a temporary hours-of-service exemption.
The exemption, outlined in Targeted Essential Freight Transport Exemption to Support the Emergency Response to the Flooding in British Columbia, is designed to help federally regulated carriers and their drivers who are moving essential supplies and equipment for relief efforts, the Canadian Trucking Alliance (CTA) reports.
The relief specifically applies to Sections 12-29 of the Hours of Service regulations. But other rules remain in place, such as requirements to monitor and manage fatigue, keep daily logbooks and maintain records.
"There are also several conditions that must be met prior to and during the use of the exemption that carriers are strongly encouraged to review," CTA adds.
November 24: Port of Vancouver Operations Update
Four trains have transited across CP's mainline between Vancouver and Kamloops. All trains are operating in accordance with low-speed restrictions to enable monitoring of rail infrastructure in recently repaired areas. Intermittent closures to address repairs and ensure safe operations may occur.
Truck operations at all four container terminals remain steady. Reconstruction and repairs continue on major roadways across the region, with some highway routes restored, including detours, intermittent closures and essential-traffic-only restrictions.
November 24: FMCSA Provides Additional Regulatory Exemptions to Canadian Carriers in Aftermath of B.C. Flooding – Canadian Trucking Alliance press release
The U.S. Federal Motor Carrier Safety Administration (FMCSA) has issued a regional emergency declaration to facilitate movement of Canadian goods through the United States to bypass road closures and areas in Canada cut off by flooding and landslides.
This declaration complements recent changes made to the U.S. Customs and Border Protection in-transit program and will allow additional options for Canadian carriers and drivers in re-establishing key supply chain links to British Columbia and Western Canada.
The declaration provides an exemption from certain regulatory requirements in the Federal Motor Carrier Safety Regulations and is limited to Canadian motor carriers and drivers providing emergency services or transporting essential goods, supplies and equipment from Canada to other points in Canada to bypass road closures and areas in Canada cut off by flooding and landslides.
November 25: Port of Vancouver Operations Update
The Government of Canada and the Vancouver Fraser Port Authority are undertaking a joint initiative to provide additional container storage capacity to ease supply chain constraints and bottlenecks in the Lower Mainland areas exacerbated by extreme weather disruptions. The project includes preparation of a 40-acre site within the Fraser Richmond industrial lands for the temporary handling and storage of empty containers. Work to prepare the site for storage services and contract an operator will occur over the coming weeks. The site is expected to be used until service levels return to pre-flood conditions.
CP is implementing its operational plan to process the backlog of trains waiting to transit between Vancouver and Kamloops. Both CP and CN trains will operate on the restored line and transit in accordance with low-speed restrictions to enable monitoring of rail infrastructure.
November 28: Port of Vancouver Operations Update
Ongoing precipitation across southwestern B.C. has caused the closures of rail lines and highway routes servicing the West Coast.
CP's mainline between Kamloops and Vancouver is closed to enable engineering teams to conduct inspections and undertake repairs to stabilize sites impacted by rainfall. No new washouts have been reported. CN operated numerous trains over its mainline in the last 24 hours, but it has ceased operations to enable inspections and address ongoing water concerns.
The Ministry of Transportation and Infrastructure proactively closed highways previously impacted by flooding and landslides due to worsening weather.
Demand for anchorages currently exceeds capacity.
November 29: Port of Vancouver Operations Update
Both CP and CN eastbound and westbound trains are operating on CP's mainline between Vancouver and Kamloops. Enhanced rail infrastructure inspections and maintenance by engineering teams and track patrols are ongoing. CN operated multiple trains on its rail line through the Fraser Canyon corridor over the weekend. It halted operations through a site impacted by heavy precipitation to undertake repairs.
With the exception of emergency travel, highways through the Fraser Canyon remain closed due to continuing rainfall in the area.
November 30: Port of Vancouver Operations Update
The provincial state of emergency declared by the B.C. Minister of Public Safety has been extended to December 14.
Restored highway routes include detours, intermittent closures and essential-traffic-only restrictions. Proactive closures may occur when heavy rainfall is forecast.
November 30: CN Calls a Halt to Reopening in B.C. – Inside Logistics
Flooding in southern B.C. continues to present logistical challenges for exporters as Canadian National Railway Co. shut its service along the key freight corridor because of heavy precipitation, and traffic is moving slowly through the Port of Vancouver.
"The recovery of the manufacturing sector in general has slowed down and the crisis in B.C. is just going to make it worse," said Dennis Darby, president of Canadian Manufacturers & Exporters.
He said trains were running at very low rates even before the Montreal-based railway pulled the plug on its reopening efforts.
"We hope … that this gets back to normal as soon as possible, but it's going to take weeks at least, months probably."
CN said it moved seven trains during the weekend but decided to "proactively close its network" because rain was causing increased debris, washout and landslide activity.
"Our crews are working to find safe and effective ways of managing the waterflow, stabilizing the infrastructure and monitoring the overall state of the network," railway spokesman Mathieu Gaudreault wrote in an email.
Maritime
November 3: Tough Renewed Anti-COVID Measures Limit Chinese Seafarer Availability – Splash
Chinese seafarers, among the world's largest resources of crew, are facing renewed severe hurdles to get on and off ships, in the latest battle shipping is facing in the ongoing crew change crisis.
The Global Maritime Forum is reporting that many shipmanager members are struggling with the onboarding and repatriation of Chinese seafarers due to stricter Chinese government isolation requirements on seafarers post sign off and prior to repatriation.
November 5: Spot Rates Continue to Slide, but Premium Surcharges Continue to Pile Up – The Loadstar
Container spot rates from Asia to Europe continued their downward trend last week from their September all-time highs, while transpacific base rates also lost significant ground.
The November 5 Ningbo Containerized Freight Index (NCFI) commentary reports that the market from Asia to North Europe and the Mediterranean is "sluggish." "Some carriers have increased their efforts to solicit cargo, which led to a slight drop in spot freight rates," it said.
While the decline is not dramatic, it appears some carriers are reducing, or waiving, premium fees that can easily add $3,000 or more to the final invoice. Indeed, one UK-based NVOCC said his carrier was prepared to "throw in" its equipment and space guarantee fees during November.
Drewry's WCI reading for Asia to the U.S., which excludes premium fees, slumped 10% for west coast ports last week, to $9,857 per 40ft, and for east coast ports fell by 7%, to $12,667 per 40ft.
In contrast, the FBX Asia-U.S. west coast component, which includes premium fees, was up 1%, to $18,730 per 40ft, while for east coast ports, the spot rate slipped 2%, to $19,895 per 40ft.
November 12: Port of Montreal Sets Late 2026 as New Target Date for Planned Contrecoeur Container Terminal – American Journal of Transportation
At a recent technical briefing, the Port of Montreal updated the procurement process that national or international consortiums need to follow in seeking to partner with Canada's second largest maritime gateway in its biggest project in decades: establishing a sixth container terminal. If all goes according to plan, a revised tentative timeline marks the scheduled operational date for late 2026 versus 2025 for the container terminal at Contrecoeur, 25 miles downstream on the St. Lawrence River, where there is already bulk shipping activity.
Upon completion, the terminal able to handle 1.15 million TEUs will boost the port's capacity from 2.1 million TEUs to 3.5 million TEUs. Construction is planned to begin in 2023.
November 12: China's Northern Port of Dalian Begins New COVID-Related Lockdowns – The Maritime Executive
The northeastern port city of Dalian in China is beginning a third round of lockdowns and quarantine as the city has been linked to a new wave of the Delta variant of COVID-19. Health officials have begun closing non-essential businesses, including at least parts of the port operation. Residents have been ordered to remain at home except for essential travel, as mass testing and sanitation regimes are again introduced in the city.
November 29: Feeder Operators to Wind Down Across the Pearl River Delta for Six Weeks Ahead of Chinese New Year – Splash
The latest curveball likely to have a sizeable impact on global supply chains comes from south China, one of the most important manufacturing powerhouses in the world, where new COVID constraints are coming in at many local ports.
Both Ocean Network Express (ONE) and Hapag-Lloyd have warned that many feeder operators will suspend services from late December until mid-February due to strict COVID quarantine rules for crews, threatening the ability of local seafarers to get home in time for Chinese New Year.
"Due to the COVID-19 quarantine requirements for the crews of the coastal feeders running between South China and Hong Kong waters, feeder operators announced their services will be suspended for a minimum of 6 weeks prior to Lunar New Year 2022, which is Feb. 1-5, 2022. In consideration of this situation, ONE will temporarily suspend the acceptance of the cargo bound for the ports in the South China area that require usage of the domestic feeders to reach the final destination. Any cargo to South China that can be serviced by an ocean vessel is not affected," ONE stated in an advisory last week.
"This will not directly impact cargo moving directly to/from the major deep-sea ports, but can give rise to a number of ripple effects," explained Lars Jensen, founder of container advisory Vespucci Maritime, in an update on LinkedIn, suggesting that cargo to and from the smaller ports in south China might see an earlier pre-lunar new year surge than usual.
Air
November 2: Maersk Targets Air Cargo with Senator Acquisition and Freighter Order – Air Cargo News
A.P. Møller – Mærsk is expanding into the air cargo market with the acquisition of freight forwarder Senator International and the addition of five freighters.
The company said it intends to acquire Senator International to "accelerate its product offering which integrates Logistics, Ocean, Rail and Air and expand its global air network."
November 3: Air Freight Rates Rising as Peak Season Looms, but Flights Aren't Full Yet – The Loadstar
Air freight is getting more expensive – but all flights aren't full, signalling that demand is not yet as strong as expected.
According to the latest figures from Clive Data Services, capacity in October was 17% higher than a year earlier, while the dynamic load factor was 3 percentage points down, at 68%, although it rose 2 percentage points from September.
Rates, however, were 37% higher than a year earlier, but Clive noted that there were "significant market performance deviations."
November 11: Air Freight Handling Stressed at Multiple Airports – Lloyd's Loading List
Sustained high demand, diminished capacity, COVID-safe work practices and apparent labour shortages continue to place immense pressure on global air freight hubs, creating congestion at multiple airports around the world.
UK freight agent Metro Shipping said that, "while there are different situations at different airports, the demand for air cargo is exceptionally high and ground-handling operations are proving to be consistently ineffective at servicing the upturn in freighters, and passenger freighters, with particular problems at Heathrow, Amsterdam, Brussels, Frankfurt and Liege. And that's just in Europe."
November 23: Cost-Hit Air Cargo Handlers Warn of Double-Digit Rise in Charges – The Loadstar
Robert Fordree, Executive VP, Cargo, for Menzies, warned that forwarders can expect to see a double-digit rise in air cargo terminal handling charges (THCs) next year, as the sector struggles with rising costs.
"It's in part a reaction to not having a COVID surcharge, while the cost base [is] increasing and we can't flex rates up and down. And the labour market is not going to fix itself any time soon."
Rail
November 23: Surface Transportation Board Accepts CP-KCS Merger Application as Complete, Sets Procedural Schedule – CP press release
Canadian Pacific Railway Limited and Kansas City Southern yesterday announced that the Surface Transportation Board has accepted the joint CP-KCS merger application as complete.
In the same decision, the Board also set a procedural schedule for the regulatory review that calls for final briefs on July 1, 2022. CP and KCS anticipate that the STB review of CP's proposed control of KCS will be completed in the fourth quarter of 2022.
November 26: Mexican Regulators Approve CP-KCS Merger – FreightWaves
The Mexican Federal Economic Competition Commission and the Mexican Federal Telecommunications Institute have given regulatory approval of the proposed merger between Canadian Pacific and Kansas City Southern, both companies announced Friday.
CP and KCS needed approval from Mexican regulators because KCS has operations in Mexico.
"This important milestone marks the next step on our path to creating the first single-line rail network linking the U.S., Mexico and Canada," said CP President and CEO Keith Creel in a statement.
Trucking
November 30: Two B.C. Container Fleets Face Strike Action by December 3 – Today's Trucking
Truck drivers with two fleets that serve the Port of Vancouver could go on strike as soon as December 3, adding to supply chain disruptions in B.C.
Unifor has issued 72 hours' notice of the strike, following a vote by container truck drivers at Aheer and Prudential Transportation. They're looking for the fleets to adopt a pattern collective agreement reached in August with Harbour Link Transportation.
The two fleets represent 170 trucks, or about 10% of the container trucks serving the Port of Vancouver.
November 30: Vancouver Port Truckers Reach Deal with 1 Carrier after Calling Strike – American Shipper
Truckers at one of two Port of Vancouver carriers facing a strike have reached a tentative agreement, their union said on Tuesday.
Aheer Transportation signed the agreement a day after Unifor issued a 72-hour strike notice. However, about 120 drivers at Prudential Transportation still plan to begin a strike on Friday.
Aheer signed a tentative pattern agreement similar to others that Unifor has reached with the Vancouver port trucking companies.
CIFFA Advocacy, Communications, Activities
November 4: Welcome Letters Sent by CIFFA to Ministers of Transport and Public Safety
CIFFA sent letters of congratulations to several federal ministers on their portfolios in Cabinet, welcoming them to their roles and indicating we are keen to work together on advancing our advocacy goals in transportation and supply chain. Those goals are outlined in CIFFA's election issues briefing note, Critical Issues in Transportation Affecting Canada's Recovery, which is included with each of the letters.
November 5: New Industry and Membership News Section on CIFFA Website
CIFFA is now posting member news from press releases on The Forwarder page of the website.
November 10: Open Guarantee Letter of Payment Posted in CIFFA Resources
The Guarantee Letter is preferred to ensure payment for delayed pick-up of containers, resulting in demurrage, detention, damage or other related storage charges. A copy is now available on the CIFFA Resources page.
November 19: CIFFA Sustainability Survey: What Goals are Important to Your Organization?
CIFFA, via its Sustainability Committee, is asking members to provide ideas and input on some of the goals/tools/initiatives your companies have set up to become more sustainable.
Nowadays, sustainability is very much a part of the strategic priorities of many organizations. CIFFA is interested in why sustainability matters, what areas are being worked on and what barriers exist to implementing sustainable initiatives.