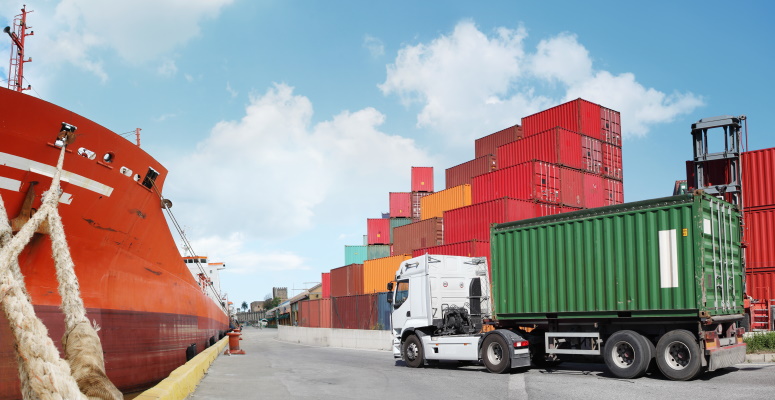 Month in Review – November 2022
Maritime
November 1: Maersk Gives Overstocked Retailers the Option to Slow Arrivals – gCaptain
Maersk says it is offering shippers the opportunity to slow cargo arrivals from Asia destined for European and U.S. ports to help retailers manage bloated inventories.
The initiative from the Danish logistics integrator comes as demand for retail lifestyle products from Asia plummets.
Maersk said that, with projected reductions in cargo demand, it was introducing "further measures to match cargo capacity with expected volumes on key tradelanes," but in the case of blanked sailings or vessel slidings, it said its aim was to offer alternatives to "minimize the impact on customers' business."
November 3: Carriers Consider Laying Up Box Ships as Blanking Fails to Prop Up Rates – The Loadstar
The idled containership fleet has breached the 1-million-TEU capacity milestone – and is set to jump significantly higher as carriers prepare to temporarily suspend services rather than blank sailings.
According to Alphaliner, as of October 24, the number of inactive containerships either in drydock or seeking employment had reached 284, for a capacity of 1.2-million TEU, representing 4.6% of the global cellular fleet.
November 8: Liverpool Dockers Union Agrees to Accept Pay Offer, Port Says – American Journal of Transportation
The union representing dock workers at the Port of Liverpool agreed to accept an offer from the trade gateway's operator, potentially ending weeks of pay disputes and periodic strikes, Peel Ports Group said.
Unite the Union will recommend the proposal to its members, Peel said in a statement, with a vote of the container operators set for this week.
November 10: Two-Year Low for Drewry's World Container Index – Container News
Drewry's World Container Index (WCI) took a 9% beating this week to end at US$2,773, which is the lowest figure over the past 24 months.
Having slipped past the US$3,000 mark, the index has lost 86% of its gains accumulated since the pandemic period. This is signaling towards the path that the slip in spot rates is yet to be over, despite a reported decrease in services, especially in the Transpacific trade and a high number of blank sailings.
The World Container Index is now about 26% off the five-year average of US$3,759.
The rates for China-U.S. trade have been inching lower, but at a lesser magnitude than the China-Europe rates or the weekly falls that we witnessed in September and October 2022.
November 14: Shipper Files FMC Complaint: Maersk 'Flouts the Law to Rake in Profits' – The Loadstar
A Florida shipper has issued a complaint against Maersk and its subsidiary, Hamburg Süd, that includes a failure to meet contractual obligations and "retaliation and collusion" to manipulate the market.
The complaint raised with the U.S. Federal Maritime Commission on November 9 is by furniture importer OJ Commerce, which says the carriers failed to address the alleged contract breaches.
It said Maersk then retaliated by refusing to negotiate a new contract, which left the shipper unable to negotiate with other lines, which had by then completed contract negotiations, and it was forced to book cargo on the substantially more costly spot market.
November 16: Government of Canada Invests in the Port of Prince Rupert to Increase Supply Chain Capacity – Transport Canada press release
Canada's Minister of Transport Omar Alghabra on November 15 announced an investment of nearly $75 million under the National Trade Corridors Fund to increase capacity at the Port of Prince Rupert. With Trigon Pacific Terminals Limited's contribution, the total combined investment in the project will be $163.1 million.
The funding will support the construction of a second berth at the Port of Prince Rupert terminal. This second berth will help reduce congestion, and increase the port's capacity to export products for green energy and other clean commodities. This project will also increase the capacity of the trade corridor linking the Port of Prince Rupert to Western Canada.
November 17: Improved Shipping Reliability Adds to Retailer Woes as More Stock Pours In – The Loadstar
Less congestion on the high seas has put additional pressure on some retailers already struggling with too much stock.
Wary of missing deadlines for their Q4 sales, they increased lead times, but now some are having to pay extra to hold back new stock as their warehouses are already full.
One forwarder explained: "Lots of retailers are unable to get what has become over-ordered stock into their distribution centres and warehouses.
"Detention and demurrage charges are mounting at ports or off-dock facilities as warehouses are full. This is additional, considerable cost off the bottom line that needs paying for from the supply chain/logistics budget."
November 18: Carriers 'in Panic Mode' as Recession Bites, Offering 'Crazy' Ocean Rates – The Loadstar
Ocean carriers are said to be in "panic mode" as bookings from China to North Europe and the U.S. west coast tank, causing FAK rates to plunge to new depths.
Despite aggressive blanking that has reduced weekly capacity on the tradelanes by more than a third, the lines have failed to slow the precipitous fall in short-term rates and, are arguably fuelling the fire by offering sub-economic spot rates via their digital platforms.
For example, rates from Shanghai, Tianjin and Shenzhen to the Le Havre-Hamburg range of container hubs in North Europe, of $1,000 per 20ft and $1,800 per 40ft are now widely available for prompt shipment.
And some carriers are said to be prepared to reduce rates further for volume, and relax or even waive demurrage and detention conditions.
November 21: Forwarder Frustration as Ro-Ro Bookings Look to Be Impossible Until Q2 23 – The Loadstar
Bookings for all ro-ro routes from Europe to the Middle and Far East and most to the U.S. are expected to be suspended until at least the second quarter of next year.
Carriers are battling too little capacity amid a boost in demand to carry freight.
One forwarder said: "Rates are increasing, capacity is at an absolute premium, with some routes fully booked four months out, and if you have a vehicle to move or other machinery, you can only book today for March/April sailings on some lanes."
"There is a little space on ro-ro ships heading to the U.S., but their prices are up 30% on the standard rates," one UK-based forwarder explained.
November 22: Plunging Spot Rates Drag Down Container Shipping Contract Rates – FreightWaves
Shipping lines are still posting billion-dollar quarters despite a precipitous plunge in spot rates, courtesy of high-priced annual contracts signed by cargo shippers at the peak of the boom.
But the reprieve is only temporary. Record rates on existing annual deals are being renegotiated lower mid-contract. Many shippers are not delivering previously agreed-upon contract volumes. And the next round of annual contract negotiations is looming, promising a big step down in rates and volumes for 2023.
To get the latest on the deteriorating ocean freight market, read an interview with Patrik Berglund, CEO of Xeneta, a Norway-based company that tracks both short- and long-term container shipping rates.
November 25: Record Blankings as Freight Rates Threaten a Hard Landing for Box Lines – The Loadstar
The unrelenting decline in container freight rates from Asia, caused by a collapse in demand, is compelling ocean carriers to blank more sailings than ever before as vessel utilization hits new lows.
Drewry's WCI Asia-North Europe component slumped a further 18% this week, to $2,192 per 40ft, and is down 75% since August. Rates from China to North European hub ports now being touted by forwarders sank below the watershed $1,500 per 40ft benchmark.
"I'd be reluctant to book at that," said a Felixstowe-based forwarder, "in case it came a few hundred dollars lower in a couple of weeks."
"What worries me is that if we pass on to our client a very low rate, he will do his sums based on those freight costs, and then suddenly the market pivots again and the carrier lumps-on some hefty GRIs or other surcharges," said the forwarder.
Another UK-based forwarder is concerned about future instability in the liner industry if the market does not normalize at sustainable levels. "We really wanted to see lower rates that are sustainable, but I fear the complete opposite is about to happen; too-low rates will not be sustainable and force a weaker liner to go 'pop'," he said.
November 29: Lines Adopt 'Wait-and-See' Pose in Korea as Truck Strike Negotiations Fail – The Loadstar
Police in Busan, home to South Korea's main container port, have begun escorting truckers through picket lines manned by their striking colleagues.
Police set up a special hotline for truckers delivering essentials to call for help if they are being prevented from doing their jobs, and at least 50 HGVs have been escorted through.
The industrial action began on November 24, and the first round of negotiations on November 28, between the Cargo Solidarity Truckers Union and government officials, failed to reach a compromise.
Meanwhile, shipping lines are taking a wait-and-see approach to the truckers' strike, but none intends to skip calls to Busan and other important container ports in the country.
November 30: Decaying Demand Sees China's Ports Building Empty-Container Mountains – The Loadstar
Amid a "very quiet" end-of-year shipping season, empty containers are piling up at Chinese ports.
According to Alice Tang, China-Europe land transport planner at ITS Cargo, there has been a complete reversal of the severe equipment shortages of last year's pandemic-induced cargo boom. "Empty containers are piling up at ports including Guangzhou, Yantian and Shekou," she said.
"Some say they are already piling up on roads, while others say 90% of box spaces are occupied. Trailer drivers used to bring loaded containers to the terminal and pick up empty containers for the next load. Now, most of the drivers no longer pick up empty containers because there is no 'next shipment.'"
Air
November 4: Air Cargo Market Continues to Deflate Under Global Economic Pressures – American Shipper
The air cargo market continued to unwind 18 months of record gains in October, as the global economy slows and consumers tighten their purse strings.
The industry is well into the typical peak season with little sign of increased shipping activity. Demand and rates are falling at a time when both normally climb.
Volumes in October, measured by a formula that combines weight and shipment dimensions, fell 8% versus the same period last year, the eighth consecutive month of demand decline, market intelligence firm Xeneta reported last week.
Performing at last year's record levels, which were driven by pandemic-related shortages and supply chain disruptions, was not sustainable, but October demand also fell 3% below the level in 2019 – a weak year for air cargo. And IATA said demand was negative 3.6% versus three years ago.
November 5: WestJet Warns of Days of Flight Disruptions Ahead After System-Wide Outage – CBC News
WestJet is warning of days of delays to come, after a system-wide outage hit the airline on Saturday, November 5.
The airline cancelled more than 200 flights throughout the weekend, while other flights faced significant delays.
In a statement on November 6, WestJet's chief operating officer Diederik Pen said that, although the airline's systems were back online, they remained unstable and disruptions were ongoing.
"Further delays and cancellations in the coming days will be required, as we work diligently to recover our operations," he said.
November 17: Air Canada Invests in Canadian Technology that Captures Carbon Directly from the Air to Fight Climate Change – Air Canada press release
Air Canada has announced an equity investment/loan of $6.75 million into Canadian climate solutions company Carbon Engineering (CE). The investment supports the advancement of CE's Direct Air Capture (DAC) technology, which pulls carbon dioxide (CO2) directly out of the air at industrial scale.
Under its Climate Action Plan, Air Canada has committed to achieve net-zero GHG emissions by 2050. To help achieve this goal, the company created a $50 million investment fund to support new technologies. The $6.75 million being invested in CE comes from this fund and follows on an earlier announcement by Air Canada that it is investing US$5 million in Heart Aerospace, a Swedish company developing electric hybrid aircraft.
According to CE, its DAC process uses large fans to pull in air and then, through a series of processes, extracts the CO2 while returning the other air components to the environment. The captured atmospheric CO2 can be used to reduce aviation emissions by producing sustainable aviation fuels (SAF) that can be drop-in compatible with today's aircraft. The captured CO2 can also be safely and durably stored in geologic reservoirs to provide carbon dioxide removals that can be used to offset GHG emissions.
November 22: Boeing Certification Troubles in Canada Ground First WestJet Freighters – FreightWaves
A delay in getting four 737-800 aircraft, newly converted to freighters by Boeing, certified by the Canadian government has set back WestJet's plans to expand into freighter operations by nine months.
The four cargo jets are sitting idle on the tarmac at Calgary International Airport, WestJet's home base, while Boeing awaits approval from aviation authorities for the design changing the used passenger aircraft into a dedicated freighter.
WestJet now expects to commence all-cargo flights on March 26, the start of the summer flying season, said Kristin de Bruijn, executive vice president of cargo.
November 23: Air Cargo to Join Box Shipping in 'Overcapacity Corner' – Air Cargo News
Air cargo faces a stint in 'overcapacity corner' next year alongside the ocean shipping sector, according to data analyst Xeneta.
The data firm said that weaker volumes and higher capacity would result in overcapacity in air cargo next year.
Xeneta said air cargo faces a "bumpy ride," as lower ocean costs and better schedule reliability – from easing port congestion and available capacity – may tempt some shippers to make a modal shift.
The analyst said that environmental awareness could also push shippers to switch general cargo from air to ocean.
Rail
November 11: CN Joins EMP Program, Sets New Gulf Coast Export Program Record – Progressive Railroading
Last month, CN joined Norfolk Southern Railway and Union Pacific Railroad as an exclusive partner in the Equipment Management Pool (EMP) program.
The domestic interline service program aims to provide extensive coverage throughout North America by offering a fleet of more than 40,000 53-foot dry containers. The EMP program provides seamless access to all major cities within Canada and the United States, and numerous major markets in Mexico.
CN's participation in the EMP program enables shippers to reach new west, east and southern markets, leveraging the networks of the largest Class Is while enhancing CN's participation in the North American supply chain, CN officials said in an online post.
November 11: Union Pacific Demanding Container Seals Beginning in Mid-2023 – WorldCargo News
The Union Pacific Railroad (UP) has issued a customer advisory stating that it will require container seals on all intermodal shipments beginning in mid-2023.
An earlier advisory said the requirement would begin on December 5, 2022, but UP has now moved the start date back to an unspecified day in mid-2023.
During the coronavirus pandemic, containers on rail cars around Los Angeles were subject to thefts on multiple occasions. Media outlets ran stories about poor security, highlighting that the containers were being opened with impunity by thieves who would go through the contents and discard unwanted items on the track.
UP said it will require theft deterrent or barrier seals on all intermodal containers carried on its network. "This requirement is to provide the highest level of protection from unauthorized entry into intermodal containers or trailers during all levels of logistics transportation from the shipper," stated UP.
November 14: Boilermakers Reject Labour Agreement with U.S. Freight Railroads – FreightWaves
Members of the International Brotherhood of Boilermakers (IBB) have decided not to ratify a labour agreement with the U.S. railroads, stakeholders said on November 14.
IBB members represent about 300 rail employees, many of whom work on repairing locomotives.
IBB joins two other unions in rejecting the labour deal and returning to the bargaining table.
Meanwhile, members of the two largest unions representing locomotive engineers and train conductors – the Brotherhood of Locomotive Engineers and Trainmen (BLET), the International Association of Sheet Metal, Air, Rail and Transportation Workers – Transportation Division (SMART-TD) – are voting this week on whether to ratify their labour contracts. Those results are expected to come out on November 21.
Seven other rail unions have voted to ratify their labour deals.
November 21: Two Unions Split Votes on U.S. Rail Labour Agreement, Opening Up Possibility for Strike in December – FreightWaves
The two remaining U.S. railroad unions to vote on whether to ratify their labour agreements have split their votes, increasing the possibility that a rail strike could occur in December.
Members of the Brotherhood of Locomotive Engineers and Trainmen (BLET) and yardmasters with the Transportation Division of the International Association of Sheet Metal, Air, Rail and Transportation Workers (SMART-TD) have voted in favour of ratifying the agreement.
But SMART-TD train and engine service members have voted to reject the tentative agreement reached September 15, sending SMART-TD back to the bargaining table with the freight railroads.
November 30: U.S. House Passes Bills to Avert Rail Shutdown, Add Paid Sick Leave – Next, to Senate – Supply Chain Dive
House lawmakers approved a legislative package on November 30 that averts an economically damaging rail strike or lockout while still keeping the door open for workers to secure paid sick leave.
Legislators passed two resolutions: One forces four holdout unions to accept their rejected contract as written, which includes the biggest wage increase in decades, plus expanded health coverage. The other amends the tentative agreement to include seven days sick leave, which workers had pushed for, arguing they can't take time off in the case of a short-term illness.
The two measures still need Senate approval before they can head to the president's desk for his signature. Democrats are walking a fine line between supporting labour while still avoiding a strike or lockout expected to cost the economy $2 billion a day.
Trucking
November 3: Feds' Fall Economic Statement Takes Aim at Driver Inc. Employers – Today's Trucking
The federal government has vowed in its fall economic statement to take aim at Driver Inc. employers.
"In the trucking industry, there is a long history of companies using the misleading Drivers Inc. practice, whereby drivers are encouraged to self-incorporate and operate as independent contractors without being provided information on the downsides of the practice," the feds wrote in the statement.
"By not classifying drivers as employees, companies are denying them access to important rights and entitlements under the Canada Labour Code, such as paid sick leave, health and safety standards, employer contributions for Employment Insurance and the Canada Pension Plan, and provincial or territorial workplace injury compensation."
The statement indicated that a recent pilot enforcement project found that more than 60% of federally regulated transportation employers fell into this category. It proposed to provide $26.3 million over five years, beginning in 2023, to take stronger action against non-compliant employers through Employment and Social Development Canada.
November 7: ELD Rules to See Mixed Enforcement on January 1 – Today's Trucking
Federally regulated carriers – as well as carriers that work exclusively within the borders of Newfoundland, New Brunswick, Ontario, Manitoba and Yukon – will have to use electronic logging devices (ELDs) as of January 1. But plans in other jurisdictions vary.
"B.C. and Quebec will not be able to enforce the federal regulation by January 1, as updates are still being worked on," said Private Motor Truck Council of Canada president Mike Millian in a bulletin to members. "While they expect enforcement to begin sometime in 2023, no confirmed timetable was available.
"The Northwest Territories won't be ready on January 1 but expect to begin enforcement sometime before the end of January. All other jurisdictions indicated they either are or will be ready to begin enforcement of the federal regulation by January 1."
B.C. and Quebec plan to enforce the rules for provincial carriers but have not confirmed timelines, while Nova Scotia will require carriers that operate solely in that province to have ELDs on January 1, 2024. Carriers that run exclusively in the Northwest Territories will face a mandate before the end of January.
Alberta and Saskatchewan have no current plans to require ELDs provincially. Provincial carriers that operate in P.E.I. operate only within a 160-km radius, which does not require a logbook or an ELD.
November 7: Fleets Face 'Very Steep' Learning Curve on Road to EVs – FleetOwner
When fleets succeed or fail based on operating costs calculated at fractions of a penny per mile, unknowns in the spreadsheet are a big problem. And, based on formal and informal discussion at the recent ATA Management Conference & Exhibition, those unknowns are tempering many truckers' enthusiasm for electric vehicles.
The good news: Most folks I spoke with are fans of the vehicles themselves, or at least see the potential based on some test drives and demonstration runs. But many aspects of fueling an alt-fuel vehicle have yet to be determined, and you can't run a fleet on good intentions.
November 17: Clean, Safe Operations Key to Recruiting Women, Experts Say – Transport Topics
Expressing a clear desire to hire women and maintaining a safe, clean work environment are keys to expanding their representation in the trucking workforce, experts said at a recent event hosted by Women In Trucking Association.
"Women look at safety differently," said Danielle Bansch, national account manager at commercial driver licence staffing and recruiting firm TransForce Group. She stressed that they look not only at a safety culture that promotes avoiding accidents, but also safety while travelling and sleeping on the road.
"They want clean trucks and nice facilities. If you have that, advertise it. If not, fix it," said Bansch, a 12-year veteran at TransForce.
November 18: Pay Structures, Schedules Shift in Face of Truck Driver Shortage – Today's Trucking
Several Canadian fleets are rethinking everything from pay models to work schedules in a bid to recruit and retain truck drivers – even if such changes present challenges of their own.
A shift from mileage rates to hourly pay offers one example of that, but it's not the only way fleets are rethinking longstanding business models.
Fleets are also rethinking the ways they schedule work in a bid to improve the lives of those who sit behind the wheel.
November 23: Federal Regulators Propose Fines for Hours of Service, ELD Violations – Today's Trucking
Transport Canada is looking to establish a series of penalties under federal hours of service rules – with the most severe infractions generating fines as high as $2,000 for motor carriers and $1,000 for drivers.
Several of the penalties involve rules around electronic logging devices (ELDs), which all federally regulated carriers will see enforced beginning January 1.
"If an individual is both a driver and a motor carrier, they could be subject to pay the applicable fine as driver and the applicable fine as motor carrier," Transport Canada adds in a document about the related consultations, referring to the trucking industry's independent contractors.
Drivers would face fines of up to $300 for minor administrative and recordkeeping issues, while carriers would be fined up to $600. For carriers, such infractions would include failing to ensure an ELD is configured to record yard moves or that trucks are equipped with ELD user manuals. Minor infractions for drivers would include issues like failing to accept or reject a carrier's change to a record of duty status.
CIFFA Advocacy, Communications, Activities
CIFFA Holds Meeting with CN, Forwarders and Dray Carriers to Discuss Inland Congestion
On October 31, CIFFA held a meeting with representatives from CN, forwarders and dray carriers. The meeting was convened to allow all participants to better understand the complexities and challenges that each group is experiencing and attempt to collaboratively develop short-term solutions to ease the pressures being experienced.
The situation seems to be worsening, primarily with the return of empty containers, with longer wait times being experienced, increased same-day cancellations and no-shows, and continued congestion issues being communicated from the Port of Vancouver.
CN's representatives commented on the tremendous teamwork involved to clear the congestion from the Port of Vancouver but noted that there has been a significant lack of absorption of import inventories into the Toronto and Montreal markets.
CN has tried to move more volume to consumer markets so customers can get products on the shelves, but out-gate speeds have not caught up with volumes brought in, leading to congestion. CN is adopting measures that should result in easing congestion and targeting long-dwelling containers to move from container yards. This should result in improvements to carter turn times.
Representatives of the dray community mentioned that there is a drayage driver shortage and companies have a high turnover rate. The challenge for drivers is the time spent waiting both outside and inside the terminal. The carriers asked for better communication from CN for the drayage community. Many dray carriers do not have their own yards. Some carriers are not picking up boxes because every available yard has been filled with containers. This has become a huge problem.
CN offered a follow-up meeting toward the end of November to re-examine the situation.