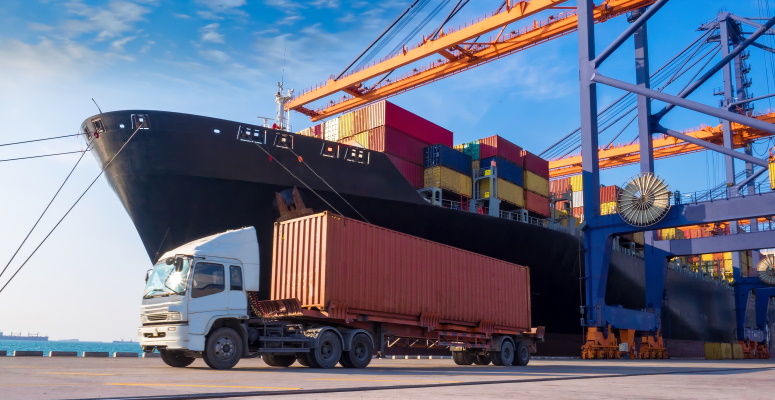 MONTH IN REVIEW – OCTOBER 2021
Maritime
October 1: Port of Vancouver 'Gridlock'
A CIFFA freight forwarder member provided an update on the Port of Vancouver, as follows:
"Congestion and delays are now severely impacting the Port of Vancouver's operations. Increased demand to Vancouver by forwarders looking to bypass the congestion occurring at U.S. West Coast ports has resulted in increased vessel delays, bunching and an increase in overall volume, as well as the challenges of returning empty containers, creating an overall chassis shortage. This has dramatically increased the demand on the ports, warehouses, and local drayage carriers throughout the Lower Mainland of British Columbia.
"Every trucking company involved in container drayage is overbooked and not able to handle their current orders. Ocean carriers are also making it difficult for the truckers to return empty containers at off-dock terminals. This is resulting in chassis being tied up with empty equipment."
October 1: Agreements 'Being Ripped Up' by Lines as Shippers are Left in the Dark on Rates – The Loadstar
Customer service has effectively been shelved by the shipping lines, as shippers grumble that it is getting increasingly difficult to book cargo with them, let alone know what rate they will be charged.
Many complain that carriers are refusing to answer booking desk phones, and are "ignoring" e-mails.
"We spend hours trying to contact the lines and they just let their phones ring out," one frustrated director of an NVOCC said.
"It's demoralizing for our staff – to whom we preach the gospel of customer service daily – that they cannot give a sensible answer to clients," he said.
And despite what the carriers say publicly, they are "not interested" in talking about signing new contracts until after the Chinese New Year holiday in February, when the lines believe they might start to need to ask shippers for cargo.
October 4: Delays Soak Up More than a Tenth of Boxship Capacity – Lloyd's Loading List
Containership capacity equivalent to 12.5% of the global fleet is unavailable due to delays caused by congestion in ports, despite the huge increase in the amount of deployed tonnage.
An analysis of vessel delays and capacity deployments by Sea-Intelligence showed that the amount of additional capacity required to meet demand is being outstripped by the amount of capacity being held up out of service as it awaits berthing slots.
October 5: Bunker Surcharges Resurface – 'Justified by Oil Price Spike', Say Carriers – The Loadstar
As oil prices spike to multi-year highs of $80 a barrel, ocean carriers are preparing to dust off their bunker surcharge mechanisms to mitigate the impact.
Although several carriers, including CMA CGM and Hapag-Lloyd, have capped further FAK rate increases, surcharges were specifically excluded from their rate moratoriums.
Rotterdam-sourced LSFO (low-sulphur fuel oil) increased a further $4 on October 4, to $560 a tonne, having jumped 20% since the end of August.
This increase alone will add over half a million dollars of cost to an Asia-North Europe round trip, and carriers seem to believe that, despite the currently high freight rates, they must take action to keep their costs in check.
October 6: Transpacific Rates at a Two-Month Low, as Congestion Grows on East Coast – American Journal of Transportation
With production in China slowed during the Golden Week holiday and by power restrictions in some areas, and with ocean delays making it increasingly unlikely that shipments not already moving will make it in time for the holidays, transpacific ocean rates stayed level this week after a significant drop a week ago. But rising oil prices could mean that carriers will increase fuel surcharges at the end of the month pushing rates back up.
Despite the current drop, worsening port congestion and delays at LA/Long Beach are still keeping Asia-U.S. prices extremely high, at more than quadruple their level a year ago. The congestion – as well as the sky-high value of an empty container back in Asia – may also be responsible for pushing North America-Asia export rates up more than 10% this week to more than $1,000/FEU from both coasts.
October 11: 'Canada's Supply Chain Is at Risk' Warning, as Congestion Hits Port of Vancouver – The Loadstar
The brakes have been applied hard on traffic flows at the port of Vancouver.
In a matter of weeks, the port has gone from a relatively fluid situation to serious congestion that has raised alarms that retailers could miss out in the peak shopping season.
October 15: Containership Traffic Jam in Southeast Asia Worst Since April – Transport Topics
Typhoon Kompasu has resulted in the worst container shipping traffic jam in months, one that now stretches throughout Southeast Asia and may take weeks to unravel.
Although port operations are largely back to normal in Shenzhen and Hong Kong after the tropical storm's passing, the total containership count off the two vital hubs had ballooned to 271 as of early October 15, the highest count recorded since Bloomberg News started tracking the data in April.
October 18: Box Rate Difference Between Smaller and Large Shippers Approaching $20,000 per FEU – Splash
The crippling container shipping costs hitting smaller shippers has been analyzed by Danish consultancy Sea-Intelligence, clearly illustrating why so many exporters are skirting with bankruptcy thanks to this year's record freight rates.
The price differential between smaller shippers using spot cargo and larger shippers on contract continues to escalate. The gap was $10,000 per FEU four months ago but is now approaching $20,000.
October 22: Maersk's Forwarder Move Could Be Abuse of Its Dominant Position, Says Clecat – The Loadstar
Expectations that one of the world's major container carriers will not offer services to some customers, including some freight forwarders, could be seen as an abuse of its dominant market position and a denial of service, says the European Association for Forwarding, Transport, Logistics and Customs Services (Clecat).
"The [ocean] alliances' market share is very large; it is a concentrated market now [and] they have market power," said Clecat director general Nicolette van der Jagt.
"I wonder to what extent this is an abuse of their dominant position? We will look at it and see if we can challenge this with the European Commission."
October 26: Long Beach/Los Angeles Ports Announce New Measure to Clear Cargo – Lloyd's Loading List
The ports of Long Beach and Los Angeles are to introduce a surcharge for import containers that dwell on marine terminals in a bid to improve cargo movement amid congestion and record volume.
Under the new policy, the ports will charge ocean carriers for each container that falls into one of two categories. In the case of containers scheduled to move by truck, ocean carriers will be charged for every container dwelling nine days or more. For containers moving by rail, ocean carriers will be charged if the container has dwelled for three days or more.
Beginning November 1, the ports will charge ocean carriers with cargo in those two categories $100 per container, increasing in $100 increments per container per day.
October 27: Ocean Carriers Will Pass on Port Fines for Lingering Containers to Importers – American Shipper
Logistics industry professionals say retailers and other cargo owners will ultimately bear the cost of drastic new fees announced on October 25 by the ports of Los Angeles and Long Beach in response to mounting congestion disrupting the entire U.S. economy.
The fees ostensibly penalize ocean carriers for not quickly clearing out imported containers piling up in their terminals, but a lack of details in the press release left freight industry stakeholders confused about how the rules will be applied.
Within minutes of the announcement by the twin ports, container lines began sending letters to importers alerting them to be prepared for the new charges, said Matt Schrap, CEO of the Harbor Trucking Association.
"So clearly, they are not just absorbing these costs as a part of doing business to get this cargo out. They are passing these costs on to the beneficial cargo owner, which as we all know, goes right into the American consumer's bottom line," he said.
October 27: Maersk Rejects 'Cutting Out Forwarders' Claim – Lloyd's Loading List
Maersk has rejected claims made in a recent media report that it looks set to handle cargo only from direct shippers from November 1, cutting out forwarders.
The Danish shipping giant said it had issued the following statement in response to the report: "Forwarders have been, are and continue to be one of the biggest customer groups we have on our ships."
October 27: New Report Highlights Growing Risk of Seafarer Exodus – Splash
The Seafarers Happiness Index report from The Mission to Seafarers has been published for the third quarter of 2021, carrying an important message about the risks of an exodus from the industry.
The survey suggests that COVID-19-related strains on seafarers are beginning to ease, and support measures for seafarer welfare have now had a chance to take effect, yet challenges with shore leave and ship-shore connectivity remain.
The challenges of balancing home life with the uncertainties of the crew-change crisis have led many who were tentatively considering a move ashore to accelerate their career-change plans. The report emphasizes that many seafarers are not intending to return to sea once they eventually get home.
The issue of retention in an already stressed workforce is a major concern. There is likely to be a growing shortfall in seafarers in the coming years, with seemingly little or no coherent mechanism to manage the problems coming over the horizon.
Air
October 13: Superhot Airfreight Market Leaves Shippers in the Cold – American Shipper
Importers and exporters should brace for the pandemonium roiling the ocean freight sector – where container shipping delays and prices are at all-time highs – to wash over the air cargo market this month.
Full planes and skyrocketing freight rates are signs the market has tightened to the point that shippers will be hard-pressed to find air transport for their goods as holiday-season shipping enters the stretch run, according to market analysts and logistics specialists.
Welcome to the super-peak season.
October 14: Airfreight Capacity Predicted to Tighten in Coming Weeks – Lloyd's Loading List
Airfreight capacity looks set to tighten further in the coming weeks as demand continues its upward trend for the looming peak season.
Niall van de Wouw, managing director at air cargo industry analysis firm CLIVE Data Services, said: "It might get pretty messy soon if this climbing load factor continues for the next few weeks. At the moment we see no reason why it would not, and things tend to get a bit stronger towards the end of the year. We still see very little relief from a capacity point of view."
Rail
October 19: CN Rail Launches Global Search for New CEO as Ruest Plans Exit – BNN Bloomberg
Canadian National Railway Co. said CEO Jean-Jacques Ruest plans to retire by the end of January.
The surprise announcement comes one day after TCI Fund Management Ltd., CN's second largest holder, released a presentation on its plans for change at the railway. TCI argues that CN must "urgently" take measures to improve efficiency and profitability.
In a conference call, Ruest said the board is searching for the best possible replacement for him. "They're not on the clock. It doesn't mean they will go slow," he said. "I am staying until the end of January or whenever is required to do a smooth transition. At this point, we are looking for quality and sometimes quality takes a little time."
Trucking
October 12: Canada Short 18,000 Truck Drivers in Second Quarter: Survey – Today's Trucking
About 18,000 of Canada's truck driving jobs were vacant in the second quarter of 2021, leaving 72% of surveyed employers to identify driver recruitment as a significant business challenge.
These results emerged with the release of Trucking HR Canada's latest labour market information update.
While the number of vacancies is expected to ease somewhat after 2021, Trucking HR Canada projects the industry will annually face 17,230 truck driver vacancies in coming years.
October 25: U.S. Driver Shortage Worse than Ever: ATA – Today's Trucking
The U.S. trucking industry is short about 80,000 drivers today – an all-time high – and if current trends continue, will be short 160,000 drivers by 2030.
The figures come from the latest analysis by the American Trucking Associations (ATA). ATA chief economist Bob Costello said the numbers should come as a warning that the supply chain issues seen today could be permanent in the future due solely to a lack of drivers.
CIFFA Advocacy, Communications, Activities
October 1: CIFFA Asks Prime Minister Justin Trudeau to Create Task Force to Look at Measures to Relieve Pressures on Supply Chain System
On October 1, CIFFA sent a welcome letter to re-elected Prime Minister Justin Trudeau. The letter outlines CIFFA's intent to work with the government and asks for a special task force to be appointed that will look at transportation and supply chain issues, and convene government and industry to discuss solutions to congestion, backlog and supply chain impasses.
October 7: CIFFA Hosts Supply Chain Stakeholder Engagement Meeting
On October 7, CIFFA held a supply chain stakeholder engagement meeting, led by Executive Director Bruce Rodgers and Director, Policy and Communications Julia Kuzeljevich. The meeting was in response to various communications sent to CIFFA about congestion issues across the supply chain.
Rodgers stated to the stakeholders, which included marine carriers, drayage operators, forwarders, industry associations and off-dock facilities, that the intent is to work collaboratively on common solutions to improve the supply chain overall. By bringing the parties together, we aim to achieve some good results.
We need to better understand each others' issues and impacts and work together on solutions. A further meeting will be scheduled in November to include more participants, from rail and terminals.
October 19: Press Release – Federal Leadership on Supply Chains Won't Solve Everything, But It Might Help: CIFFA Executive Director
CIFFA issued a press release on October 19, saying:
Last week the Minister of Finance told reporters she was watching Canadian trade flows, looking for signs of "strain" but so far, didn't see them.
This came as a shock to our membership at the Canadian International Freight Forwarders Association (CIFFA). The Canadian supply chain is experiencing "strain" as we have never seen it before. We are dealing everyday with the congestion and chaos that is snarling our ports and frustrating retailers and other customers.  Costs have doubled – or worse compared to pre-pandemic levels. Many operators are paying extraordinarily high penalties because they cannot move containers in and out of the ports in a timely manner.
So, the Finance Minister's comment was a little like going to the doctor to be told you are not really feeling that pain. No one blames Ms. Freeland or her government for not solving all the problems. But we would certainly appreciate some effort. Doing nothing is not an effective response.