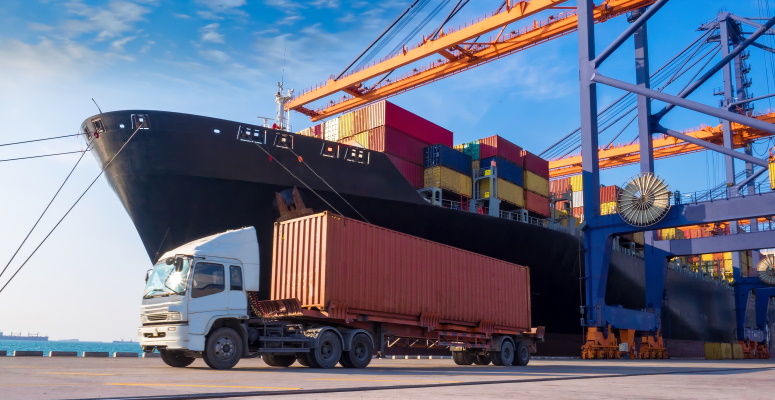 Month in Review – October 2023
Maritime
October 2: Container Pileup in Russia – WorldCargo News
As Russia grapples with the western sanctions one year after the invasion in Ukraine, China supports by bolstering bilateral trade between the two nations. Container xChange, the online container logistics platform, has offered its assessment of how the trade impacts the global container logistics industry, now and in the future.
"You see a 40ft high cube container being on sale in Moscow for less than $1,000, while in other parts of the world, it is almost double or even more," said Christian Roeloffs, co-founder and CEO, Container xChange. "This is significant and has a tremendously detrimental impact on the business of container logistics because of the high imbalance in demand and supply of containers."
October 4: Mexican Logistics Infrastructure Struggles as Delays Hit Lazaro Cardenas – The Loadstar
On September 29, Hapag-Lloyd issued a customer advisory warning of delays at the port of Lazaro Cardenas – cargo moving to and from the port hit by congestion at the Hapag-Lloyd and APM terminals.
The news was hardly a bolt out of the blue. Mexico's largest Pacific port has suffered from congestion for more than three months, partly the result of a surge in car shipments, but problems with the rail system have also affected box traffic.
Volumes started to build after trucker protests in early August at the access points to the Ferrovalle intermodal terminal in Mexico City, a vital bottleneck for cargo between the capital and major ports. Truckers – most owner-operators – staged protests over pay, but they also vented their frustration with constraints in serving the Ferrovalle facility.
Their actions resulted in a pile-up of containers at Lazaro Cardenas and, by late August, more than 5,000 were stranded at the port.
October 9: Gaza Conflict Disrupts Port Operations – The Maritime Executive
The full-scale conflict between Palestinian militant group Hamas and the state of Israel is beginning to disrupt commercial operations in the maritime sector, though the extent so far is limited to specific sectors and locations.
The port of Ashdod is currently operating in "emergency mode," reports North Standard. The Israeli Navy maintains a substantial presence in the area and controls the approaches. Hazmat cargoes require case-by-case approval prior to entry, and some categories are not currently permitted (including all explosives and toxic gases).
Port of Ashkelon, the commercial seaport nearest the fighting, is currently shut down, the insurer said. Ashkelon is primarily used by tankers.
October 10: Port of Montreal Welcomes the Government of Canada's Support for Its Contrecœur Expansion Project – Port of Montreal press release
The Montreal Port Authority (MPA) welcomes the $150 million allocated to the container terminal project in Contrecœur through the National Trade Corridors Fund (NTCF) announced on October 10 by Canada's Transport Minister, Pablo Rodriguez.
This financial support will enable the MPA to implement a new delivery model for the major expansion project on Montreal's South Shore. Under its new approach, the MPA will be taking over some of the responsibilities for carrying out the project and cancels the current call for tenders to opt for a more agile approach.
October 10: Bargaining at the Port of Montreal – La Presse (translated from French)
Longshoremen at the Port of Montreal want wage increases of at least 20% over four years and full job security after three years. For its part, their employer wants to "adjust" the number of employees who benefit from their security and wants an employment contract that guarantees union peace until the end of the decade.
This is what emerges from the demands of the Port of Montreal Longshoremen's Union, affiliated with the Canadian Union of Public Employees (CUPE), and the Maritime Employers Association (MEA), obtained by La Presse. The documents are the starting points for the two sides in the negotiations that began last month.
While the issue of modernization was one of the sticking points that led to the strike that paralyzed the Port of Vancouver for 13 days last July, it does not seem to be at the heart of the employer's demands, said Jean-Claude Bernatchez, a professor of labour relations at the Université du Québec à Trois-Rivières.
October 10: EC Says CBER 'No Longer Fit for Purpose' and Won't Renew It – The Loadstar
2024 increasingly looks like a watershed year for container shipping after the European Commission announced it won't renew the sector's exemption to operating shipping alliances when current legislation expires on April 25.
The Consortia Block Exemption Regulation (CBER) was introduced in 2009, after the EC banned the old conference system that allowed carriers to coordinate on pricing levels.
CBER allowed carriers to continue operating vessel-sharing agreements and pooling capacity, and was extended in 2014 and 2020.
But the EC has now concluded: "Overall, the CBER does not appear to be fit for its purpose any more, as it does not fulfil the criteria of effectiveness, efficiency and EU added value."
October 11: Shipping Clearly Divided Over EC Decision to Scrap CBER – The Loadstar
The shipping industry is divided on the October 10 announcement by the EC that it will not renew the Consortia Block Exemption Rule (CBER) for liners.
John Butler, president & CEO of liner lobby group the World Shipping Council, said: "We disagree with the logic behind the decision to discontinue the CBER. The shift to general EU antitrust rules will create a period of uncertainty as carriers adjust to the new legal structure."
The Federation of European Private Port Companies and Terminals (Feport) agreed. It said: "[Feport] was not in favour of a repeal as clear prohibitions of some behaviours in the framework … were better for us than a legal void and no monitoring from the EU commission of the behaviour of the alliances.
"The bargaining power of the alliances towards customers and service providers has been tremendously also increased thanks to the benefits of the CBER."
However, Nicolette van der Jagt, director general of forwarder association Clecat welcomed the decision, and said: "We are pleased that the commission has listened. Freight forwarders have long resisted the granting of these extraordinary exemptions to shipping lines and have opposed a renewal of the block exemption…at previous reviews."
October 12: St. Lawrence Seaway Workers Deliver Overwhelming Strike Mandate – Unifor press release
Members of Unifor Local 4212 and Local 4323 in Ontario and 4320 in Quebec working for the St. Lawrence Seaway Corporation voted 99% in favour of a strike should negotiations not result in a deal by the October 21 strike deadline.
Bargaining will resume on October 17, 18 and 19.
October 14: Ontario Releases First-Ever Marine Transportation Strategy – Government of Ontario press release
The Ontario government has released The Future of the Great Lakes Economy: Ontario's Marine Transportation Strategy, outlining actions the province will take to strengthen Ontario's position in marine transportation.
The four-pillar strategy will serve as the foundation for building a strong and sustainable marine sector. It outlines near- and longer-term actions, including:
Establishing the Ontario Marine Partnership and Development Office to oversee implementation of the strategy, be the key contact for industry stakeholders, and build awareness of Ontario's marine sector priorities.
Strengthening connections between marine and other modes of transportation to keep people moving and get goods to market faster.
Working closely with public and private industry partners to attract and retain more workers in the sector, including providing new and expanded internship opportunities.
Harnessing green, low-carbon-emissions and alternative-fuels technologies that will support a more environmentally sustainable marine sector and transportation network.
October 17: Shipyards Won't Be Able to Meet Future Demand for Greener Vessels – The Loadstar
"If you look at the market right now, it is easy to take the position that carriers have massively overordered," said analyst Lars Jensen last week. He explained that, with aging tankers and bulk ships also needing to abide by IMO decarbonization rules, "this could easily overwhelm the shipyards with orders."
He added: "That means in three or four years, a container line might want new ships, but either can't get them because there is zero shipyard availability, or they are going to be phenomenally expensive. This will be the shipyard version of what the carriers did during the pandemic."
A report released on August 17 supports this theory: Both newbuild and retrofit yard space is too constrained to provide sufficient capacity for meeting the IMO's 2030 'indicative checkpoint.'
October 18: Unifor Serves the St. Lawrence Seaway Management Corporation with a 72-Hour Strike Notice – SLSMC press release
The St. Lawrence Seaway Management Corporation (SLSMC) was served with a 72-hour notice to strike by Unifor on October 18, for locals 4211, 4319, 4212, 4323 and 4320. The union intends to begin strike action as of 00:01 on Sunday, October 22.
As a result of Unifor's strike notification, SLSMC has started implementing its detailed plans for an orderly and safe shutdown of the system within the 72-hour notice period. Should the unionized workers proceed with strike action, the St. Lawrence Seaway will be closed to all traffic.
October 19: Statement by Minister of Labour Regarding Port Dispute Review
On October 19, Canada's Minister of Labour, Seamus O'Regan Jr., issued the following statement regarding the port dispute review under section 106 of the Canada Labour Code:
"Our Government believes in collective bargaining. We believe that the best deals are made at the table. It can be tough, messy work. But it's how the best deals are made. Disputes, including strikes and lockouts, are all part of that process. This past summer, however, Canadians experienced an economic disruption that no single dispute should be responsible for. Our ports are vital to our supply chains, and the scale of the disruption was a burden on the many businesses and workers that depend on them.
In August, I committed to initiating a process under section 106 of the Canada Labour Code to examine the structural issues underlying the recent longshoring dispute at our West Coast ports, as well as similar disputes that have occurred in ports across Canada.
Today I can confirm that Anthony Giles and Kevin Banks have been contracted to begin the first part of this review process. Between now and December 31, 2023, they will be tasked with identifying the key questions that need to be answered and proposing the terms of reference for this review. In the New Year, we will update Canadians on the next steps in that process."
October 19: PRPA to Begin Construction on $750 Million Export Logistics Project – PRPA press release
The Prince Rupert Port Authority (PRPA) is commencing construction on the Ridley Island Export Logistics Project (RIELP), a large-scale logistics project that will provide expanded capacity and capabilities for rail-to-container transloading of multiple export products at the Port of Prince Rupert.
The project will consist of a 108-acre greenfield development on Ridley Island that will commence operation in Q3 2026. Ray-Mont Logistics will develop and operate facilities that provide transloading service capacity for 400,000 TEUs for agricultural, forestry and plastic resin products.
The project will also include an expansion of the existing Ridley Island Road Rail Utility Corridor that will facilitate unit trains 10,000 feet in length with direct access to the site from the CN network. The transload facilities will be connected to Fairview Container Terminal by direct private road access, the 5-kilometre Fairview-Ridley Connector Corridor, ensuring all product movements will be within PRPA jurisdiction and fully avoid public infrastructure. The full electrification of transload facilities, optimization of rail and the minimal truck drayage cumulatively represent a significant step forward in decarbonizing Canada's export supply chains.
October 20: Carriers Fight Back Against Sub-Economic Rates with FAK Hikes – The Loadstar
Ocean carriers are planning a wave of sizeable FAK rate hikes across the major east-west tradelanes next month, in an attempt to swivel voyage results back into the black.
And, with the 2024 budget season looming, the shipping lines will want to jettison unprofitable cargo from their customer portfolios.
For example, MSC has announced new freight rates, effective November 17, from the Mediterranean and North Europe to the U.S., Canada and Mexico, including a $4,400 per 40-ft base rate from Antwerp to New York.
October 20: Ports Not Prepared for IMO Single Window Mandate – Inside Logistics
Almost a third of global ports are not going to be ready for the International Maritime Organization (IMO)'s Maritime Single Window (MSW) mandate, which becomes compulsory worldwide from the beginning of January 2024.
A recent survey of 200 ports by Kale Logistics Solutions revealed that 30 percent are not prepared to make the transition. This study examines the technological initiatives taken by ports and their willingness to digitize.
Kale highlighted the urgency for the industry to speed up its digital transformation as it unveiled the survey results, which also cited high implementation costs, long timelines and varying levels of digital readiness as leading factors hindering regulatory compliance.
October 22: SLSMC Unionized Employees on Strike – SLSMC press release
Although the St. Lawrence Seaway Management Corporation (SLSMC) and Unifor engaged in negotiations starting on October 17, they were unable to reach an agreement before the Unifor strike deadline set for 00:01 on October 22. As a result, Unifor locals 4211, 4319, 4212, 4323 and 4320 are now on strike. The Seaway will remain shut down until an agreement can be reached.
The SLSMC is awaiting a response to its Canada Industrial Relations Board application, seeking a ruling under the Canada Labour Code for the union to provide employees during a strike to ensure vessels engaged in the movement of grain continue transiting the system.
An orderly shutdown of the system took place during the 72-hour notice period allowing for vessels to safely clear the Seaway system. Currently, there are no vessels waiting to exit the system, but there are over 100 vessels outside the system that are impacted by the situation.
October 23: Complaints to FMC Over Shipping Industry Tripled in Two Years – The Maritime Executive
The number of complaints to the U.S. Federal Maritime Commission over the shipping industry's business practices, and mostly detention and demurrage fees, have more than tripled in the past two years, according to a new report in the Financial Times. The newspaper reports that, according to data from the FMC, shippers have filed nearly 400 complaints in the 14 months since the Ocean Shipping Reform Act became law in July 2022.
October 24: "Get Back to the Table," O'Regan Tells Seaway and Union – Inside Logistics
Labour Minister Seamus O'Regan took to social media to tell the St. Lawrence Seaway Management Corporation (SLSMC) and Unifor they need to resume bargaining. O'Regan posted on X, saying he had taken calls with both sides, and they need to resume talks.
Over 350 Unifor workers are on strike at the Seaway, shutting down the waterway to commercial traffic since October 22.
October 27: Delays Grow at Australia's Ports as MUA Expands Job Action Against DP World – The Maritime Executive
Dockworkers at one of Australia's busiest container terminals launched a 24-hour work ban on October 27 while announcing plans to step up their work bans the following week at each of the country's major ports. The strikes are part of an ongoing labour dispute between the Maritime Union of Australia and terminal operator DP World that mirrors similar actions that have interrupted port operations in other parts of the world.
October 29: Tentative Agreement Reached, St. Lawrence Seaway Reopens – SLSMC press release
The St. Lawrence Seaway Management Corporation (SLSMC) and the union representing 360 unionized employees reached an agreement that ends the strike that began on October 22. The agreement will have to be ratified by employees in the coming days.
October 30: Transatlantic Westbound 'a Total Disaster', with 'Unsustainable' Rates – The Loadstar
According to CMA CGM, westbound transatlantic ocean rates have now hit "unsustainable levels."
The French carrier announced a raft of FAK (freight all kinds) increases on Friday, an endeavour to drive rates back up on a route that has become, as one liner executive described it, "a total disaster."
Indeed, Xeneta's XSI North Europe to U.S. east coast average rate per 40ft slumped from $7,700 a year ago to just $1,327 last week.
October 31: Panama Canal Plans to Cut Transits by 40% Due to Ongoing Drought – The Maritime Executive
The Panama Canal Authority released plans to drastically scale down transits at the canal phased in over the next three months as it reports water levels have continued to decline to unprecedented levels for this time of year. The current plan would see transits reduced by 43 percent by February 1, with large containerships, and LNG and LPG carriers, likely to be among the most impacted by the new round of cuts.
Air
October 4: Coffins, Rotting Fruit Stuck in Tarmac Tangle After Qantas IT Meltdown – WA Today
Qantas' freight division has suffered a catastrophic system failure that left dead bodies, live animals and perishable food unable to be collected from airports.
Cargo operations were sent into disarray after Qantas attempted to switch on a "new, fully integrated cloud-based" management system on September 24, which "did not go as planned", according to a letter sent to freight customers.
Qantas said that coffins and human remains have not been left on tarmacs or stored inappropriately in any way despite reports from freight forwarders alleging so.
"All human remains and other critical freight has been managed according to industry standards and with utmost care as always. Some delays in collection may have occurred due to manual processing leading to queues at freight terminals," the airline said on September 28.
The airline's freight customers said the meltdown has cost them hundreds of thousands of dollars over the past 10 days. Qantas workers have been forced to process shipments manually, causing backlogs of domestic and international deliveries at Sydney, Brisbane and Melbourne airports.
October 5: Shippers Opt for Longer Air Cargo Contracts as the Global Market Stays Flat – The Loadstar
The air cargo market may be "finding its feet again" – but it may take time.
Latest data suggests Q3 23 saw a 6% rise in shippers committing to airfreight contracts of six months or longer, now at 34% compared with 28% in Q2.
Xeneta says this is a result of "the industry [coming] to terms with a new baseline for the general air cargo market."
October 10: Cargo Carriers Warn of Disruption on Israel Operations – Air Cargo News
Israel's Civil Aviation Authority (CAA) has said international flights continue to operate to and from Israel following attacks on the country by Hamas over the weekend.
The CAA said that currently "the Israeli airlines are operating as usual." The organization added that "there are still international flights to and from Israel by many airlines."
The Israel Airports Authority, which operates Ben Gurion Airport in Tel Aviv, said that the airport "is working as planned including departures and landings."
However, a number of airlines worldwide have cancelled or delayed flights in response to the situation, and cargo carriers have warned of potential disruption to shipments.
October 31: Airfreight Rate Increases Pick Up Pace in October – Air Cargo News
Airfreight rates on major east-west trades picked up in October as the industry entered its traditional peak season.
The latest figures from the Baltic Exchange Airfreight Index (BAI) based on TAC data show that average rates – spot and contract – on services from Hong Kong to North America increased by 18.4% compared with September to $5.80 per kg.
Compared with last year, prices are down 13.9%, although the difference between the two years has continued to narrow from a high of 47.7% in May.
Rail
October 5: CN Publishes Winter Plan for 2023-2024 – CN press release
CN has published its 2023-2024 Winter Plan. The document outlines the actions CN has taken to meet customer demand safely and efficiently during the winter months ahead.
This year's plan is focused on working safely, collaborating to meet the demands of customers, improving network performance and enhancing network resiliency.
Trucking
October 9: Inspections Halt 19,000 Trucks at Texas-Mexico Border – Yahoo News
Texas Governor Greg Abbott's border-security crackdown is clogging up commercial crossings, leaving at least 19,000 trucks loaded with $1.9 billion of goods stuck waiting in Mexico.
"Absurd" safety inspections are causing wait times as long as 24 hours in lines that stretch for 23 kilometres, Mexico's biggest trucking group said in a statement October 8. The holdup makes it exceedingly difficult for businesses to manage supply chains, it said.
Texas announced a renewed push for cargo-truck inspections last month as part of Abbott's "Operation Lone Star" plan to deter illegal border crossings and drug smuggling amid what he says is a lack of enforcement by the federal government.
October 10: Halton Blitz Puts 31% of Inspected Trucks Out of Service – Today's Trucking
Halton Regional Police Services conducted a two-day commercial vehicle blitz at Woodbine Mohawk Park in Milton, Ont., on October 3 and 4, taking 149 vehicles out of service. That represents a 31% failure rate, with 475 commercial vehicles inspected in the targeted blitz. Inspection officers were looking for compliance with legislation relating to mechanical fitness, weights, load security, safety and licensing.
October 12: Canada's Spot Market Volumes Strengthen, U.S. Rates Fall Further – Today's Trucking
Canada's spot market load volumes increased for the second straight month in September, while equipment postings declined.
It's the first time Loadlink Technologies reported two consecutive months of rising load volumes since December 2022 and January 2023. Cross-border loads into Canada declined, while intra-Canada and cross-border loads to the U.S. rose.
"Year-over-year comparisons continue to temper as inflated volumes from the first half of 2022 will begin to meet with more normalized volumes in the upcoming quarter," Loadlink said in a release.
The biggest gains were seen in loads to the U.S., up 26% compared with August but still off 9% from the same month last year. There were 4.34 trucks posted per load, down from 5.05 last month, marking a 14% decrease in the truck-to-load ratio.
October 18: Costs of Fuel Fraud Continue to Climb – Today's Trucking
Fuel fraud is on the rise and trucking companies are struggling to stay ahead of the growing problem.
"Fraud is one of those hidden costs that we don't talk about often, but is still driving down profitability in the business," said Hemant Banavar, vice-president of financial products with Motive.
In some cases, card skimmers will fuel up personal vehicles or make in-store purchases using stolen card information. But there's another growing trend to worry about, dubbed "fraud-as-a-service," in which stolen card data and personal information is sold on the dark web.
Other forms of theft include: card cloning (replicating fuel cards with skimmed data); promotional scams (fake offers for free fuel or other incentives in exchange for entering card information, which is then stolen); vendor theft (in which the vendor overcharges and takes a cut of the total purchase price); phishing (fake emails requesting personal information); employee fraud (filling up personal vehicles or adding items like cigarettes to fuel purchases using a fleet fuel card); siphoning fuel from company trucks; and side fueling (filling up a personal vehicle alongside the company truck on the company fuel card).
October 22: Cargo Theft Trends Changing as Supply Chains Shift to Border Regions – FreightWaves
Crimes against truckers in the United States, Mexico and Canada are on the rise, costing trucking and logistics industries up to $1 billion annually.
Traditionally, cargo theft in the U.S. has been concentrated in places such as ports and facilities in California, Texas and Florida. In Canada, the majority of thefts usually occur in the Toronto region, while in Mexico trucks and logistics centers in the country's central states are often targeted.
With more manufacturers leaving Asia and moving facilities to Mexico, Canada or other locations near or along border regions to capitalize on shifting supply chains, trade experts say it could affect cargo thieves' patterns and methods.
October 26: More Casualties Expected, with U.S. Trucking on a 'Road of Pain' – The Loadstar
The collapse of Yellow Freight, the third-largest operator on the U.S. less-than-truckload scene, hit headlines beyond the industry, but meanwhile devastation generally is playing out across the truckload sector.
Since last year, a rising number of truckers have gone out of business as demand shrank, costs surged and worsening overcapacity pushed rates down.
In recent weeks the downward trend has continued. According to a study by the U.S. Federal Reserve, freight activity and demand declined between late August and early October, which the authors attribute to excess capacity, weak exports and fewer energy product shipments.
The FTR Trucking Conditions Index slumped from a negative reading of -5.34 in July, to -12.54 in August, and the index noted that surges in diesel costs had hit small operators disproportionately, "as they are less likely to benefit from fuel surcharges."
"As trucking rates continue to plummet, many trucking providers are operating at a loss to maintain revenue streams," said Paul Brashier, VP drayage and intermodal at ITS Logistics. "While diesel prices continue to increase, more freight carriers are expected to exit the market."
October 27: Nova Scotia to Delay ELD Requirement for Provincially Regulated Carriers – Today's Trucking
Nova Scotia's Registry of Motor Vehicles has advised that the province is putting the brakes on the electronic logging device (ELD) requirement for provincially regulated carriers in the province, according to an Atlantic Provinces Trucking Association news release. The requirement was originally scheduled to go into effect on January 1, 2024.
According to the province, "while the Department of Public Works (DPW) recognizes the potential benefits of requiring carriers operating only in Nova Scotia to install and use ELDs, we have decided to take some time to continue monitoring the implementation of the federal and other provincial/territorial mandates and seek industry input before making a final decision on the provincial approach."
No future implementation date was provided, APTA said.
CIFFA Advocacy, Communications, Activities
October 14: Time for the Government to Show What It Can Do: CIFFA Executive Director's statement
Will Montreal have the same sad experience that Vancouver just suffered in July? Or will an effective federal government – normally all too willing to intervene in the economy – take steps to avoid a labour stoppage at the Port of Montreal which will damage the city's economy, especially small businesses.
The Port of Montreal Longshoremen's Union and the Maritime Employers Association are meeting now. The parties are already alleging bad faith. A legal strike could occur in January of 2024.
October 24: CIFFA Among Signatories to Industry Letter to Federal Government on Labour Stability in the St. Lawrence Seaway
In a letter to the federal government, numerous Canadian organizations, including CIFFA, expressed concern regarding the strike shutting down transit through the St. Lawrence Seaway, causing further damage to supply chains.
October 27: CIFFA Announces Enhancements to Its Website
CIFFA has enhanced its website, adding the following new features:
A new Advocacy section – including our letters, policy statements, press releases, regulatory matters and committee summaries
A dedicated page for our diversity statement, under the "About CIFFA" tab
A new "Members Only section" available solely to CIFFA members
New documents have been added to our existing News, Events and Resources section:

A broker-carrier service agreement
A credit application
An international house bill of lading
A road carriage bill of lading
These enhancements add benefits and will improve our members' experience on the website.