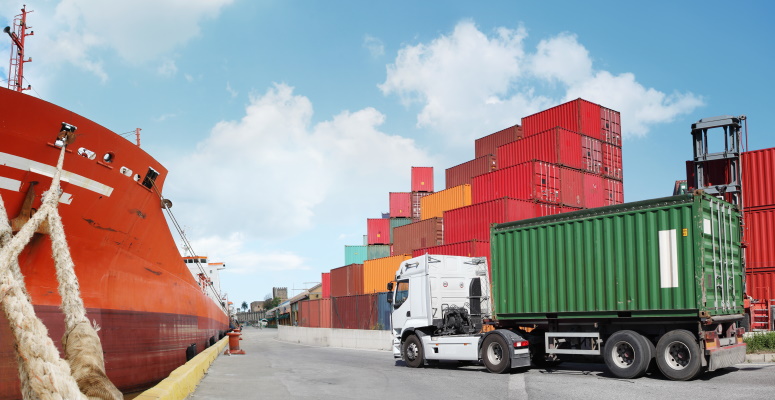 Month in Review – September 2022
Maritime
September 6: Vancouver Port Defers Rolling Truck Age Program to April 3, 2023 – Today's Trucking
The Port of Vancouver will defer implementation of the Rolling Truck Age Program by a final six months to April 3, 2023, according to a letter issued by the port authority on September 3.
The program banning container-hauling trucks with model years older than 2006 in a bid to control emissions was expected to go into effect on September 15.
Transport Canada indicated during discussions that a final adjustment to the program schedule would provide additional flexibility to better enable operators to comply with requirements, the letter addressed to Truck Licensing System (TLS) participants stated.
September 7: North Sea Port Congestion at Critical Level, Hindering Global Trade – The Maritime Executive
Supply bottlenecks and congestion in container shipping are becoming more entrenched and are impacting the global exchange of goods warns the Kiel Institute for the World Economy (IFW) in its latest update on global trade.
According to its analysis, the IFW warns that congestion in container shipping is becoming entrenched at a high level. They calculated that around 11 percent of all shipped goods are currently stuck. In the anchorages observed by the Kiel Institute, congestion in the North Sea is the most serious for the first time. They reported that well over 2 percent of global freight capacity is at a standstill there and can neither be loaded nor unloaded. In the German Bight alone, 19 container ships are waiting to unload their goods.
September 8: Yang Ming 'Under Pressure' from Shippers Demanding Contract Rate Cuts – The Loadstar
Yang Ming COO Chang Chao-feng has admitted that, as spot rates fall, the carrier is under pressure from shippers demanding to renegotiate contract rates.
The line is believed to be the first to confirm receiving demands from shippers for lower contract fees and, on September 7, Mr. Chang said the situation had become more challenging than in mid-year.
He said: "In May, whether for shipments to Europe or the U.S., both shippers and our side were optimistic when negotiating contract rates, which were high. The sharp drop in the spot rates has caused great pressure on these contracts.
"We will discuss the contracts with our customers. At present, some still respect the spirit of the contract. We won't take the initiative to request immediate modifications and adjustments, but we'll make necessary adjustments, depending on the contract."
September 13: U.S. FMC Seeks to Limit Ocean Carriers' Leverage on Container Space – American Shipper
The Federal Maritime Commission is proposing a rule aimed at preventing ocean carriers from locking out customers from the carriers' available vessel space.
The notice of proposed rulemaking (NPRM), expected to be published this week in the Federal Register, will give the public 30 days to comment on a provision included in the Ocean Shipping Reform Act of 2022 that prohibits ocean carriers from unreasonably refusing to deal or negotiate with respect to vessel space accommodations.
"The NPRM outlines the elements which would be necessary to establish a violation and the criteria the [FMC] would consider in assessing reasonableness if the NPRM is finalized," the document states. "The NPRM proposes a burden-shifting regime that would allow ocean common carriers to establish why it was not unreasonable to refuse vessel space to a particular complainant."
The proposal stems from numerous complaints by shippers as well as trends over the past two years revealing dramatic changes in the U.S. import-export balance, particularly between the U.S. and Asia. Shippers have alleged – and the FMC has documented – that carriers have been taking advantage of more lucrative import rates at the expense of reasonable rates and service provided to exporters.
September 15: Port of Quebec Longshore Workers Locked Out – Canadian Union of Public Employees press release
At noon on September 14, the Société des arrimeurs de Québec locked out 81 longshore workers at the Port of Quebec.
On August 30, longshore workers at the port voted 98.5% in favour of pressure tactics up to and including strike action and have resorted to some of them in the time since to move along the discussions at the bargaining table.
The parties have been in talks since June 2022. Discussions have bogged down over work schedules.
September 16: DCSA Digital Standards Poised to Become Globally Accepted – The Loadstar
The Digital Container Shipping Association (DCSA) has become the front-runner in setting digital standards.
Earlier this month, the European Shippers Council announced a collaboration with the DCSA to drive forward to adoption of DCSA standards. Further, Federal Maritime Commission (FMC) commissioner Carl Bentzel recently praised the DCSA as an invaluable tool for streamlining maritime transport.
DCSA standards have also seen burgeoning acceptance outside of Europe and the U.S., in the form of the recent announcement of the Maritime and Port Authority of Singapore (MPA) and the Port of Rotterdam Authority to develop the "world's longest green and digital shipping corridor."
September 19: Fall in Container Spot Rates 'Much Steeper,' 'Less Orderly' Than Expected – American Shipper
Shipping liner executives predicted a continued drop in spot rates during their latest quarterly calls, while offering soothing assurances to investors that the fall would be gradual. Maersk CFO Patrick Jany said it would be a "progressive erosion," not "a one-day drop." Matson CEO Matt Cox emphasized rates were "adjusting slowly" in an "orderly marketplace" and not "falling off a cliff."
The decline may indeed be fairly steady, as opposed to the sudden, violent swings seen in bulk commodity shipping. Yet spot container rates appear to be falling more rapidly than some liner executives expected.
September 19: Rhine Water Levels in Germany Approaching Normal Depths – MarineLink
Water depths on the Rhine River in Germany have risen thanks to recent rain and are approaching normal levels after falling this summer to lows that disrupted transportation, vessel brokers and commodity traders said on September 19.
But since dry weather was forecast for much of this week, levels could fall again and the picture has not yet normalized, brokers said.
Weeks of high temperatures and scant rainfall in August lowered water levels in the river, Germany's commercial artery, causing delays to shipping and pushing up freight costs. There were fears the disruption could knock half a percentage point off economic growth in Europe's biggest economy this year.
September 20: Liverpool Dockers Begin Two-Week Strike After Rejecting Pay Offer – The Loadstar
Dock workers at the port of Liverpool began a two-week strike on September 20, following the breakdown of negotiations with employer Peel Ports.
Felixstowe dockers, also in a dispute over pay, will start an eight-day strike on September 27, ending on October 5.
The International Transport Workers Federation (ITF) said the action was the result of "a failure by Mersey Docks and Harbour Company (MDHC) to honour promises on pay, and profiteering."
Dockers at both Felixstowe and Liverpool are members of Unite and have been negotiating for inflation-level pay increases with their respective employers, who claim they have made generous offers, rejecting calls to meet higher wage demands.
September 20: Maersk After Drop in Shipping Prices: 'We Do Not Renegotiate Contracts' – Børsen
Container freight prices have tumbled in recent weeks, prompting customers to ask carriers to review existing price agreements.
This is not an option at A.P. Moller-Maersk, which will not renegotiate agreements prematurely, the shipping and logistics group told MarketWire.
"Of course, we have an ongoing dialogue with our customers about how best to help them in relation to their logistics needs, but we do not renegotiate contracts," Maersk said in a written response.
September 21: Wan Hai Says It May Be Open to Reducing Shipping Contract Rates 'Short Term' – The Loadstar
Wan Hai has become the second liner operator to acknowledge requests from shippers to reduce contract rates in the wake of falling freight rates.
Similar pressure was reportedly experienced by Yang Ming earlier this month.
Primarily an intra-Asia carrier, Taiwanese Wan Hai entered the transpacific trade in 2020 with U.S. west coast sailings, followed by east coast services last year.
At the time, transpacific rates were at historically high levels, but have since fallen below $3,500/FEU, from a peak of $17,500 last October.
A spokesperson for Wan Hai said: "Some customers did request a renegotiation of contract rates. Our response is to discuss it with them, and we may give discounts for a short period, depending on the market conditions."
September 21: Exposed Carriers Struggling to Pay Sky-High Charter Rates – Splash
The abrupt plummet in boxship charter rates is making plenty of headlines, with warnings that some carriers are struggling to keep up with their rental payments for ships signed earlier at sky-high prices.
Classic panamax tonnage has been fixed in recent days at rates of $40,000 and $50,000 for periods of six months, according to Alphaliner, roughly half what such a vessel size could have obtained only a few weeks ago for the same durations.
September 22: Sea-Intelligence: Carriers Are Increasing Blank Sailings in October – The Maritime Executive
The major shipping lines are once again resorting to blanking sailing from their schedules as a means of controlling capacity after an extended period of deploying every available ship to meet the surge in demand. Using the guise of the upcoming Golden Week holiday tied to China's Autumn Festival, carriers are expected to increase the number of cancelled sailings above historic norms according to the latest calculations from the analysts at Sea-Intelligence.
September 29: Union Rejects Wage Offer, Plans Broader Second Strike at Liverpool – The Maritime Executive
Union officials are planning to increase the pressure on UK ports, announcing plans for a second strike at the port of Liverpool that will encompass more of the employees of Peel Ports, operators of the container port. The announcement of a second strike at Liverpool comes five days before the first strike is due to end and, according to analysts, the timing is designed to increase disruptions to the UK's supply chain.
Currently, nearly 600 dock workers and engineers are in the second week of a two-week strike called by the union that began on September 20. The first strike is due to end on October 2, and Unite now reports that the workers will resume the strike between October 11 and 17.
September 29: Pacific Pilotage Authority Issues Notice of Proposed Revised Service Charges – PPA notice
The Pacific Pilotage Authority issued a notice last week of its proposed revised charges.
The notice includes a description of the proposal, including justification in relation to establishing or
revising the pilotage charge, and the circumstances in which the charge will apply.
Persons interested in making representations to the Authority regarding the proposal may do so in writing no later than close of business on October 30.
Air
September 22: Air Canada Executives Target Doubling Cargo Business by 2024 – American Shipper
The man who got rid of Air Canada's last freighter as CFO 15 years ago now says as CEO he wants to double cargo revenue – with the help of the airline's new freighter fleet.
Decades ago, Air Canada flew Boeing 727-100, Boeing 747 Combi (passenger and cargo sections on the main deck) and DC-8 cargo jets. All were eventually removed from the fleet in the 1990s, part of an industry trend in which most passenger carriers determined the cost structure and infrastructure required didn't justify a separate freighter division in a market with regular peaks and valleys. The cargo division continued its job using the belly space on passenger aircraft.
But Air Canada reassessed its strategy during the pandemic. Cargo became such a strong source of revenue when passenger flying mostly stopped and scores of planes – some with seats removed for extra cabin storage – were repurposed as auxiliary freighters, that Air Canada decided to capitalize on market projections for robust e-commerce shipping growth and fewer widebody passenger jets.
September 23: Boeing CEO: Promises About Clean Aviation Fuel Outpace Technology – American Shipper
Expectations for quick decarbonization of aviation are unrealistic and create pressure to invest in unproven technologies instead of mass production of sustainable aviation fuel, which will have an immediate benefit, said Boeing CEO David Calhoun.
Speaking at a recent U.S. Chamber of Commerce aerospace event, the Boeing chief questioned the speed at which governments and stakeholders are promising change when little biofuels infrastructure exists and alternative propulsion systems are still over the horizon.
"My fear is pace. A lot of potential technologies, hydrogen, including green hydrogen, get talked about, want to get funded and then lead to policy choices that try to accelerate all of that at a very fast pace: 'You'll be green by 2035. Every next airplane has to be hydrogen.'
"You confuse policymakers in the process," he said.
September 26: A Lift for Belly Capacity on the Way After Hong Kong Lifts Hotel Quarantine Rule – The Loadstar
Hong Kong has scrapped its hotel quarantine rule, paving the way for extra bellyhold cargo capacity and a potential boost to the city's ailing economy.
Previously, travellers entering Hong Kong had to quarantine at a hotel for three days, followed by four days of movement restrictions, but this has been replaced by daily testing for the first week after entering the city.
Cathay Pacific said the new measures would allow for the "strengthening of network connectivity to, from and through the Hong Kong aviation hub," adding that it would launch 200 pairs of regional and long-haul passenger flights in October.
Rail
September 8: CN Update on Toronto-Destined Cargo over CN-Mississauga Intermodal Service Centre – CN Customs Bulletin #68
While all efforts are being made to maximize utilization of all authorized offsite depots, CN is still seeing a large number of import containers dwelling at its Toronto terminals. CN is moving Customs-cleared containers to the offsite facilities, however the volume of Customs-cleared containers is insufficient to address the congestion. As a result, CN is forced to look at alternate options to shuttle additional containers.
In consultation with federal government agencies, CN will be handling some Toronto-destined cargo over CN's Mississauga Intermodal Service Centre (MISC) (Port 0495/sub-location 5974).
The goal is to increase the volume of imports that can depart the ports, thereby reducing the time container ships are anchored in Canadian ports. The Canada Border Services Agency (CBSA) is participating in this solution and has established processes to be followed.
CN will pre-identify containers once they depart a port in Western Canada and will notify CN's immediate customers of the change within 24 hours of train departure. While this initiative targets containers moving from ports in Western Canada only, the solution may be extended to ports in Eastern Canada as well should the need arise.
September 12: U.S. Railroads Cut Service in Preparation for Potential Strike – Supply Chain Dive
The four largest U.S. railroads began limiting service on September 12 in preparation for a potential strike that stands to bring freight rail movement across the country to a halt.
Norfolk Southern, Union Pacific, BNSF and CSX all announced they will issue embargoes on certain shipments beginning early this week.
CSX, BNSF and Union Pacific all halted traffic of hazardous materials due to the threat of "spontaneous labour action," according to the Association of American Railroad's list of active embargoes.
Norfolk Southern and CSX said the embargoes were necessary to ensure that critical or even toxic freight is not left abandoned.
September 15: U.S. Railroad Strike Averted as Unions, Companies Reach Tentative Deal – Reuters
Major U.S. railroads and unions secured a tentative deal after 20 hours of intense talks brokered by the Biden administration to avert a rail shutdown that could have hit food and fuel supplies nationwide.
The tentative deal now goes to the unions to be voted on. Even if those votes fail, a rail shutdown that could have happened as soon as midnight on September 16 has been averted for several weeks due to the standard language included in such a deal.
September 23: Two Biggest U.S. Rail Unions Won't Tally Contract Votes Until the Middle of November – Trains
The two biggest rail unions don't expect to tally members' votes on their tentative contract agreements with the Class I railroads until the middle of November.
The SMART-TD union that represents conductors and the Brotherhood of Locomotive Engineers and Trainmen that represents engineers both outlined ratification vote timelines this week in updates to their members.
On September 22, the BLET began a 15-day question and answer period during which general chairmen will reply to the national president's office with any questions or clarifications regarding the tentative agreement.
"Those questions will be consolidated into a single document, and the BLET's National Wage Team, alongside SMART-TD, will return to the bargaining table with the carriers to mutually agree upon the answers to those questions," the BLET said.
Once the Q&A session is complete, ballots will be distributed on or around October 14, with the BLET tentatively set to tally the votes on November 17.
Trucking
September 9: Driver Inc. Enforcement to Expand – Today's Trucking
Canada's Labour Program has acknowledged that the Driver Inc. business model – which involves misclassifying employees as independent contractors – is "widespread." And it's preparing to expand related enforcement initiatives.
Much like a recent pilot project in Ontario, the national strategy will involve outreach to promote good employment practices, increase proactive inspections and continue enforcement activities with non-compliant carriers.
Carriers misclassify truck drivers as independent contractors to avoid or bypass labour laws. The end result denies employees access to things like vacation pay, overtime and termination rights under the Canada Labour Code, said the bulletin distributed by provincial trucking associations.
September 13: CN Update Regarding Valleyfield Intermodal Terminal
Further to the tariff update it sent on July 25, CN advises that Valleyfield Terminal will be closing as of September 30. CN will support all Montreal-destined traffic at its Taschereau Intermodal Terminal.
Note the following related to the Valleyfield Intermodal Terminal:
CN's immediate customers will soon receive details on the last train destined to Valleyfield
Customers are urged to expedite picking up import loaded containers that are currently at Valleyfield Intermodal Terminal
Any import-loaded containers that remain at Valleyfield Intermodal Terminal after September 30, 1900 hours will be moved to CN's Taschereau yard and customers will be assessed on all associated costs involved with the transfer of containers
September 14: Canadian Roadcheck Inspections Ground 22.6% of Vehicles – Today's Trucking
Canadian enforcement teams placed 22.6% of inspected vehicles out of service during the international Roadcheck blitz that was conducted May 17 to 19, compared with a 23.8% out-of-service rate in the U.S.
Teams completed 3,359 Level 1 inspections on this side of the border, placing 760 vehicles and 191 drivers out of service, the Commercial Vehicle Safety Alliance (CVSA) reports. In the U.S., there were 33,196 Level 1 inspections, with 7,912 vehicles and 2,051 drivers placed out of service.
Level 1 inspections involve 37 steps and include vehicles and drivers.
September 29: Recruitment and Retention Becomes a Costly Challenge for Trucking, U.S. Execs Say – Transport Dive
Hirschbach Motor Lines President Brad Pinchuk says the carrier's driver hiring costs have spiked by about 2.5 times since the onset of the pandemic.
"We're having to work harder to keep our trucks filled," said Pinchuk. "We're keeping them full, but we're having to work a lot harder. We're having to spend a lot more money."
Retaining workers across the industry has become costlier. Driver wages per mile in the U.S. jumped 10.8% from 2020 to 2021, increasing from 56.6 cents to 62.7 cents, according to the American Transportation Research Institute's 2022 cost of trucking report.
Bill Kretsinger, CEO of American Central Transport, said drivers are also expecting more from their employers.
CIFFA Advocacy, Communications, Activities
September 22: CIFFA Alberta Customer/Member Engagement Receptions
CIFFA held two Western Canada customer engagement receptions this week, on September 20 in Calgary and September 21 in Edmonton.
Calgary – Hyatt Place Calgary Airport, September 20
Cocktail reception and presentations
Bruce Rodgers, CIFFA Executive Director, provided an overview of CIFFA's membership and education initiatives and thanked members for their support
Julia Kuzeljevich, CIFFA Director, Policy and Communications, presented on CIFFA's advocacy initiatives on the government-relations front
Cindy Brown of the Calgary Airport – the event sponsor – offered a presentation and Q & A on the airport's cargo operations and future plans
Jordan Kajfasz, Assistant Vice President, International Intermodal and Auto, CP Rail, was the keynote speaker
Edmonton – Renaissance Edmonton Airport Hotel, September 21
Cocktail reception, networking dinner and presentations
Bruce Rodgers, Executive Director, CIFFA, on membership and education initiatives
Julia Kuzeljevich, Director, Policy and Communications, CIFFA, on advocacy and government relations
Nasy Panahi, Director, Business Development, CIFFA
Brent Jensen, Director, Business Development, Edmonton Global
Justin Waldeck, Assistant Vice President of Intermodal Operations and Trucking, CN, was the keynote speaker
CIFFA thanks its Alberta-based membership and interested prospects for their attendance, support and feedback.
September 29: CIFFA Strategic Planning
On September 28 and 29, CIFFA held a strategic planning session and National Board of Directors meeting. The meetings were held in Port Credit, Ontario.
Working with Sartori Consulting, CIFFA's strategic planning focused on governance, with a review of CIFFA's previous plan, what worked and what didn't, and proceeded with discussions and exercises around defining CIFFA's strategic goals and measurements to achieve these. A multi-year plan for the focus and direction of the association will be developed following the meeting.