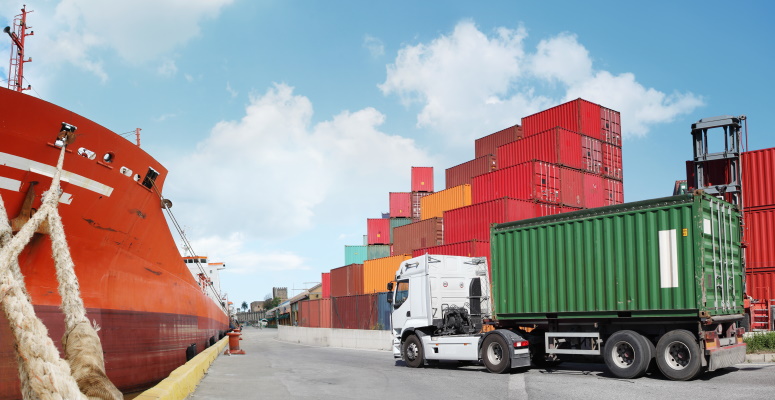 Month in Review – September 2023
Maritime
September 5: Ocean Carriers' Record Rejections Are Last-Ditch Effort to Bolster Spot Rates – American Shipper
Back in May, American Shipper warned that a second-half rebound in U.S. containerized import volumes was highly unlikely, as it was becoming increasingly clear that importers were facing a clear shift in consumer spending (from discretionary goods to more essential goods) and a nagging surplus of inventories that were carried over from last year. The reverse bullwhip effect was clearly going to crack any chances of a robust peak season. It also warned that this dismal outlook for future U.S. import demand may drive carriers to go to extreme lengths to keep upward pressure on spot rates.
Fast-forward to today and the tide is indeed turning quickly, with recent data from SONAR's Container Atlas showing new booking volumes plummeting over 35% from their peak reached on August 1, a key indicator that U.S. import demand is rapidly deteriorating. While this significant drop in future demand is undoubtedly increasing the downward pressure on spot rates, ocean carriers have been pulling out all of the stops to help offset this downward pressure. This means going beyond blank sailings and rejecting a record amount of U.S.-bound containers in a seemingly desperate, last-ditch attempt to bolster spot rates ahead of (and after) their proposed general rate increase on September 1.
September 6: Cars in Containers the Norm as Ro-Ro Sector Capacity Crunch Continues – Seatrade Maritime News
Lack of capacity and congestion in the car carrier sector has driven some freight forwarders and manufacturers to move cars in containers rather than delay exports until space becomes available.
However, differences between insurers on the questions of safety and the movement of cars in containers, particularly electric vehicles (EVs), have emerged following the publication by the International Union of Marine Insurance (IUMI) of the findings of a recent study.
Soaring freight rates, congestion and a lack of ro-ro capacity have seen delays of up to three months or more in the shipment of cars, as sky-high demand adds to the sector's problems.
One freight forwarder who specializes in the handling of cars said, "The cost of moving cars in containers is on a par with ro-ro because, although the freight is cheaper, the cost of loading and unloading containers is greater."
September 7: MSC-Zim Alliance Strengthens, with VSAs 'Across Multiple Trades' – The Loadstar
The world's largest container line, MSC, is joining in an alliance with tenth-ranked Zim across "multiple trades," as both carriers prepare for life outside their cooperation with Maersk within the 2M Alliance.
The Israeli carrier said it had made "a new operational agreement with MSC, encompassing several trades."
Zim explained: "The cooperation scope includes services connecting the Indian subcontinent with the east Mediterranean, the east Mediterranean with Northern Europe and services connecting East Asia with Oceania."
It added that the agreements included vessel sharing, slot purchases and slot swap arrangements.
September 7: Time to Start Worrying Again About Rising Cost of Ship Fuel – American Shipper
At this time four years ago, before the pandemic and the Ukraine-Russia war stole the headlines, the cost of fuel was the big topic in shipping.
The industry was about to implement a sweeping new global regulation, IMO 2020, requiring the use of more environmentally friendly and more expensive very low sulfur fuel oil (VLSFO), with a sulfur content of 0.5%. Added fuel costs would be passed along to cargo shippers, and ultimately, consumers.
Fuel costs spiked as predicted after the regulation went into force on January 1, 2020. Then COVID struck. Demand for gasoline and diesel collapsed, the price of oil plunged, and with it, the cost of ship fuel. By mid-2020, vessel fuel was 30% cheaper than it was prior to IMO 2020. Fears over regulatory fallout waned.
Now, ship fuel costs are rising yet again. The cost of VLSFO is back near highs reached soon after the IMO 2020 first came into effect. Bunker adjustment factors (BAFs) – the fuel surcharges shipping lines levy on their customers – are headed up. And the cost of freight is all the way back down to where it was before COVID – and before IMO 2020 – meaning the pass-along cost to shippers from expensive VLSFO is now a much higher proportion of their total cost.
September 14: Montreal Dockworkers Union Says Changes Made to Hiring List Criticized as Nepotistic – CBC News
The union representing dockworkers at the Port of Montreal says it has ended a long-standing hiring practice that has been criticized for fostering nepotism – to the point where workers' preschool offspring were placed on a list of potential employees.
For decades, the association of shipping companies that use the port has hired longshore workers from a list supplied by the union – a list created by asking each union member to provide a single name.
But the Maritime Employers Association has argued the list is a recipe for nepotism, resulting in few women candidates or members of ethnic minorities, but in some instances children who were barely out of diapers.
In April, a labour arbitrator ordered a series of changes after finding it was impossible for people to get their names on the list unless they were related to current dockworkers.
September 18: Box Lines Hit by Rising Fuel Costs as OPEC Cuts Supply – The Loadstar
As global freight rates continue to fall, container shipping lines are being hit by a huge spike in fuel costs.
This will inflict further damage on the bottom line of the financials of weaker carriers already challenged by second-quarter losses.
According to Ship & Bunker data, the price of Rotterdam-sourced industry-standard low-sulphur fuel (VLSFO) jumped on September 15 by another $8 per ton to $643 and has now increased by 22% since the end of June.
In theory, carriers have fuel cost mechanisms in place to adjust bunker surcharge amounts payable by shippers, but in practice some lines have waived increases within the heavily discounted period of the past few weeks.
September 21: Container Shipping Rates Sinking Further into the Red – American Shipper
It's not looking good for container shipping lines. Peak season is running out of whatever limited steam it previously had. Spot rates are sliding into loss-making territory.
Rates "continue to lose ground, bending under the pressure of insufficient demand and growing overcapacity," said Alphaliner.
According to Linerlytica, "Container market sentiment continues to deteriorate, with freight rates still slipping and little prospect for a rate rebound in October despite carriers' efforts to contain capacity availability through blanked [canceled] sailings."
September 25: Transport Committee Calls for Thorough Review of Canadian Ports – National Newswatch
The government needs to conduct a thorough review of the capacity of Canadian ports and their long-term infrastructure requirements, says the Commons transport committee.
In a 26-page report to the Commons, the committee made 12 recommendations for the government to act on to ensure the 17 Canada Port Authorities (CPA) can fulfill their critical role in handling exports and imports. The Conservatives and NDP offered some additional suggestions.
In addition to the review, the government should reduce red tape and regulatory burdens on the CPAs as much as possible to ensure a more timely, predictable review process for large port infrastructure and expansion projects, the report said.
September 26: As Canadian Shoppers Tighten Their Belts, Vancouver Port Shipments Plummet – CBC News
The number of shipping containers passing through Canada's largest port fell sharply in the first half of the year, driven down by weaker consumer demand and a sputtering economy.
Container volumes at the Port of Vancouver fell 14 percent in the first six months of 2023 compared with the same period a year earlier, the Vancouver Fraser Port Authority said on September 25.
In a phone interview, interim CEO Victor Pang said the figures reflected a stalling economy, which contracted slightly in the second quarter.
"There's some economic softness, overall and for Canada. And you're seeing that through our container numbers," Pang said, noting that the decline was not unique to Canadian ports.
September 29: B.C. Mayor Sounds Alarm over 'Rampant' Crime at Local Port as Expansion Looms – CBC News
The federal government's failure to fund a police force dedicated to Canada's ports is a threat to national security that needs to be dealt with immediately, says Delta, B.C., Mayor George Harvie.
Delta is home to the Roberts Bank Terminal, and expansion plans over the coming years will see millions more containers move through the Port of Vancouver annually.
Harvie says Canada's ports are the federal government's responsibility, but the "total absence" of uniformed police at the facilities makes them obvious targets for criminal elements to set up shop, from Mexican drug cartels to biker gangs.
"We're witnessing a relentless flow of illegal drugs, weapons and contraband into Canada through our ports and that threatens our national security," said Harvie.
The City of Delta released a report on September 28 that it had commissioned about policing of Metro Vancouver port terminal facilities that says there's "literally no downside" for organized criminals to set up shop. "Recently, ports scored very high in British Columbia's provincial threat assessment with respect to the potential for infiltration and corruption," the report says.
September 30: Panama Canal Trims Vessel Passage Quota Again to Deal with Severe Drought – Reuters
Daily ship crossings on the Panama Canal will be reduced to 31 from 32 to soften the impact from a severe drought that is expected to last until next year, the authorities managing the canal said.
The Panama Canal Authority (ACP) in recent months has imposed various passage restrictions to conserve water, including cutting vessel draft and daily passage authorizations, which are normally 36 per day.
ACP said on September 29 that, due to the ongoing water crisis, it "finds it necessary to implement additional changes," with the new rules implemented from November 1.
Air
September 6: Why It's Time for Shippers to Re-evaluate Their Air Cargo Agreements – Supply Chain Dive
With air cargo demand stabilizing and capacity up, shippers are re-evaluating contracts as air freight rates drop, industry executives say.
Following COVID-19's capacity-strapped market, which put air carriers in the driver's seat, shippers are now in a position to negotiate their rates, said Hellmann Worldwide Logistics Airfreight COO Jan Kleine-Lasthues.
"I believe we will see more and more RFQs coming out and shippers [trying] to secure the low rate level which we have at the moment for a longer period," Kleine-Lasthues said. He anticipated possible contract agreements of six to 12 months.
September 22: Air Cargo Tonnages and Rates on the Rise – Air Cargo Week
Global air cargo tonnages showed a positive development in the second full week of September, after stabilizing at the beginning of the month, with average rates also on an upward trend, reaching $2.31 per kilo, according to the latest figures from WorldACD Market Data.
Figures for week 37 (September 11 to 17) show a jump in tonnages of 4%, compared with the previous week, while average worldwide air cargo prices increased slightly (+1%), based on the more than 400,000 weekly transactions covered by WorldACD's data.
Rail
September 11: CN and Norfolk Southern Unveil Domestic Intermodal Service – FreightWaves
Canadian National and Norfolk Southern are pairing up to launch a domestic intermodal service that they say will allow customers in CN-served markets in Canada and the Upper Midwest to access markets in the U.S. Southeast.
The service, which will start October 2, will utilize steel-wheel interchanges in Detroit and Chicago and enable CN customers to gain access to markets in Atlanta and Kansas City, Missouri, via NS.
The two Class I railroads say the new service aims to operate "like a single-line intermodal product" and convert shippers from truck to long-haul rail. The service will also provide opportunities for customers to optimize their cargo loaded weights and give customers the ability to lower their shipment-related greenhouse gas emissions.
According to a webpage about the service, going between Atlanta and Toronto might take 3.3 to 3.7 days in transit time, while going between Atlanta and Calgary might take 7.1 days.
CN and NS' service follows another partnership that CN has with other major freight railroads: the Falcon Premium service between CN, Union Pacific and Mexico's Ferromex, established in the spring.
September 26: Canada's Railways Mark Progress in Emissions Reduction Efforts – Progressive Railroading
The Railway Association of Canada's latest Locomotive Emissions Monitoring (LEM) report confirms that greenhouse-gas (GHG) emission intensities improved across all railway operations, the association announced on September 25.
In 2021, the latest year available for LEM data, GHG emissions intensity for freight-rail traffic decreased 1.2%. Total freight-rail GHG emissions intensity has fallen 25.9% since 2005 while traffic rose 25.5% in that same period, RAC officials said in a news release.
Trucking
September 13: CleanBC Heavy-duty Vehicle Efficiency Program Unveils Next Intake: Offers Carriers Rebates for Fuel Efficiency Upgrades – BCTA press release
The CleanBC Heavy-duty Vehicle Efficiency (HDVE) Program, administered by the British Columbia Trucking Association (BCTA) and funded by the Government of B.C., announces the launch of its latest intake. Designed to promote sustainable transportation practices, reduce emissions and provide economic benefits to carriers, the CleanBC HDVE Program offers an outstanding opportunity for carriers to enhance their fleets' efficiency while contributing to a greener future.
Under the program, eligible carriers are empowered with fuel-management strategies that align with the province's commitment to environmental stewardship. The HDVE Program also includes a rebate system, providing carriers with a financial incentive to adopt fuel-efficient technologies. Carriers can receive rebates of up to $20,000 per vehicle, and an impressive $150,000 per fleet for the purchase and installation of approved fuel-efficient equipment.
September 18: Truck Drivers Among First Round of Express Entry Invitations for Transport Occupations – Today's Trucking
Marc Miller, Minister of Immigration, Refugees and Citizenship, announced that the first round of invitations for transport occupations through category-based selection in Express Entry will occur this week. This focus on candidates with experience in the transport sector – including commercial truck drivers, pilots and aircraft assembly workers – will help the sector attract the skilled talent it needs across the country, according to a news release.
"The transportation sector is crucial to our economy, and if we want to keep things moving, we need to invest in the people that move travellers and transport our goods," said Pablo Rodriguez, Minister of Transport.
"With this new initiative, we are helping address a critical skills shortage while also attracting new, talented people to communities across Canada. Truck drivers, pilots, aviation mechanical engineers and seafarers play a critical role in our economy and Canadians' lives. Filling vacancies in these professions will boost economic growth and create stronger and more resilient supply chains," he added.
These category-based selection rounds will continue throughout the year, alongside general and program-specific invitation rounds.
September 20: Illegally Parked Trucks, Dropped Trailers Add to Parking Woes in Ontario's Peel Region – Today's Trucking
Out-of-town truck drivers trying to find parking spots at the handful of available places in Ontario's trucking heartland are complaining that they are being squeezed out by illegally parked trucks, abandoned vehicles and dropped trailers.
Michael, a longhaul driver from New Brunswick, was left frustrated and worried on a recent evening as he failed to find a parking spot at a truck stop in Mississauga. Running out of drive time, he was forced to park on the street.
"I was lucky I didn't get a ticket. People are dropping tailers next to a sign saying, 'no dropping trailers', and they sit there for weeks," he said.
September 25: Cargo Thefts from Trucks, Warehouses Spike During Q2 – FreightWaves
Truckload carriers across the U.S. saw a sharp rise in cargo thefts during the second quarter – with thieves targeting everything from electronic goods to food and beverage products and construction materials.
Verisk Analytics' firm CargoNet, which tracks voluntarily reported cargo thefts, said there were 566 incidents in the U.S. and 16 in Canada in the second quarter, a 57% year-over-year (y/y) increase compared with 2022.
"In total, thieves stole over $44 million in goods in the second quarter of 2023 and the average shipment value per event increased nearly $100,000 to $260,703 per theft as cargo thieves focused on high-value shipments," said CargoNet.
September 28: Broker Dodges Liability in Illinois Case, Had No 'Control' over Carrier – FreightWaves
In a case with strong parallels to C.H. Robinson vs. Miller and the case known simply as Ye, an Illinois appellate court has removed a 3PL from a more than $18 million decision against a carrier whose truck struck a teenager in 2016.
The decision in the Alliance case was handed down by a unanimous three-judge panel.
Much of the panel's decision was driven by its conclusion about the control that 3PL Alliance had over the carrier and by extension its driver. The question, it said, is whether they were "agents" of Alliance or an independent contractor.
CIFFA Advocacy, Communications, Activities
September 25: CIFFA Writes to Minister of Labour Regarding Negotiations at Port of Montreal
CIFFA was notified on September 24 that the executive committee of CUPE 375 sent a Notice of Dispute to the Minister of Labour after only one meeting with the Montreal Port Authority at which initial demands were exchanged.
As a result of this action, CIFFA sent a letter to Labour Minister Seamus O'Regan seeking government engagement and assistance.
CIFFA has asked the minister and his department "to do everything possible to ensure the continued reliability of port services in Montreal."