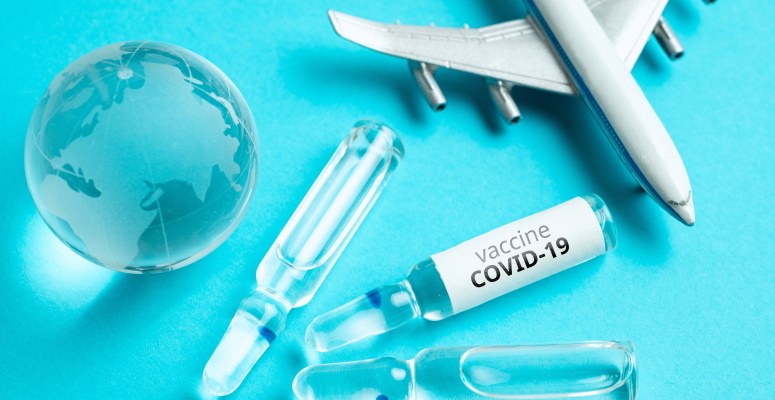 Summary: IATA Webinar – Key Learnings from the Ongoing Vaccine Distribution Effort and Paving the Way for the Future
IATA presented the third of three webinars on the transportation of COVID-19 vaccines on April 21. (See summaries of earlier sessions in the series: Part 1, Part 2.) The two-hour webinar included several speakers and looked at what the air cargo industry has learned and achieved since the first vaccines rolled out in December 2020.
First presenter Brian Pearce, Chief Economist for IATA, provided an overview of the cargo business as it has been affected by the pandemic. Overall now, the movement of cargo has surpassed pre-COVID levels, although there is a lot of variation by trade lane.
Restrictions on passenger travel remain high. While they are likely to loosen where vaccine rollout is progressing well – in the UK and the U.S., for example – restrictions elsewhere can be expected to dampen summer travel for the second year in a row, maintaining the limited availability of belly space that the industry has dealt with for a year now. Despite the growth in volume carried by freighters and so-called "preighters" – passenger aircraft reconfigured to carry freight – total cargo capacity was down 20 percent in January this year over the same month last year.
Mounir Bouazar, who works for UNICEF as the COVID-19 Vaccine Global Logistics Lead of the COVAX initiative, described the major challenges for global distribution of vaccines as IP rights, vaccine nationalism and the ability to provide equal access to vaccine supplies. The access issue can affect people in rural areas, for example, especially in poor countries where distribution resources are lacking. [The UN website includes funding and vaccine hesitancy as other top challenges.]
The airline industry, said Bouazar, has been prepared for vaccine rollout, which gives UNICEF confidence that the busier distribution period ahead will go smoothly. Pricing, however, has been an issue because of funding constraints of the COVAX program.
Jaisey Yip, who works in cargo and logistics development at Changi Airport in Singapore, discussed Project Sunrays, a joint initiative of TIACA and Pharma.Aero, created to help the air cargo industry prepare to meet the COVID challenge. Objectives of the program were to: 1. provide the industry with clarity on needs and expectations; and 2. provide pharma shippers with visibility on airfreight capabilities.
Through the project, participants learned the critical importance of open communication and strong collaboration. At the local level, successful teams came together to develop clear objectives, an inclusive structure and a culture of trust. Many of those teams invested in new cold chain infrastructure. They assessed risks and planned collaboratively to deal with them.
At United Cargo, said Jennifer Haigh, Head of Specialty Products for the Americas, the "overnight" end of passenger travel at the start of the pandemic created enormous issues for cargo operations. At the same time that the United team had to determine how to move all the cargo in its pipeline and coming, it also had to begin to plan for vaccine transport, all with a skeleton staff. A taskforce that brought together employees from groups across the airline developed critical paths, policies and procedures, talked with regulators, collaborated with shippers and packaging companies, sourced dry ice, created a dedicated team for vaccine bookings and more. Lessons learned: cooperation, communications, agility, flexibility and dedication have been critical in this work.
A panel discussion following the presentations provided further insights.
Cooperation of many parties is required for an operation on this scale.
Because of the short shelf life of the COVID vaccines, planning to avoid delivery delays, while also controlling costs, is essential.
Challenges exist in last-mile delivery.
Supplies related to the vaccines are not as highly prioritized, but they are required to be on site to vaccinate. For example, vaccines cannot be used without syringes, but syringes don't always get delivered on time to allow immediate vaccinations. This is an issue not only because it causes delays for people wanting vaccines, but also because vaccines cannot be used after their expiry dates.
Airfreight capacity limitations have caused price increases that make prioritizing low-profit shipments more burdensome for the airlines.
Data sharing enables the enhanced visibility and transparency necessary for efficient distribution.
Manufacturers with 24/7 views on their products in transit can communicate about problems as they arise to protect the vaccines.
A recording of the webinar will be available on the IATA website