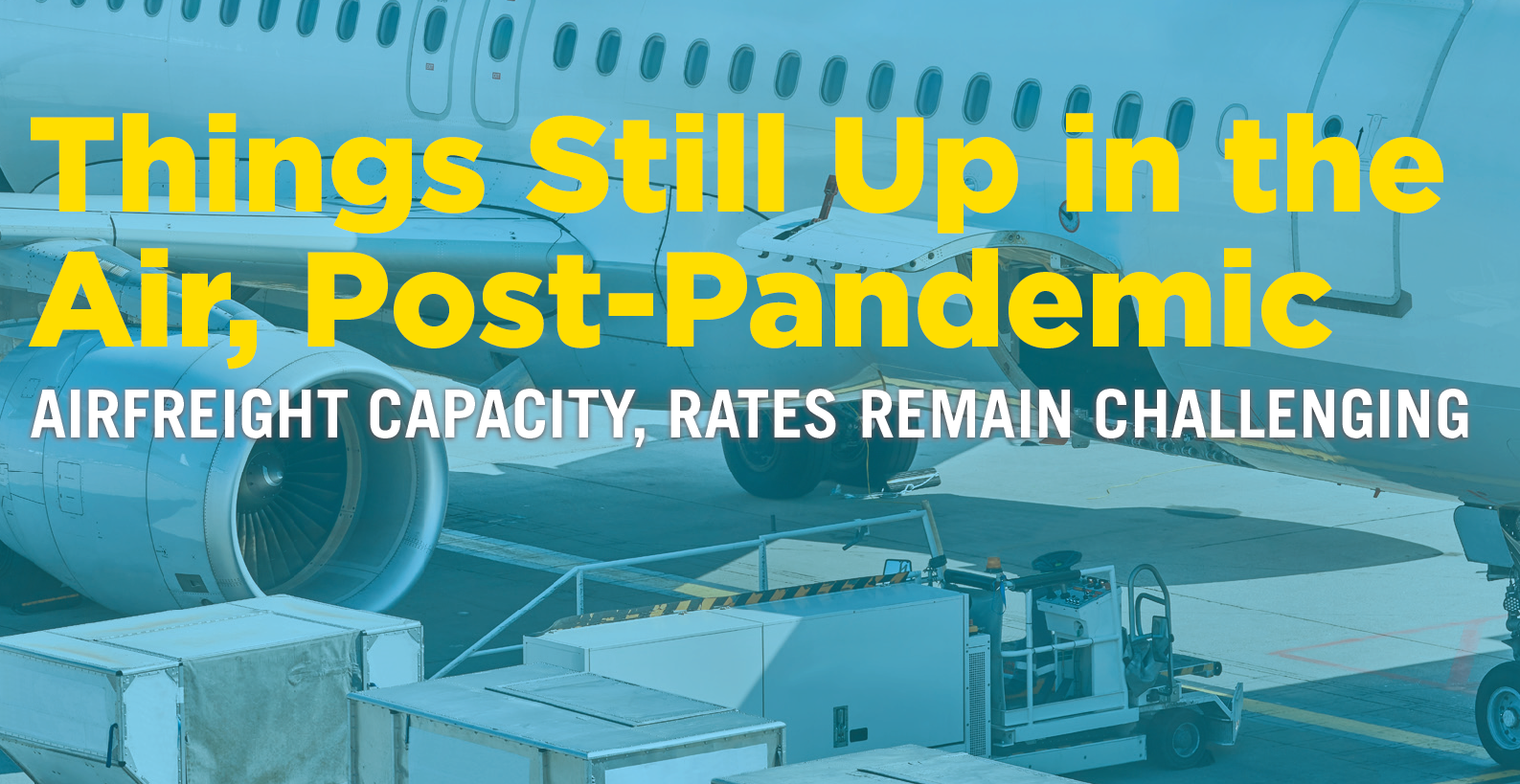 Things still up in the air, post-pandemic
Airfreight capacity, rates remain challenging
By Ian Putzger
A year after the COVID-19 pandemic hit global aviation capacity is still a challenge for forwarders.
Gary Vince, head of air freight, Canada at DHL Global Forwarding, recalled the initial impact on cargo. "With 60-70 percent of belly space gone in a matter of days, it was a major challenge," he said. "The passenger charters were a major benefit. I don't know how we'd have gone through this without that push," he said.
The capacity that has come into the market through freighters and passenger aircraft deployed for cargo missions has alleviated the situation, but lift is still short of demand.
"Reduced capacity has been an ongoing problem," remarked Sean Crawford, managing director, Canada at Crane Worldwide Logistics. The forwarder has run a number of cargo charters through Toronto.
Jason Berry, vice-president cargo of Air Canada, likened the deployment of passenger planes for cargo to putting a finger in a dike, only to see water pour in through another hole. "We continue to see extremely high demand. We are full," said. "We're seeing strength in all lanes."
The shortage of lift has been most serious on routes out of Asia, but Air Canada has been dealing with excess demand across its network, both on inbound and outbound sectors. "We're seeing backlogs on many routes," said Berry. Outbound Latin America has been one of the most challenging sectors.
"We'd love to introduce more lift to markets like Brazil," Berry said, adding that Air Canada would balance the additional capacity it is bringing on across its network.
It has not helped that Ottawa confined international flights to four gateways – Montreal, Toronto, Calgary and Vancouver – since February 1. For Edmonton, it meant that its direct flight to Amsterdam by Air France KLM (AF KL) got suspended a second time, having resumed in September after the initial stop last spring.
"We're moving a lot from Alberta through Vancouver and Ontario," said Crawford, adding that traffic from the Maritimes is trucked to Montreal or Toronto.
Calgary-based Aerodyne Cargo Services, which represents AirBridgeCargo, used to fly some traffic on British Airways from Calgary to Amsterdam to feed the Russian cargo airline's departures from the European city. After the suspension of BA's Calgary flight it put freight on Cargojet to connect with BA's departure from Toronto.
"It works. The transit times are reasonable," said owner and managing director Ron Buschman.
The loss of international flights from second-tier gateways has also had repercussions for lift out of the big hubs. For Rhenus Logistics Canada, services out of Ottawa and Edmonton provided additional widebody lift if capacity out of Toronto, Vancouver or Calgary was tight, noted CEO Jeff Cullen.
"We rely on the major gateways. They have become more important," said Vince. Overall, this has not been a major problem, but it has been a greater challenge for life sciences shipments because of the temperature control requirement, he added.
He remarked that international freighter flights out of the US have remained largely unchanged, which has been an important access route to international markets for Canadian shippers and consignees.
"We take big stuff either to Chicago or JFK. There is adequate capacity close enough," said Ken Singh, president of Atlas International Freight Forwarding.
According to Vince, cross-border trucking has not faced any issues for short runs. Longer routes, which normally require a team of drivers, have been more challenging.
"Truckload has been manageable, LTL has been challenging," remarked Crawford.
Some traffic out of Edmonton that used to go on AF-KL has been trucked to other gateways used by the airline, but most of it has been flown out on freighters for the express companies, especially pharmaceuticals and other commodities that need short transit times, reported Alex Lowe, manager of global network development (cargo) of Edmonton Airports.
Freighter capacity at Edmonton has increased massively. Freighter landings were up 16 percent last year, and cargo charters surged 214 percent.
"We had a big increase on the scheduled freighter side. Most have increased their gage and frequency," said Lowe. To accommodate the anticipated growth the airport is going to add 47,000 sq m of cargo apron space to enable it to park up to nine widebody freighters. It is also going to more than double its cold storage space.
Canada's two big carriers are upping their capacity. Cargojet, which registered a 46.3 percent increase in block hours last year, is adding more freighters to its lineup. In February it announced plans to expand its fleet with the addition of five B767-300 freighters (three of them to replace older planes). On top of this, Canada's largest freighter airline is moving into the large widebody bracket with an order for two Boeing 777 freighters, plus options for two more.
The two 777s on order are due to join its fleet in 2023, with the options likely to follow in 2024. These planes reflect management's decision to push more into international markets, where its presence is currently limited to two weekly flights through Halifax to Cologne. Demand on that sector has been very strong in both directions, reported executive vice-president Jamie Porteous.
It was the first time that Cargojet ordered aircraft without having customers already in place.
"We see demand for international air cargo remain strong for the next 3-5 years minimum," said Porteous. "If we had the aircraft today we could put them into business 150 percent."
Air Canada is moving into the freighter arena through conversions of B767-300ERs from its passenger fleet. Having lined up two conversions late last year, it has since announced the decision to bring in five more. The first two are due to enter service in August and October respectively – in time for the 2021 peak season – and the other five are expected to join the fleet before the end of next year.
To address the current capacity shortage the airline is stepping up its cargo flights with passenger planes. In early March the cargo division obtained the blessing from the board to remove the seats from three more B777s and two A330s. It has already used four 777s and three A330s without seats to optimise capacity on the main deck.
In addition, Air Canada is taking two parked B787s out of storage to use for cargo missions. By early March is was running over 220 cargo flights a week, up from 150 during the Christmas peak. By May this will be up to 250-260 weekly flights, according to Berry.
While it has been doing charters for customers, the focus is on building a reliable network that offers customers consistent flights, he stressed.
Demand projections – particularly in regard to e-commerce – and the slow recovery of bellyhold capacity point to a continuing shortage of capacity, a situation that is bound to keep rates high and market conditions volatile. Carries like Air Canada may be striving to offer steady lift, but contracts and pricing remain short term.
"It's very much ad hoc. We don't lock in capacity beyond a week or two, unless it's on freighter. It's week to week, in the best case month to month, especially with passenger charters," said Vince.
"Forecasting and planning is very challenging now. You book 5-7 days ahead at best. It's all very transactional as opposed to strategic," he continued.
"I don't think anybody is in a hurry to do BSAs or allocations outbound; inbound the airlines are not signing contracts," remarked Singh.
The lofty price levels could get nudged higher yet by fuel costs. The price of kerosene has climbed steadily since October. Airlines are not likely to swallow higher fuel costs, especially when it comes to passenger aircraft flying cargo missions, where margins are tight.
"Fuel is always a concern," said Berry, adding that high kerosene prices could hurt flights in some sectors. In their plight, passenger airlines' major objective is to manage cash flow and they monitor the costs of each flight nervously. If elevated fuel costs cannot be passed onto shippers, that could deal another blow to capacity availability. Already shippers are looking for less expensive alternatives to airfreight, noted Cullen.