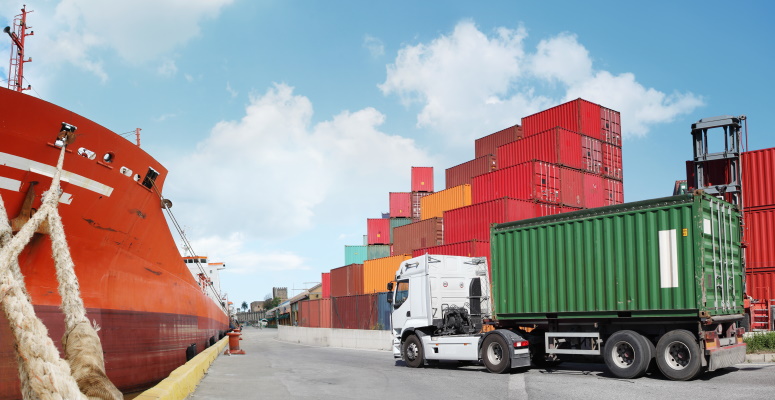 Month in Review – July 2022
Maritime
July 3: California Ports Piling Up Again: Too Many Containers Sitting Too Long – American Shipper
At the height of last year's "will Christmas be canceled?" supply chain freak-out, the ports of Los Angeles and Long Beach – with the Biden administration's backing – proposed a highly controversial fee on import containers that sat too long in terminal yards.
The mere threat of this fee, announced on October 25 for implementation on November 15, seemed to initially chase more boxes out the gates, as designed. Every week since then, like clockwork, the ports have cited progress and announced that the fee enforcement would be postponed until the following week.
Now, the container dwell numbers are getting worse and becoming increasingly hard to sugarcoat.
July 4: Boxport Congestion Spreads Across the Globe Again – Splash
Boxport congestion is growing across multiple continents. Clarksons' containership port congestion index shows that, as of June 30, 36.2% of the global fleet was at port, up from 31.5% in the pre-pandemic years from 2016 to 2019, with Clarksons observing in its latest weekly report that congestion on the U.S. east coast has recently risen to near-record levels.
An operational update from German carrier Hapag-Lloyd, issued on July 1, highlighted the myriad congestion issues facing carriers and shippers around the world.
Across key Chinese ports such as Ningbo, Shenzhen and Hong Kong, terminals are under pressure with yard and berth congestion thanks to ongoing COVID measures and the typhoon season.
At other key Asian ports, yard density is reported hitting 80% in Singapore and is higher still, at 85%, at South Korea's top port, Busan.
July 4: Market Questions Peak Season Scale as Consumer Sentiment Drops – Hellenic Shipping News
Container freight market participants are looking with unease toward peak import season and beyond as booking inquiries for U.S. imports remain under pressure amid rising inflation and a weak economic outlook.
Trans-Pacific volumes and booking inquiries edged down further in the final weeks of the second quarter as shipowners reported lower vessel utilization out of Asian loading gateways. One shipowner source noted that "spot market space is ample out of China."
In-kind freight on the North Asia-North America run has been under pressure during Q2 as pockets of vessel space have opened up. North Asia-to-West Coast North America slid 10% during Q2, coinciding with a dip in volumes brought on by extensive lockdowns in and around Shanghai, which began to unwind June 1.
But despite easing restrictions in Asia, volumes have failed to rebound to meet prior expectations, while consumer appetite appears to have waned in the U.S., and large retailers have been heard cutting back orders amid an abundance of inventory.
July 5: Average Global D&D Charges Fall, but Are Still Four Times Higher in the U.S. – The Loadstar
Average global demurrage and detention (D&D) charges have fallen this year, but remain around 12% higher than before the pandemic, according to a new survey by online equipment trading and leasing platform Container xChange.
However, the average is skewed by huge D&D fees imposed on shippers in the U.S.
Container xChange collected more than 20,000 data points from publicly available sources, which were then compared against D&D fees imposed on customers by carriers.
According to its findings the global average D&D charge levied by carriers two weeks after containers were discharged (the free time) increased by 38% last year to $868 per container, from $586 in 2020.
So far this year, the average D&D fee has eased to $664 per container.
July 7: Roberts Bank Terminal 2: Project Update and Next Steps
On March 15, the Impact Assessment Agency of Canada (IAAC) concluded a public comment period on the Vancouver Fraser Port Authority's information request response and on the draft conditions for the project.
VFPA has provided a final submission to IAAC in several parts that shows how topics raised during the public comment period will be addressed:
On April 22, the VFPA submitted part one of its two-part submission, which included its feedback on the draft conditions and responses to submissions made by Indigenous groups, government and the public during the public comment period on topics like project need, benefits and enhanced mitigation measures to protect key species
On May 13, it submitted supplemental information to part one of the submission, which included the port's response to submissions from Indigenous groups that had not been posted to the public registry in time for consideration in the April 22 submission
On June 10, the port submitted part two of its two-part submission, which included feedback on the draft conditions and responses to comments received during the public comment period related to biofilm and western sandpipers
Next steps in the project development
IAAC is reviewing submissions received during the public comment period to develop recommendations and final conditions for the Minister of Environment and Climate Change. The minister will then determine whether the project has significant adverse environmental effects and, if so, will refer the decision to cabinet.
The VFPA is hopeful that a decision will be made this year. In the meantime, the port continues to prepare for procurement, a Fisheries Act Authorization and other required permits, as well as ongoing consultation with Indigenous groups, to quickly advance the project if a positive decision is made.
July 7: Win Streak Continues: Container Lines Just Posted More Record Results – American Shipper
Ocean carriers are still posting record or near-record results. Several Asian liner companies have just released preliminary revenues and profits for Q2 2022, as well as monthly operating data through June.
Despite pessimistic sentiment on stocks, the numbers are still huge.
July 8: There's Over $40 Billion in Cargo on Container Ships Waiting Offshore North America – American Shipper
Anchorages continue to fill with waiting container ships off East and Gulf Coast ports, where vessel queues have now far outgrown those off the West Coast. Along all three coasts combined, the number of waiting container vessels remains exceptionally high.
There were 125 container ships waiting off North American ports on July 8, according to an analysis of ship-tracking data from MarineTraffic and queue numbers from California.
Container ships waiting off U.S. and British Columbia ports had a combined capacity of 1,037,164 twenty-foot equivalent units.
July 13: More Than 3,000 Trucks Wait at Bangladesh's Chittagong Port to Unload Exports – The Loadstar
Some 3,300 trucks, laden with export cargo, are waiting at the gates of the 19 off docks in Chittagong to unload goods, while some 9,300 TEU export-ready containers are awaiting vessel designation for shipment.
A seven-day suspension of trucks from highways was imposed in order to facilitate the movement of public buses and other vehicles for people leaving cities to celebrate Eid ul Azha.
The Bangladesh Inland Container Depot Association (BICDA) said they were forced to stop receiving cargo from July 6, after several thousand trucks arrived at the port.
The association said that, before shutting down factories for holidays, cargo owners sent all emergency and non-emergency shipments to the depots at once, creating congestion at the gates.
July 14: U.S. Feds Give Shippers New Power to Dispute Ocean Carrier Charges – American Shipper
New guidance issued by federal regulators aimed at fighting unreasonable ocean carrier charges is short on detail but long on historic importance, according to a U.S. exporter group.
The advisory enacts provisions of the Ocean Shipping Reform Act of 2022 (OSRA), signed into law last month, by providing a simplified process for container carrier customers who want the Federal Maritime Commission to investigate their complaints.
"Today is a landmark moment in the history of the Federal Maritime Commission and the U.S. shipping public," said Peter Friedmann, executive director of the Agriculture Transportation Coalition (AgTC), in a statement. "The provisions in OSRA calling for informal processes to facilitate effective FMC enforcement are perfectly implemented in the Commission's Industry Advisory today."
The one-page advisory outlines steps for filing charge complaints against the carriers. Among the steps are identifying the carrier and the alleged violation, submitting documentation, confirming that the disputed charge was incurred after the June 16 enactment of OSRA, and submitting all the materials in one email, if possible, to the FMC.
July 20: Low Water on Rhine Threatens Repeat of 2018 – gCaptain
Low water levels in the Rhine River may have a similar impact on German economic output as they did in 2018, according to Berenberg, a European private bank.
That was the last year in which the river, a key waterway that's critical for moving coal, car parts, food and thousands of other goods, experienced a "dry year," economist Salomon Fiedler said in a report to clients.
Citing analysis by the Kiel Institute, he said that, in a month in which water levels are below the 78-centimetre (31-inch) threshold every day, German industrial production is "about 1% lower than in a month with no low-water days." Delayed effects in the following month brings the overall impact to about 1.5%.
July 22: 'Lines Banging on Our Door' as Spot Rates Tumble and Peak Season Disappoints – The Loadstar
Container spot rates from Asia to Europe and the U.S. are coming under increased pressure, as the peak season appears "muted" at best.
Freight rates from China fell this week on 19 of the 21 routes covered by the Ningbo Containerized Freight Index (NCFI), with its China-Europe and China-U.S. components in particular dragged down by "insufficient volume."
The NCFI commentary said most carriers had been obliged to discount as spot rates "continue to decline."
Spot rates for North Europe fell to $9,092 per 40ft this week, according to Drewry's WCI index, although the CEO of a UK forwarder said recently it had been offered a rate of $7,000 per 40ft through August.
"They were not interested a month ago, but now the carriers are banging our door down for business again," he said.
July 28: Staff Strike Set to Hit Felixstowe in August – Seatrade Maritime News
Dockworkers at the UK's largest container port voted in favour of strike action over a pay dispute.
The Unite union reported that 92% of workers voted in favour of industrial action on an 81% turnout. The vote comes after the Felixstowe Dock and Railway Company offered staff a 5% pay increase while the Retail Price Index (RPI) – a measure of inflation – stood at 11.9%. The latest pay offer adds to an increase last year of 1.4%, again below inflation.
July 28: Record Container Ship Traffic Jam as Backlog Continues to Build – American Shipper
If you only look at Los Angeles and Long Beach – the largest container import gateway in America – you'd think shipping congestion has drastically dropped. The number of ships waiting there has fallen to 26 from a high of 109 in January. But in fact, North American port congestion has just re-entered record territory. The offshore traffic jam is once again as bad as it's ever been.
In January and February, when North American congestion previously peaked, there were just under 150 container vessels waiting off the coastlines. Two-thirds were in the Los Angeles/Long Beach queue.
As of July 28, there were 153, the majority off East and Gulf Coast ports. Whereas the earlier West Coast pileup was centralized, highly publicized and relatively easy to track, the current ship queue is more widely dispersed and attracting less attention.
Air
July 6: Air Canada Bans Pets from Travelling in Cargo Hold Until Mid-September – CBC News
Air Canada has stopped accepting new requests for pets to travel in the baggage compartment of its flights until September 12, as major airports around the country face travel delays, flight cancellations and logistical challenges.
Small animals will still be allowed in the cabins of most flights, provided they can lie down in a carrier under the seat in front of the passenger.
July 22: Airfreight Rates Out of Asia Take a Dive as Demand from the West is 'Subdued' – The Loadstar
Asian forwarders are reporting a large drop in airfreight rates, but don't believe this is the end of elevated prices, nor a significant fall-off in demand.
One Southeast Asian forwarder said: "The demand for airfreight to Europe and the U.S. is looking a bit subdued. However, we note that, this time last year, it wasn't too strong either. Coupled with the fact that there is substantially more capacity this year, I wouldn't say demand has dropped drastically."
Rail
July 5: CN Update: IBEW Agrees to Binding Arbitration, Ending Strike
The International Brotherhood of Electrical Workers (IBEW), which represents approximately 750 employees in Canada, has agreed to binding arbitration with CN, ending its strike effective 00:01 EDT on July 5.
July 8: Railroad Bottleneck at Busiest U.S. West Coast Ports Reaches Inflection Point – CNBC
60% of all long-dwell containers at the Port of Los Angeles are rail-bound.
Container wait for rail is a little over 8 days for the ports of Los Angeles and Long Beach.
East Coast ports, including the Port of Norfolk, Port of Savannah, and the Port of New York and New Jersey, are seeing more shipping activity as a result.
July 14: Congestion Hits Rail Flows from Canada's Ports as Boxes Begin to Pile Up – The Loadstar
Rail flows from ports to the Canadian metropolises of Toronto and Montreal are stuck in low gear, with no end of the congestion in sight.
Boxes have piled up at the ports of Vancouver and Prince Rupert, as it takes longer to move them off the docks to urban centres in the east. On July 12, three out of four container facilities at the port of Vancouver (Centerm, Deltaport and Fraser Valley Docks) showed box dwell times in excess of seven days.
For the rail carriers, the port's website indicated dwell times of more than seven days at three of the four facilities served by Canadian National (CN) and one of the three Canadian Pacific (CP) sites.
This is the result of problems in the interior, notably clogged up rail facilities in the Toronto area and Montreal.
Trucking
July 2: Port of Vancouver Truckers Poised to Withdraw Service over Environmental Mandate that Forces Some to Buy New Trucks – Vancouver Sun
The United Truckers Association voted on July 1 in favour of job action against a recent Port of Vancouver directive that forbids operators from driving vehicles more than 12 years old.
Gagan Singh, spokesperson for the association, said that 639 of the 1,000 members voted to withdraw service, with no votes against.
Singh said the next step is "to consult with our directors and we will talk to the unions about the (job action) date, should we consider it." Meetings are planned for July 5.
The truckers are upset about the Rolling Truck Age Program, which is set to begin on September 15 and will impact about 20 percent of the 1,800 trucks that haul containers to and from the ports in a bid to reduce emissions.
The union has said 360 drivers will need to buy a new or lightly used truck, which can cost more than $200,000.
"These costly measures will put extreme financial burden on container truckers amid the highest rates of inflation and unaffordability in a generation," said Singh.
July 4: Fleets Filling Seats with Flexible Work for Truck Drivers – Today's Trucking
A bird in the hand is said to be worth two in the bush, but two birds in a bush might be even more valuable if you can get them to work for you. Consider fleets that are realizing the benefits to offering part-time flexible work to drivers who don't want full-time positions. Two part-timers can be even more productive than one full-timer.
For rookies, one of the toughest aspects of trucking is adjusting to time away from home. Ask any fleet recruiter or driving school and they will agree that a lot of potential candidates wash out within a year because of family pressures related to time away.
As they age, many truck drivers also want to slow down a little, maybe work locally or regionally rather than longhaul. If these drivers can't find some way to make a job work for them, they head for the door.
July 6: ELD Enforcement Coming January 2023 – Canadian Trucking Alliance press release
There will be no more delays in enforcement of the electronic logging device (ELD) mandate for federally regulated carriers, authorities confirm to the Canadian Trucking Alliance. The mandate will take effect on January 1, 2023.
CTA has been advised by the Canadian Council of Motor Transport Administrators that the provinces and territories are firmly committed to enforcing the ELD mandate in January 2023 and no announcements on further delays are expected. If a particular jurisdiction is not able to enforce the rule in January, all others that are ready will proceed with enforcement at that time.
July 11: Feds Announce New Incentives for Medium- and Heavy-Duty Zero-Emission Vehicles Program – Canadian Trucking Alliance press release
Minister of Transport Omar Alghabra announced on July 11 the Government of Canada will be introducing a medium- and heavy-duty zero-emission vehicles (iMHZEV) incentive program, which will provide approximately 50% of the cost difference between traditional diesel vehicle and a zero-emission alternative to assist trucking fleets in reducing their carbon footprint.
Businesses will have the option to purchase or lease new vehicles under the iMHZEV program, with a maximum of 10 incentives or $1 million available per calendar year. The incentive will be applied at the point-of-sale by the dealership or other authorized sellers such as original equipment manufacturers and/or vehicle finishers/distributors.
July 21: CRA Announces New Initiative Aimed at PSBs and Driver Inc. – Canadian Trucking Alliance press release
The Canada Revenue Agency (CRA) recently released a bulletin outlining efforts to increase oversight on personal services businesses (PSBs) – a technical tax term for what many in the trucking industry believe is used as cover for companies who are engaged in the illicit practices as part of the Driver Inc. scheme.
At its core, the Driver Inc. is a tax evasion practice whereby truck drivers, who would normally be considered employees, are purposefully misclassified – either by choice, force or manipulation – as independent contractors or PSBs through the company they work for. This allows the carrier to avoid paying payroll taxes such as the employer portion for Employment Insurance (EI) while also allowing them to pocket the savings when it comes to paying drivers overtime, vacation pay, paid sick days, etc. It is also often used to shed Workers' Compensation costs (premiums), which are paid by the employer to cover lost wages for workers who are injured on the job like falling at a workplace or an accident on the road.
In its PSB bulletin, CRA outlines tax implications for PSBs and provides examples of Driver Inc.-type arrangements. In addition to releasing these educational materials, the CRA has announced a targeted enforcement pilot against misclassified PSBs in certain sectors like trucking.
July 27: Canada's Spot Market Beginning to Normalize: Loadlink – Today's Trucking
Canada's spot market saw an influx of capacity amid softening freight demand in June, according to Loadlink Technologies.
The shift signals a return to normalization. Spot market loads fell 23% from record May volumes, but remained 7% higher year over year.
Outbound freight to the U.S. dropped 53% from May, but remained up 21% from last June. Inbound cross-border loads fell 34% from May and were down 6% year over year. Domestic loads dipped 21% from May, but remained 25% stronger year over year.
CIFFA Advocacy, Communications, Activities
July 8: Letter to CIFFA from Federal Transport Minister
The Honourable Omar Alghabra, Canada's Minister of Transport, has responded to a letter from CIFFA. He said: "I recognize the important work being advanced by CIFFA and its contribution towards the supply chain efficiency and the vital transportation links between shippers, receivers, and end customers," and has invited CIFFA to participate in coming sectoral and regional roundtables. 
July 12: CIFFA Membership Survey Results Are In
Twenty-five percent of member companies participated in CIFFA's recent membership satisfaction survey.
Highlights of the survey are as follows:
Overall, 87.8% of our members are satisfied with their membership, half of whom indicate that they are very satisfied.
When asked what business concerns CIFFA could assist with, members identified more outreach with government on issues affecting the supply chain and related costs. This was followed by continued work with the younger generation to better secure our future.
Advocacy remains the most important item that we deliver, followed closely by educational courses, the eBulletin and industry communication.
Members are anxious to see a return of networking events, with requests for greater reach outside of Montreal, Toronto and Vancouver.
The majority of respondents were unaware of our Affinity Program, through which some of our valued Associate Members provide discounts or further cost-saving options to all member individuals. Further information can be found on our website under the Membership tab: Why Become a Member?
Our committee work continues to be very well received, receiving a 76% satisfaction rating.
July 20: CIFFA's Canadian Young Logistics Professional of the Year Wins Americas Contest
Congratulations to Karina Daniela Perez Perez, who has won the Americas Region competition in the 2022 Young Logistics Professionals Award competition.
Karina was selected by CIFFA in January as the Canadian Young Logistics Professional of the Year, after a review of her industry experience and a written dissertation demonstrating her technical knowledge.
Next, as the Americas regional winner, Karina will compete at the FIATA World Congress, where she will present her dissertations to the Award Steering Committee that will subsequently announce the global 2022 Young Logistics Professional of the Year.
Karina's dissertations illustrate the transportation of two key products for the Canadian economy, the challenges that freight forwarders must overcome to successfully deliver goods, and the resiliency of the supply chain with a focus on sustainability.
Karina currently works at DSV Air & Sea in the ocean exports department.
July 20: CIFFA Consults with National Supply Chain Task Force
On July 19, CIFFA's Executive Director Bruce Rodgers and Director, Policy and Communications Julia Kuzeljevich consulted with the Secretariat to the National Supply Chain Task Force, appointed by the federal government and mandated with the task of producing a report on the state of Canada's supply chain by end of September 2022.
The National Supply Chain Task Force is chaired by Louise Yako and Jean Gattuso, who were appointed by the Minister of Transport, the Honourable Omar Alghabra, "to lead a task force of diverse industry experts to recommend government and industry actions designed to increase competition, access, resiliency, redundancy, efficiency, and investment in both the domestic and international linkages of our transportation system and supply chains, as well as examine ways to reduce congestion and improve levels of service."
CIFFA provided input as to member concerns about supply chain fluidity issues, chokepoints, and possible contingencies, short- and longer-term solutions.
CIFFA will also provide a written submission to the Task Force.