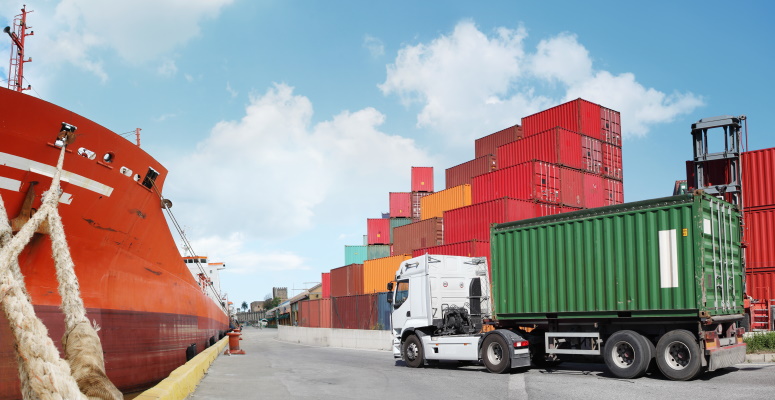 Month in Review – September 2021
Maritime
September 8: China's First Autonomous Boxship Readies to Enter Service – Splash
The race to develop operational autonomous vessels is intensifying, with the announcement that the AV Zhi Fei, a Chinese-built 300-TEU cargo vessel is set to enter service in October on a short-sea route between Dongjiakou and Qingdao.
September 9: Peak Season Delays Push Transpac Rates Past $20K/FEU – American Journal of Transportation
Clogged ports and peak demand combined to push Asia-U.S. West Coast rates past $20K/FEU for the first time this week. Asia-East Coast rates likewise climbed by more than 10%, as backlogs have grown in ports like Philadelphia.
Delays in European ports are contributing to rising transatlantic rates too, with Europe-N. America East Coast prices spiking 18% this week to nearly $7K/FEU, 4X a year ago, after more than two months of stability.
September 10: CMA CGM Freezes Spot Rates amid Trade Chaos – American Journal of Transportation
The world's third-largest container carrier said it's capping spot rates for ocean freight for the next five months, yielding to pressure from some customers and regulators concerned that global trade disruptions have pushed the cost of shipping too high.
"Although these market-driven rate increases are expected to continue in the coming months, the group has decided to put any further increases in spot freight rates on hold for all services operated under its brands," CMA CGM SA said in a statement on its website.
The decision took effect Thursday and runs through Feb. 1. The company said it's "prioritizing its long-term relationship with customers in the face of an unprecedented situation in the shipping industry."
September 13: 2M Blank Sailings Resurface and Take Angry Shippers by Surprise – The Loadstar
A container shipping line announcement that it would blank four sailings in the Golden Week period has left shippers, still struggling to get cargo out of Asia, "staggered" at the move.
2M is the first alliance to announce blank sailings over China's October holiday period and has left some shippers in limbo, with booked cargo on the cancelled sailings and still struggling to find capacity on brim-full export ships from Asia.
Maersk and MSC, the 2M partners, have cancelled four scheduled Asia-North Europe loops in weeks 39 and 40, thereby removing some 70,000 TEU of capacity from the route.
The reason, said MSC, was "to enhance schedule reliability."
September 13: Port Operations in Shanghai and Ningbo Halted by Typhoon Chanthu – Lloyd's Loading List
Ports in Shanghai and Ningbo, the world's largest and third-largest container hubs, have closed for the second time due to the impact of a typhoon this summer.
China's National Meteorological Centre issued an orange alert, the second-most serious level, for the Typhoon Chanthu, which was expected to make landfall in the Zhoushan Archipelago, Zhejiang province on Monday with strong gales and heavy rainfall.
Terminal operators at the nearby Yangshan Deepwater Port, which accounts for about 45% of Shanghai's throughput, suspended all box pickup and delivery operations from September 13.
The two main port areas, Waigaoqiao and Wusong, halted the entry and exit of containers at the same time.
September 13: Exporters Ratchet Pressure on Biden to Take on Shipping Challenges – American Shipper
A historic peak shipping season with significant container ship backlogs is being used by a coalition of U.S. agricultural exporters to promote regulatory changes attempting to rein in alleged abuses by container carriers.
In a letter sent to the White House, 76 groups representing various agricultural export commodities warned that steps taken so far by the Biden administration to address the problem are not enough. They claim that operational tactics that carriers continue to employ are burdening exporters with unreasonable costs and robbing them of foreign-market opportunities.
September 16: Record Shattered: 61 Container Ships Stuck Waiting Off California – American Shipper
The number of container ships at anchor or drifting in San Pedro Bay off the ports of Los Angeles and Long Beach has now blown through all previous records and is rising by the day.
There were an all-time-high 61 container ships in the queue in San Pedro Bay on September 15, according to the Marine Exchange of Southern California. Of those, a record 21 were forced to drift because anchorages were full.
Theoretically, the numbers – already surreally high – could go a lot higher than this. While designated anchorages are limited, the space for ships to safely drift offshore is not.
September 17: Little Relief in Sight for Container Equipment Shortages – Lloyd's Loading List
The shortage of containers that is plaguing shippers is not due to any underinvestment in the equipment fleet, but due to the extended time they are spending in transit, according to container shipping specialist Drewry.
"Not only have we got rising cargo demand, but there is the continuing disruption across the container supply chain, which means it is taking much longer for containers to complete their voyages," Drewry head of research Martin Dixon said, explaining that it is these delays that are leading to inefficiencies in the container fleet.
September 17: 'Scandalous' New Surcharge Wipes Out Effect of Carrier Rate Hike Moratorium – The Loadstar
The huge earnings of ocean carriers in the first half of the year will gather pace in Q3 and Q4, as old contracts expire to be replaced by new but much higher short- and long-term deals.
Maersk was obliged last week to again upgrade its full-year EBIT guidance by a further $4 billion to $4.5 billion, after it reported Q3 trading was "significantly ahead of our previous expectations," assessed during its outlook update in August.
September 20: Crew Change Crisis Getting Worse – Seatrade Maritime News
A year ago, the crew change crisis was attracting mainstream media attention, but it now seems to have dropped from view, a victim perhaps of the dreaded "new normal," while ship managers and owners continue to struggle with lengthy quarantines, travel restrictions and regulations that simply prohibit crew change.
Anglo-Eastern Univan CEO Bjorn Hojgaard took to LinkedIn to vent his frustrations that the crew change crisis is "getting worse, not better" and stating that ports and nations were to blame.
"The way we treat seafarers in 2021 is absolutely shameful. Since the pandemic started, crewing departments the world over have scrambled to facilitate crew change against increasingly difficult odds," Hojgaard wrote.
Hojgaard is by no means alone in his frustrations over the lack of action over the crew change crisis.
September 24: Container Ships Now Piling Up at Anchorages off China's Ports – American Shipper
There are over 60 container ships full of import cargo stuck offshore of Los Angeles and Long Beach, but there are more than double that – 154 as of September24 – waiting to load export cargo off Shanghai and Ningbo in China, according to eeSea, a company that analyzes carrier schedules.
The number of container ships anchored off Shanghai and Ningbo has surged over recent weeks. There are now 242 container ships waiting for berths countrywide.
Whether it's due to heavy export volumes, Typhoon Chanthu or COVID, rising congestion in China is yet another wild card for the trans-Pacific trade.
September 26: Nationwide Australian Port Strikes Threaten Christmas – The West Australian
Strikes planned at ports across Australia threaten to cripple imports ahead of Christmas.
The Maritime Union of Australia has launched industrial action at Patrick Terminals sites in Brisbane, Fremantle, Melbourne and Sydney, in what the shipping container terminal operator has described as "bewildering."
Patrick Terminals CEO Michael Jovic says the company has been negotiating with the union since February 2020 and has held nearly 70 meetings to finalize a new enterprise agreement.
September 27: Northern European Ocean Terminal and Inland Congestion Forces River Barges to Store Boxes – The Loadstar
Barges are being turned into floating storage platforms to alleviate pressures on Northern Europe's ocean terminals, as inland waterway operators report surging congestion.
Wait times at Rotterdam have sky-rocketed over the past week to almost seven days.
A source told The Loadstar: "The cause is two-fold – obviously, ocean-side congestion is having a knock-on impact, with yards and terminals well over capacity, in terms of storage, and now refusing to accept new boxes without evacuation of the backlog.
"Barge owners are now being called in to fill their vessels with some 400 TEU of empties and find a way of connecting these to ocean carriers for evacuation."
However, with near week-long delays for handling at the Dutch terminal, barge owners were forced to consider alternatives, with some simply offering their vessels as storage sites until the backlogs begin to clear.
Air
September 14: Air Brokers Struggle to Find Peak Lift as Shippers Bid to Avoid Port Congestion – The Loadstar
Port congestion is providing unprecedented opportunities for air charter brokers – but an absence of passengers is creating challenges in capacity as shippers gear up for peak season.
The head of cargo charters at Hunt & Palmer, Jamie Peters, said: "When it comes to moving cargo, forwarders and shippers are facing continuous issues.
"Everything is geared towards Q4, with expectations of a substantial peak period, but it is becoming impossible to locate any large aircraft capacity with less than one or even two weeks' advance notice; there are extremely limited openings.
"Any that do exist come at a very high premium that most customers are turning down… for now, at least."
September 16: Air Freight Rates Surge Ex-Asia – Lloyd's Loading List
The latest figures this week from the Baltic Air Freight Index see average spot rates on Shanghai (PVG) to North America reaching almost US$11 per kilo at $10.98, while HKG to North America prices are also edging towards the $10 mark, at $9.70 per kilo this week, as strong peak season demand collides with highly constrained capacity heightened by the recent further constraints to capacity at PVG due to COVID-related shutdowns.
September 23: Air Cargo Handlers Face Staff Shortages on Both Sides of the Atlantic – The Loadstar
Fluctuating volumes, pandemic-induced government support schemes and staff shortage woes have left ground handlers facing "very different labour dynamics" across networks.
COO of Menzies Aviation Mervyn Walker said the ongoing impact of COVID-19 differs country to country and is forcing the company to make "tailored" approaches to tackling recruitment challenges, which some claim are worsening.
September 23: TIACA Warns Air Industry Not Ready for Q4 – Inside Logistics
The International Air Cargo Association (TIACA) warns that the industry is facing unprecedented challenges to deal with expected fourth-quarter demand for air cargo services.
"Air cargo has played a vital role these past 18 months and is facing a potentially record fourth quarter, but planning must start now," said Steven Polmans, TIACA. "Resourcing and capacity will be issues, handling and facility space will be an issue, delivery and drivers will be an issue. We should be proud of the innovative, agile and flexible approaches adopted by the industry these past 18 months and now we must equally rise proactively to these new challenges as the weight of customer expectations mount."
Rail
September 1: KCS Shareholders in Hot Seat as CP Sets Deadline on Merger Offer – FreightWaves.
It's up to Kansas City Southern's shareholders now to determine whether the railway will continue its plan to merge with CN or revert to Canadian Pacific.
CP President and CEO Keith Creel is standing firm on a September 12 deadline for KCS shareholders to respond on whether to accept CP's $31 billion "superior offer" to acquire the company.
Rivals CN and CP have both been seeking to acquire KCS. CP and KCS announced in March their plans to merge, but then CN put forth a competing, $33.6 billion bid and KCS opted in May to go with CN.
But on August 31, the Surface Transportation Board rejected CN's proposed voting trust, which would be used as part of the process to acquire KCS. The board said the trust "is not consistent with the public interest standard under the Board's merger regulations."
September 3: KCS Punts Merger Vote until Late September – FreightWaves
Kansas City Southern shareholders are holding off on voting or moving on merger proposals from CN and, apparently, Canadian Pacific until late September. The announcement of the postponement referenced votes "on the previously announced definitive merger agreement with CN … and other proposals … ."
Shareholders held a meeting on September 3 and decided to hold another meeting September 24. In the meantime, KCS will "evaluate its options and the KCS Board of Directors will continue to make decisions based on the best interests of the Company and its stockholders," KCS said.
September 15: CN Rail Walks Away from Kansas City Southern, Ending Takeover War – Transport Topics
Canadian National Railway Co. declined to increase its offer for Kansas City Southern after a months-long takeover battle, ceding to Canadian Pacific Railway Ltd. a prize that would create the first railroad spanning the U.S., Canada and Mexico.
Kansas City Southern terminated its $30 billion agreement with Canadian National and agreed to Canadian Pacific's $27 billion merger proposal, according to a statement Sept. 15. The merger will need approval from shareholders, Mexican regulators and the U.S. Surface Transportation Board.
Trucking
September 22: Freight Markets Remain Strong, but First Signs of Clouds on the Horizon – Today's Trucking
ACT Research reports that the freight market is likely to remain hot, but "there might be a cloud or two on the horizon."
Industry analyst Jim Meil said there are some concerns about COVID, inflation, rising oil prices, supply chain disruptions and labour availability. Microprocessors, which are in short supply, are also going up in price due to demand, he noted. The cost has increased 4% this year, which contributes to inflation.
But analyst Tim Denoyer said the freight market remains strong, and repeated his projection for a peak season that will be "stronger for longer" than norms. With record numbers of container ships anchored or adrift off the U.S. West Coast, he said the industry is experiencing the longest freight backlog ever.
The railroads are also backed up, and there's a chassis shortage that is keeping a lid on service levels.
"Truckload volumes will stay strong through the holidays," Denoyer said.
Next year some of the tailwinds driving freight volumes and rates this year will disappear, but anticipated infrastructure spending will give freight another boost. Industrial demand is also expected to improve next year – another boon for freight.
September 23: ATA: U.S. Mandatory Vaccinations Would Trigger Truck Driver 'Exodus' – Ontario Trucking Association
American Trucking Associations President and CEO Chris Spear issued a statement in response to the Biden Administration's proposed vaccine mandate on employers with more than 100 employees:
"The first rule of any public health policy should be 'do no harm.' Unfortunately, these latest mandates and the unintended consequences they'll create fall short of that standard.
"These proposed requirements – however well-intentioned – threaten to cause further disruptions throughout the supply chain, impeding our nation's COVID response efforts and putting the brakes on any economic revival."
September 26: Average Annual U.S. Driver Salaries Have Cracked $70K – Truckload Indexes
For the first time since Todd Amen's ATBS firm has been tracking fleet and average independent owner operator salaries, pay levels have cracked an annual rate of more than $70,000.
That was the bottom-line number that came out of ATBS' semi-annual webinar in which Amen reviews data on how drivers are doing. The numbers he draws from are from a huge base of financial information compiled through his company's activities offering tax and other financial services to owner operators and fleets.
"We're in the best trucking environment I have ever seen in my history of trucking in 30-plus years," said Amen, the company's president and CEO.