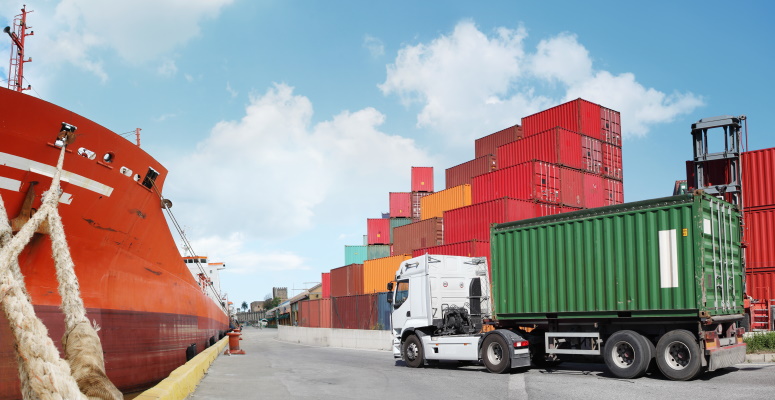 Month in Review – May 2023
Maritime
May 4: Maersk: Downturn on Predicted Course, Liners Acting 'Rationally' – American Shipper
Pain during shipping downturns is often self-inflicted by the industry itself. A scramble for market share spurs a rate spiral; too many ship orders compound the losses. Maersk CEO Vincent Clerc maintained on a May 4 conference call that liners are avoiding at least some of these self-inflicted wounds.
Clerc said ocean carriers are managing capacity fairly well, demand is primarily down due to temporary inventory overhangs, and margins remain higher than pre-COVID levels.
The general message from the world's second-largest container line operator: Market normalization is proceeding as anticipated.
May 10: Panama Canal: Drought, Shipping and the Supply Chain – Inbound Logistics
The past few months have been unusually dry across Panama and there is no sign of improvement over the next few weeks, let alone the rest of the spring season. In 2022, nearly 15,000 vessels with 520 million tons of cargo passed through the channel.
This year, there's simply not enough water – leading to vessel restrictions and ultimately fewer goods able to travel through this area that normally moves about 6% of global maritime trade.
May 11: Ports of Montreal, Québec and Trois-Rivières taking the Net-Zero Challenge – press release
The Ports of Montreal, Québec and Trois-Rivières are taking the federal government's Net-Zero Challenge.
Launched in August 2022 by the Minister of Environment and Climate Change, the Net-Zero Challenge is a voluntary initiative that invites organizations to develop and implement credible and effective transition plans to make their facilities and operations emission-free by 2050.
By announcing their collective participation in the Net-Zero Challenge, the ports of Montreal, Quebec City and Trois-Rivières are joining forces to accelerate the decarbonization of maritime transport on the St. Lawrence River corridor.
May 19: Container Shipping Under Pressure as Peak Season Hopes Dim – American Shipper
One of the earlier scenarios for container shipping's 2023 peak season went like this: Importers would get cocky and keep much of their business in the spot market. Shipping lines would heavily curtail trans-Pacific transport capacity. America's inventory overhang would evaporate just as holiday imports ramped up. Spot rates would jump and importers without sufficient contract coverage would get caught out.
No one's really talking about that one anymore.
Inventory destocking has gone on longer than expected. Pressures on consumer demand are building. Trans-Pacific shipping capacity is not down as much as predicted. Spot rates bumped up in mid-April but have eased since and remain extremely weak.
The talk now is more about a moderate peak season at best, roughly in line with pre-COVID levels, with no fireworks.
May 19: ONE and Wan Hai Pay $2.65 Million in FMC Fines Over D&D Practices – The Maritime Executive
The U.S. Federal Maritime Commission is continuing its enforcement efforts regarding the fees charged by carriers, reporting that Ocean Network Express (ONE) and Wan Hai Lines agreed to pay a combined amount of $2.65 million to settle FMC actions related to detention and demurrage fees plus restitution to shippers. Both of these settlements related to actions brought by the FMC independent of the numerous complaints filed by individual shippers with the FMC against a range of carriers.
May 23: Major Financing and Operator Decisions Coming on Montreal's Contrecoeur Container Project – American Journal of Transportation
As the clock ticks away, so do construction costs escalate in a high inflationary environment. Delays on the Contrecoeur project could mean the Port of Montreal will not have the container capacity it wants in place by 2027 to meet expected demand and thereby continue to compete effectively against key U.S. East Coast ports in a strong expansion mode – buttressed by the Biden Administration's multi-billion-dollar infrastructure program. But latest developments point to important announcements this spring and summer on finalizing a financing package, followed by the selection of the terminal operator and a detailed construction schedule.
An announcement from federal Transport Minister Omar Alghabra outlining federal financial support for the Port of Montreal's Contrecoeur container terminal project was described as "a question of weeks, not months" by Martin Imbleau, President and CEO of the Montreal Port Authority, during the port's annual board meeting at end of April.
On the same occasion, Imbleau also said that an announcement could be expected this summer on the selection of the winner from three groups who made the shortlist of bidders to build, finance and operate the terminal that would increase Montreal's container capacity by 1.15 million TEUs.
May 23: Vancouver Increases Container Throughput at DP World Terminal – The Maritime Executive
Vancouver Fraser Port Authority joined with terminal operator DP World to mark the completion of a major expansion project at one of the port's terminals. The increased capacity is considered critical to the near-term growth of the port while Vancouver continues a long-term process to add a third terminal and operator to the port.
The expansion project was designed to increase throughput at the terminal by 60 percent. Construction on the US$260 million project was completed in February 2023 and, with the facilities now in operation, capacity has been increased to 1.5 million TEU a year, 40 percent over the previous capacity of 600,000 TEU annually. The terminal's footprint was increased by 15 percent.
May 31: Long-Term Ocean Freight Rates Collapse by Almost 30% in a Month as New U.S. Contracts Reflect Market Reality: Xeneta – PortNews
Xeneta reports that the ocean freight industry saw a slump in global long-term rates of unprecedented proportions in May, as the contracted cost of shipping containers dived by 27.5%. The development, detailed by Xeneta's Shipping Index (XSI®), marks the ninth consecutive month of rates drops, and is the largest ever monthly fall recorded on the XSI.
"If industry observers were left wondering just how bad it could get for carriers after the 10% fall in long-term rates seen in April, here's the answer," comments Patrik Berglund, CEO of Oslo-based Xeneta. "This is the largest drop we've ever experienced on the XSI, which charts real-time global rates developments, and it paints a bleak picture of the state of the industry."
Air
May 3: Cargojet Postpones More 777 Freighters, Tightens Belt as Shipments Slow – American Shipper
Cargojet, which operates an extensive middle-mile air cargo network in Canada for express delivery and e-commerce companies, has increased steps to cut costs and preserve cash amid weak shipping demand that contributed to a 32% reduction in gross profit margins during the first quarter.
The most dramatic step to maintain financial flexibility and match fleet size with demand is the unloading of a third secondhand Boeing 777-300 intended for conversion into a main-deck freighter, according to financial reports released on May 1. Cargojet confirmed it plans to finalize the sale of three 777-300s this year for a total of $110 million because of the slowdown in the global economy and air cargo shipping.
May 9: Summer Capacity Boom Hits Airfreight Rates – Air Cargo News
With the start of Northern Hemisphere airline summer schedules at the start of April, the addition of services has meant the availability of significantly more bellyhold capacity in the market.
In fact, industry analyst CLIVE Data Services has reported that "a flood of summer bellyhold capacity on major lanes," coupled with a 4% drop in demand in April, means that the industry is facing a challenging four or five months.
CLIVE believes that the global air cargo market may have to wait will October for any meaningful recovery.
May 18: WestJet and Its Pilots Reach 11th-Hour Deal to Avoid Strike – Global News
Airline WestJet and its pilots have reached a last-minute deal, averting a strike ahead of the May long weekend.
Some 1,800 pilots at WestJet and Swoop had been poised to walk off the job overnight on May 19 after the Air Line Pilots Association, Int'l served a strike notice on June 15.
Already the airline had cancelled hundreds of flights in anticipation of its fleet being grounded.
May 30: Air Cargo Groups Join Forces to Enhance Standard Practices for Air Cargo – Inside Logistics
Quality standards organization Cargo iQ has forged a partnership with the International Federation of Freight Forwarders Associations (FIATA) and the Airport Services Association (ASA) to set shared goals for enhanced standard practices across the air cargo supply chain.
The objective of the alliance is to strengthen collaboration between forwarder, ground handler and airline communities, working on a global basis to achieve common standards and enhanced quality.
The decision was made at Cargo iQ's most recent board meeting that FIATA's director general, Stéphane Graber, and ASA's director general, Fabio Gamba, will attend all Cargo iQ board meetings as observers and work together with the board members, with a view to intensifying co-operation in the future.
Rail
May 9: Customs Brokers, Forwarders and Shippers Ask U.S. Congress to Change Rail Storage Rules – American Journal of Transportation
More than 70 trade associations sent the U.S. House Transportation and Infrastructure Committee leadership a letter asking for clarification regarding rail storage fees charged as part of international ocean shipping: "Continuing to allow railroads to invoice importers and their agents directly without oversight undermines the purpose and intent of the Shipping Act."
The May 2nd letter notes that there is a gap in authority between the Surface Transportation Board (STB) and the Federal Maritime Commission (FMC) to regulate these charges: "The lack of clear statutory authority for the FMC to address unreasonable rail storage charges assessed under ocean carrier through bills of lading is a gap that must be clarified."
The letter adds: "… the railroads' storage charges under through bills of lading should more appropriately be invoiced through the ocean carriers. Rail storage charges assessed against containers moving in International commerce, an as-yet unaddressed abuse of demurrage charges, should clearly and formally fall within FMC authority through an act of Congress."
May 18: Why Canada's Two Big Railways Are Livid over Justin Trudeau's Attempt to Force Competition – The Financial Post
Ottawa is trying to curb the market power of Canada's two major railways, setting the stage for a nasty public battle in the Prairies.
The railways have launched an aggressive campaign in response, with Keith Creel, chief executive of Canadian Pacific Kansas City Railway Ltd., calling the government plans "short-sighted and damaging," and warning that they could clog the rail network that Canada depends on to get billions of dollars worth of commodities to ports for export.
But shippers say they've put up with subpar service from the railways for long enough, and the new rules deliver a desperately needed dose of competition into a Canadian rail system that is essentially controlled by two companies: Canadian National Railway Co. and Creel's CPKC Railway.
Trucking
May 1: U.S. to Lift Most COVID-19 Vaccine Mandates for Foreign Travellers – CBC News
The Biden administration will end most of the last remaining U.S. federal COVID-19 vaccine requirements next week when the national public health emergency for the coronavirus ends, the White House said on May 1.
Vaccine requirements for federal workers and federal contractors, as well as foreign air travellers to the U.S., will end May 11. The government is also beginning the process of lifting shot requirements for non-citizens at U.S. land borders.
May 12: Port of Montreal Plans Benefits for Greener Trucks  – Today's Trucking
The Port of Montreal plans to introduce incentives for carriers that use trucks that generate lower emissions, under plans revealed at a climate summit this week.
The port is looking to reduce greenhouse gas emissions by 55% as of 2030 and be carbon-neutral by 2050.
Benefits such as exclusive time slots, express routes or discounts on certain port fees will be made available to lower-emitting trucks by 2025.
May 15: Exodus of Fleets Reaches Historic Levels in Q1, U.S. Data Shows – FleetOwner
The tumbling freight spot market and historically high fuel prices are teaming up to push more small fleets out of the trucking industry – which is setting records in carrier departures this year, according to the latest U.S. data – amid the backdrop of a fits-and-start economy on the edge of recession.
This means many trucking companies – 31,278 of them in the four months to start the year, this data shows – are folding up shop and leaving the industry. Or their operators are leasing their services to larger fleets. And more are filling seats as company drivers, easing the driver shortage.
Watching "revocations" of operating authorities with the Federal Motor Carrier Safety Administration (how the U.S. government measures fleet expansion and contraction) also indicates how volatile the trucking business has been since COVID-19 transformed the industry.
May 16: CTA, Teamsters and Carriers Take Driver Inc. Fight to Parliament Hill – Today's Trucking
Crisis. Unsavory. Atrocity. Scam. Those were some of the words thrown around on May 16 as the Canadian Trucking Alliance (CTA), member carriers and Teamsters Canada went to Parliament Hill with their campaign against the Driver Inc. model of misclassifying employee drivers as independent contractors.
In some of their strongest language to date against Driver Inc., CTA representatives including president Stephen Laskowski and members Claude Robert (president of Robert Transport) and Scott Tilley (president of Tandet Group) – along with Teamsters Canada leaders – implored the federal government to take action against the growing scheme.
May 24: U.S. Shippers Put on High Alert over Double-Brokering Fraud – The Loadstar
Truckers and shippers in the U.S. are on high alert over double brokering, an illegal activity that is hitting the market to the tune of more than $500 million a year. The practice has been around for a while, but it recently has escalated to alarming dimensions, with a new variation gaining ground.
Essentially, double brokering occurs when an outfit successfully bids for a load posted by a broker or load board and then brokers it to a third party. In its most benign form, this can involve a trucker winning a load but deciding to offer it to other truckers because of lack of proprietary capacity to move the shipment. These instances often go unreported, as no party in the transaction is harmed, but the practice is nevertheless illegal if the approval of the shipper is not obtained.
Most cases of double brokering, however, are downright fraudulent. In the simplest form, the rogue carrier obtains a load from a brokerage and tenders it to a carrier, then receives payment from the broker but does not compensate the carrier, who is left holding the bag.
Loads also may be stolen. The fraudulent firm that obtained the load and tendered it again for carriage may contact the carrier and instruct it to deliver the cargo to a different destination, claiming that there has been a change of plan. As the carrier believes it is dealing with a bona fide broker, there is no cause to doubt the legality of this change.
Lately a variant called 'load phishing' has mushroomed.
May 25: Government Meets with CTOA on Incorporated Drivers, Pledges to Drop 'Driver Inc.' Term – Today's Trucking
Federal Labour Minister Seamus O'Regan and several MPs met with members of the Canada Truck Operators Association (CTOA) last week, discussing the roles of incorporated truck drivers and vowing to end references to "Driver Inc." when referencing how drivers are classified.
The meeting, held May 23 at MP Iqwinder Gaheer's (Mississauga-Malton) office, included representatives from more than 20 CTOA member carriers, the labour minister, and MPs Charles Sousa, Sonia Sidhu, and Ruby Sahota, in addition to the host.
It came just one week after the Canadian Trucking Alliance (CTA) and Teamsters held a strongly worded press conference at Parliament Hill, condemning the misclassification of truck drivers under the scheme that CTA has labeled Driver Inc. But that's not language you'll hear from the federal government, according to CTOA leader Jaskaran Sandhu.
"There were a few things [O'Regan] made very, very clear in that meeting," Sandhu said. "First and foremost, he assured and promised the industry and our association that, from here on in, the term Driver Inc. will never be used by the government. It is a deeply problematic term that unfairly maligns incorporated drivers. In fact, they stated you may have already noticed they don't use that term anymore after learning how it was weaponized within some circles of our industry."
May 26: Major Logistics Providers Join Forces to Set Freight Scheduling Standards – Transport Topics
Freight transportation is a fragmented industry whose players should collaborate to overcome entrenched inefficiencies. That is the message from major logistics companies and technology providers that have joined forces to alleviate a particular pain point hampering the industry – the making, keeping and adjusting of freight appointments.
"All of us have heard from our customers about the inefficiencies" at the dock level, and "opportunities to become more efficient," said Spencer Frazier, executive vice president of sales and marketing at J.B. Hunt Transport Services.
The trucking and intermodal logistics company joined third-party logistics providers Convoy and Uber Freight in December to form the Scheduling Standards Consortium, which aims to establish industry standards for sharing scheduling information among shippers, freight brokers and carriers.
CIFFA Advocacy, Communications, Activities
May 1: CIFFA Announces Two Recipients of 2023 Donna Letterio Leadership Award: Janet Wallace and Christina Forth – The Forwarder Online
CIFFA is pleased to announce two winners for its Donna Letterio Leadership Award this year: Janet Wallace, Managing Director, Cargo Operations and Transformation, with Air Canada Cargo, and Christina Forth, Director of Logistics Canada, Mass Logistik Inc.
CIFFA introduced the annual Donna Letterio Leadership Award in December 2015. The award is granted annually in memory of former CIFFA President Donna Letterio, who passed away in August 2013. The award recognizes a woman in the global freight logistics sector who has demonstrated, as Donna did, professionalism, commitment, leadership and a passion for excellence in her career and in her life. In addition to the award, CIFFA will prepare a cheque in each winner's name for $1,000, which will be presented to Bladder Cancer Canada.